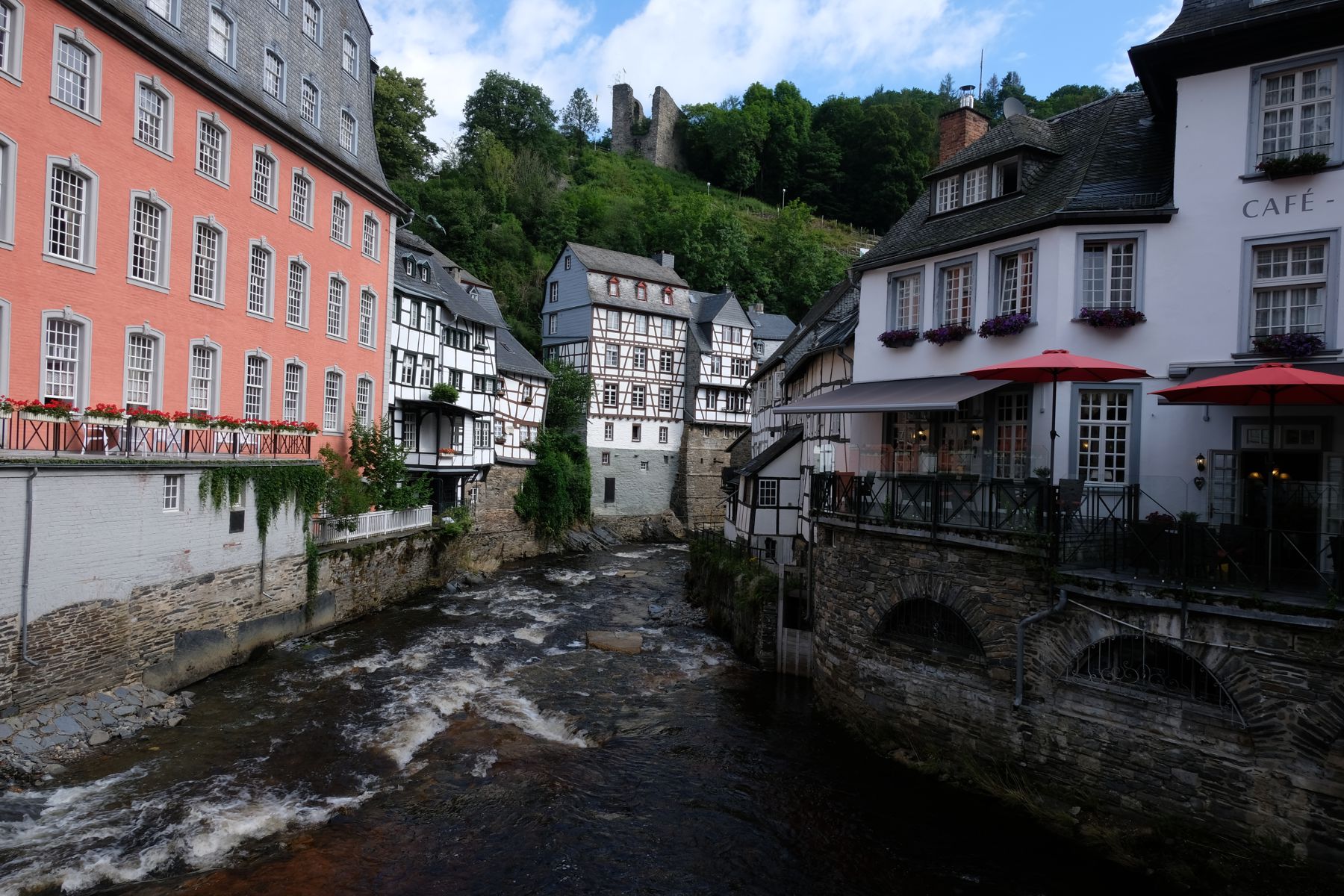 Monschau centre.
Medieval Monschau Inspires an Idea
Monschau, Germany - July 2021 - (remembered in February 2022) - by Jeffrey
Monschau is one of those medieval towns, like Bruges (in Belgium) or Rothenburg ob der Tauber (in Germany) that seems somehow to have got stuck in time a few hundred years ago. The architecture is little changed since the 1700s - and much of it has been unchanged for far longer. Indeed, a German time traveller visiting Monschau would feel right at home in the town, but would doubtless wonder about the weird clothes everyone is wearing, the strange things they regularly hold in front of their faces and their bizarre horseless carriages neatly parked on the outskirts of the town.
A Touristic Idea
This thought has given me an idea. I cannot help but to feel that well preserved old towns and cities, like Monschau, are spoiled by people in modern clothes, photographing everything including themselves on their smartphones - and playing with said phones when they are not photographing stuff. The atmosphere of the architecture is destroyed by the unaesthetic modernity of the visitors who would rather take selfies than just enjoy the scenery.
So, why not require visitors to Monschau to dress up in medieval costumes and check in their cameras before entering the town centre? In addition, ban all cars and other modern vehicles from any place in view of the town. Then, you would really feel as though you stepped back in time when visiting Monschau. You could do the same in Bruges, Rothenburg ob der Tauber or any other old, touristy place.
Now, I appreciate that going all historic like this every day might be a bit much, but why not do it once a week, or once a month, or for two weeks every year? On normal days, the touristic hoi polloi can come in their street clothes and experience the towns through their smartphone screens. And, on the medieval dress days, connoisseur travellers like you and me could dress up like it was the 1600s and explore the town with fellow medievally dressed visitors. Then, we could really feel like we have stepped back in time.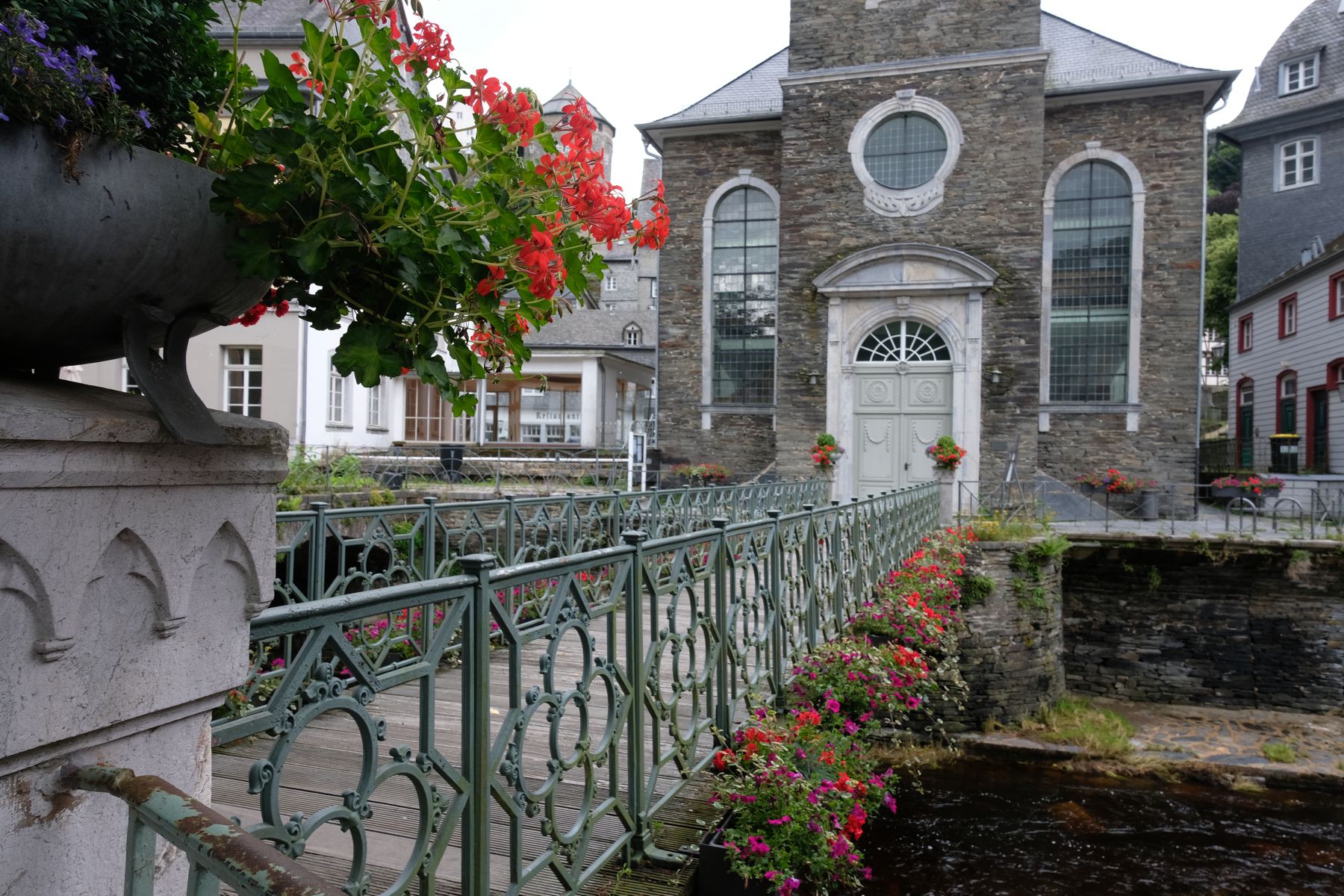 Another picture of the town centre.
Monschau
Getting back to Monschau...
Monschau, on the German-Belgian border, is a pretty resort town with a medieval centre, lots of cafés and a quaint museum or two. Just after the second European lockdown, which prohibited travel between countries, was relaxed, a friend suggested we do a day trip to Monschau to celebrate the fact that we could once again flee the country. I liked her idea. A couple of days later, we hit the road in Belgium around seven in the AM, parked the car and found a reviving coffee in Monschau, Germany by nine. In fact, we waited a couple minutes in front of the café which opened at precisely nine. We had arrived precisely 8:57. The Germans are precise. The streets at this time were still quiet and very medieval, but quickly filled with mostly German day-trippers.
We spent a couple of hours exploring the town centre and the visiting Rotes Haus (Red House in English because, not surprisingly, the building is red), which had been converted into a museum of the home office of the Scheibler family who once ran a substantial textile making business out of the house. The museum, like much of the town, was quaint and while it will not knock your socks off, it's worth a visit.
By noon, we had thoroughly explored nearly every nook and cranny in Monschau and sought a traditional German lunch, not much of a challenge in a touristic medieval town in Germany. If we were in the mood for Vietnamese, it would have been a lot harder.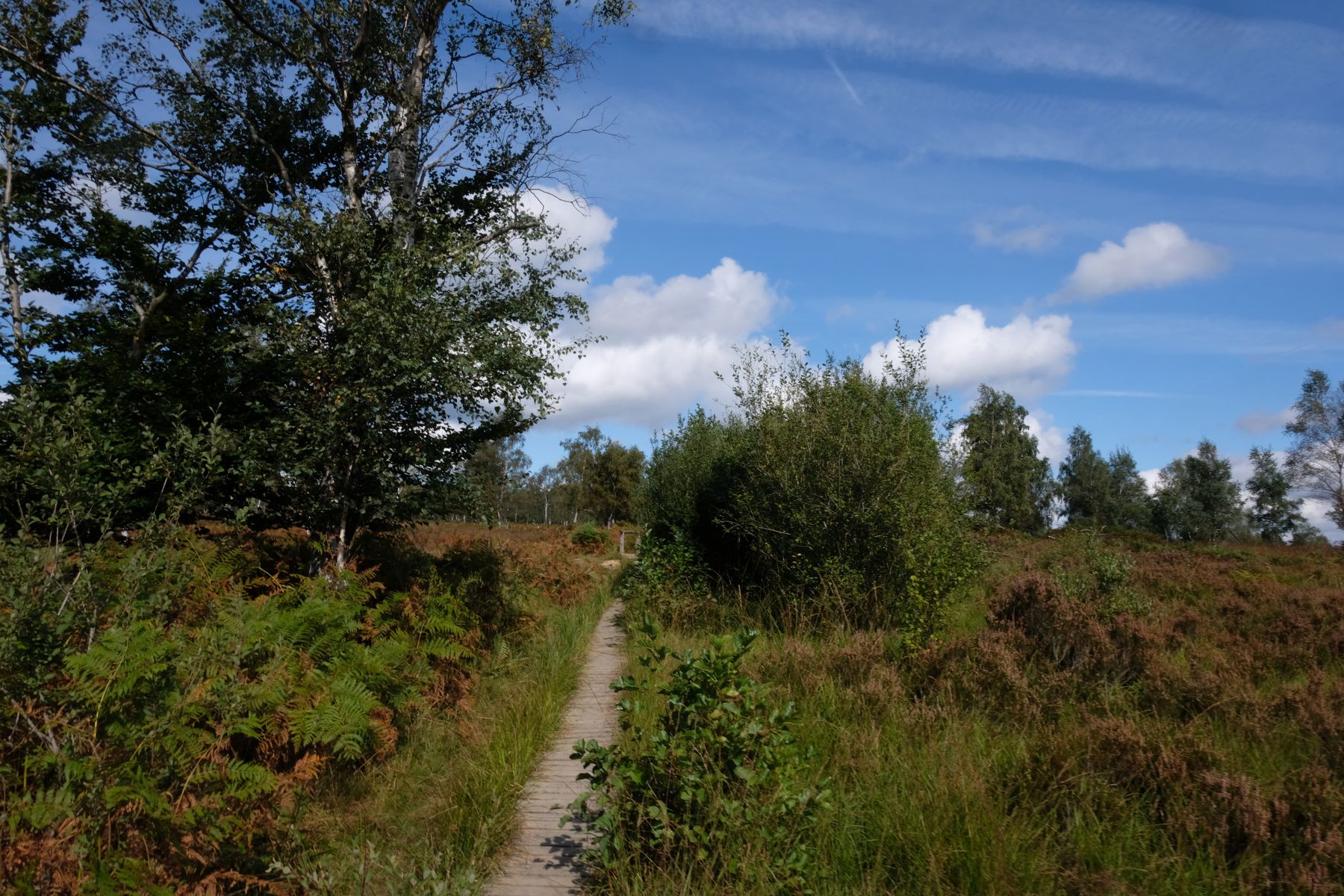 Eiffel National Park - Struffeltroute
Eiffel National Park
Two or three hours is enough time to explore Monschau, unless you want to sit in a café and slowly (or quickly) get drunk, which was not on our agenda for the day. Fortunately, Monschau sits at the edge of the Eiffel National Park, which is littered with hiking trails of various lengths and levels of difficulty. As my friend and I are keen walkers, a hike along one of the trails was definitely on the agenda. We opted to take the Heckenlandroute, a 14.5 km (9 mile) circular walk along mostly hedgerow lined paths that presumably gave the walk its name. "Heckenroute" is German for "hedgerow route". The walk was pretty and scenic although we probably could have done with a few fewer hedgerows and a little more trailside variety.
Afterwards, climbed back into the car and were back home in Belgium in time for dinner, pleased that we had not only fled the country for the day, but also that we had explored a delightful little town and enjoyed a scenic walk.
Indeed, it was such a delightful day that when my eldest son came to visit a few months later, I took him to Monschau in the morning and we enjoyed the Struffeltroute, a 10 km circular walk near Monschau, in the afternoon. This walk is shorter than the Heckenlandroute, but more diverse, which I appreciated.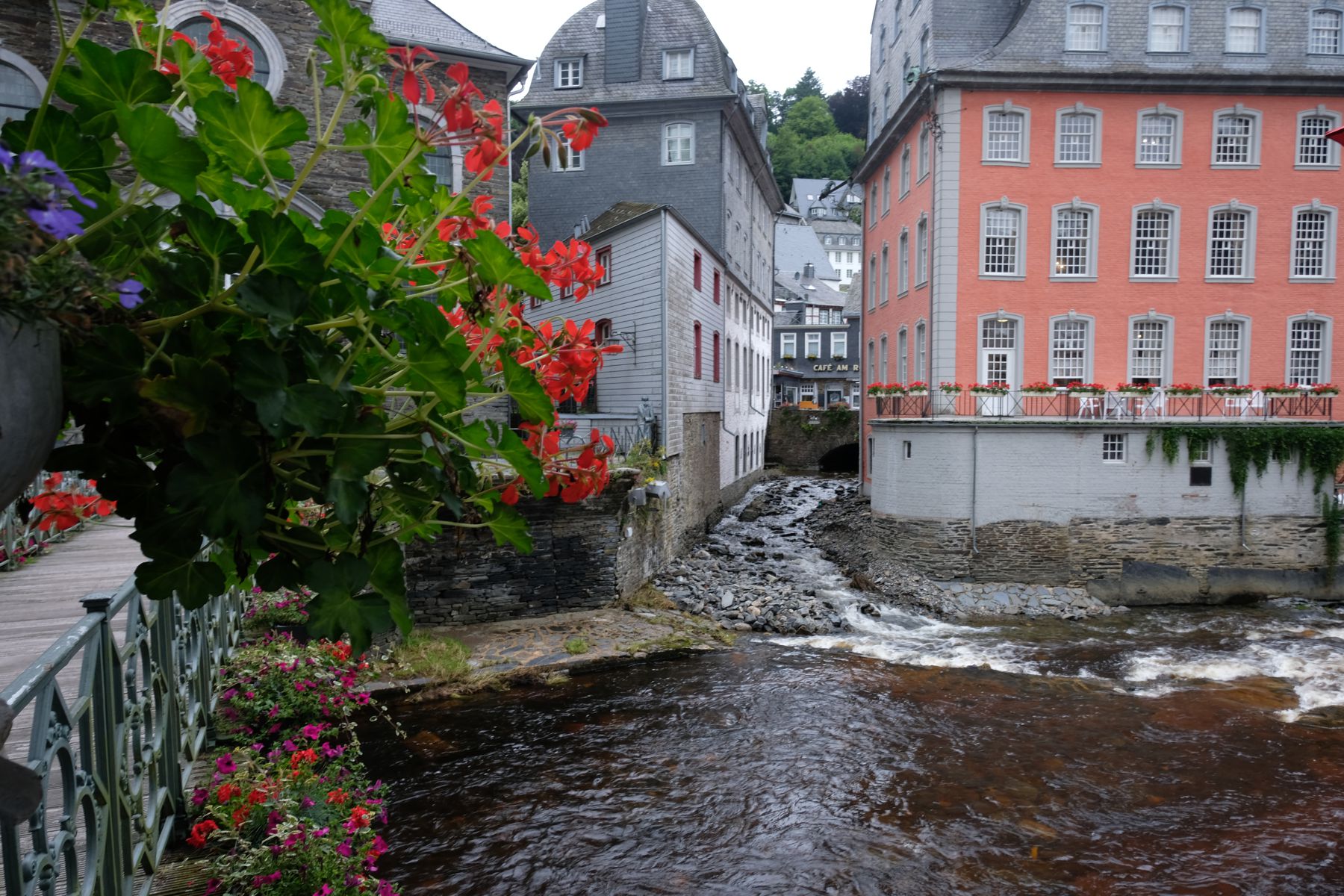 Yet another picture of Monschau centre.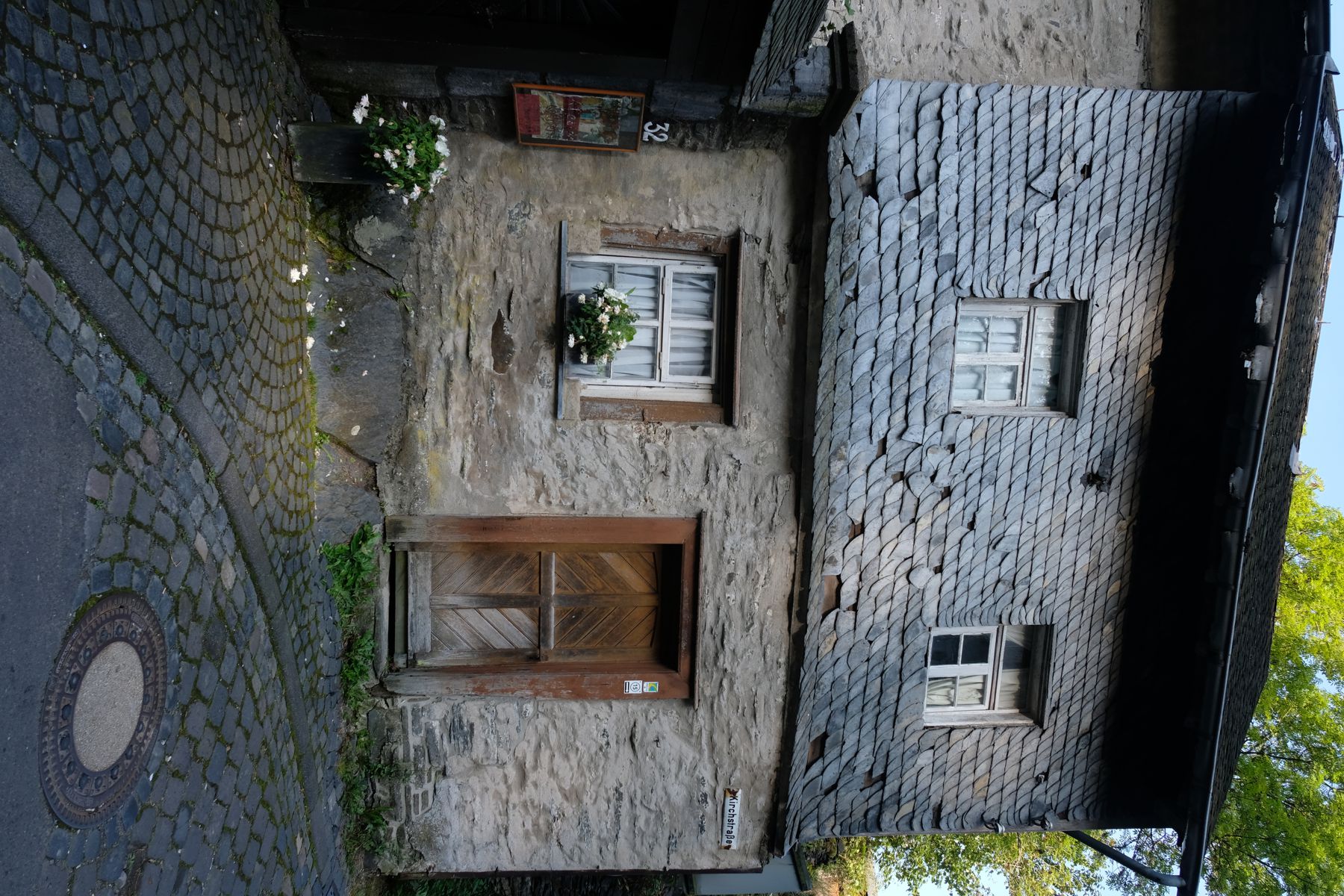 The seedy part of town.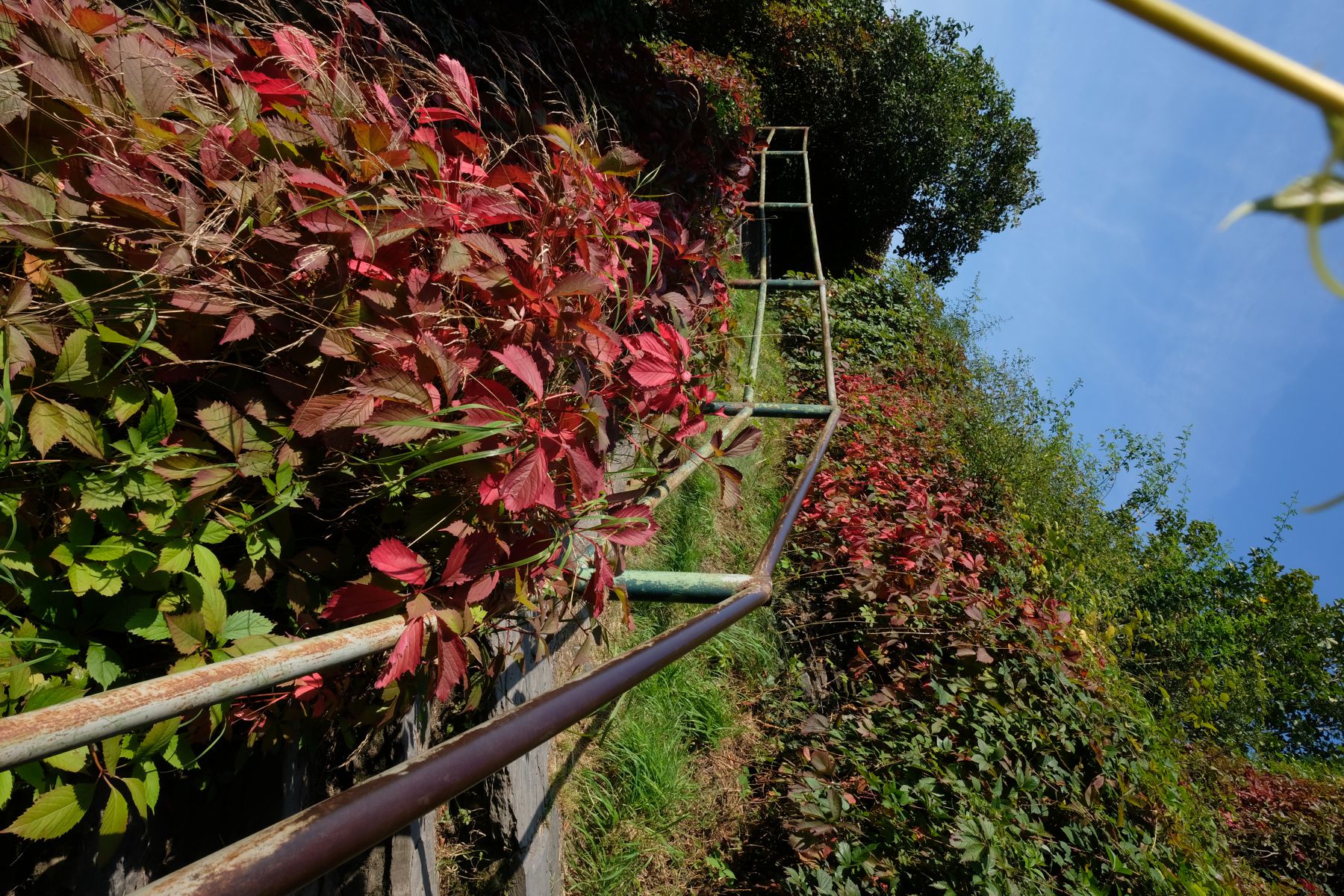 Footpath up mountain adjacent to Monschau.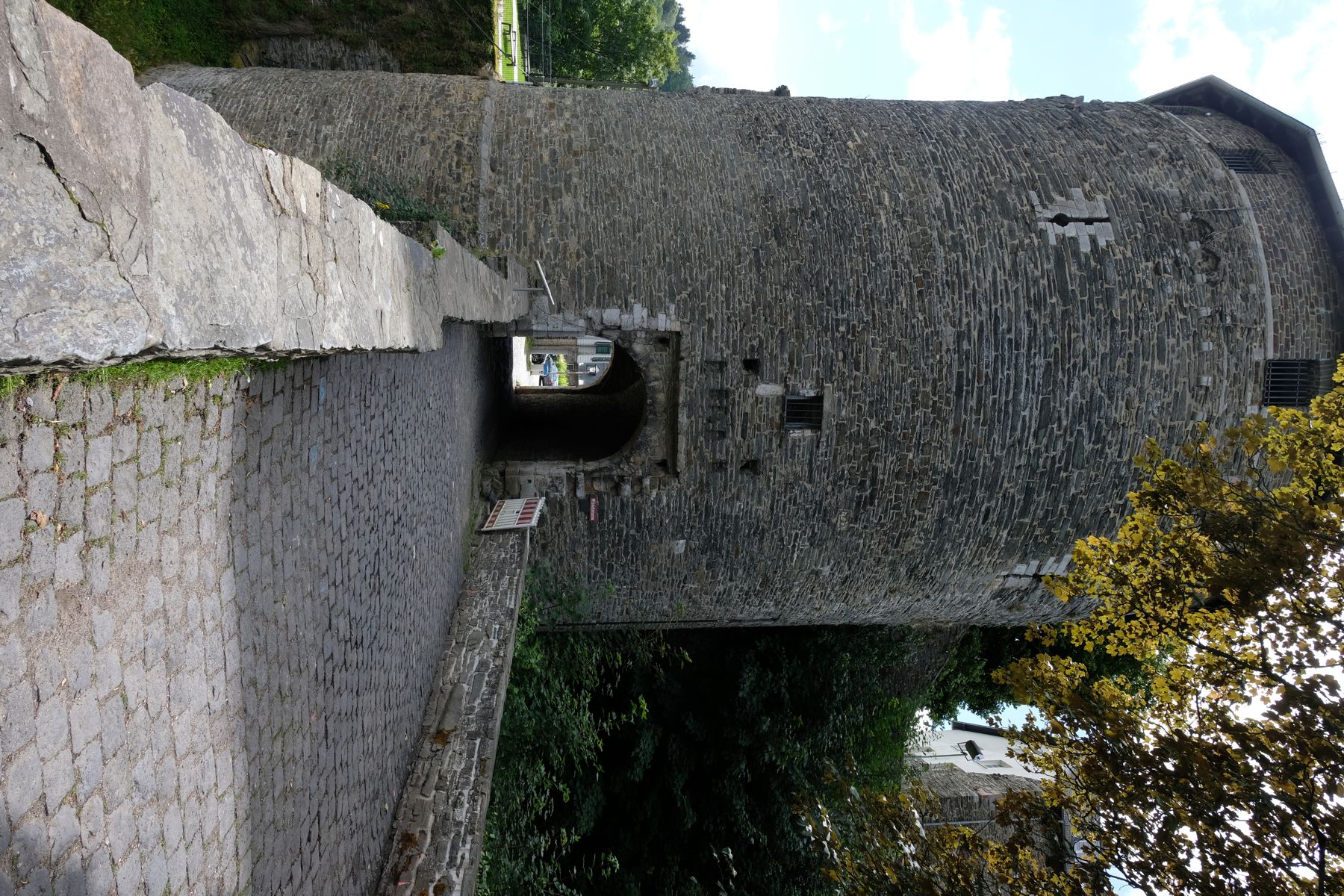 Old tower on footpath.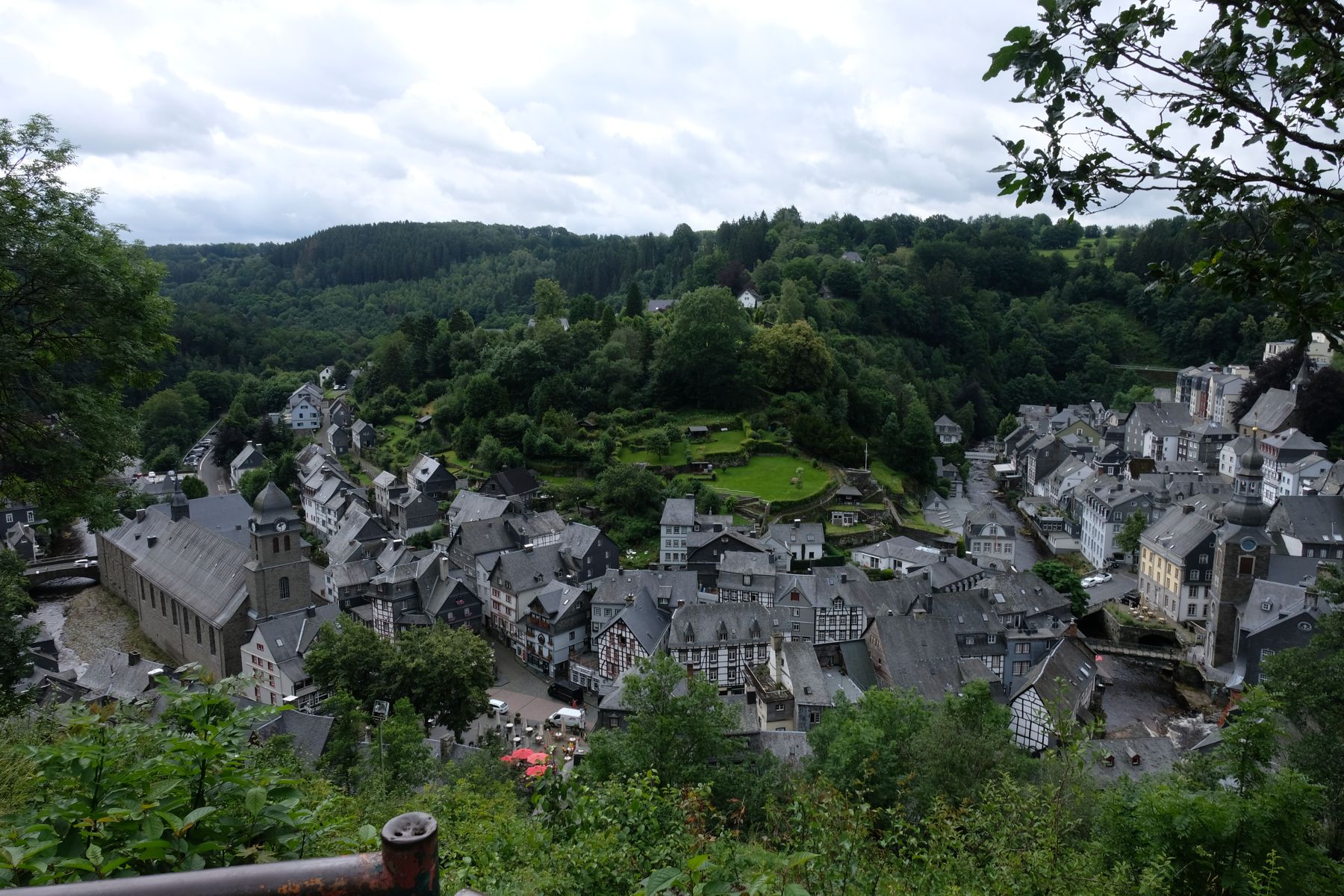 View of Monschau from footpath.
* * *
Share your feedback, thoughts and/or questions
* * *
If you enjoyed this story, please share it. I would love for more people to discover our blog.
* * *
* * *
Our latest Stories
Reflections on Berlin (April 2022)
"I lived in West Berlin in the 80s, visited in the 2000s and may live there again in the future. Here are some of my observations.
Becoming Belgian (March 2009)
Some years ago, I decided to become a Belgian. It was remarkably easy at the time.
The Holiday of 10,000 Stairs (April 2009)
Jeffrey and his sons visit the Amalfi Coast, get lost going to Revello, curse a GPS, climb on the ruins of ancient Roman cities and more.
Medieval Monschau Inspires an Idea (July 2021)
Wouldn't it be cool if you had to dress in medieval costume in order to visit medieval cities like Monschau, Bruges and the like?
Delightfully boring Vlieland (October 2021)
There is a lot to be said for going someplace pleasant but dull in order clear out your head and relax. So, that's what we did.
All stories
Index of all the stories on this blog.