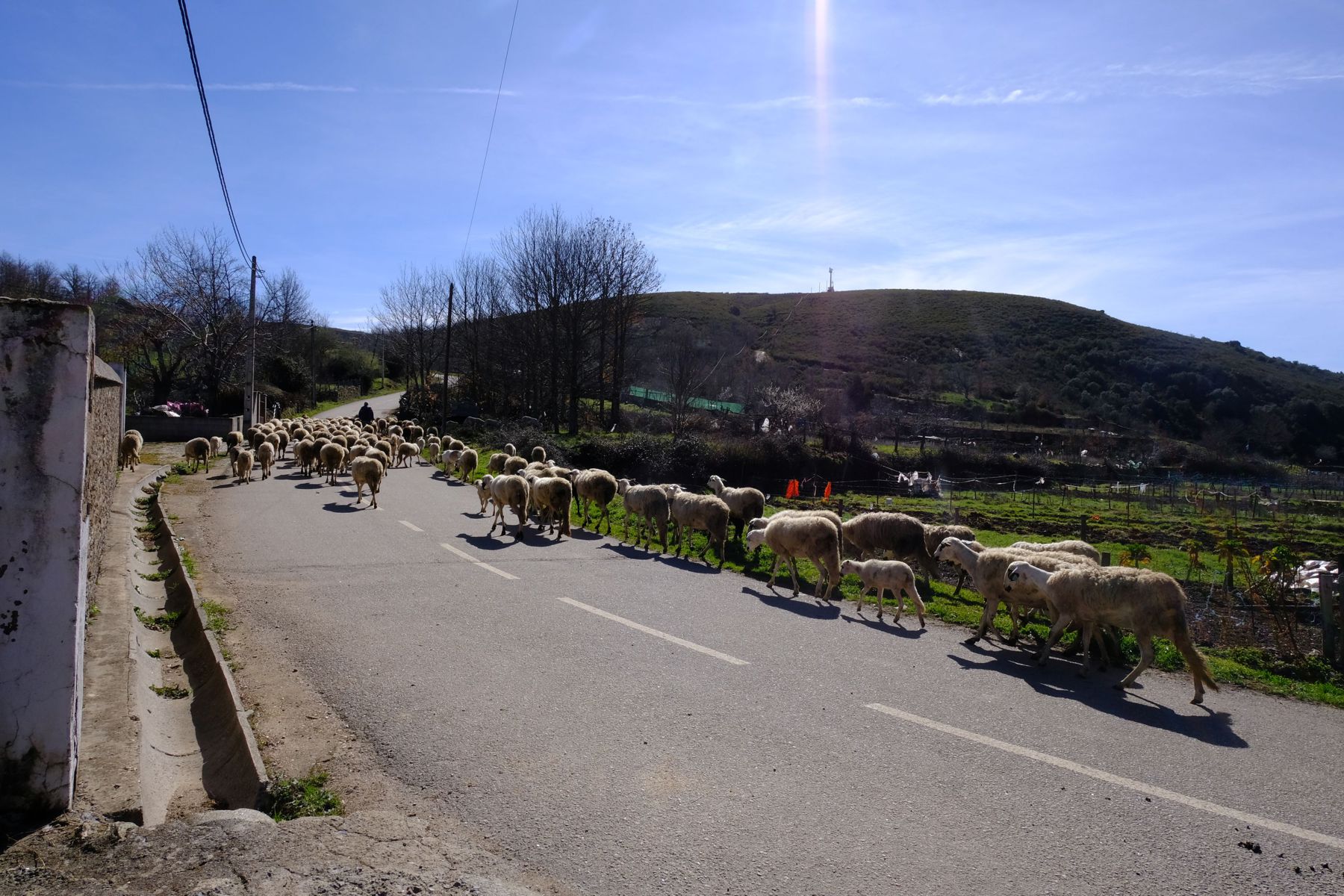 Montesinho National Park, near Bragaça
Revisiting Portugal
Various places in Portugal - March 2023 by Jeffrey
Until March of 2023, Ira had never been to Portugal, a shocking situation that could not be allowed to continue. Not only is Portugal a lovely country, its capital Lisbon was my home for a while in the mid 1980s and has since held a special place in my heart. Ira, of course, also holds a special place in my heart. Clearly, for the sake of my heart, Ira and Portugal had to meet. So, we decided to take a road trip south to the land of my one time home.
Evora
Within a couple of weeks of making the decision, we filled the back of Scooby-Blue car with suitcases and other travel gear and drove off in a southerly direction. After stopovers in Bordeaux (France) and Madrid (Spain), we roared into Portugal on a sunny afternoon and stopped for a few hours in Evora, a beautiful, white-washed medieval-ish city partially enclosed by walls and not far from Lisbon. Aside from being pretty, the city contains an impressive cathedral, some Roman ruins and a really weird chapel that we'll get to in a moment. Not bad for a city of 50,000 or so people and a lovely day trip from Lisbon if you are visiting the city.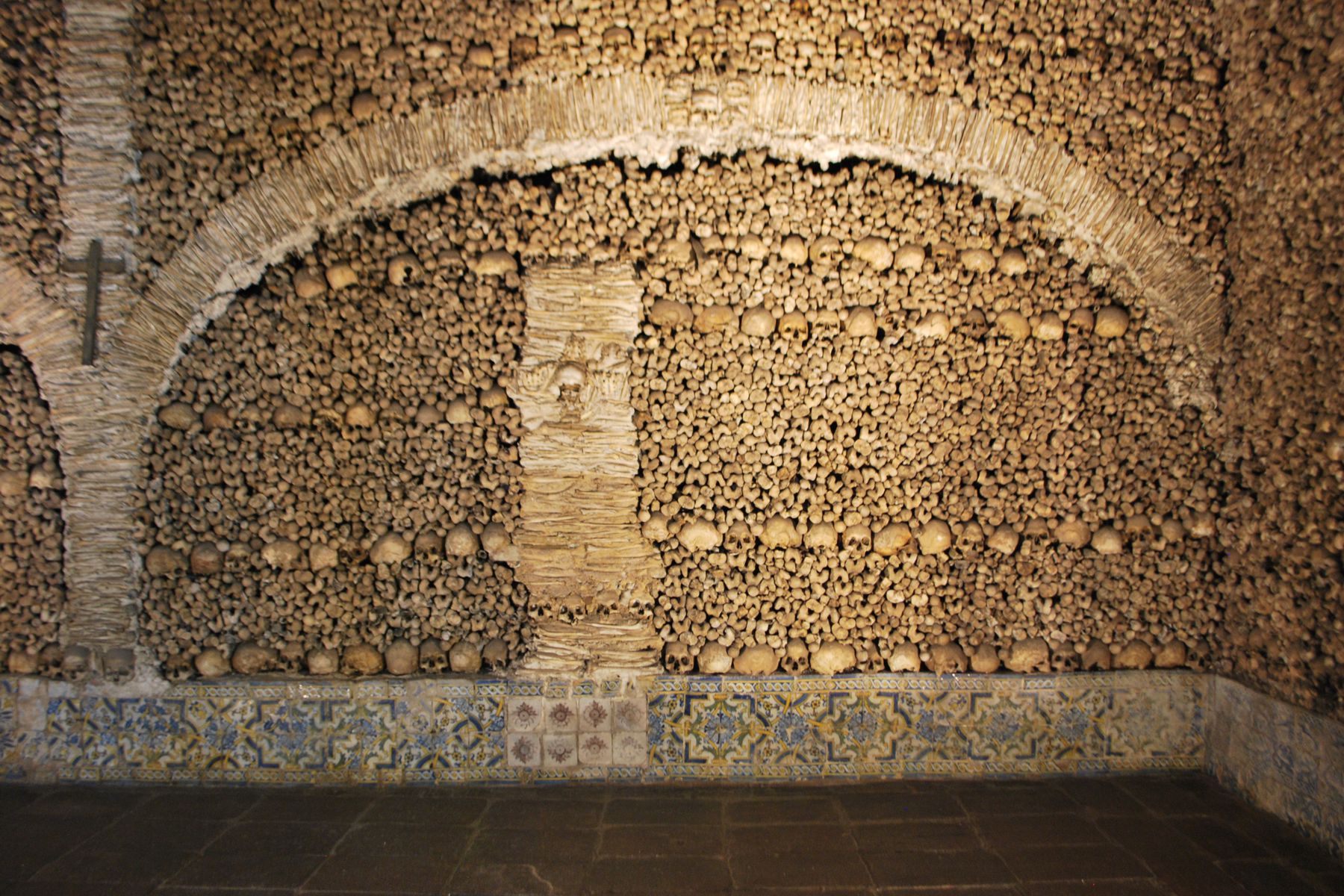 Wall of bones in Chapel of bones, Evora (2010). *
Capela dos Ossos, or Chapel of Bones, is one of Portugal's more macabre sites. It is a charming little chapel whose walls and columns are lined with bones and skulls. Lots of them. According to Wikipedia, the bones of some 5,000 people decorate the place. That's the population of my village!
One can only wonder how many children were thoroughly messed by attending mass in the Chapel of Bones.

View from Evora Cathedral.
The Cathedral is architecturally far more interesting if conceptually less intriguing than the chapel; and is well worth exploring. Better still, you can get up on the roof where you will find a terrific view of the city and a different perspective of the cathedral.
The Roman ruins are pleasant, but can be visited in ten minutes unless you have a particular academic interest in Roman ruins. We did not, although we enjoyed our ten minutes with the Roman relic.
A couple of hours in Evora was about right. We could have stayed longer. I expect it would have been a pleasant place to spend the night. But, Ira and I were ambitious to cover a lot of ground on this journey. We drove off towards Lisbon.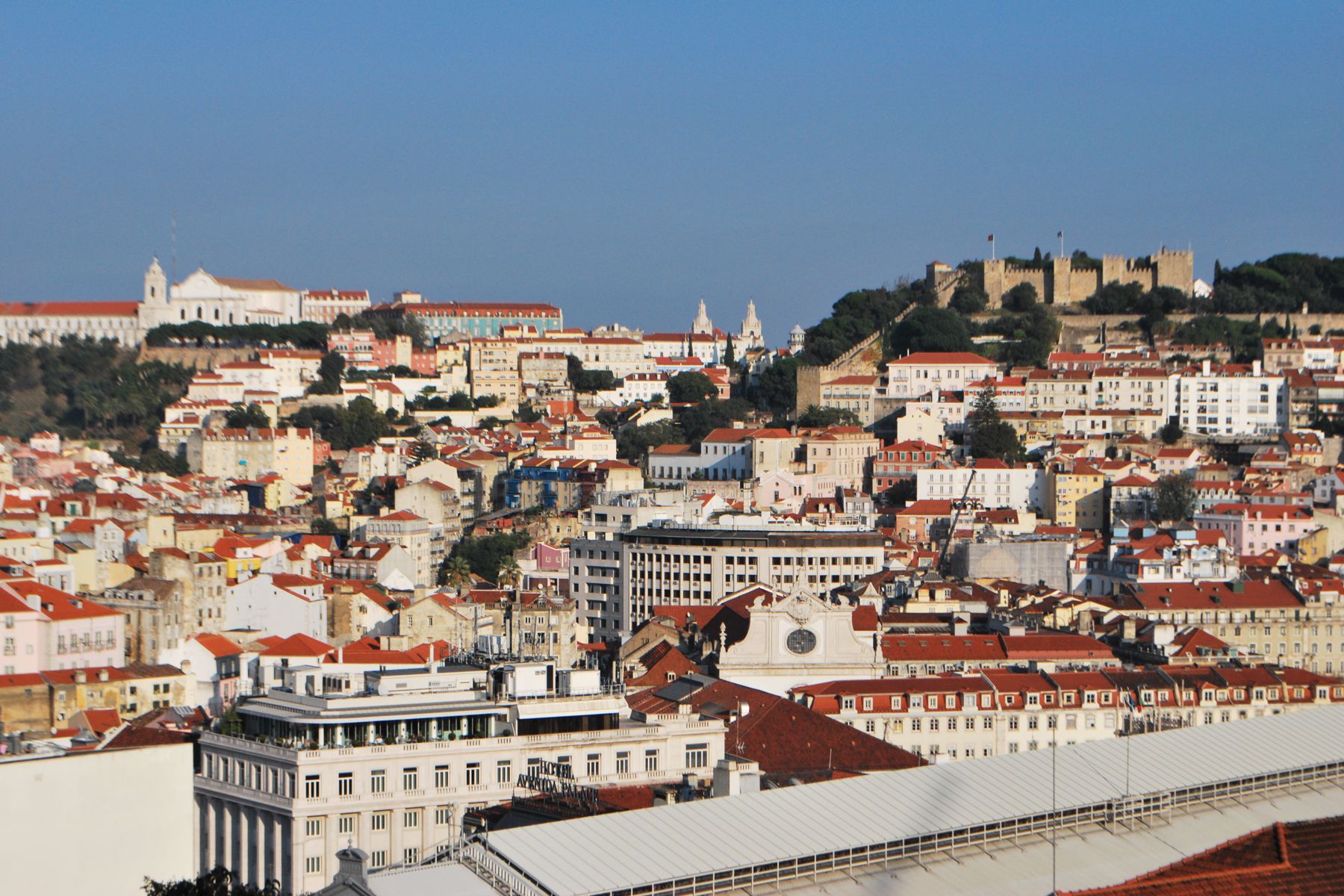 Lisbon 2010.
Lisbon
The next morning, we visited the botanical gardens. Ira loves botanical gardens and Lisbon has a nice one, a delightful space of green in an otherwise overbuilt city. Once Ira was satisfied with our visit, we marched down the Avenida da Liberdade, up into Alfama district and further up to Castelo de São Jorge. For Ira and I, living in flat places, the walk was a good workout. The hilliness also reminded me that Lisbon is also known as "the City of Seven Hills." I told Ira this. Rather than saying, "oh, that's fascinating, Jeffrey. You are such a fountain of knowledge" and squeezing my hand, she pulled her phone out of her pocket, Googled "city of seven hills" and promptly discovered that there are at least a hundred cities claiming to have been built on seven hills.
Sigh. Modern technology can be so unromantic at times.
For what it's worth, Rome was probably the first city to claim the moniker and the ancient Romans apparently called Lisbon the City of Seven Hills because it reminded them of Rome. So, Lisbon might be the second City of Seven Hills. But I won't tell Ira this. She'll probably prove me wrong.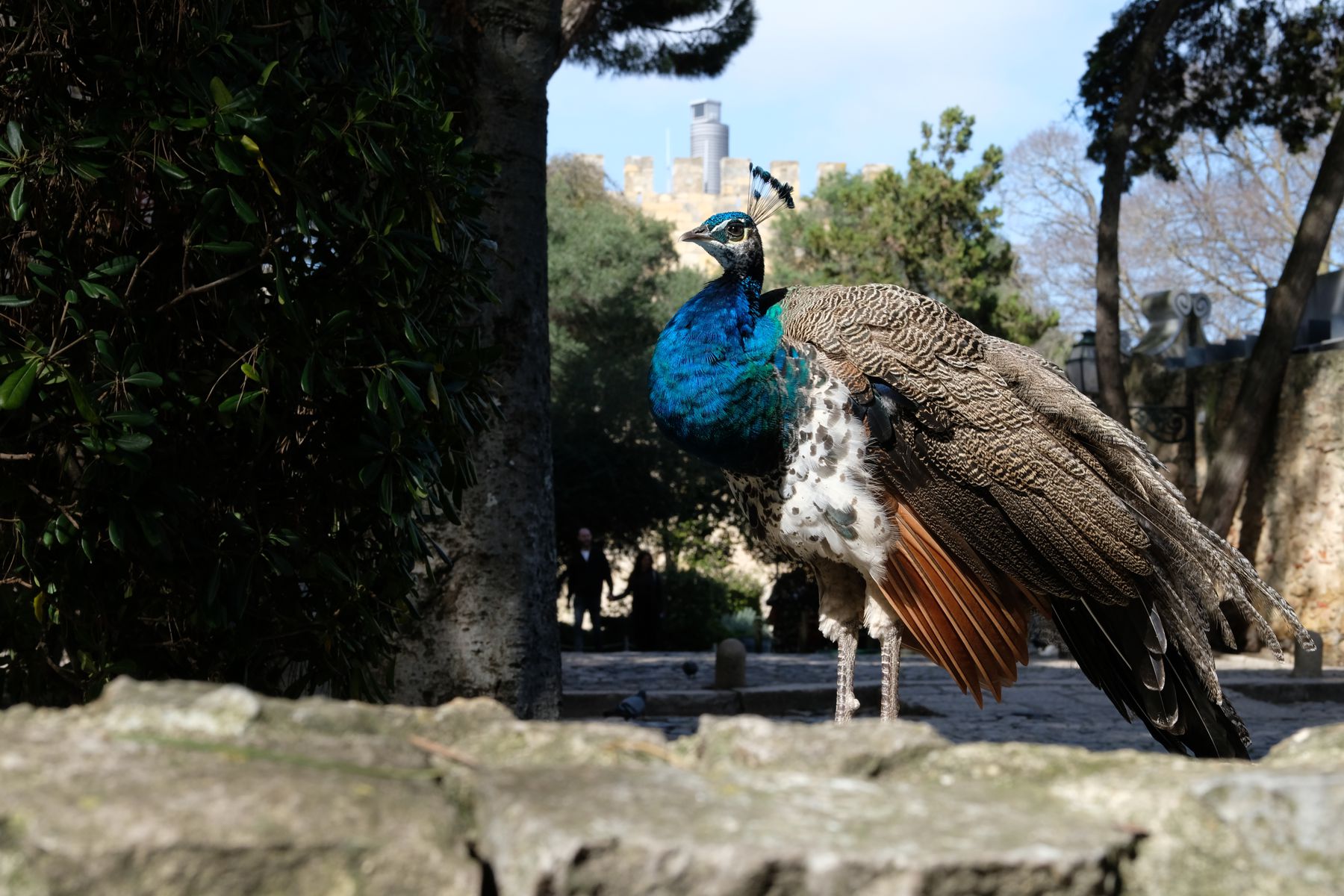 Peacock in St George's castle.
St George's Castle
Back when I lived in Lisbon, the castle ruins were just an open part of the city of Lisbon. You could walk around, get a drink even have dinner within and around the ruins. Indeed, it was a lovely place to have a meal and look out over the city, especially in the evening. Since those day, they have closed off the ruins, installed a ticket office and you have to pay to get in. Worse, there was a long queue at the ticket office.
However, there was no queue at the e-ticket entry, so Ira pulled out the same smartphone that humiliated me earlier and bought a couple of tickets for the castle. Then we could just mosey on in through the e-ticket entry, doubtless irritating the waiting tourists, many of whom sounded to be American.
The castle is still a pleasant place to meander about, but it feels a lot more touristy especially with so many people photographing the ruins and themselves with their telephones.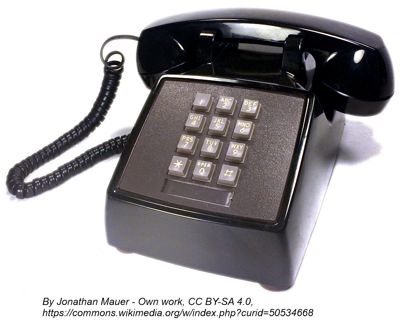 Observation: If you had told me back in 1985 that one day Castelo de São Jorge (St George's Castle) would be full of people taking pictures with their telephones, I would have thought you were bonkers. Had you then told me that a future girlfriend would use a pocketbook-sized phone to prove me factually wrong and humiliate me intellectually on the streets of Lisbon, I would have suggested you seek psychiatric help.
We spent the rest of the day meandering about the city, enjoying the feel of the place and taking pictures. I was impressed by the level of English we heard just about everywhere. When I lived in the city, as a teacher of English as a foreign language, the level was not nearly so high. When I told this to Ira, she said "that's because you were an awesome English teacher, Jeffrey."
I forgave her for the "City of Seven Hills" humiliation of earlier.
Tagus River
The next day, we walked down to Cais do Sodré, a train station on the shore of the River Tagus, and turned right. This was a walk I used to take every weekday, from work on the Avenida da Liberdade to the station where I caught a local train home. But rather than getting on the train with the ghost of Jeffrey past, we walked along the river front, part of which had been developed since I lived in there. Now, there are a collection of bars and restaurants along the river front, one of which contained a party that had clearly started the night before. Or it might have been a zombie convention.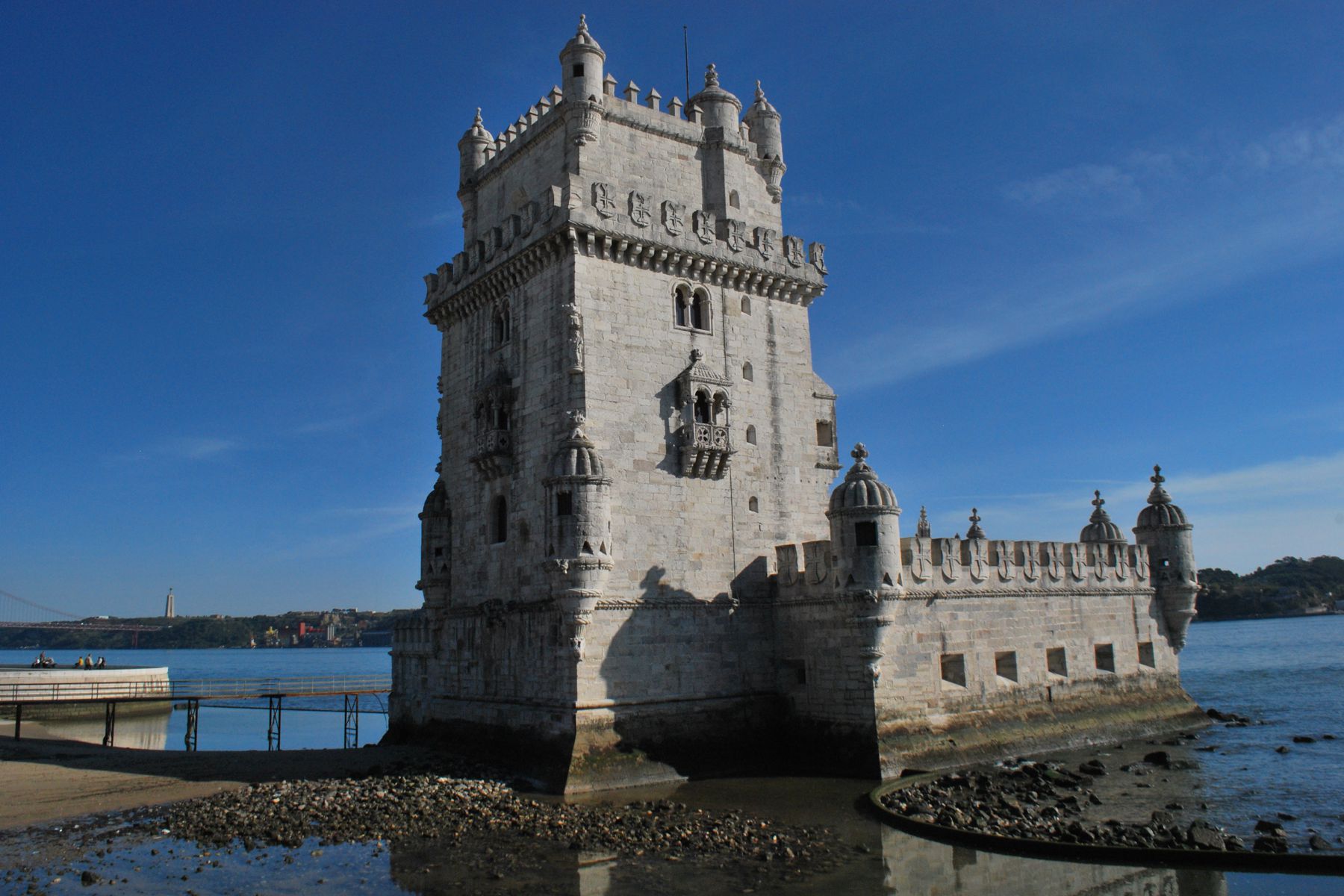 Torre de Belém (2010).
We walked past the monumental Padrão dos Descobrimentos (Monument of the Discoveries), a monumental sculpture on the riverside. Ira was unimpressed (there was a hint of post war Soviet-ness to it; not a style Ira is fond of). I've seen it many times, so we walked past it and on to Torre de Belém (Belem Tower), a medieval tower in a tiny island at the edge of the river. There was a massive queue to get in - indeed, I don't believe you could have fit everyone in the tower.
A quick scan on Ira's telephone suggested that we could probably go on to live happy, fulfilled lives if we did not go inside the tower. Reassured on this count, we sought lunch instead waiting in the queue.
After lunch, we meandered to the nearby Mosteiro dos Jerónimos (Monastery of Jerónimos) which also had a huge queue. Portugal has clearly been promoting itself as a centre of tourism. I do not recall such queues at tourist sites in the past. Anyway, the queue moved quickly and the grounds of the monastery are about the size of Luxembourg, so it did not feel crowded inside the massive structure.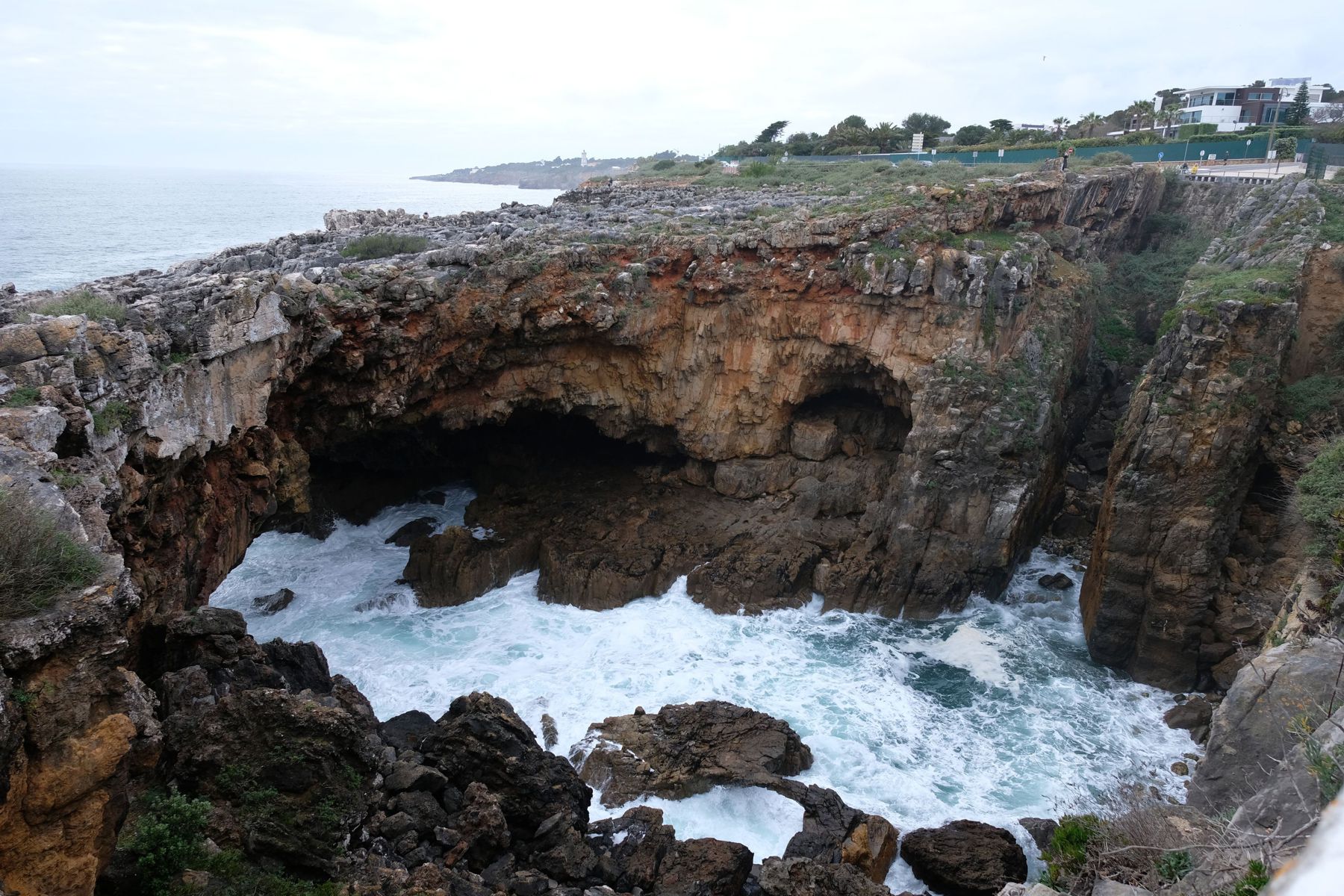 Coast near Cascais and Boca do Inferno.
Cascais
From there we hopped on a local train to Cascais, a popular tourist destination and my home - for a couple of months - many years ago. We walked around the town and towards the Atlantic Ocean. From there, we walked along the rocky coast -- and occasionally on the rocky bits -- to the Boca do Inferno (Mouth of Hell). This is a chasm in the seaside cliffs that is shaped in such a way that the waves come in aggressively on a quiet day and violently at other times. In the old days, when one was often alone, it was a pretty site. Nowadays, the platform for viewing the Mouth of Hell includes tourist shops one of which was blaring bad music, spoiling the beautiful sound of waves crashing against the rocks. Indeed, the walk to and from the mouth was better than the mouth. Far better.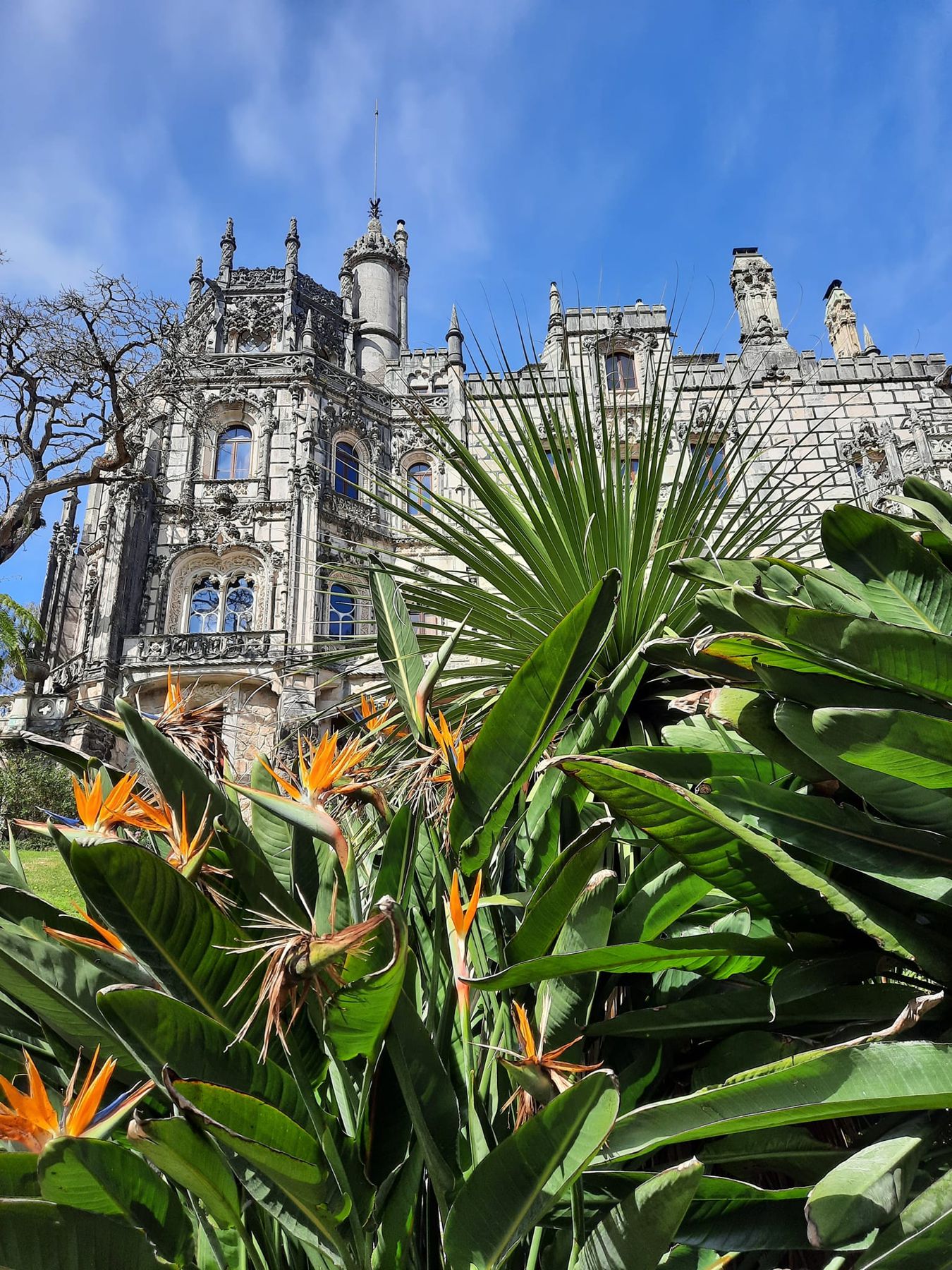 La Quinta de Regaleira, Sintra - photo by Ira.
Sintra
I've always loved Sintra, a delightful town on the outskirts of Lisbon. In my younger days, I enjoyed wandering amid the mountaintop ruins of Castelo dos Mours (Moors Castle). I have a weakness for ruined castles and find them much more appealing than unruined castles. However, Sintra includes far more than the ruins of a castle.
Pena Palace which is in good nick, is furnished in the old style and is worth visiting at least once. My one visit was in the 80s and I've not been inside since. Nevertheless, I recall pretty period furniture and royal portraits that illustrate the consequences of in-breading, though I do not believe that was their original purpose of the paintings.
La Quinta de Regaleira was not open to the public when I lived in Lisbon. But it is now and is worth a visit. The quinta is a large estate bought by Carvalho Monteiro in 1892. He promptly hired the Italian architect, Luigi Manini, to create marvellous, romantic grounds, which he did in a big way. The sprawling grounds are littered with towers, walls, grottos, fountains, wells and other treats. Sadly, it was also littered with tourists in a way it wasn't when I last visited in 2012.
Nevertheless, Ira and I had a delightful time wandering the grounds and taking pictures. Sintra boasts pleasant woodland walks that called to Ira and we explored a couple of those. Ira has an interest in plants which I do not share. Nevertheless, I enjoy walking in nature with Ira even if I am clueless about the names of the vegetation I walk past.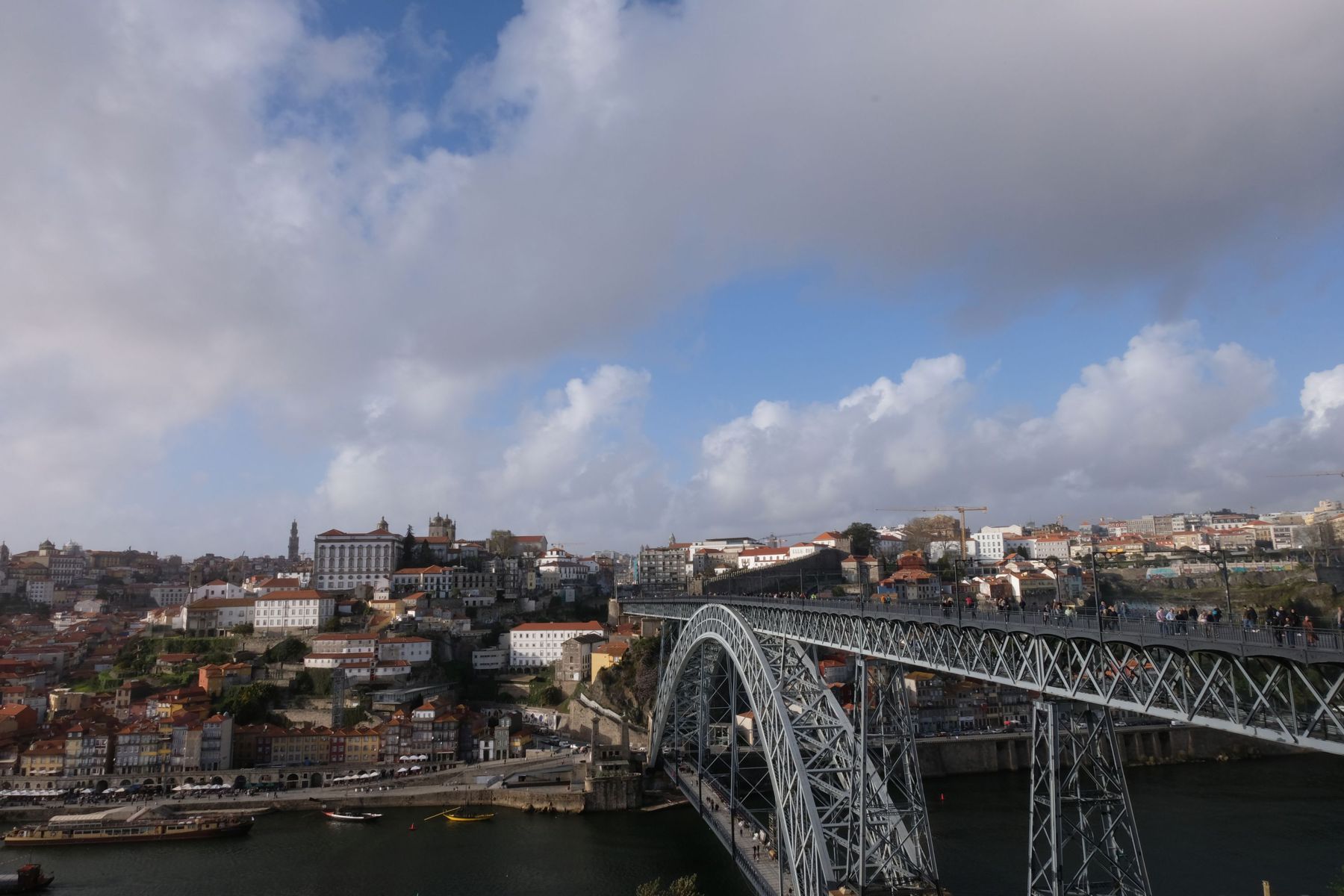 Ponte de Dom Luis, Porto.
Porto
In spite of having lived in Portugal and having visited a handful of times over the years, I somehow had never visited Portugal's second city - Porto. So, we drove up from Lisbon and spent a day exploring the Porto. The city does not have a lot in the way of museums and cultural thingies. But, nestled in a valley it is a pretty city and a delight to wander about. And this is precisely what we did. We wandered far and wide. Enjoying narrow streets climbing up the mountainside, rows of multicoloured buildings, a park and delightful views as we got higher (in terms of altitude; what were you thinking?)
We eventually found ourselves on the Ponte de Dom Luis, a stunning arched bridge that spans the valley. A walk along it delivers stunning views.
Eventually, we made our way to the river Douro on whose banks we found a delightful café where we enjoyed a glass of wine from the region.
The next morning we walked along the beach, had lunch on the beach, walked along the beach some more and then hit the road for our final destination in Portugal.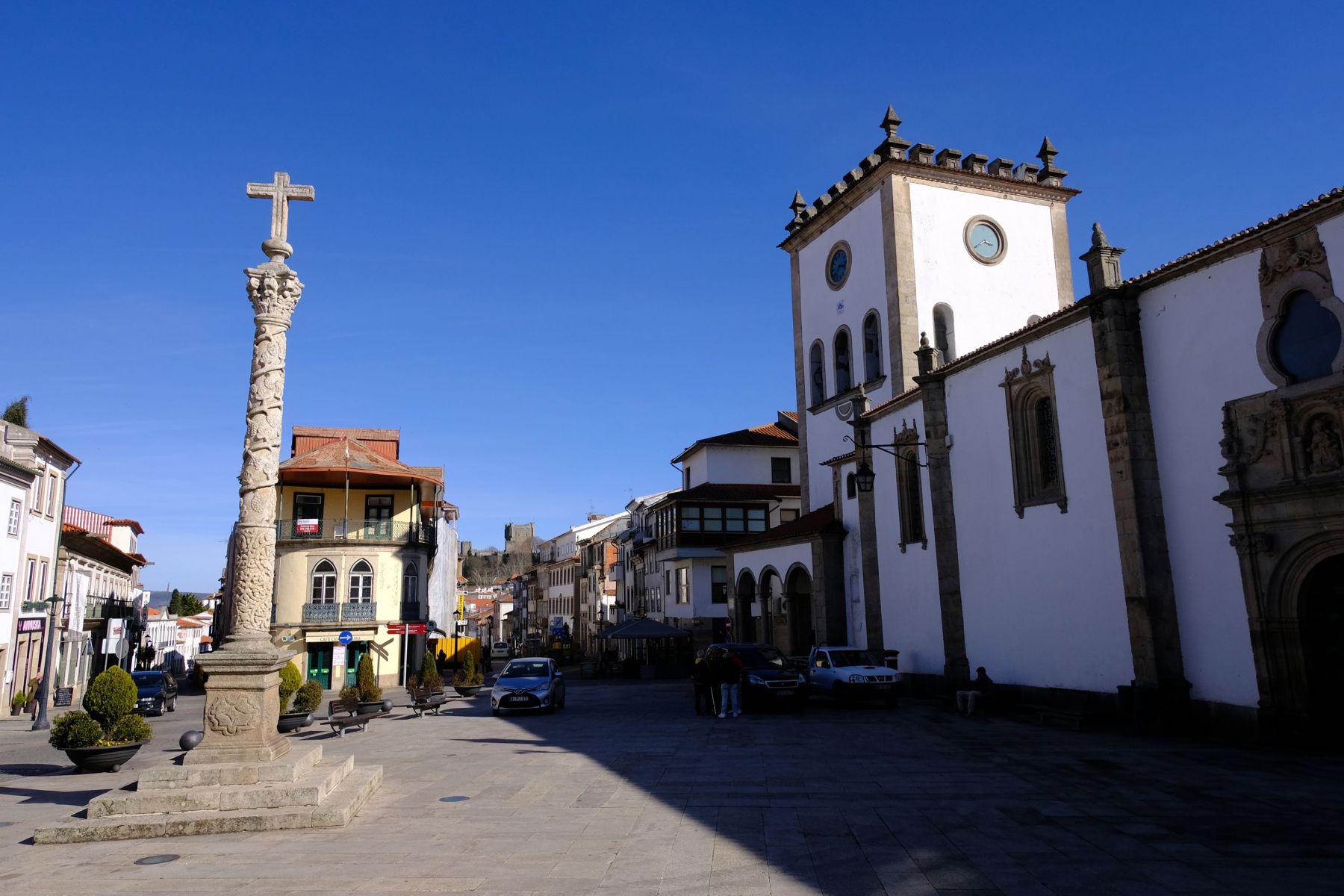 Bragança.
Bragança
Bragança is a pretty city, with a castle and walled old city in one corner, in the Northeast of the country. Fortunately, we were in the same corner as the castle and it was just a walk uphill to visit. We did. It was pretty. We had a nice dinner there. But, the real purpose for staying in Bragança was its proximity to Montesinho National Park where we planned a walk in the mountains. Whenever possible, we like to include at least one walk in the mountains in our journeys.
The walk was delightful and very different from the Alpine and Norwegian mountains we've walked recently. We were briefly stuck behind a shepherd and his sheep. But thet eventually turned off towards their pasture while we continued along the mountain path.
Curious Restaurant
Now, as you may have noticed, I am not a foodie and have largely not written about meals while travelling. Indeed, if I am not cooking, I let Ira make the dining decisions. She appreciates fine food and local dishes more than I do. Better still, she has a knack for finding nice eateries wherever we may be. However, her choice of restaurant for our first evening in Bragança is worth mentioning.
Solar Bragançano is a quirky, well established restaurant serving typical Portuguese fare as well as game. We were seated in a room that felt like a library that wanted tidying. In addition to full bookshelves, at least one table was stacked with books. Clearly, this was not a decorative library. It was a personal library. Ira and I, being book lovers, loved the atmosphere although, if I may be a wee bit critical, the room felt dusty.
Oh, and the wine glasses were the size of a small swimming pool.
We were served by a young lady and an elderly woman who, in spite of being in her 80s (I would guess), was full of energy and spoke very good English. I assume she was Dona Ana who runs the place with her husband António. The food was good enough, though I am a vegetarian who occasionally eats fish - so I cannot really judge the place. Likewise, Ira thought her dinner was good, but not the best we've had in Portugal.
But the experience was the best, most unusual dining experience of our trip.
After a couple of days in Bragança, we pointed the car north and drove towards Erps-Kwerps. The trip was delightful, brought back some memories and enabled me to share a part of my past with Ira. She also enjoyed the trip immensely. The only negative point, to my mind, was the number of tourists who have invaded the country, especially in the Lisbon and Sintra area. I have never seen so many tourists in the country. Many of them were American, leading me to wonder if Portugal's tourism bureau was promoting the country in the USA.
But, the underlying beauty of the country remained intact. And, economically, the country has come far since the days I called Lisbon home.
---
* Note: for some reason, my photographic eye wasn't working so well on this trip. I did not get as many good pictures as I would have liked. So, I've included a few pictures from previous visits to Portugal and some pictures by Ira. Older images include the year they were taken in brackets. Ira's pictures are credited to her. - return
---
Evora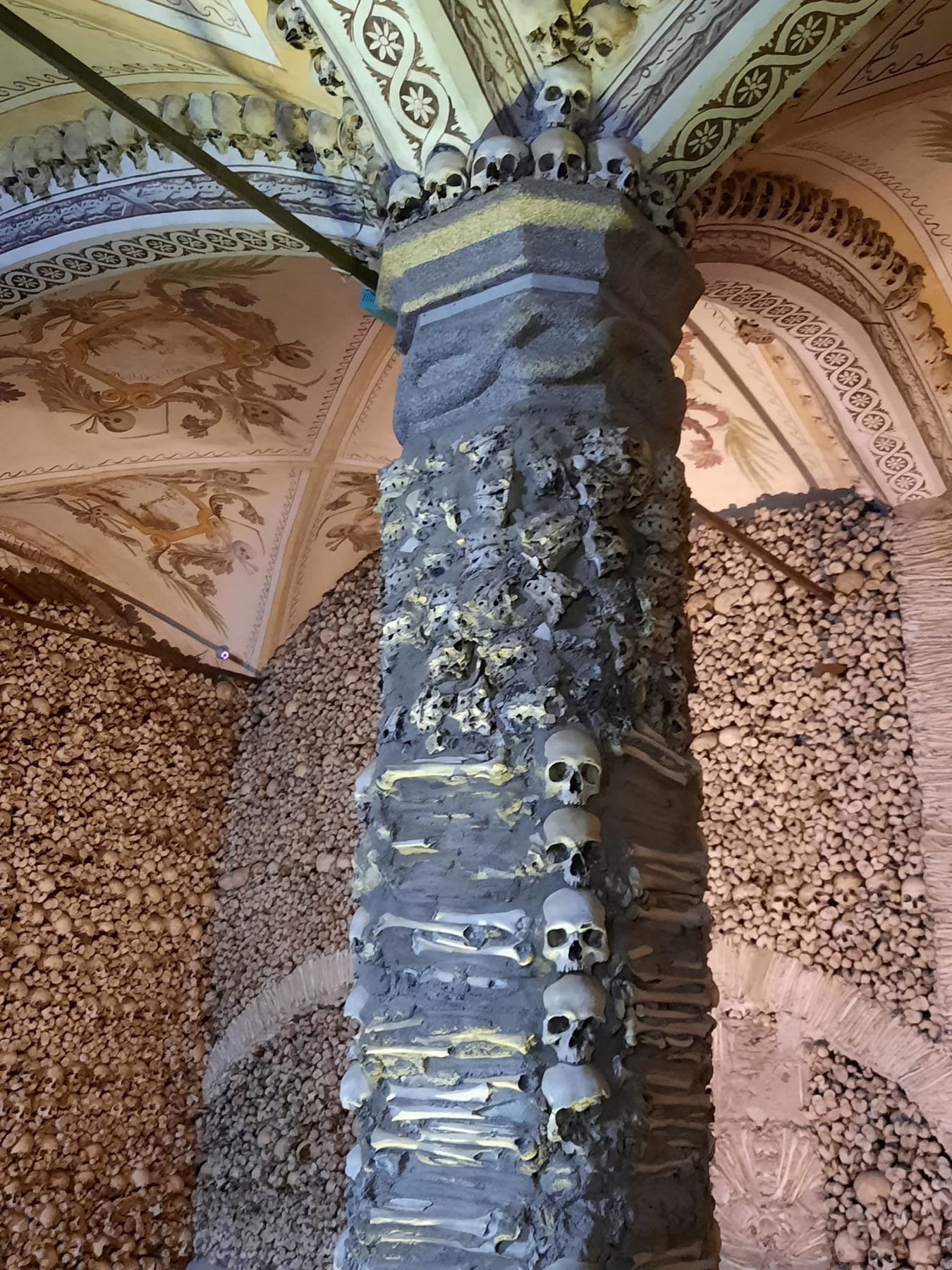 Bone chapel, Evora. Photo by Ira.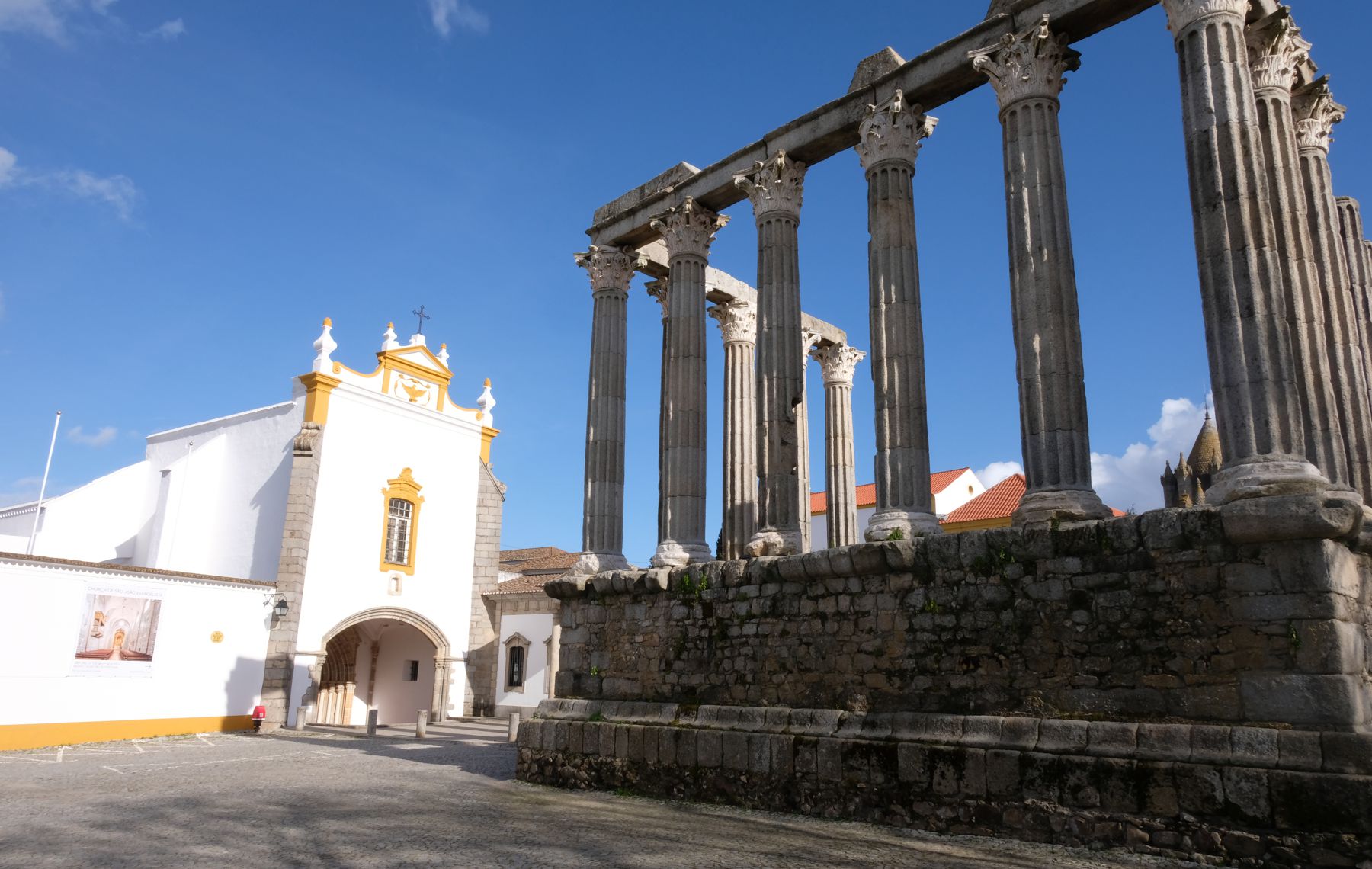 Roman ruins face off Medieval church in Evora.
Lisbon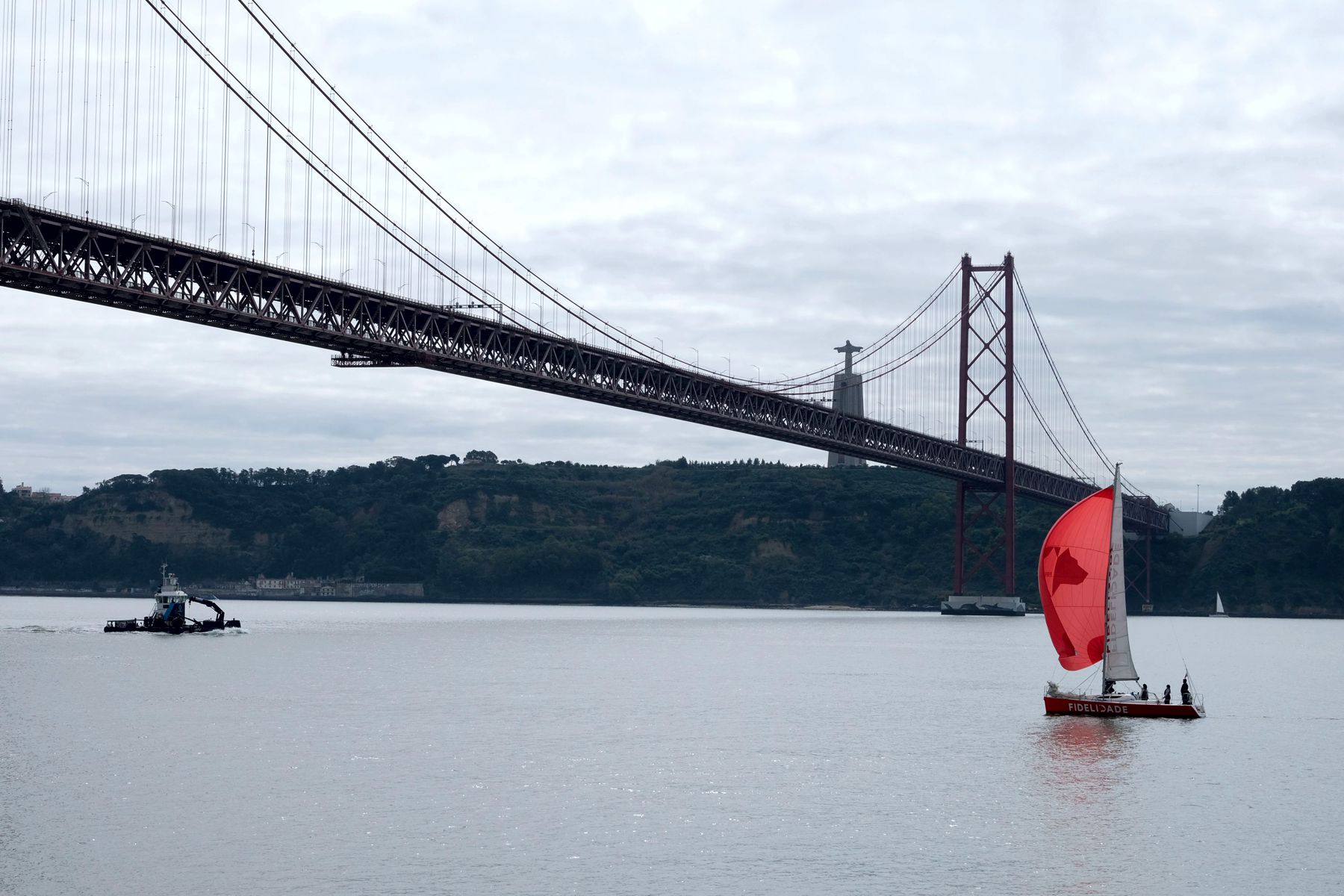 Bridge over the Tagus river.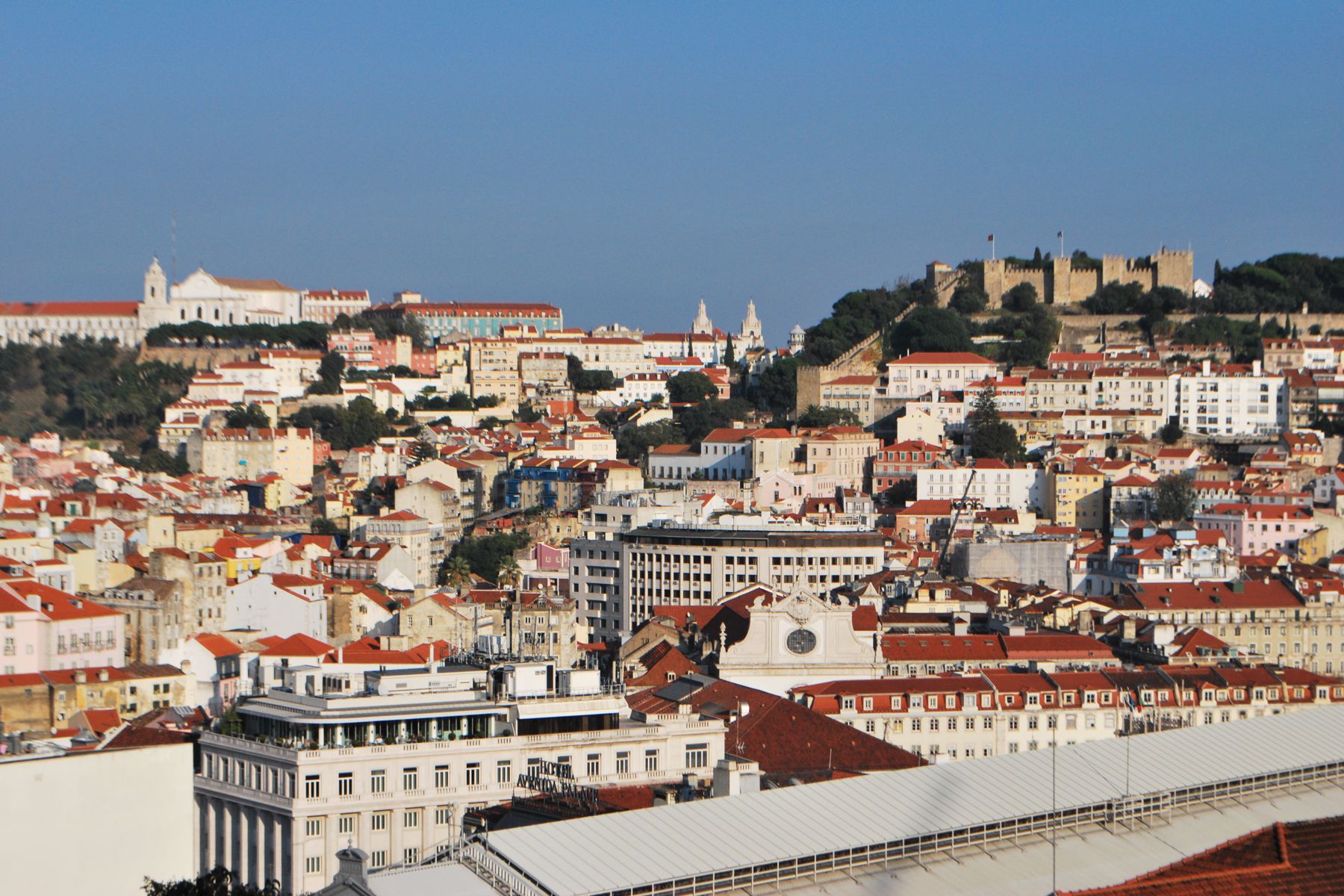 Lisbon (2010).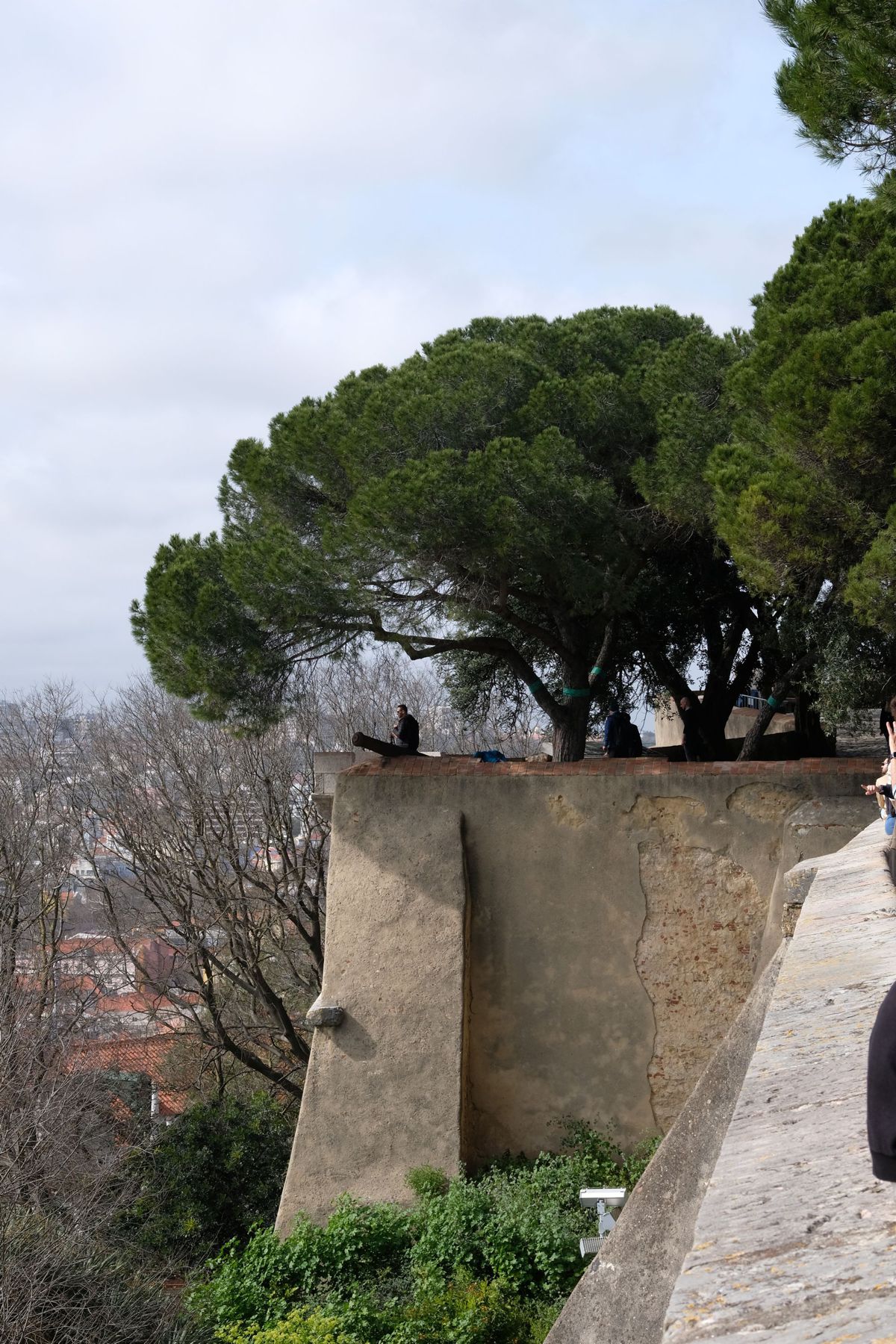 Alfama district of Lisbon, I think.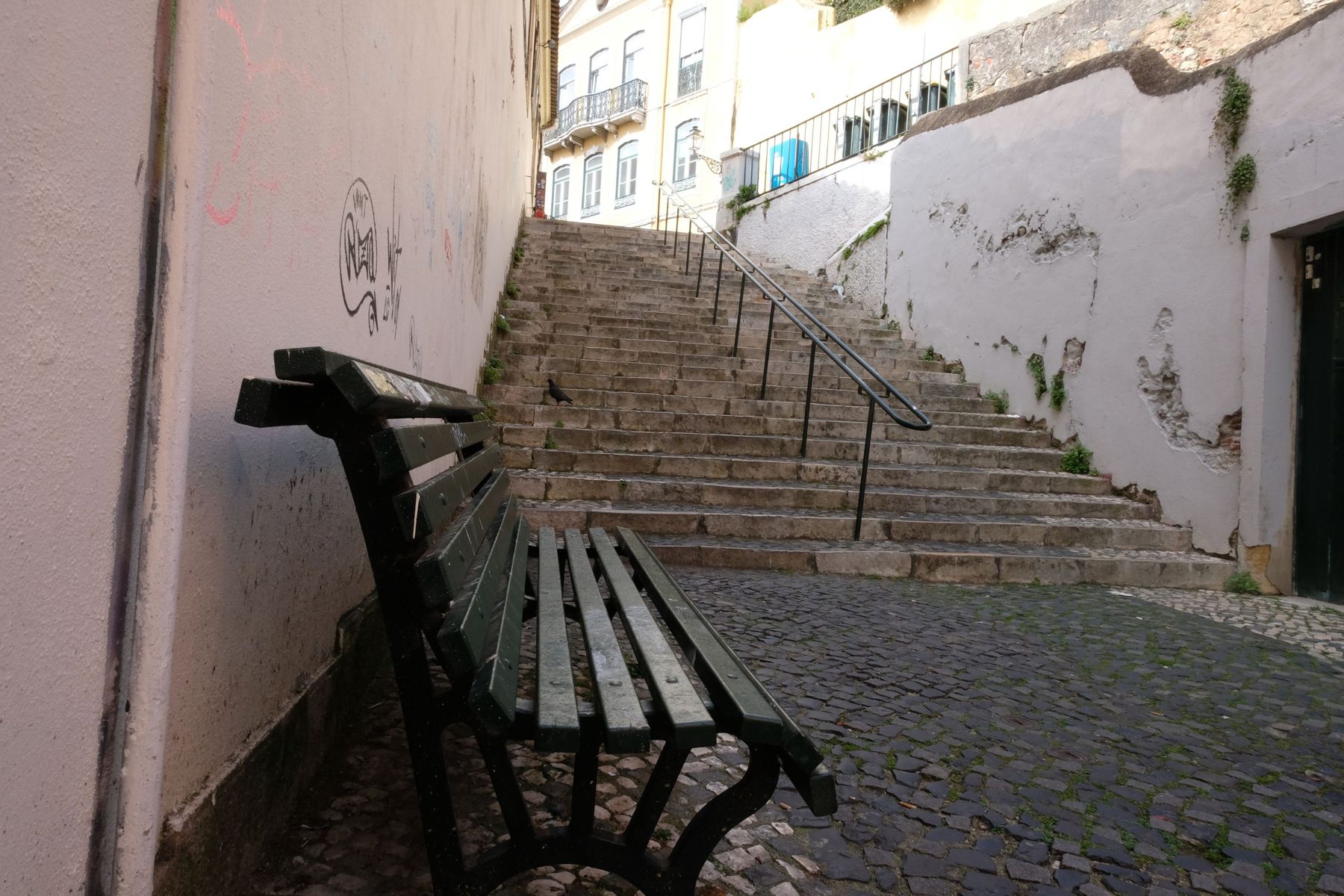 Alfama district of Lisbon.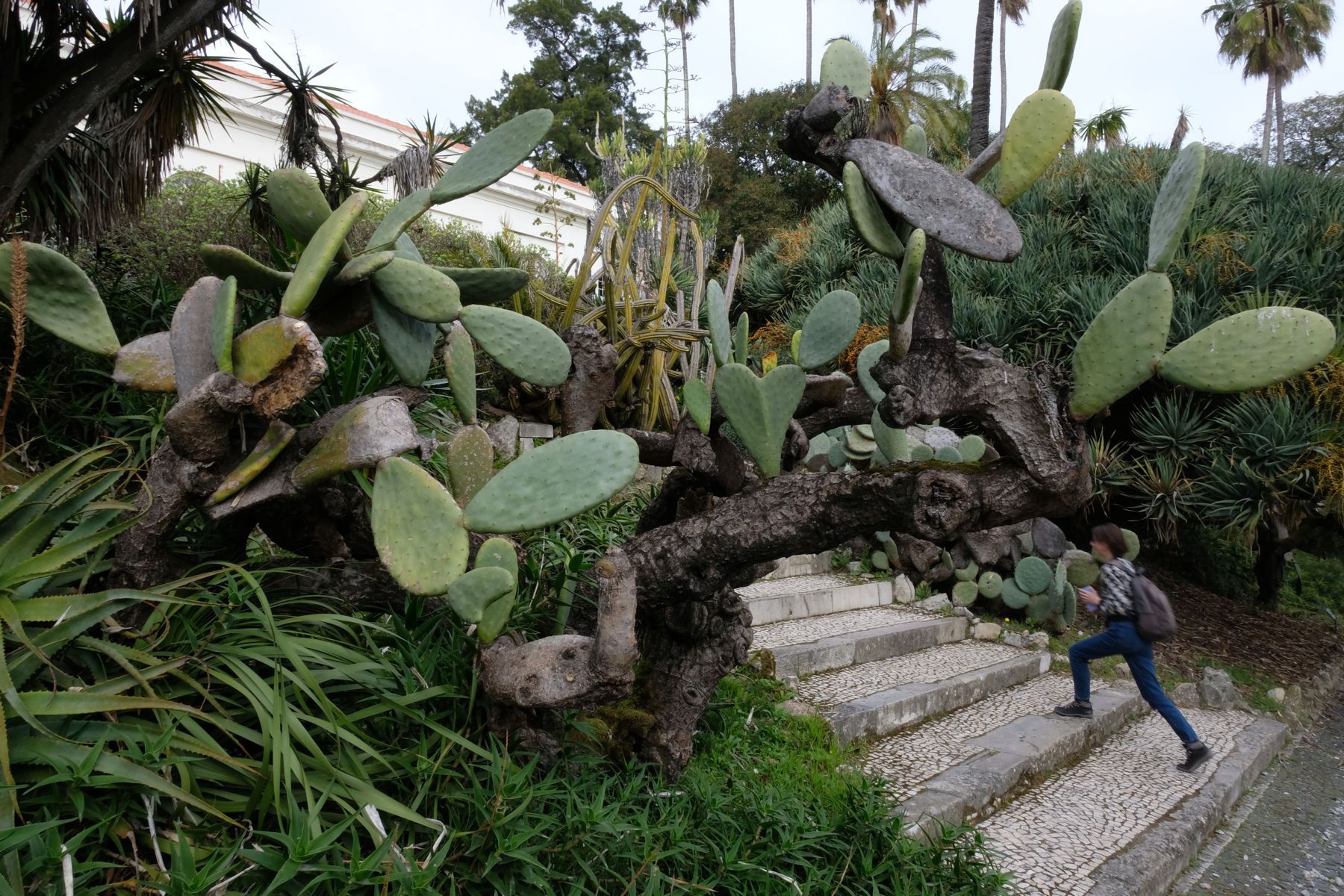 A familiar figure dashing through the botanical garden.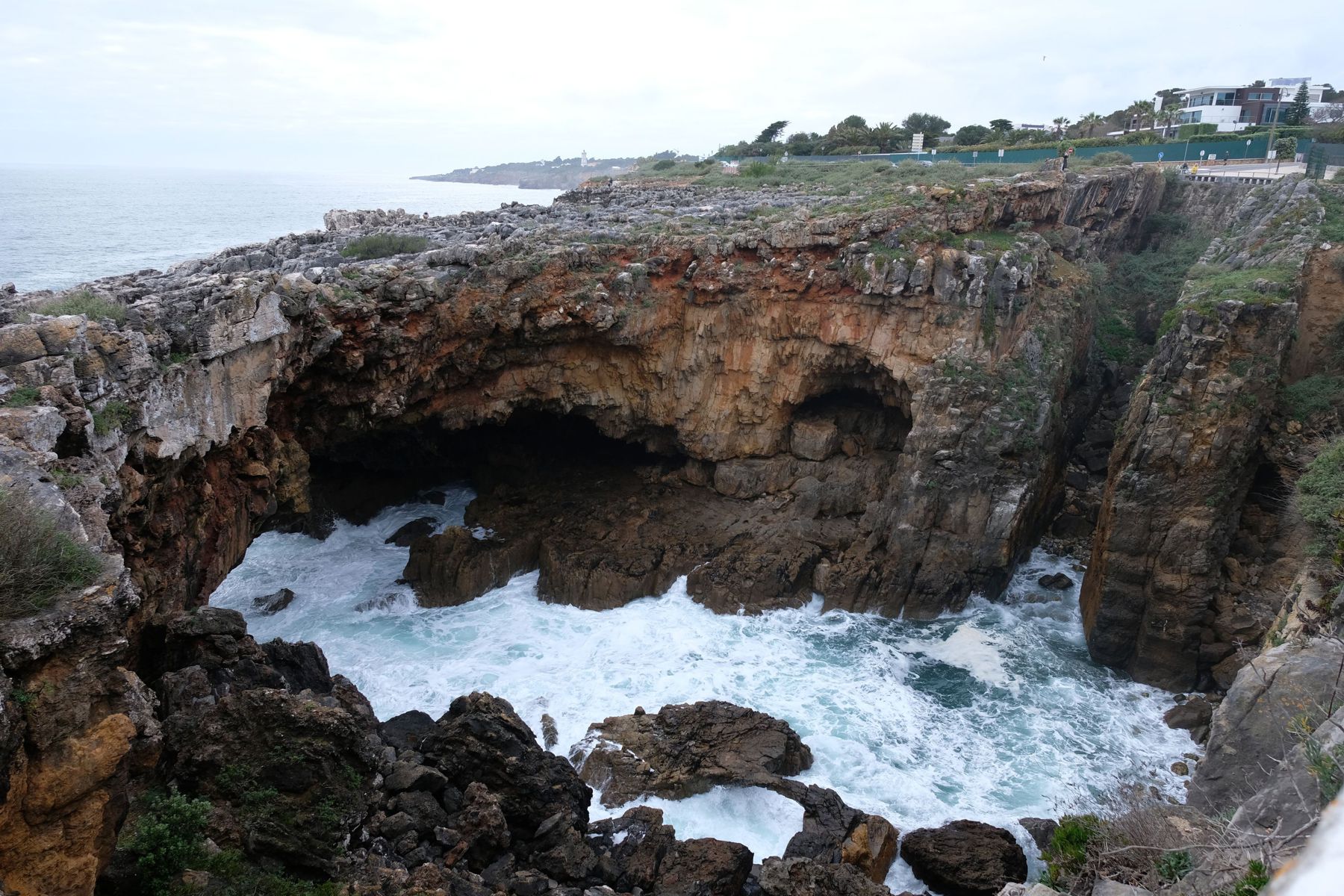 Ocean near Cascais.
Sintra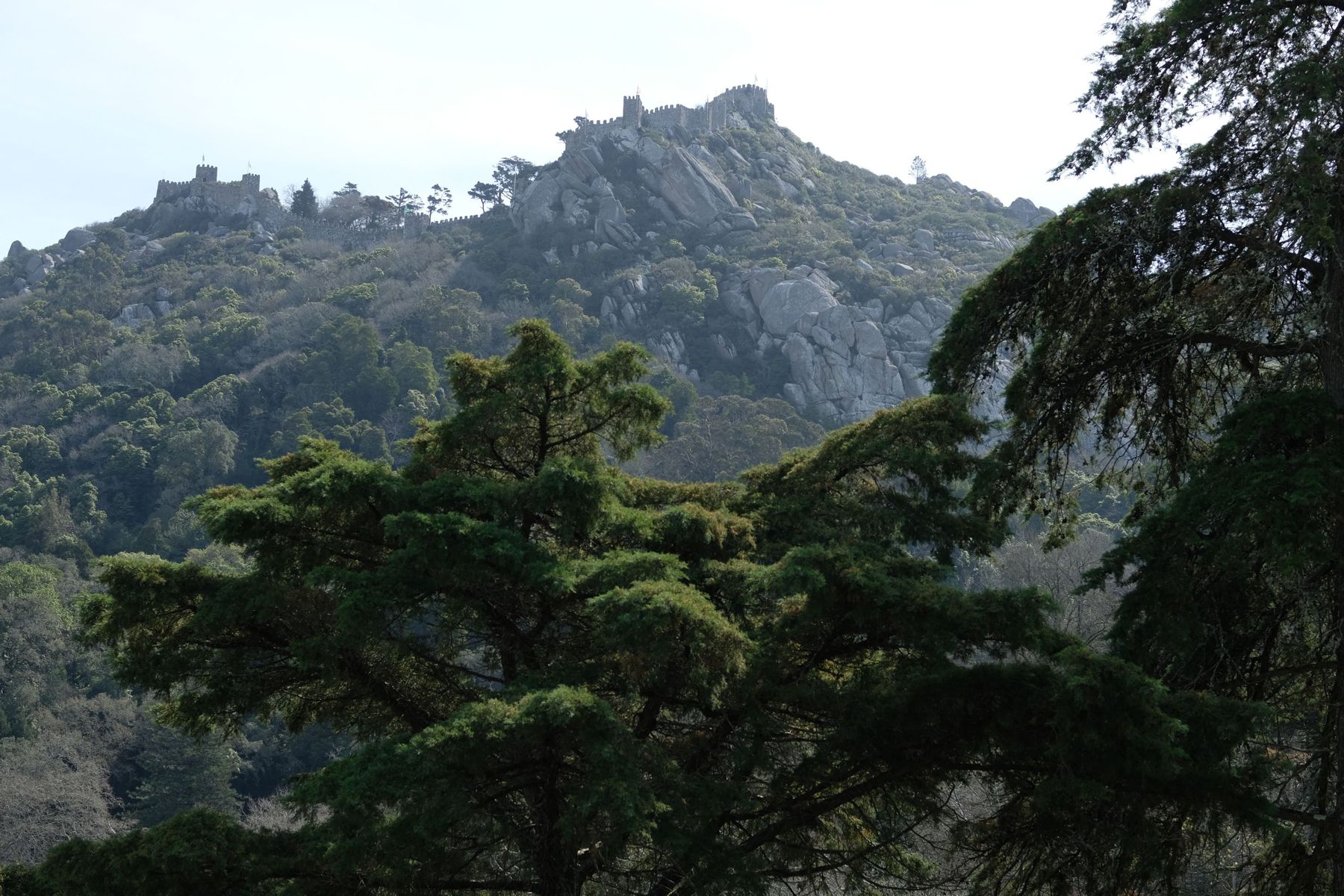 Ruins of Castelo dos Mouros (at top of mountain), Sintra.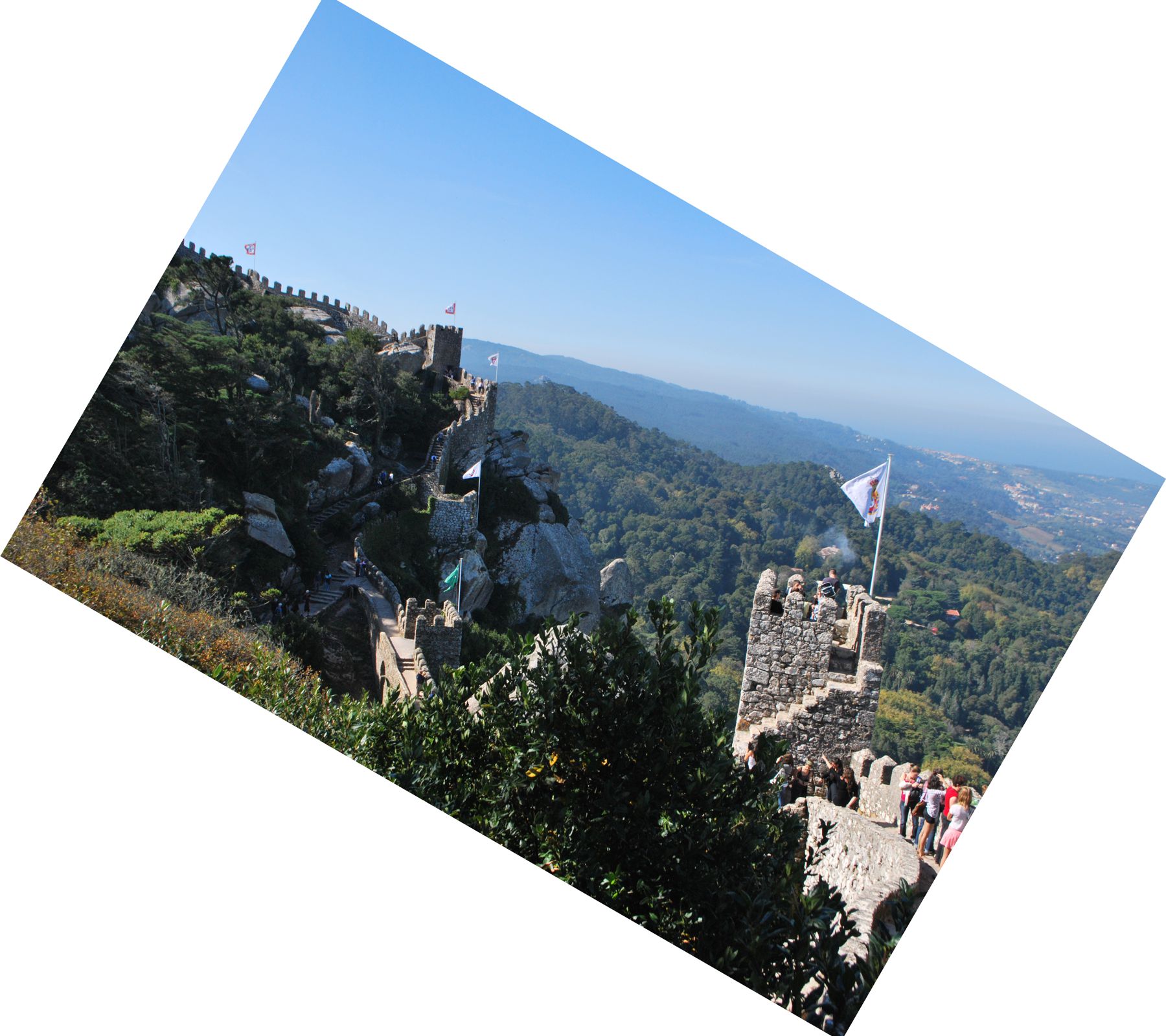 Another view of Ruins of Castelo dos Mouros (2010)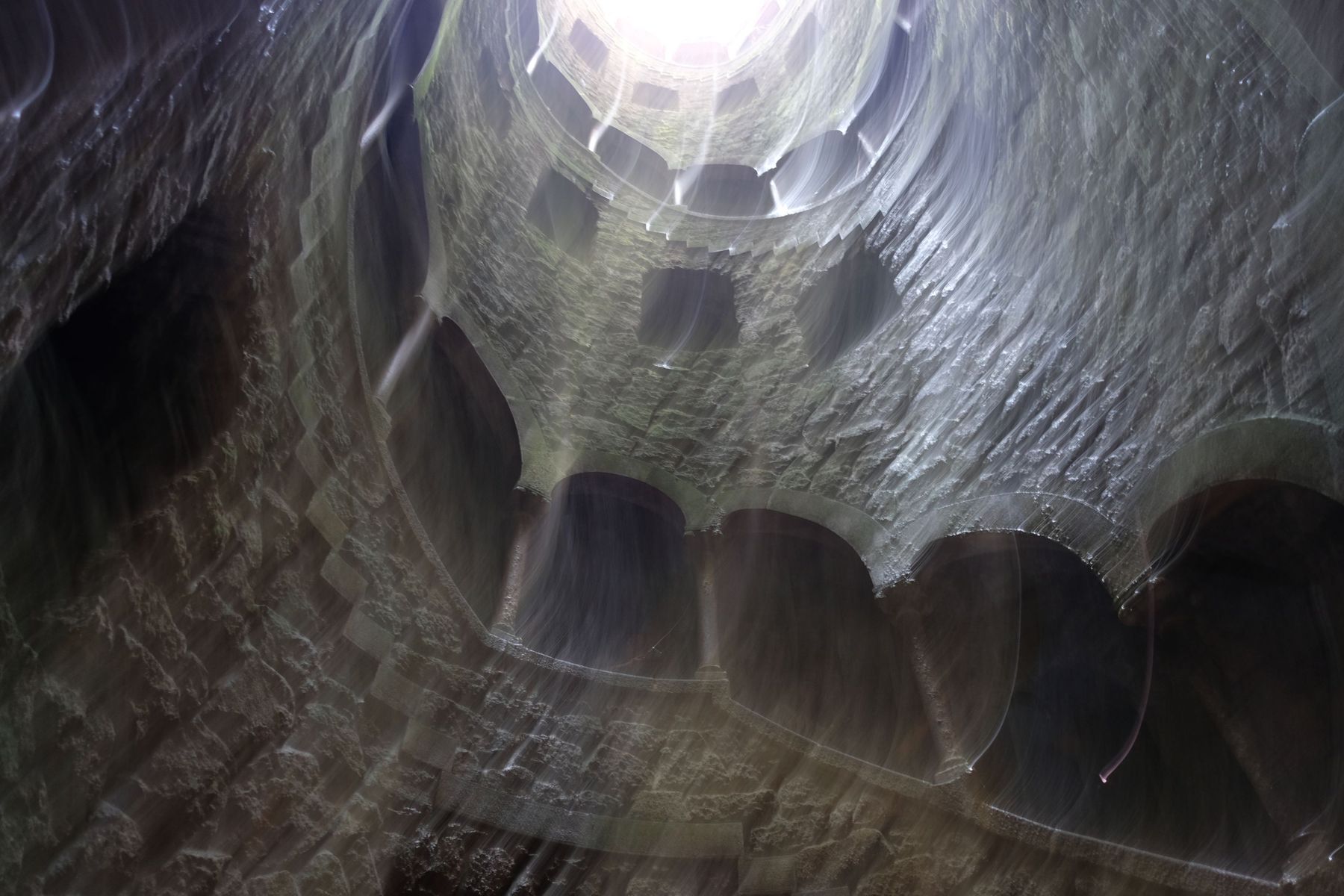 Initiation Well at Quinta da Regaleira, Sintra.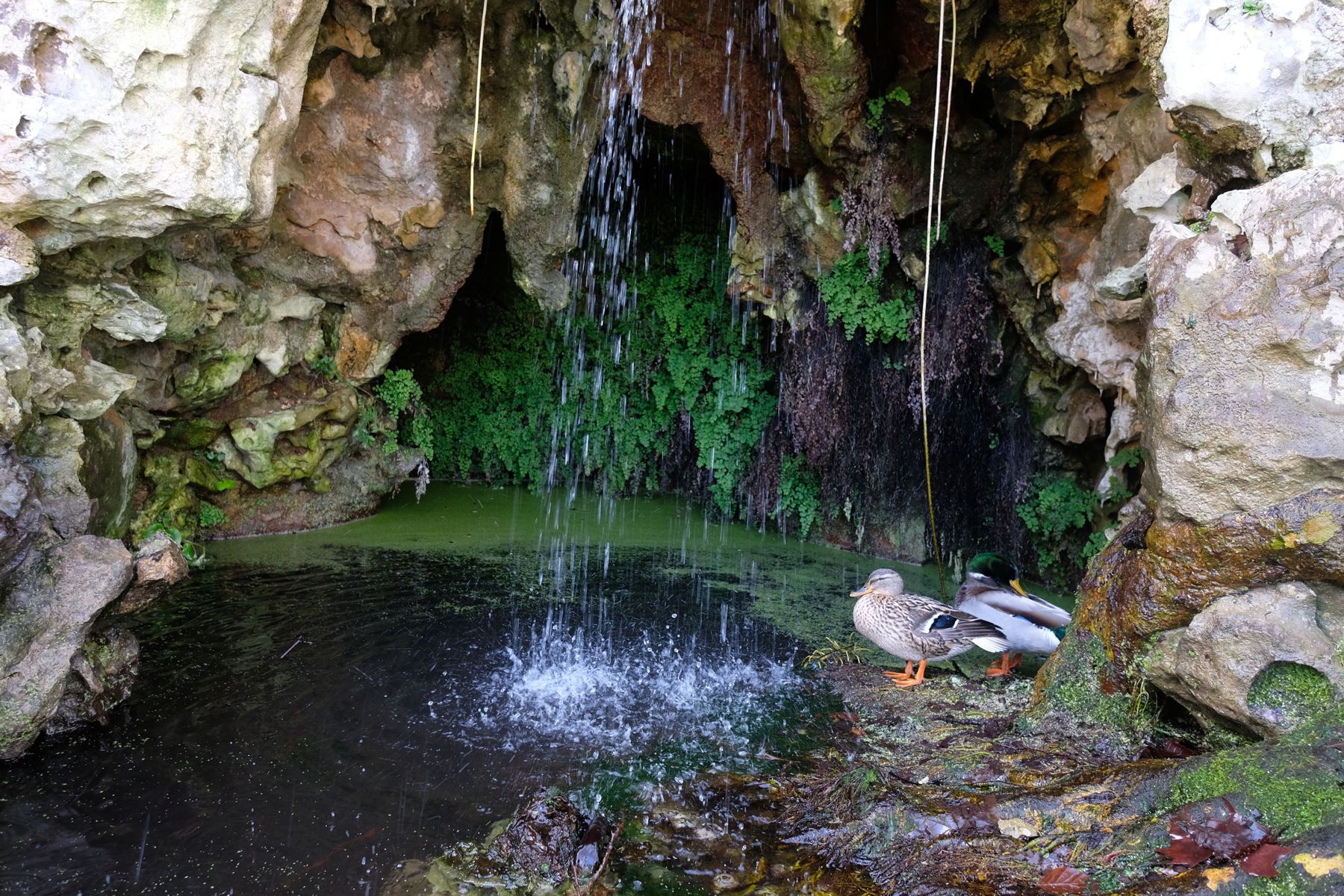 Duck ponda at Quinta da Regaleira, Sintra.
Porto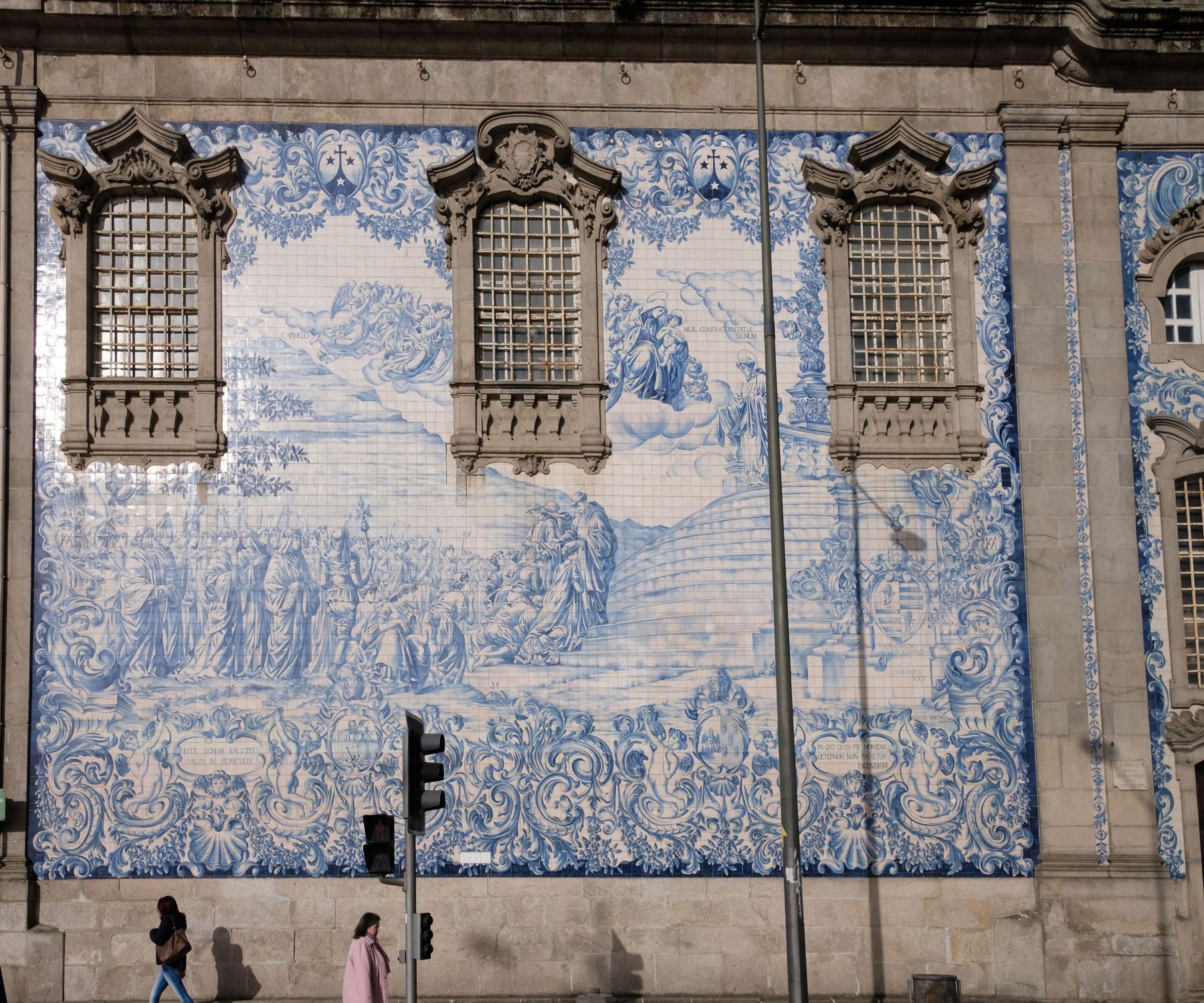 Traditional Portuguese tiling, Porto.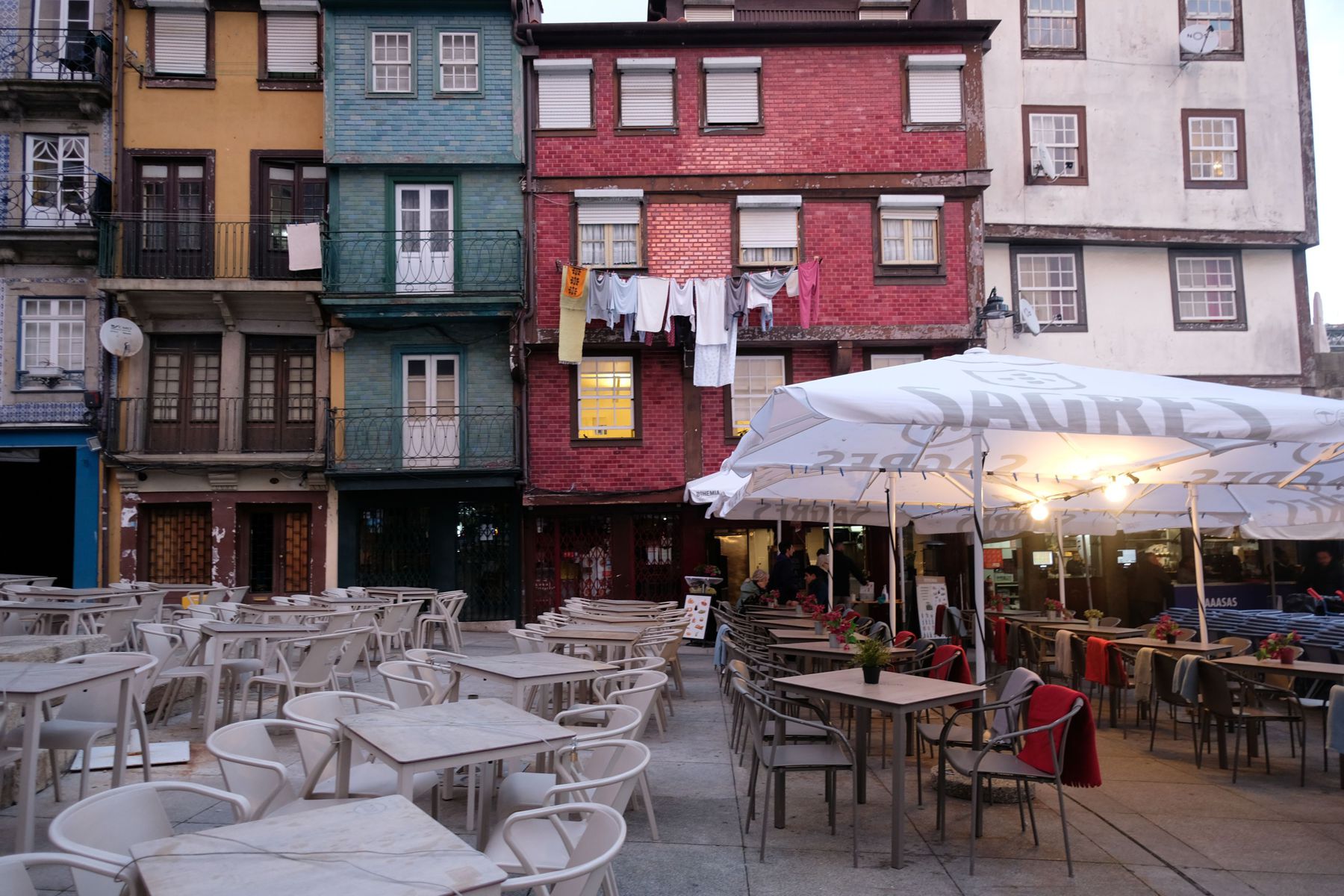 Not yet happy hour. Porto.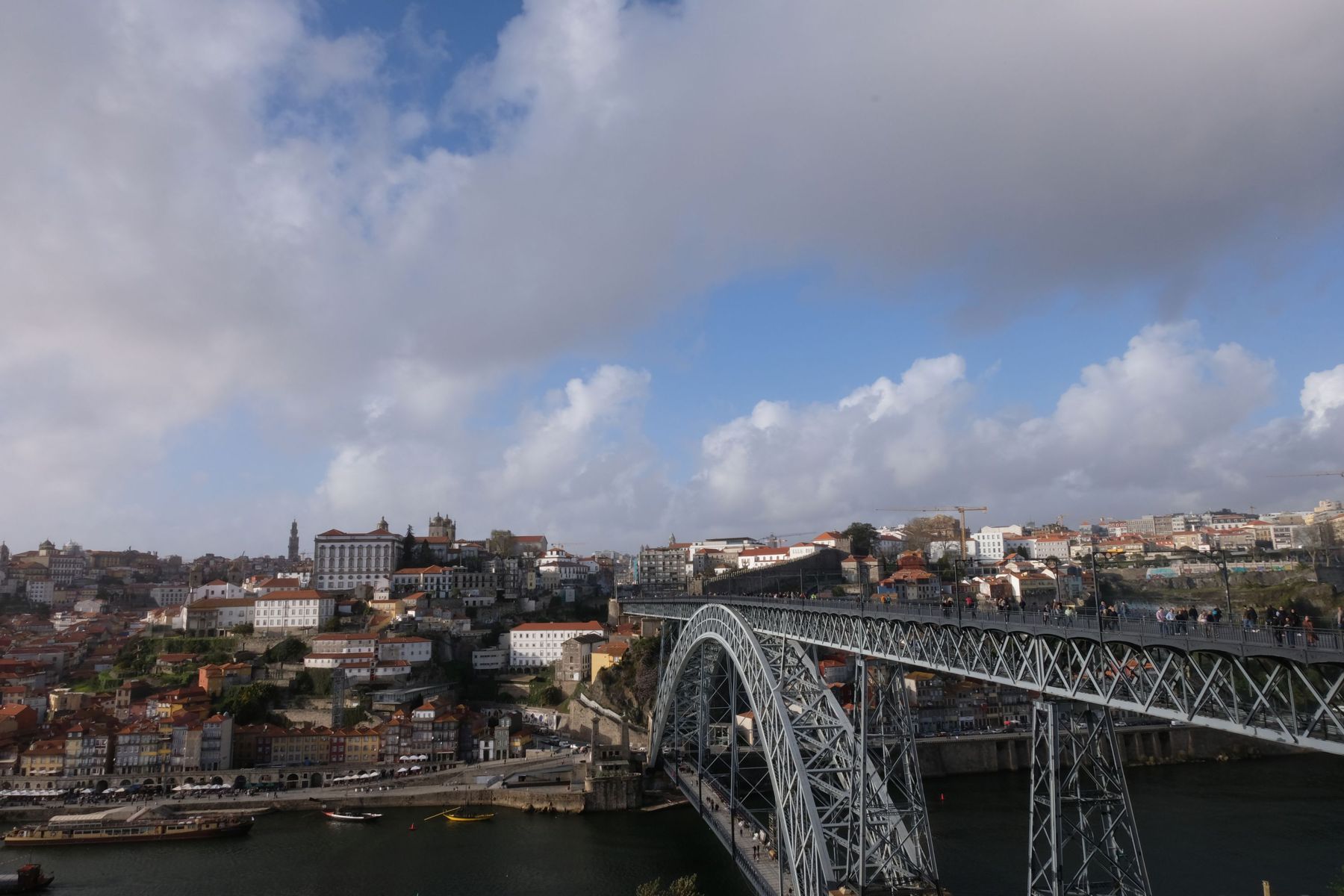 Bridge, Porto.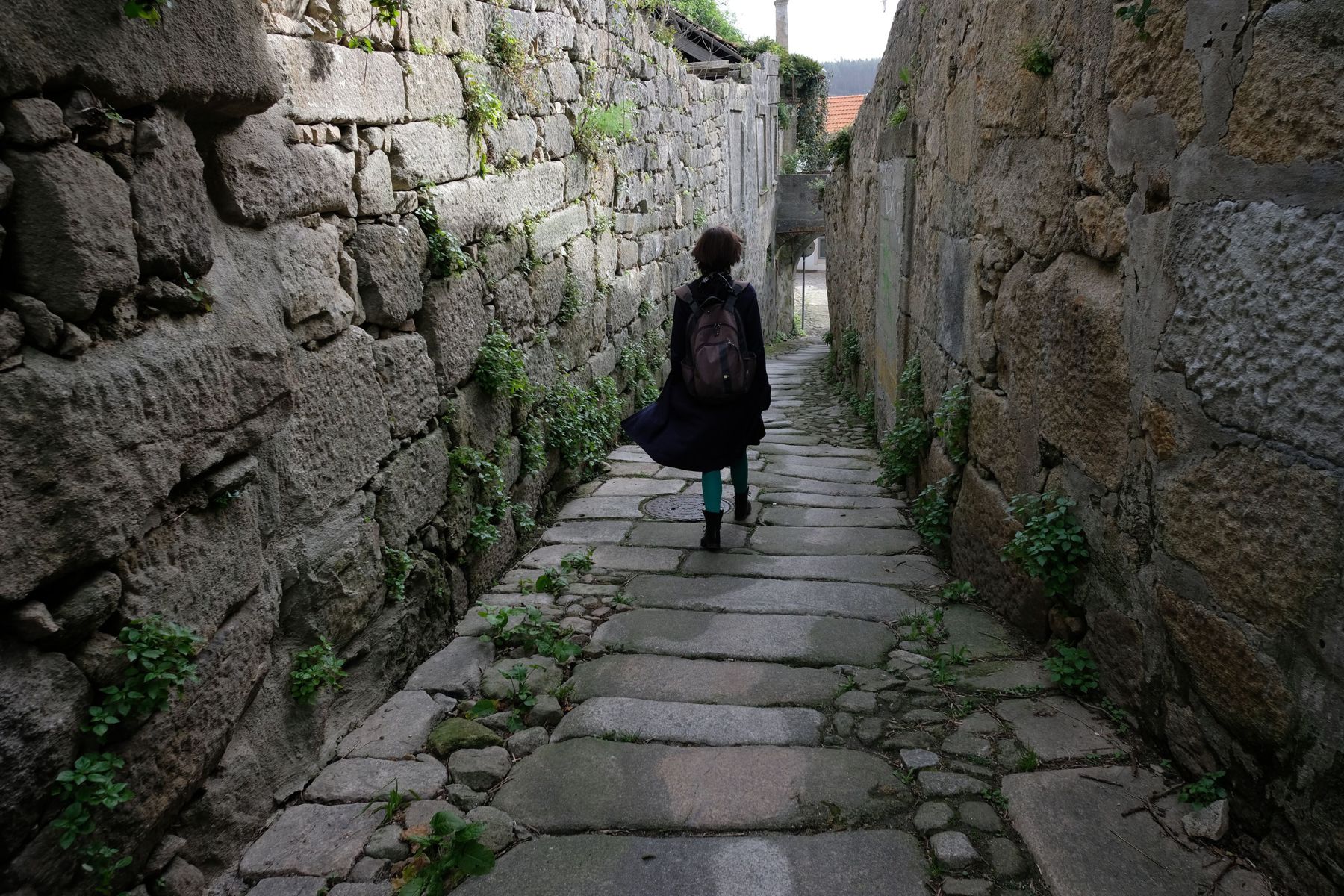 Alleyway, Porto.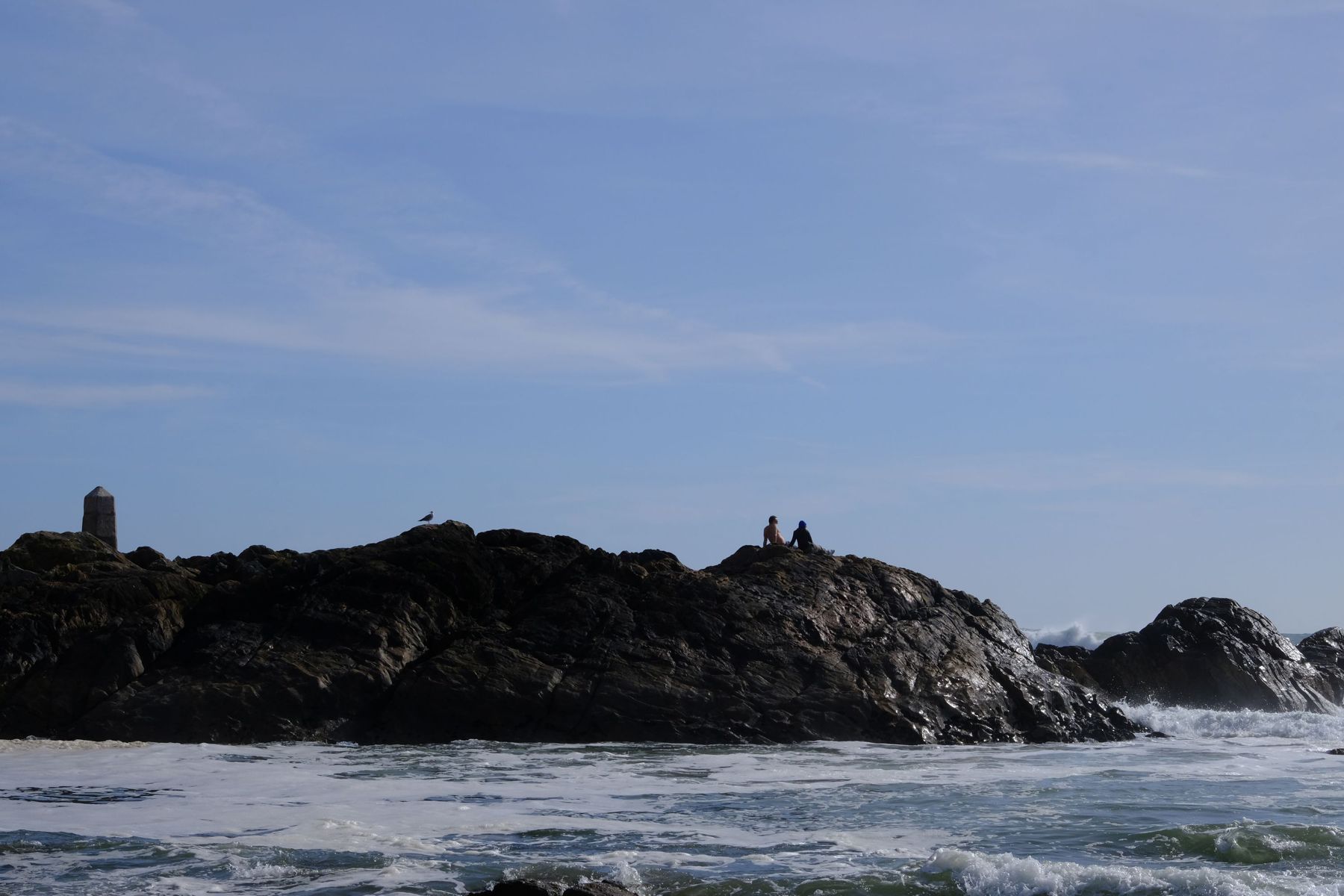 The coast, near Porto.
Montesinho National Park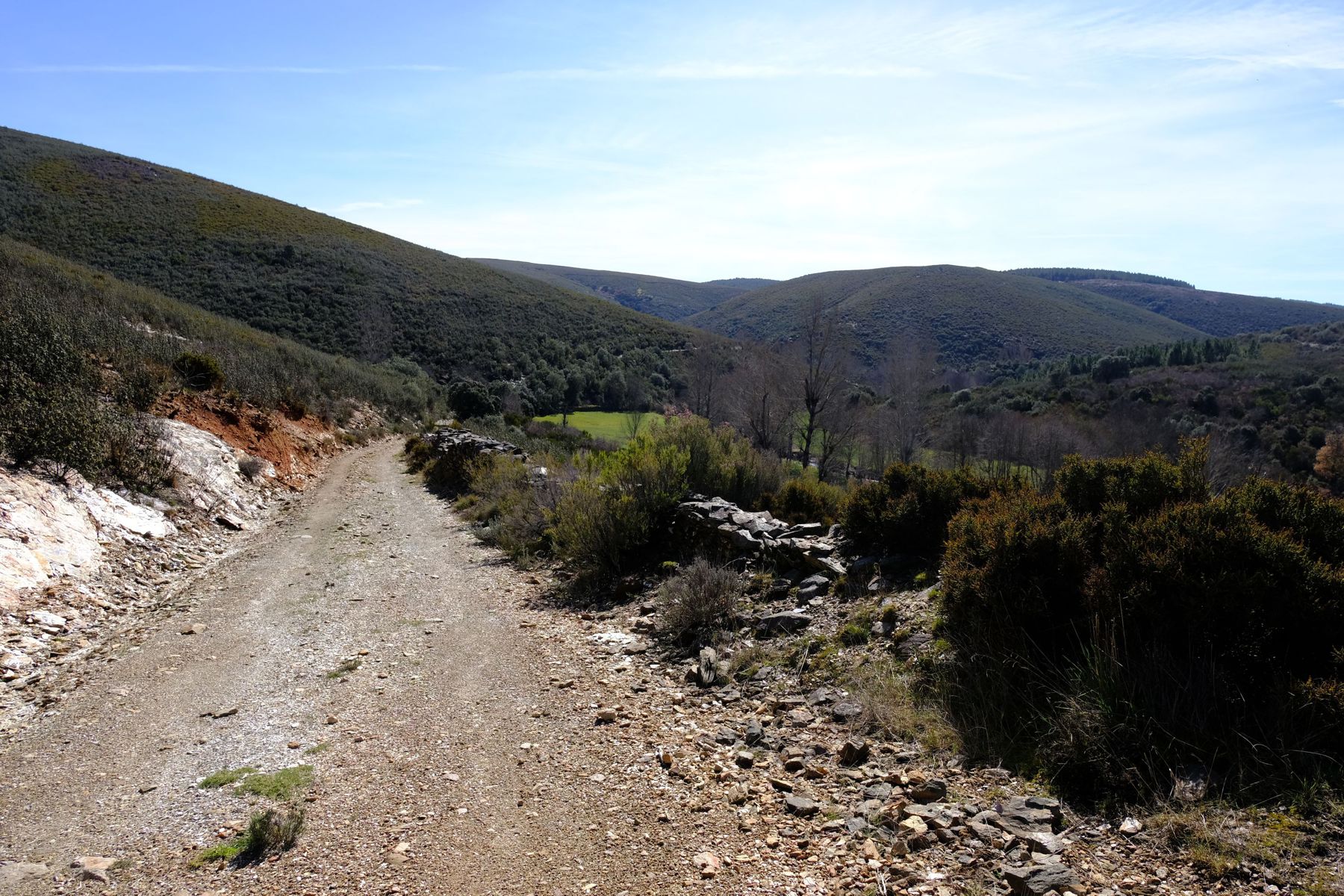 Montesinho National Park.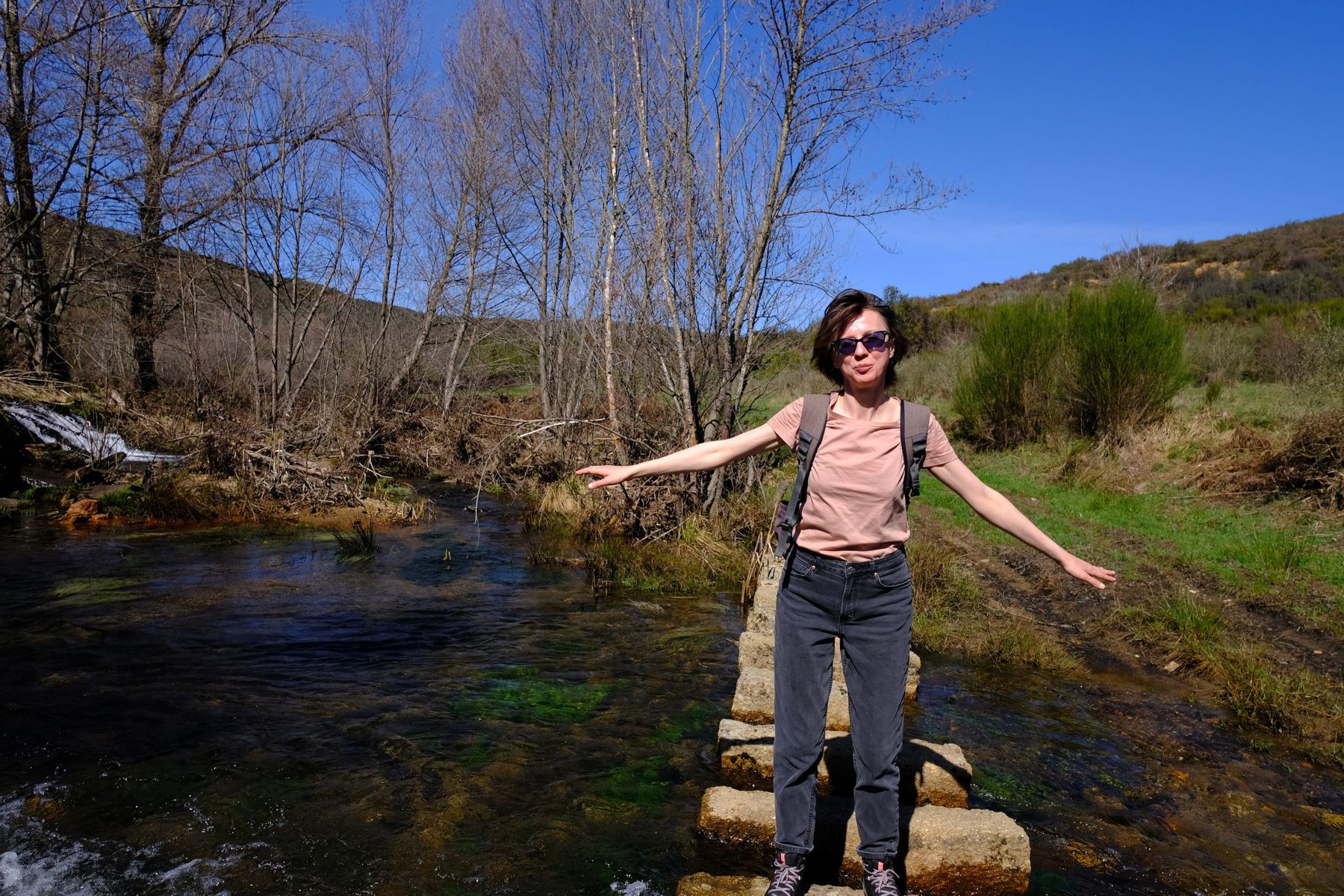 Ira explains how an aeroplane works in Montesinho National Park.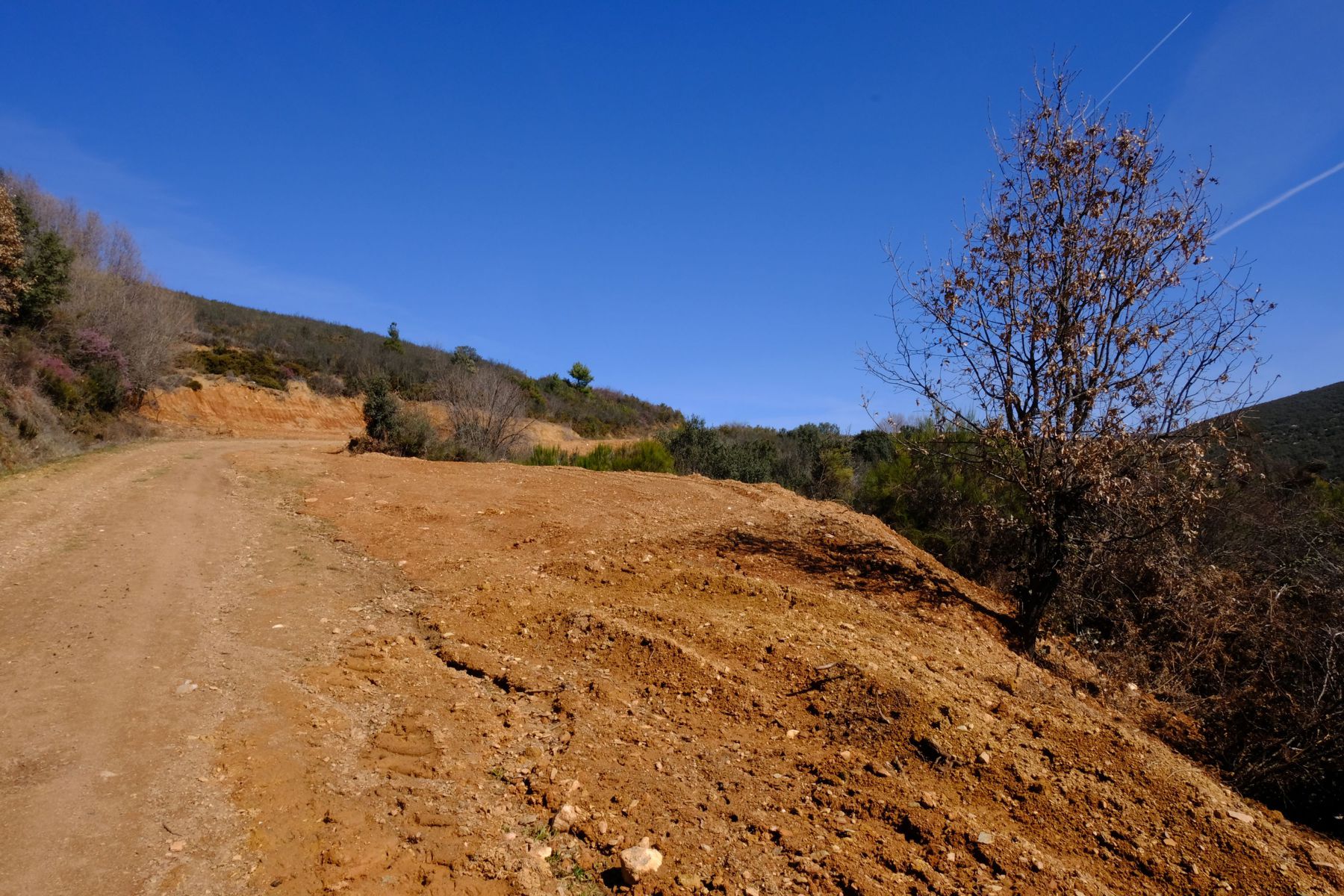 Dirt path, Montesinho National Park.
Bragança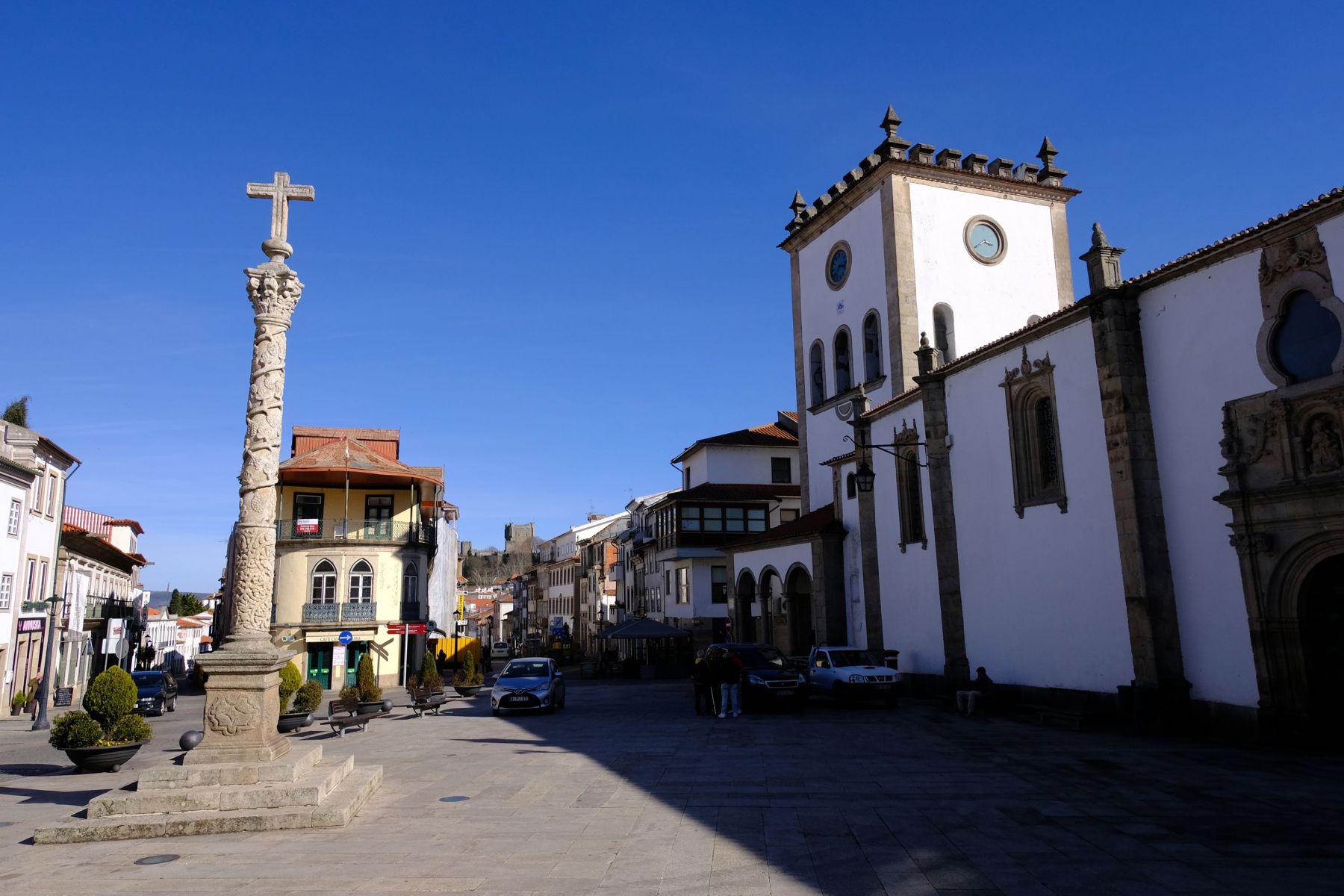 Town centre, Bragança.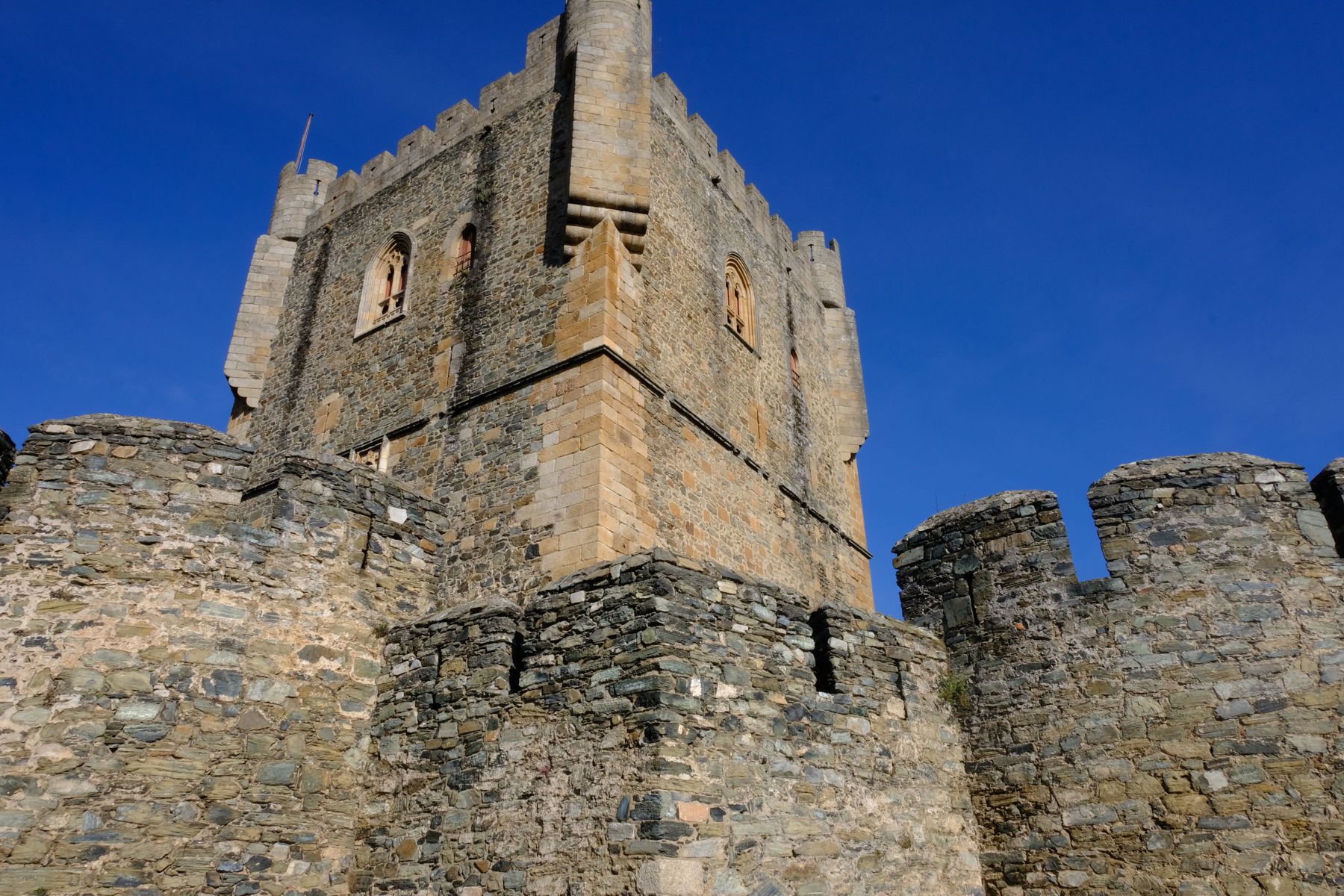 Castle of Bragança.
* * *
Share your feedback, thoughts and/or questions
* * *
If you enjoyed this story, please share it. I would love for more people to discover our blog.
* * *
* * *
Our latest Stories
The Queues of Paris (April 2023)
A recent visit to Paris involved standing in long queues and battling crowds. Fortunately, I have an idea about reducing crowds at tourist sites. Read it here.
Revisiting Portugal (March 2023)
Ira and I take a road trip to my one time home: Portugal.
Portuguese Memories (September 1985)
On a road trip through Portugal with Ira, I am reminded of my life in Lisbon in the mid 1980s
Fleeing to Cyprus (January 2023)
I decided to visit Cyprus off-season to do some hiking and wandering in ruins. It was a delightful trip.
The Answer Lies Just Around the corner (November 2022)
All my life, I've felt that the answer, some profound purpose in life, has laid just round the corner. Although I have experienced a lot in life, I am still looking for that corner.
All stories
Index of all the stories on this blog.