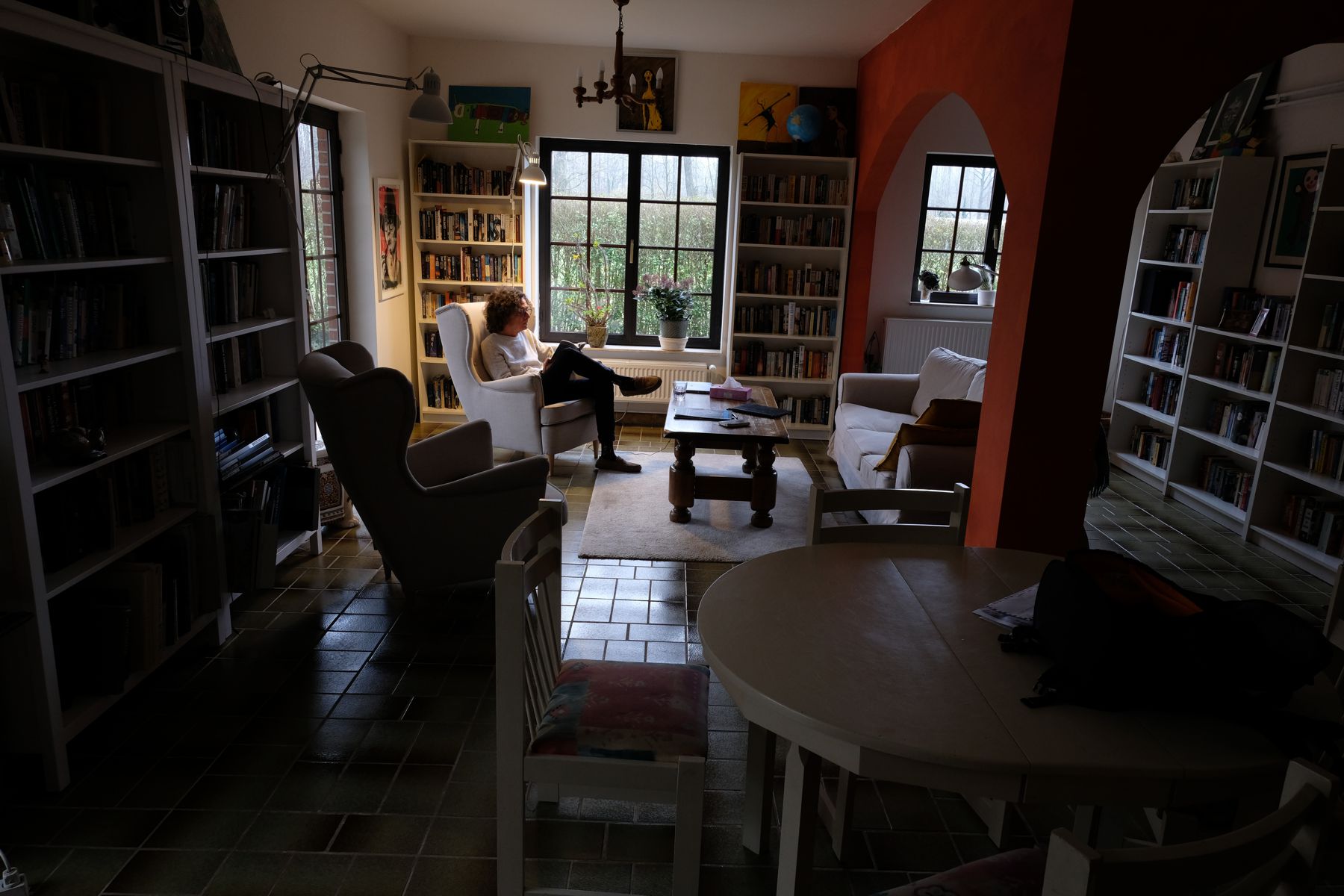 Alone in my library
Alone and Restless in January
In early January, I was brutally abandoned by family who had visited for the Christmas holidays but then had to get back to work or studies or both. In late December, I had two sons, a brother, a partner, a partner's sister and a partner's cat occupying the Erps-Kwerps house. By the second week of January, only I remained. Truth be told, I was feeling a bit lonely. And a bit restless. So, I decided to flee the country -- for a week or so. Why face your problems when you can run away from them?
---
Fleeing to Cyprus
Cyprus - January - by Jeffrey
---
Cyprus came to mind as an ideal destination. It is generally thought of as a beach resort kind of country. But in January, the weather is too cold for sunbathing or swimming. So I suspected prices would be low and accommodation readily available. Moreover, I am not a beach resort kind of guy. I'm more of a wandering, exploring, culture absorbing kind of guy. Cyprus offers these things too. In abundance. So, I got planning.
I checked Ryan Air's web site and saw that I could get tickets for €15 each way. However, at that price I'd be duct-taped to the landing gear. Getting an actual seat and checking in a bag added to the price of a ticket, but it was still remarkably cheap. As was hiring a car. So bought tickets, ordered myself a little car, booked some accommodation and already felt the trauma of familial abandonment to be fading.
* * * * *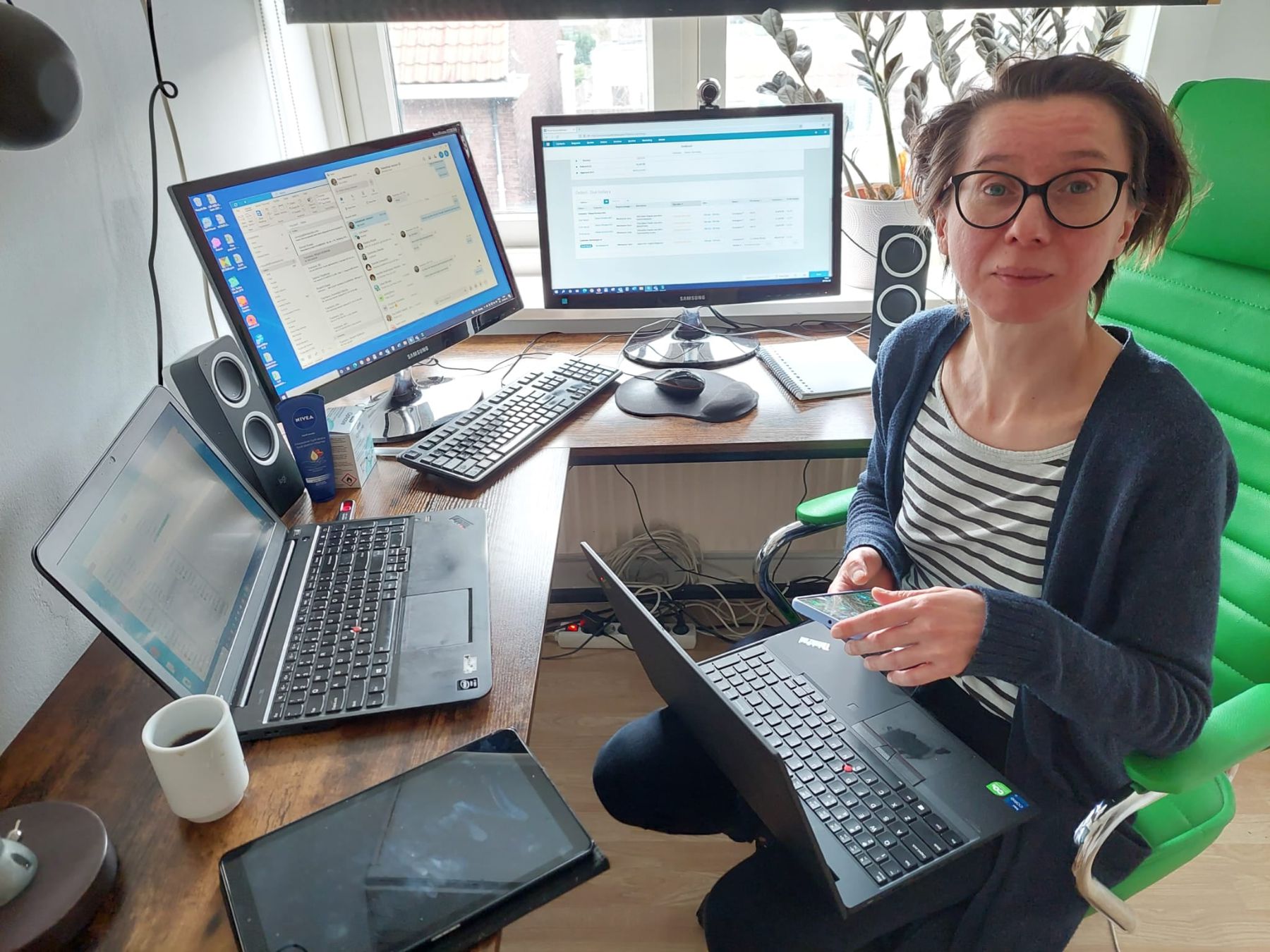 Ira in her home office. Do you think she has enough computers?
Ira Was Too Busy to Join Me
The only down-side is that Ira, who's recently launched her own language and language technology company, was too busy to join me. I would try not to be too smug about gallivanting about Cyprus while she was hard at work. I didn't entirely succeed - he he.
* * * * *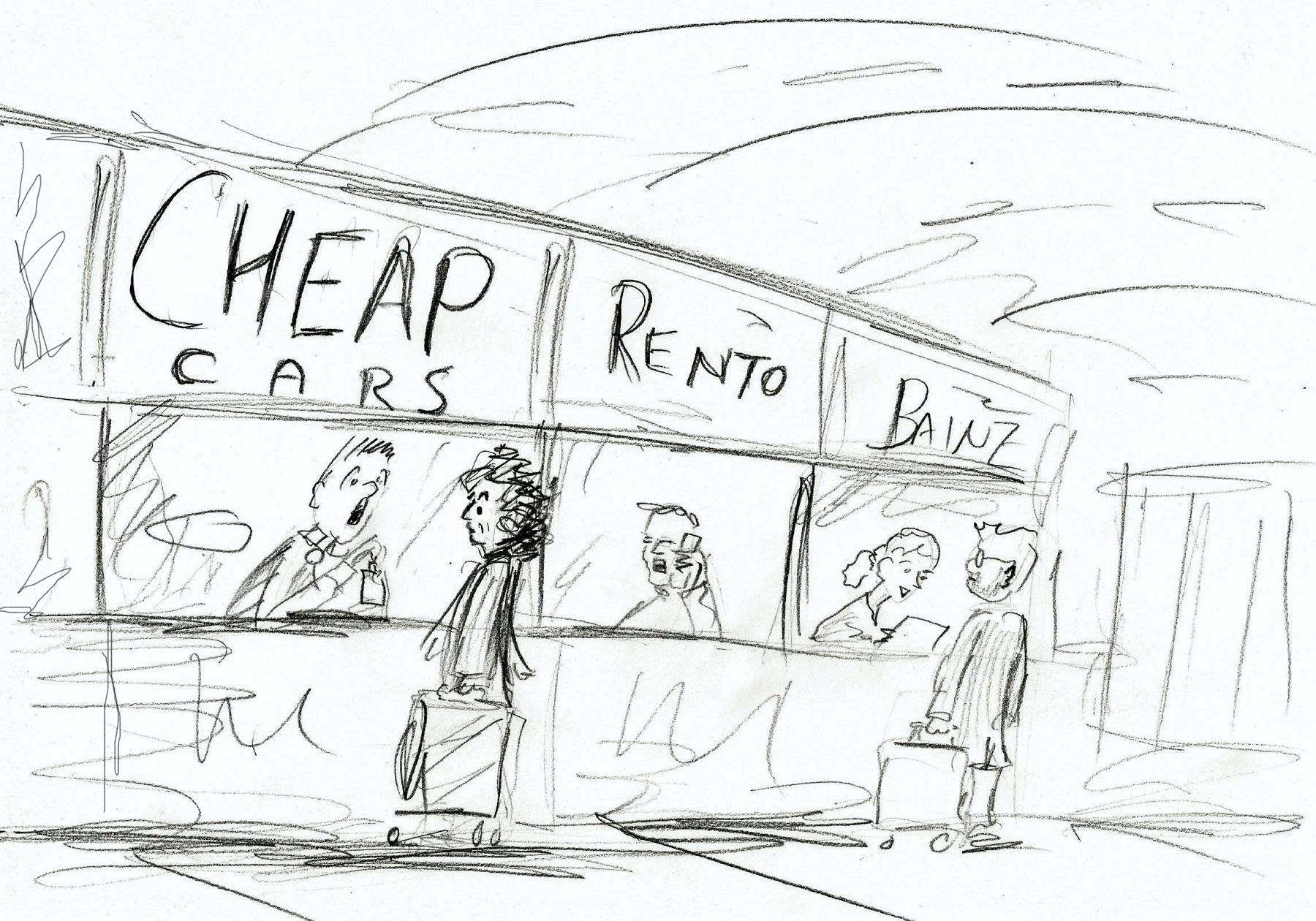 An artist's (well, me actually) impression of me at the car rental desk at Paphos airport.
Arrival - Paphos, Cyrpus
The flight to Paphos (on the Southwest coast of Cyprus -- click to see on Google maps) was dull -- which is a good thing on flights -- and arrived ahead of time, which is even better.
After collecting my bag, I made my way to the car rental desk. The young man there promptly and desperately tried to get me to upgrade to a nicer car or an automatic or both. But, I was firm with him. The standard, bottom of the line, little Skoda with a do-it-yourself gearbox was fine and dandy as far as I was concerned. "Some extra insurance then, please!" he begged me as I walked to the car park to fetch my car which proved to be a dull but acceptable workhorse for my exploration of the Island.
I stuck my satnav (which I brought along) to the windscreen, entered into the device the address of my hotel in Nicosia and soon found myself driving along winding back roads. Pretty, but strange, I thought. I understood the journey would mostly be by motorway.
When I found myself on a tiny one-lane road that was blocked by a gate, I suspected something was wrong. Then, I remembered, I had lent the satnav to a friend who hates motorway driving. I checked the settings and, indeed, she had set the thing to avoid motorways like the plague. Hence the bizarre route. I reset the thing to the "motorways are cool with me" setting and soon found myself on a motorway. From then on, it was clean sailing to Nicosia.
Note: I neglected to take a photograph of the rental desk or the car; so you get one of my scribbly drawings instead.
* * * * *

Marketplace in Northern (occupied) Nicosia.
Nicosia - A Divided City in a Divided Country
Cyprus is a divided country. To most of the world, it is an independent country of Greek heritage and a member of the European Community. However, the Turks see the situation differently and in 1974 they invaded and occupied the Northern bit of the island. This disagreement was nothing new. The Greeks and the Turks have been fighting over Cyprus since before 1571. (click for Wikipedia's more detailed explanation).
In order to enter the occupied bit of Nicosia, we (Dimis, a friend from the world of business creativity and innovation, who kindly showed me around Nicosia, and I) had to walk through two checkpoints, one Cypriot and one Turkish. I was reminded of Berlin in the old days, although the situation wasn't nearly so tense. Certainly, no Turks or Cypriots would be shot for attempting to flee to other side as the case in Germany during Soviet times.
In fact, walking through the checkpoint was quite civilised and a bit magical. As we stepped through, it was as if we teleported to a marketplace in Turkey. After a bit of shopping and exploring, we stepped through the checkpoint and found ourselves back in Greekish Cyprus.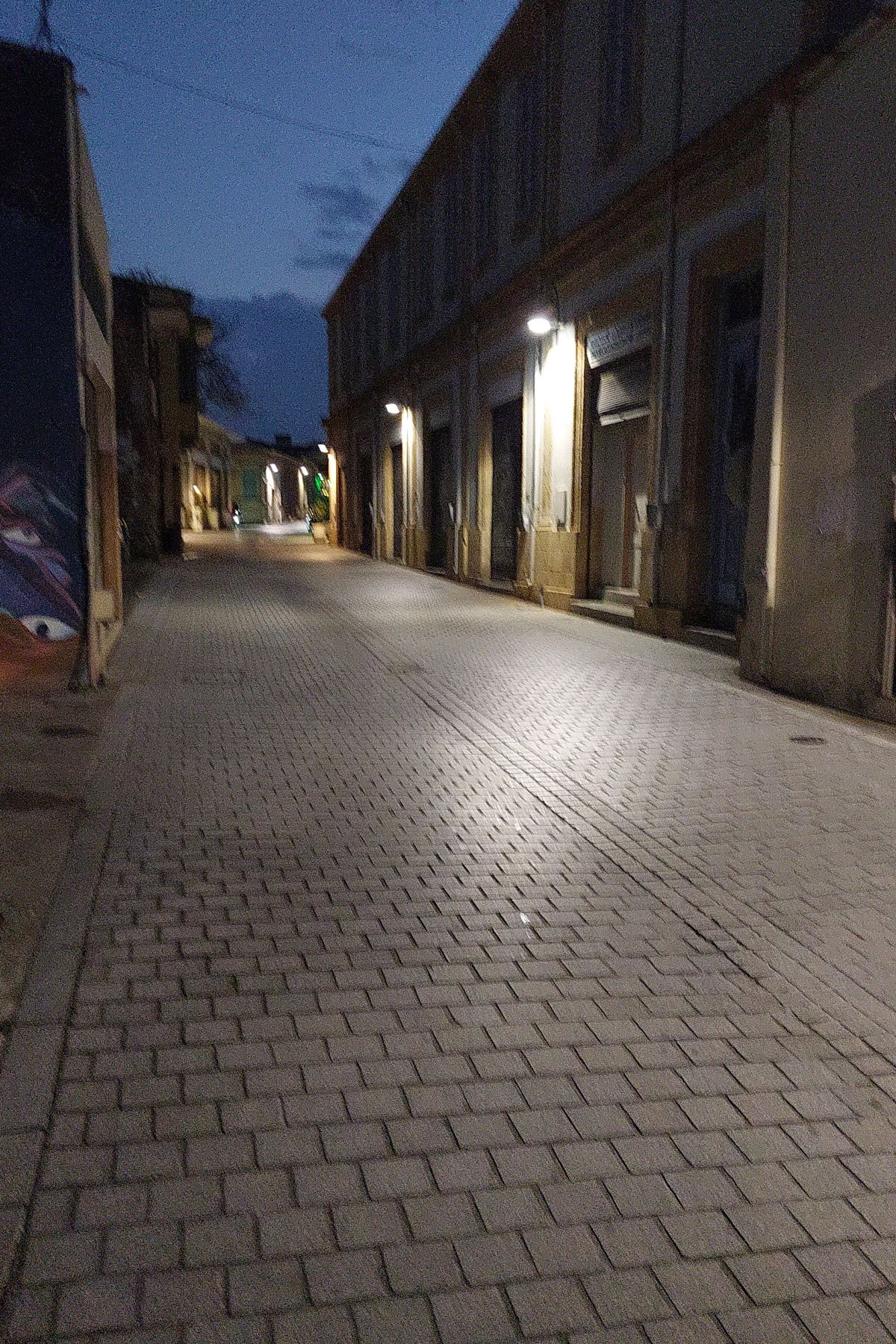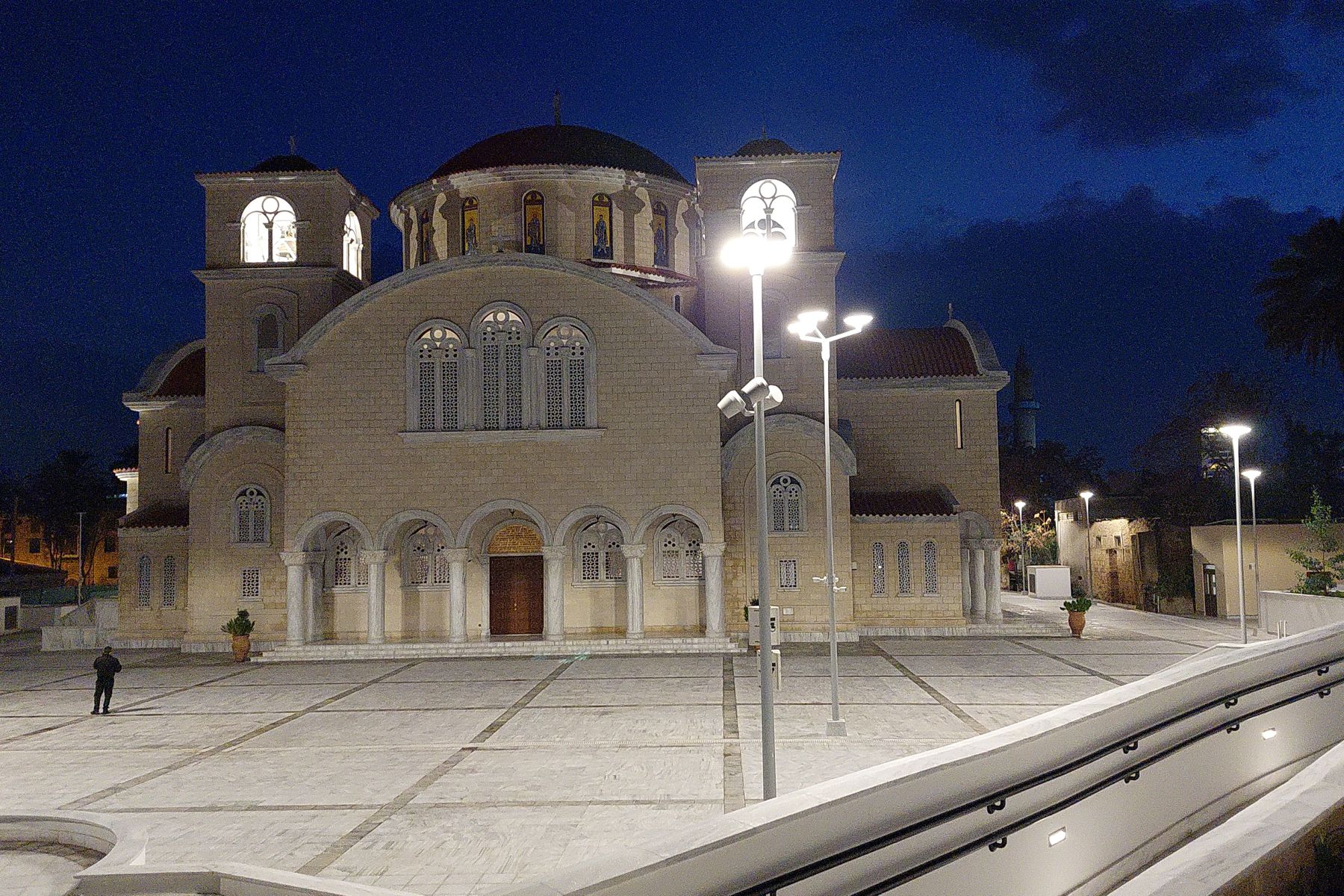 * * * * *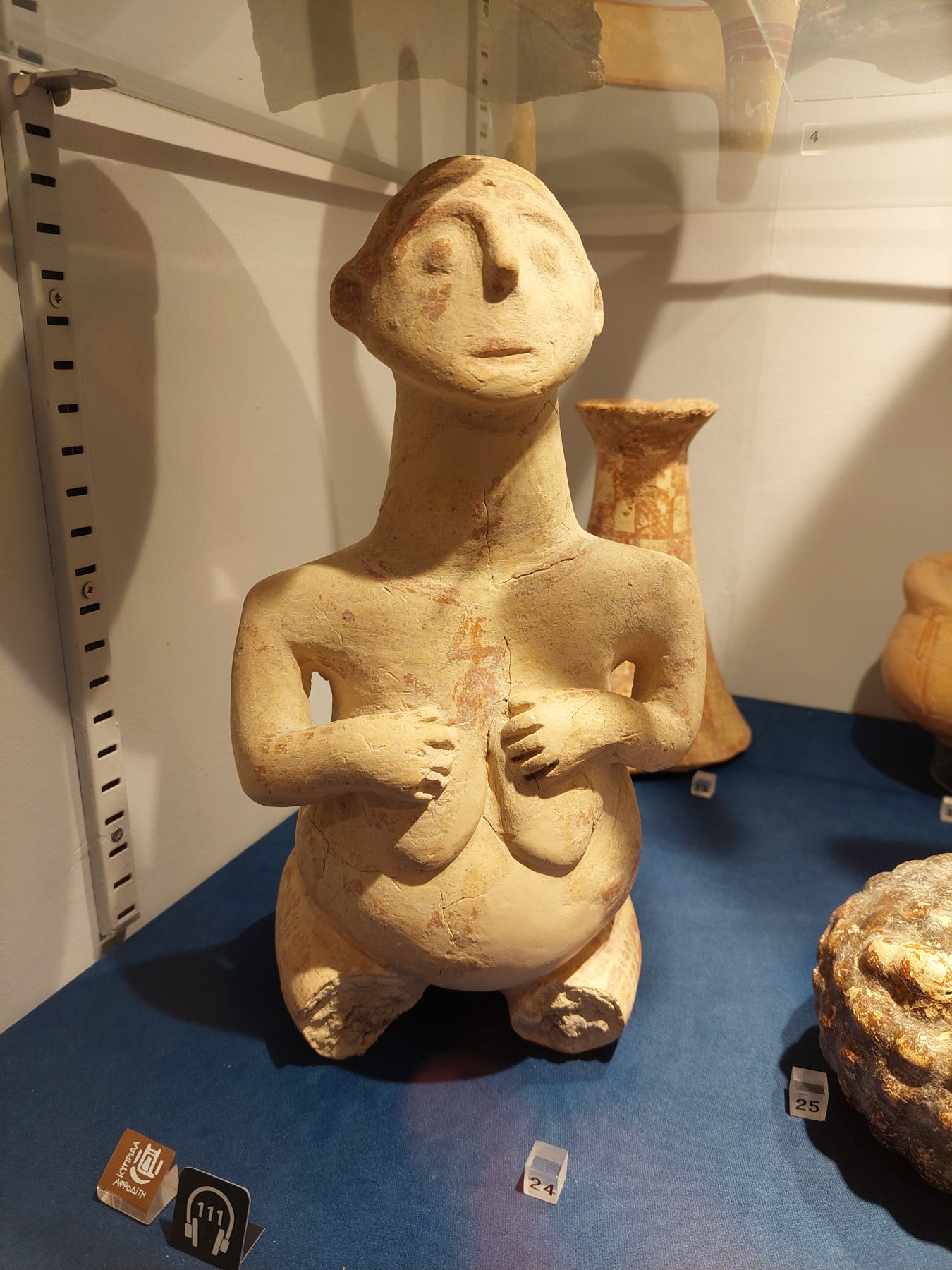 Exhibit in Cyprus museum.
Cyprus Museum Great Artifacts. Less than Great Documentation
Dimis also took me to the Cyprus Museum which has an impressive collection of antiquities, spanning from the Neolithic period, though ancient Greek times and into Roman times, all packed into a relatively small building. What was largely lacking, however, was information. Many items were poorly labeled. That said, I understand there is an audio tour available. I missed that. In any event, I prefer to be able to scan over information in museums.
Even though the museum is packed full of artifacts, statues and other bits and pieces of the past, there is vastly more stored away owing to lack of space. Moreover, with archaeological work being done on the island, the state's collection of ancient goodies just grows and grows.
Apparently, there are plans to rehouse the museum in larger premises. However, at the time of writing, they are at a very early stage.
I hope they move forward, a better labeled, modernised and bigger museum is just want the contents of the museum need.
* * * * *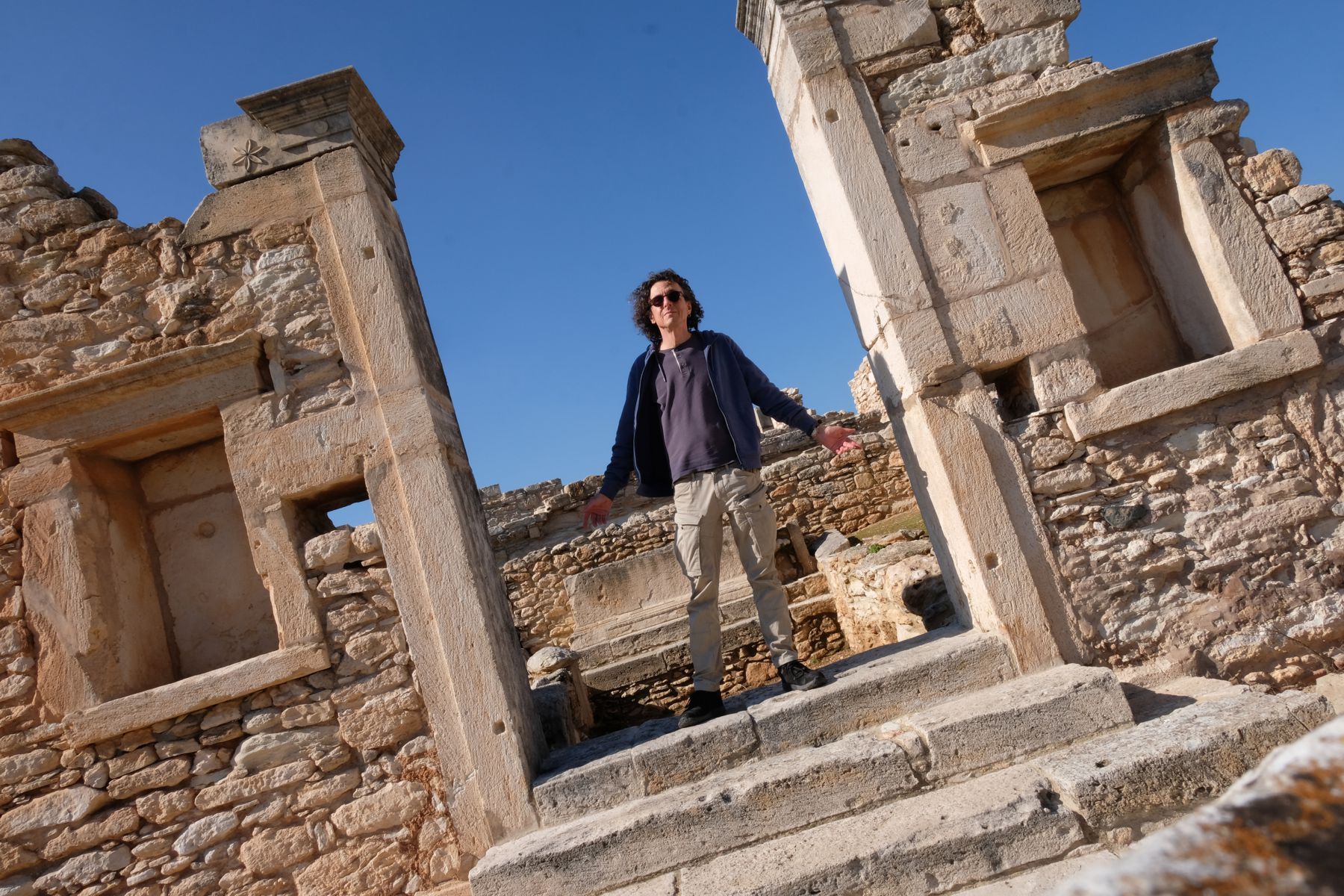 Palaipafos.
I've Always Loved Meandering About Ruins
I've always loved to meander about in old ruins. And Cyprus has more ruins than most places. Humans have occupied the strategically well located island since at least the Neolithic period (9000+ years ago). Later, the ancient Greeks made themselves at home on the island and, after Greece fell, Romans built towns and cities on Cyprus. And all of these civilisations left ruins - glorious ruins! Ruins that I could walk about and get lost in my thoughts in.
Why do I so like ruins? That's a good question. I am not an amateur archaeologist aiming to learn about ancient cultures in detail, citing this rock as being a fine example of a Neolithic building brick and that rock as clearly being late Roman. That sort of thing can intrigue me, but it does not impassion me.
I think there are three things that appeal to me when it comes to archaeological ruins. Firstly, I love the way abandoned buildings and structures blend with the environment over time. Stones and bricks fall; plants make themselves at home in and on unoccupied buildings; and even the colours start to blend into the environment.
Secondly, I often feel a sort of connection with the people who centuries (or more) in the past walked upon these lanes, worshipped in the various temples and lived in the buildings that once stood proud and now are in pieces that hint at their one-time grandeur.
Thirdly, I find ruins very photogenic - as you may have noticed from the pictures in this blog.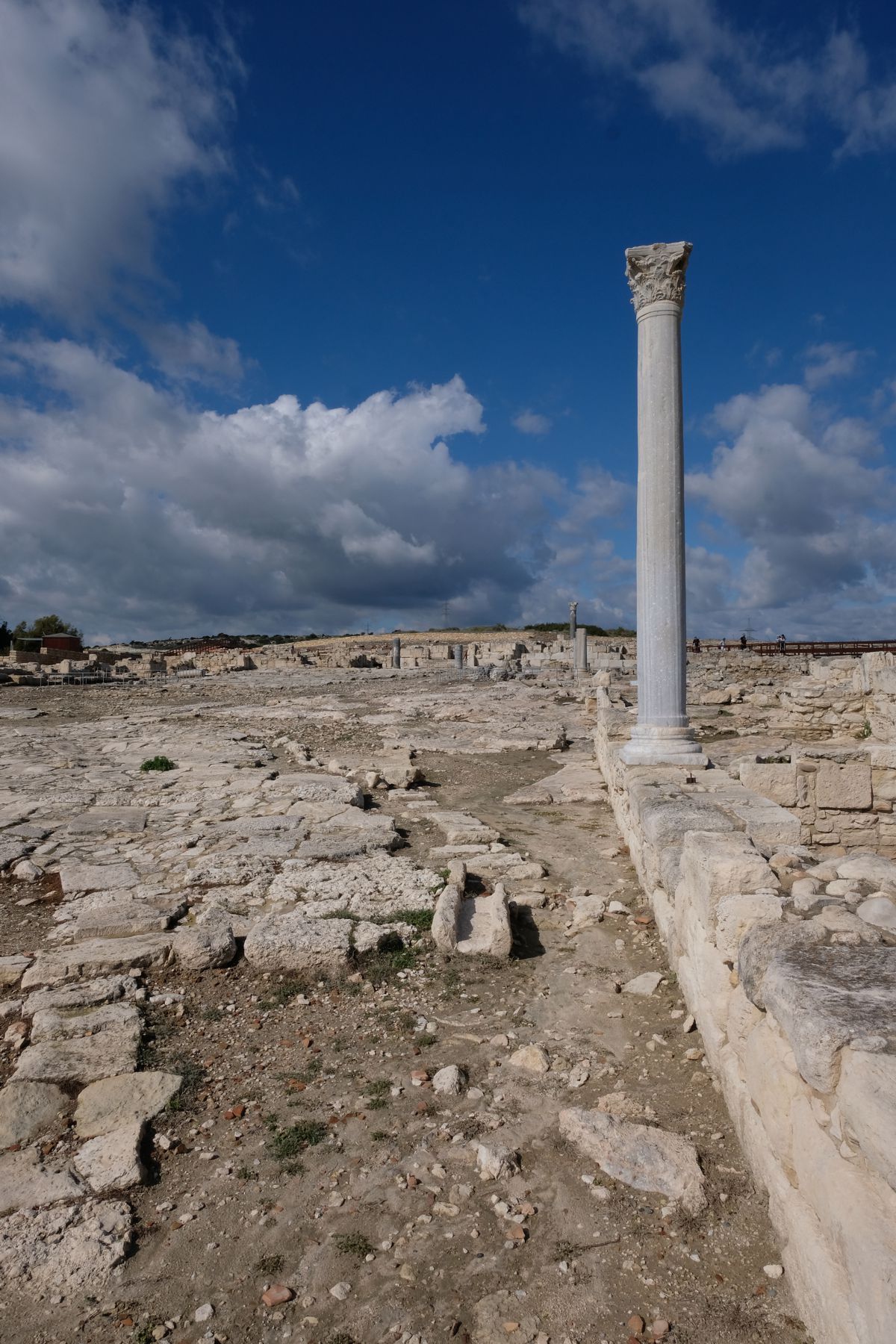 Ruins in Kurion.
The only thing with ruins is that over time they tend to become even more ruined. So, while the walls of an abandoned medieval castle or church are likely to remain standing, Roman ruins tend to be collections of stones with the odd column or bit of wall still standing. Greek ruins are like this, but more so. Neolithic ruins tend just to be a lot of stones that are mostly meaningful to archaeologists.
And, indeed, many of Cyrpus's sites of old ruins are mostly stone strewn landscapes with interesting things jutting up here and there. Nevertheless, they were beautiful.
Cyprus is awash in ruins. I choose to visit these...
Choirokoitia is the site of Neolithic ruins from one of the first known cultures that live on the island - starting some 9000 years ago.

Kurion started out as a Greek city that included the Temple of Apollo and was founded in the 15th century BC. Later, the Romans occupied the area and built their own stuff there. Ruins include a nifty theatre (every Roman town seems to have one of these) as well as a handful of interesting mini sites.

Palaipafos was the first and most powerful city-state on the Island and there is archaeological evidence that there was a settlement here during the bronze age. Today, of course, it is ruins. Beautiful ruins, of course.

Kato Paphos is a massive and stunning archaeological park on the edge of modern Paphos. It is probably the most impressive set of ruins on an island chock full of ruins. That's probably why Unesco gave it World Heritage Site status. If you can only visit one set of ruins on Cyprus, this is the set to visit. As you will see most of the pictures I've shared here were taken in Kato Paphos
Here are some pictures. A better organised guy would have labeled the pictures so you'd know precisely what is what. Sadly, I am not organised in that way. I just got into the picture taking thing. I should try to do better on the next trip.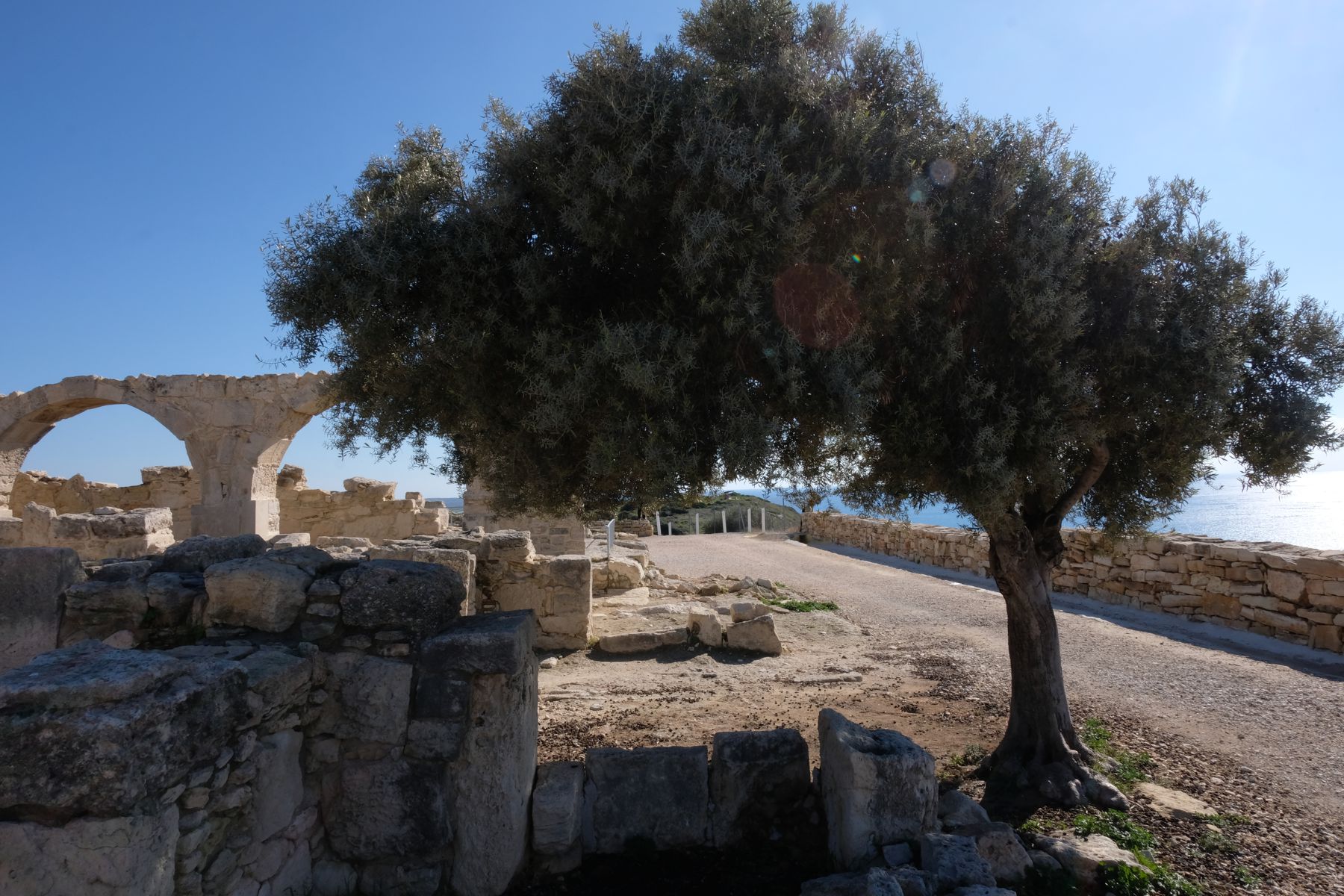 Kato Paphos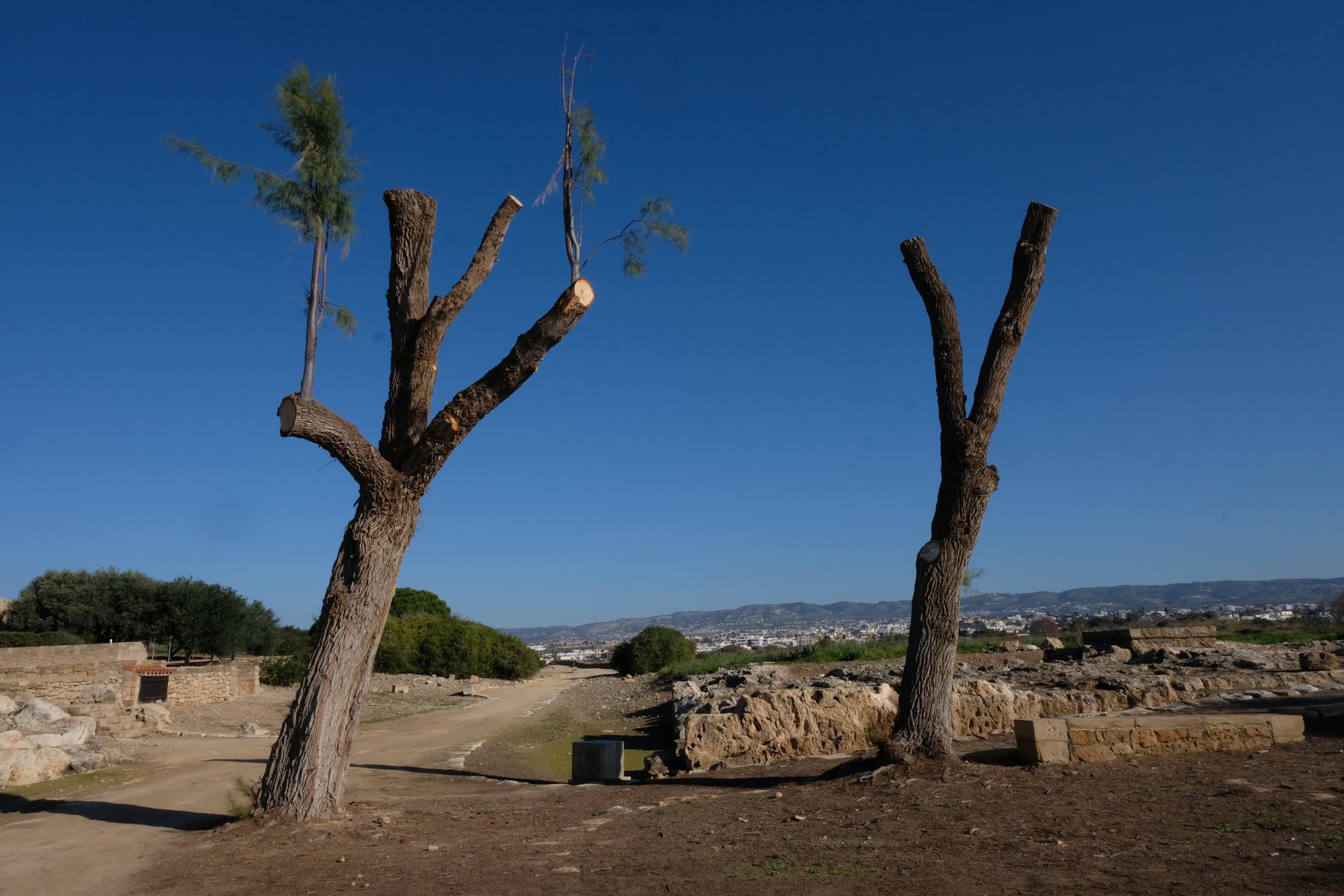 Two peculiar trees dancing in Kato Paphos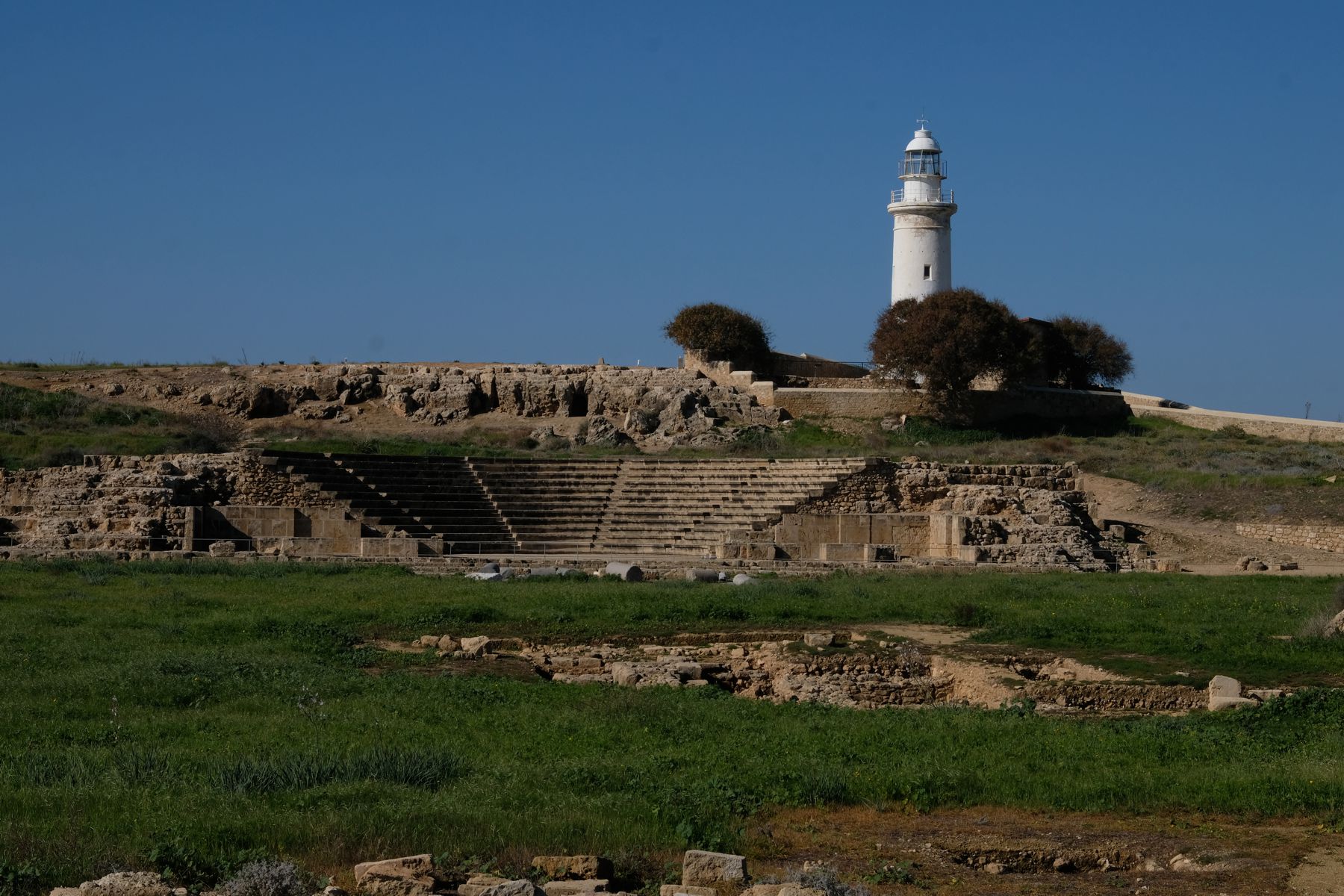 Roman theatre in Kato Paphos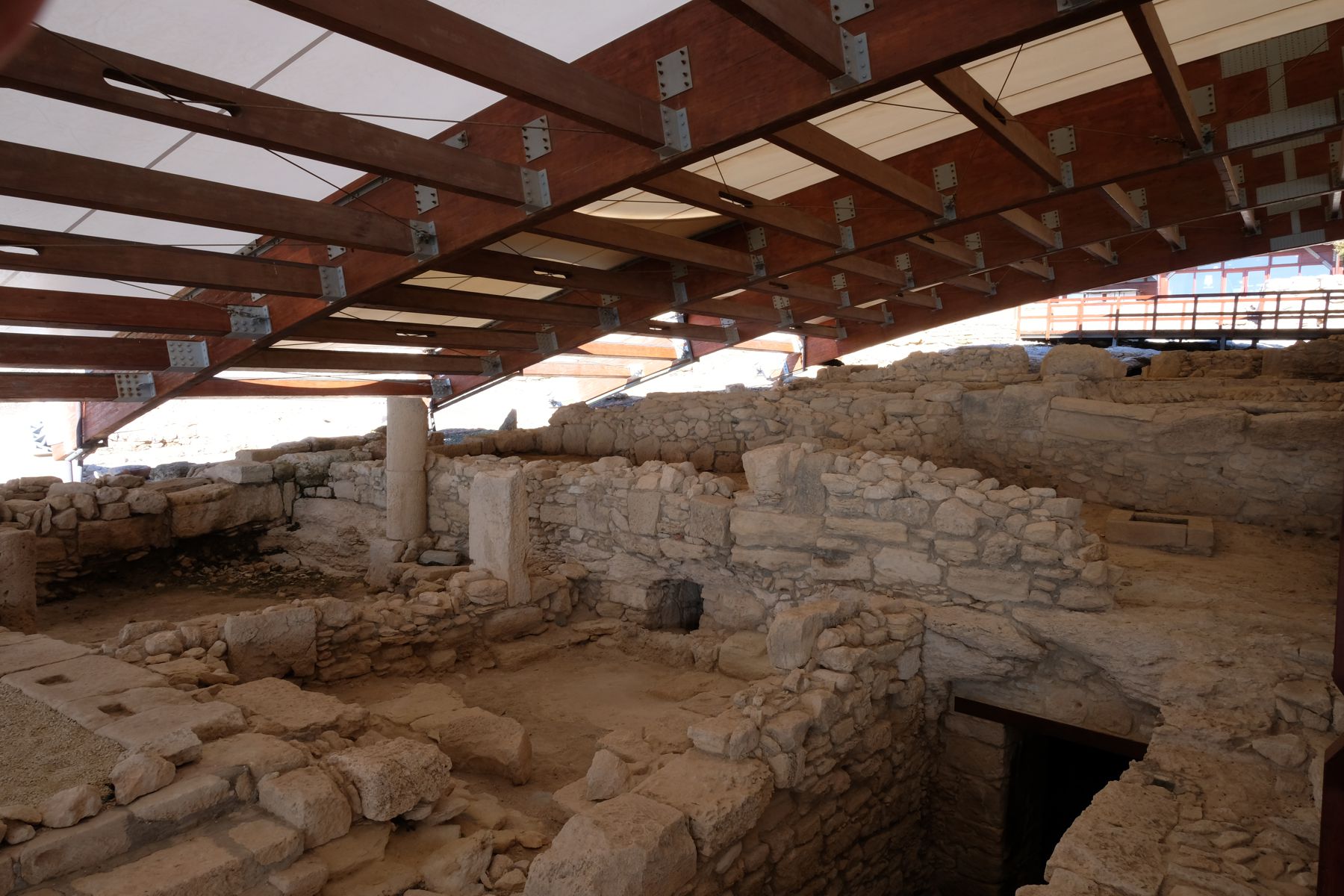 Kourion
* * * * *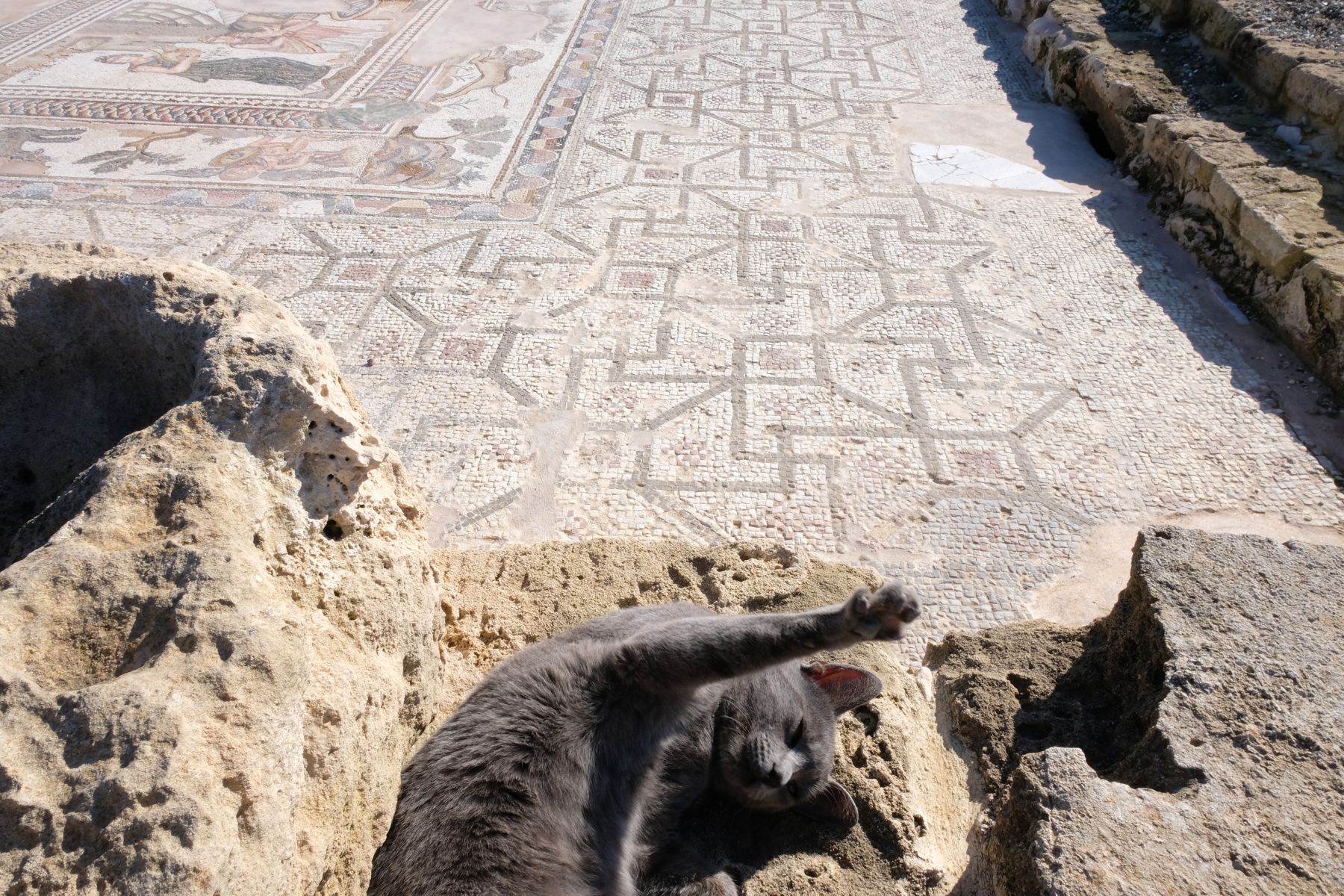 Cat trying to get into picture in Kato Paphos.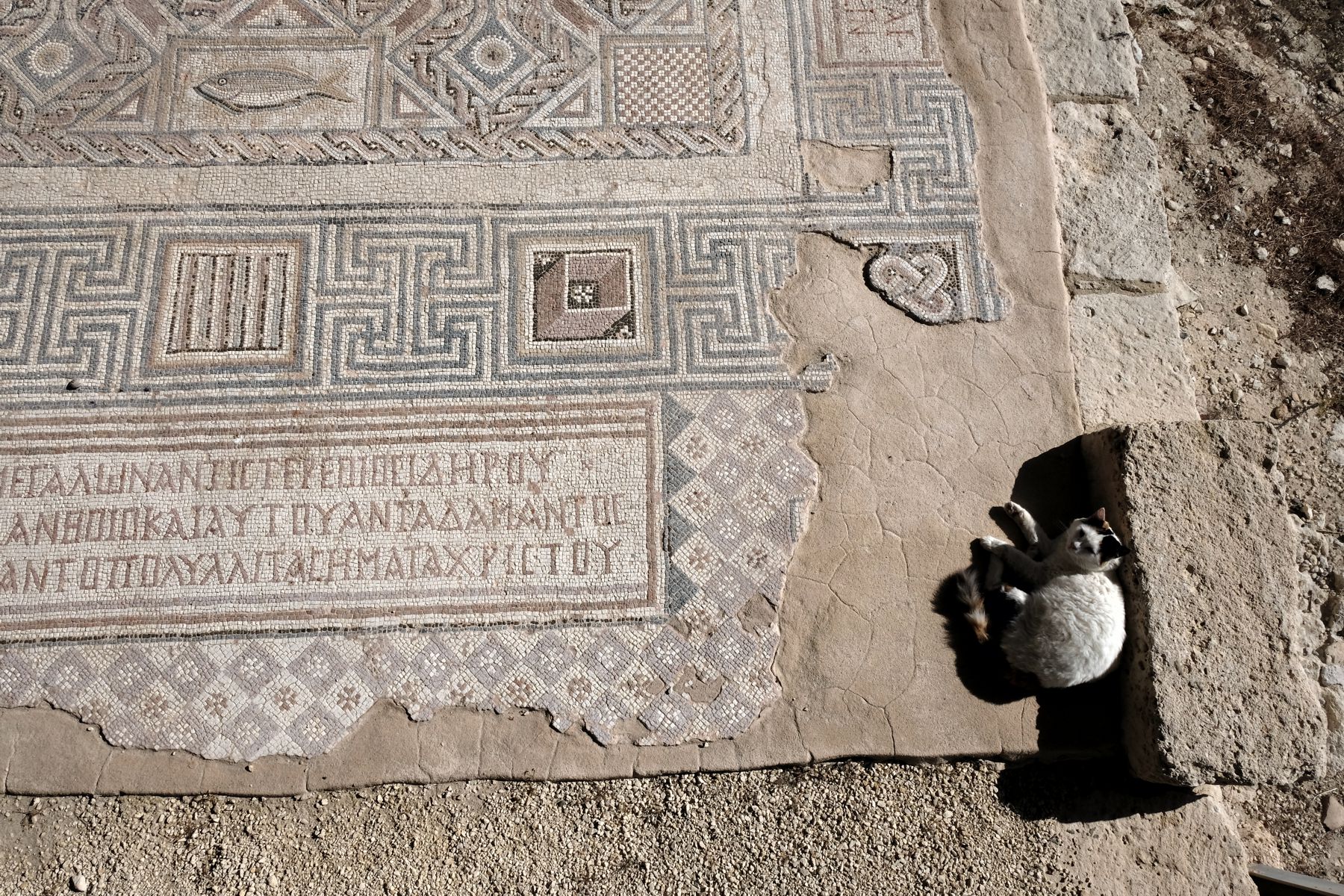 Cat guarding mosaic floor in Kourion.
Cats
There are a lot of cats in Cyrpus. No one is sure how many there are as a doing a census of cats is notoriously difficult, not least because cats lie prodigiously. As an example, I once had a cat that convinced the neighbours that he was a stray - and so was getting double meals and affection for his lies. Ira's cat regularly says he's on the verge of starvation in spite of weight control issues.
That said, it is believed there are at least as many cats as there are people resident on the island. And, most of those cats are strays.
No one is sure why there are so many cats in Cyprus, though the favourite story is that in the fourth century, a monastery on the island was overrun with snakes, presumably making it hard to pray. And I get that. I would find it hard to prey if I was surrounded by snakes.
Apparently, Helena of Constantinople learned of this problem and had an idea. She arranged to have several hundred cats shipped from Egypt to Cyprus. It clearly worked. I encountered no venomous snakes during my week in Cyprus. I certainly encountered a lot of cats.
Helena was eventually sainted -- whether that had anything to do with the cats, I do not know.
In spite of being a refuge for wild cats, there is evidence that the first people to domesticate cats were the ancient Cypriots some 9500 years ago - millennia before Helena's boatloads of cats were brought to the island.
* * * * *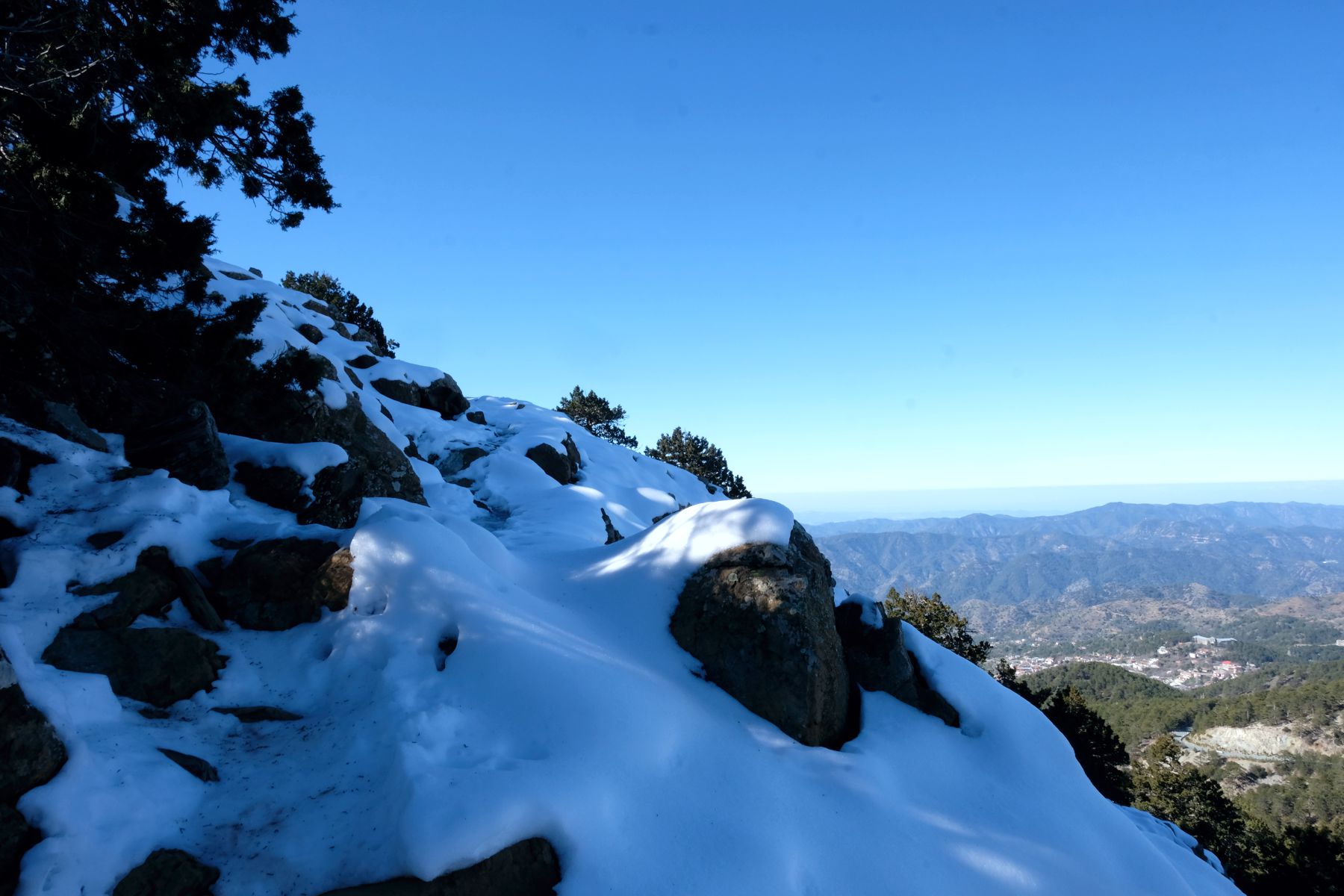 Snowy Artemis trail.
Troodos Hiking - Artemis Trail
There are some great half-day hikes in Cyprus and I should know. I enjoyed three of them. Two were in the Troodos mountains.
The first was the Artemis trail, a seven kilometer (five mile) hike around the peak of Mount Olympus, the tallest mountain on Cyprus. At about 1850 meters (6000 feet) above sea level, it was tall enough that much of the trail and its surroundings were topped with a light snow. Fortunately, like a boy scout (which I have never been), I was prepared. I brought warm clothes and crampons to keep me warm and prevent me from falling off the mountain.
The walk was peaceful and delightful. I passed few hikers and for most of the time seemed to have the mountain to myself. Greedy, I know. But there is something magical about having (or at least seeming to have) a mountain to one's self.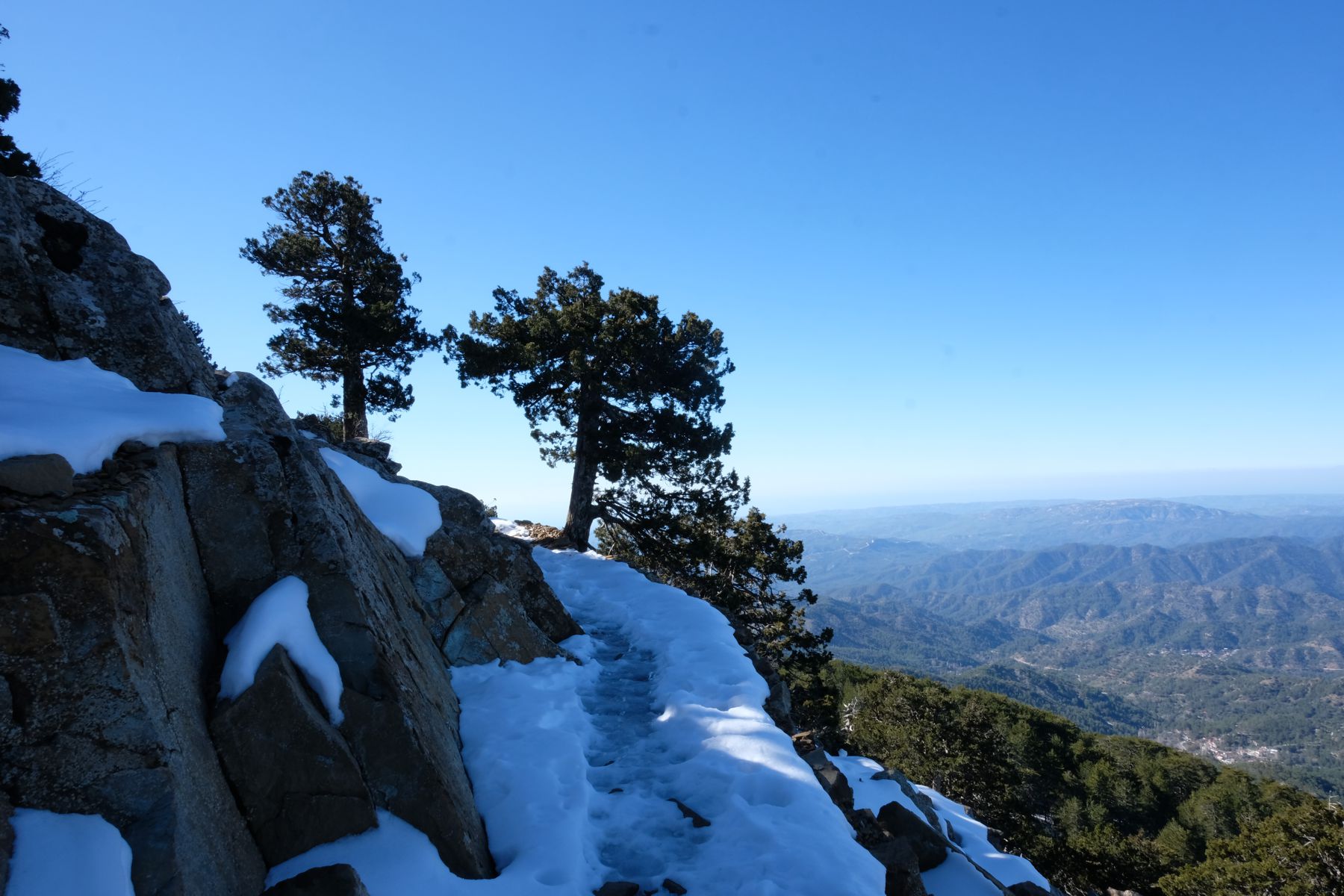 Foot path on Artemis trail.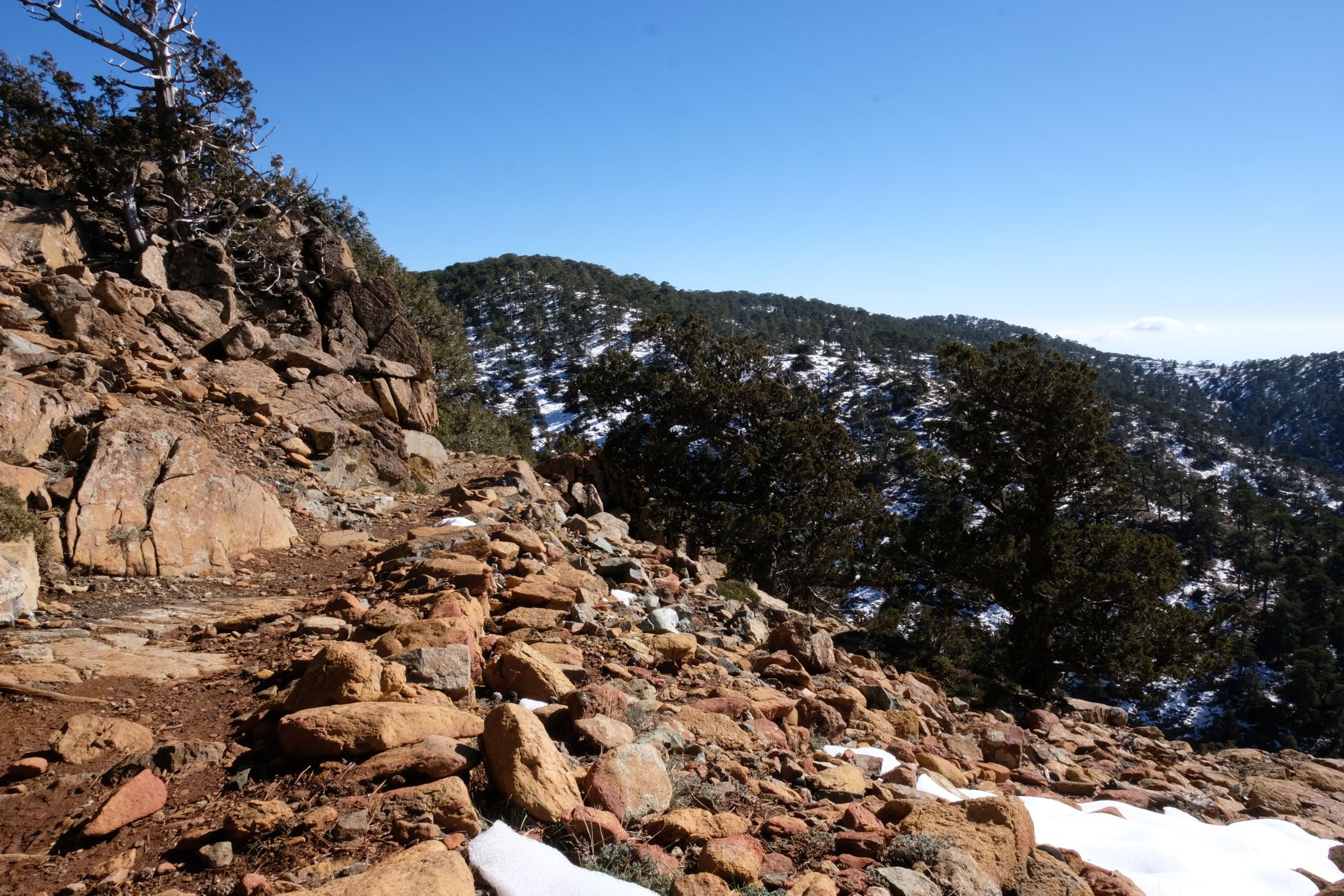 A less snowy bit of Mount Olympus.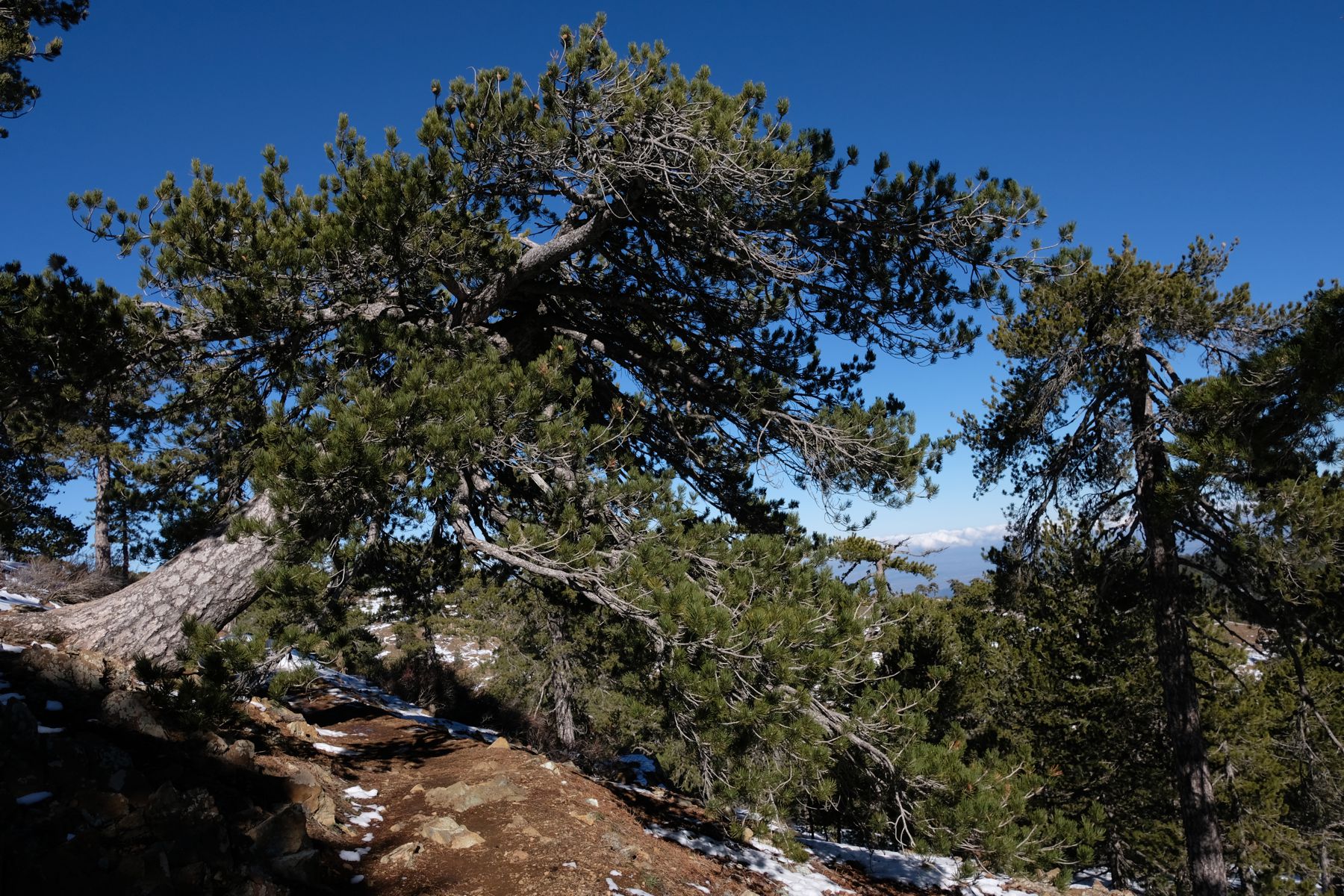 Leaning tree on Artemis trail.
* * * * *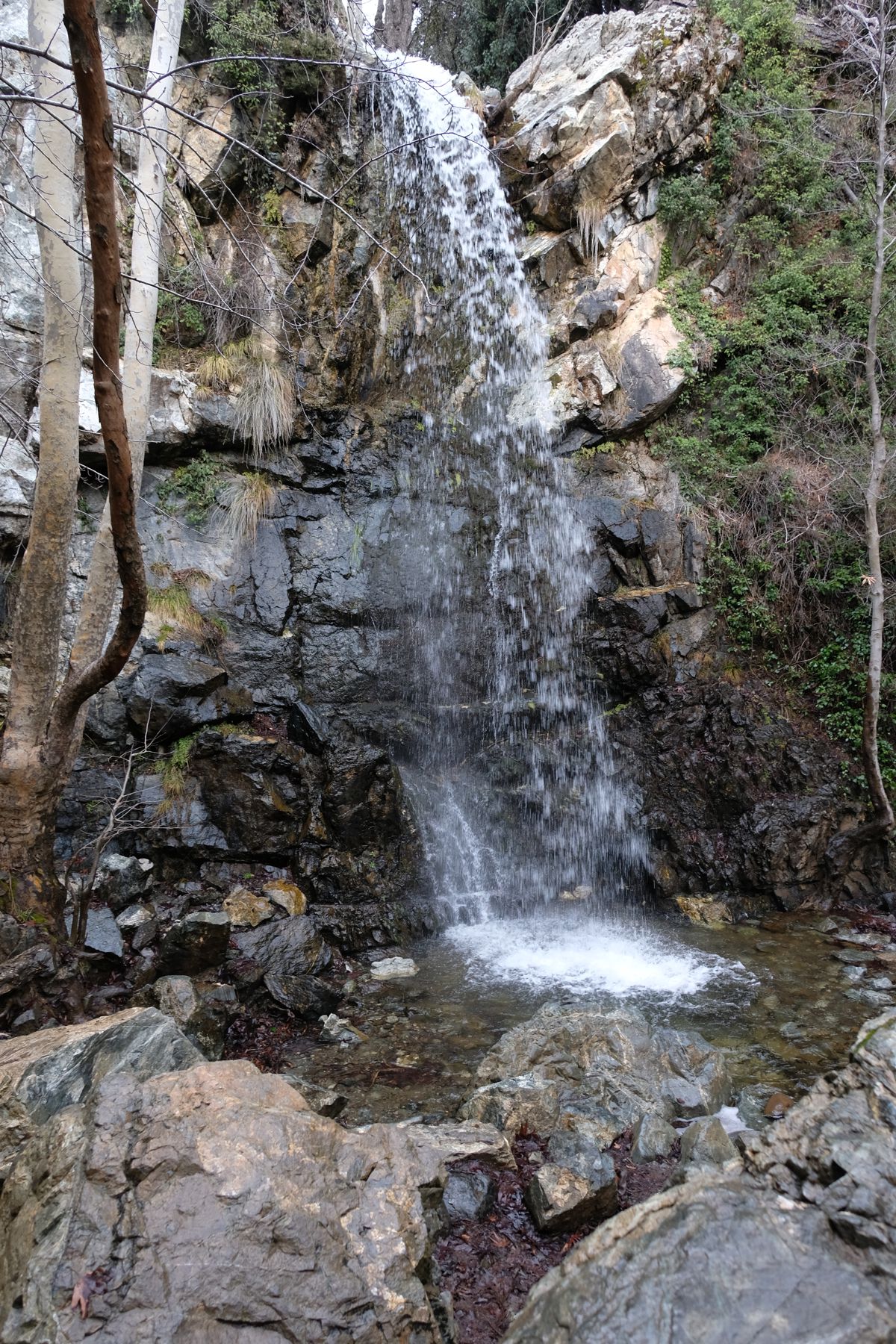 Part of Caledonia waterfall.
Troodos Mountains - Caledonia Trail
Having got an early start, I finished the walk around lunch time and so did the obvious thing and had lunch. Then I drove to the starting point of the nearby Caledonia trail which is a walk to the Caledonia waterfall. This is a forest walk much closer to sea level so it looked and felt completely different from the morning walk. Nevertheless, it was a delightful walk, though not so quiet as the Artemis trail.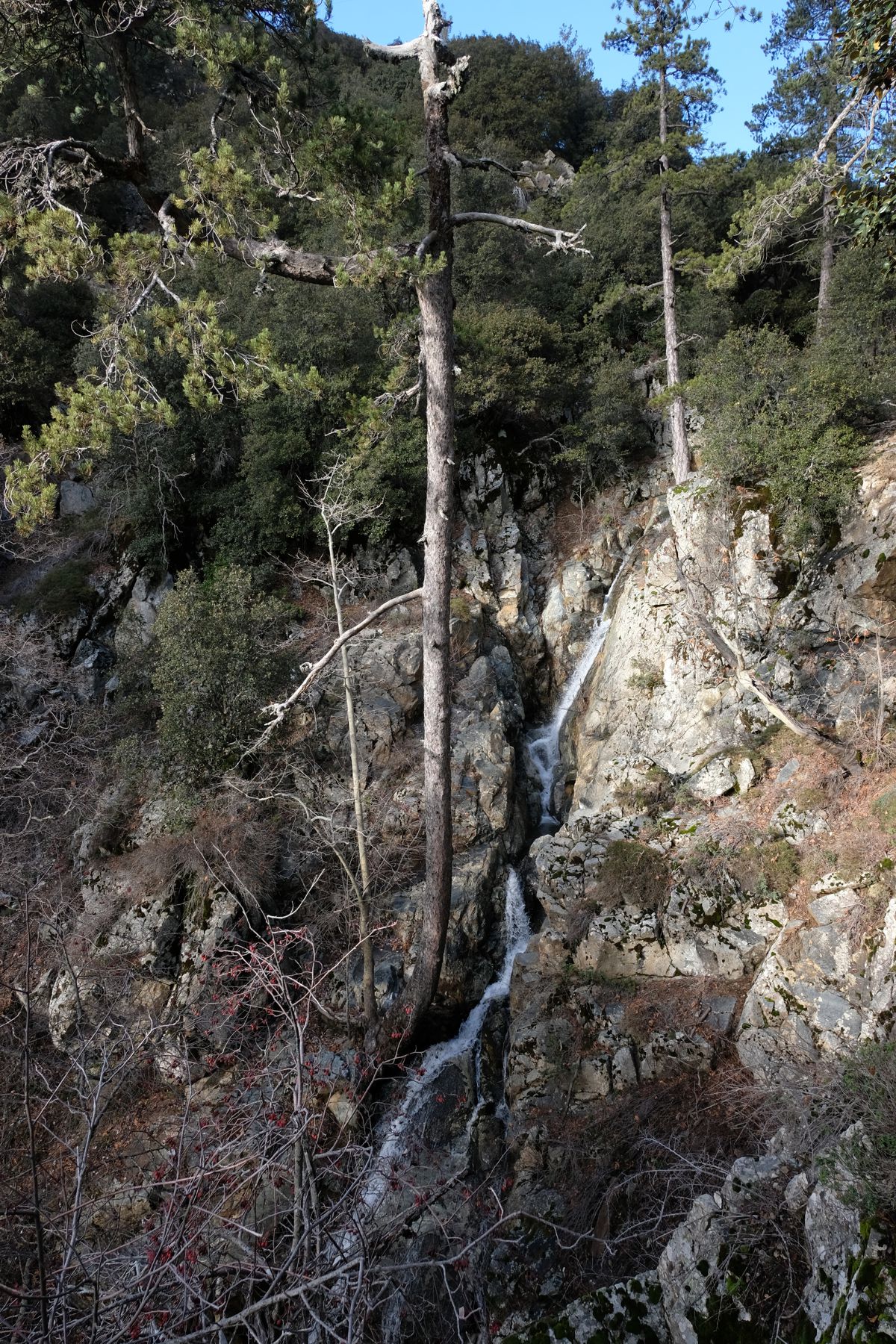 Caledonia waterfall in all its glory.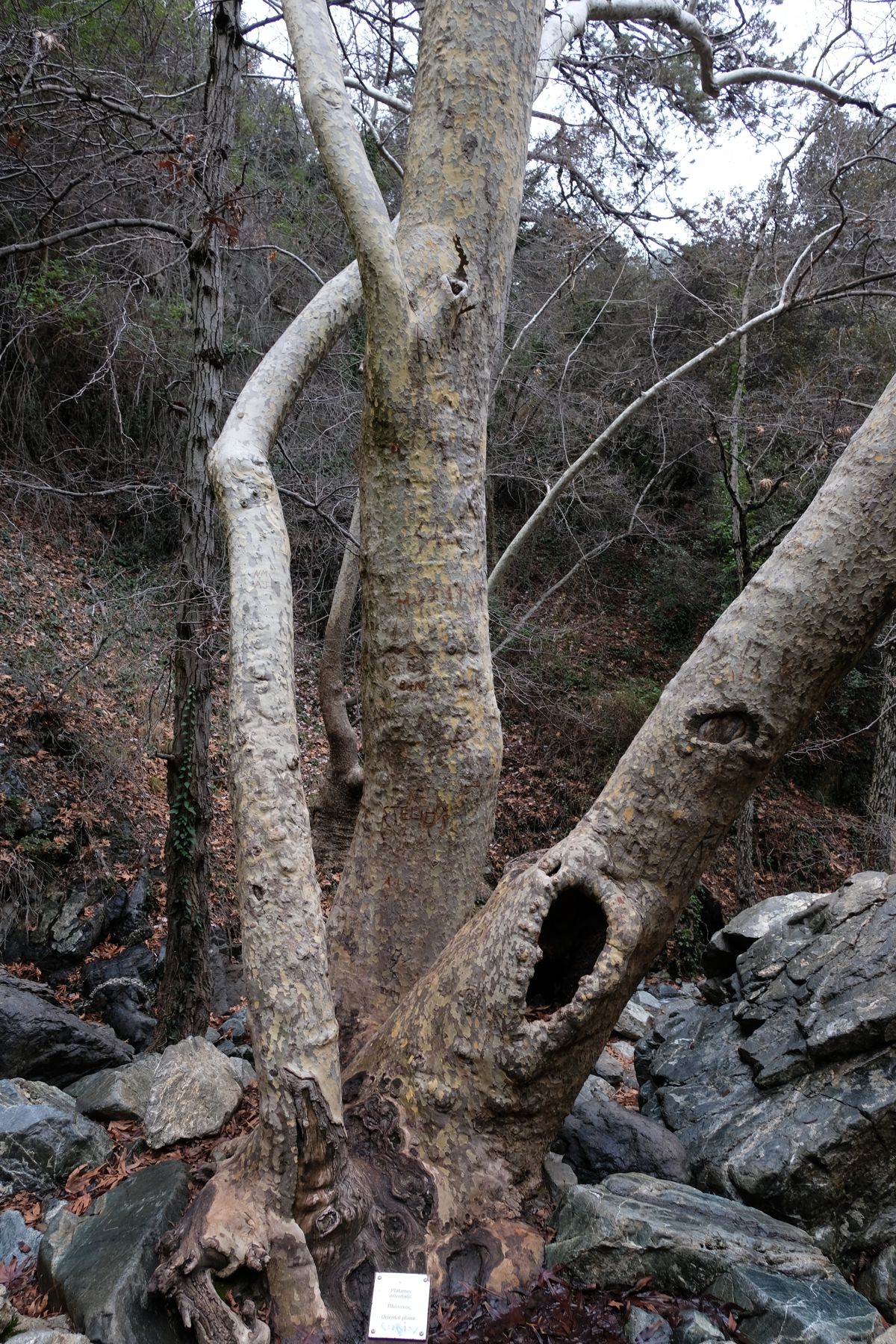 Haunted tree on Caledonia trail.
* * * * *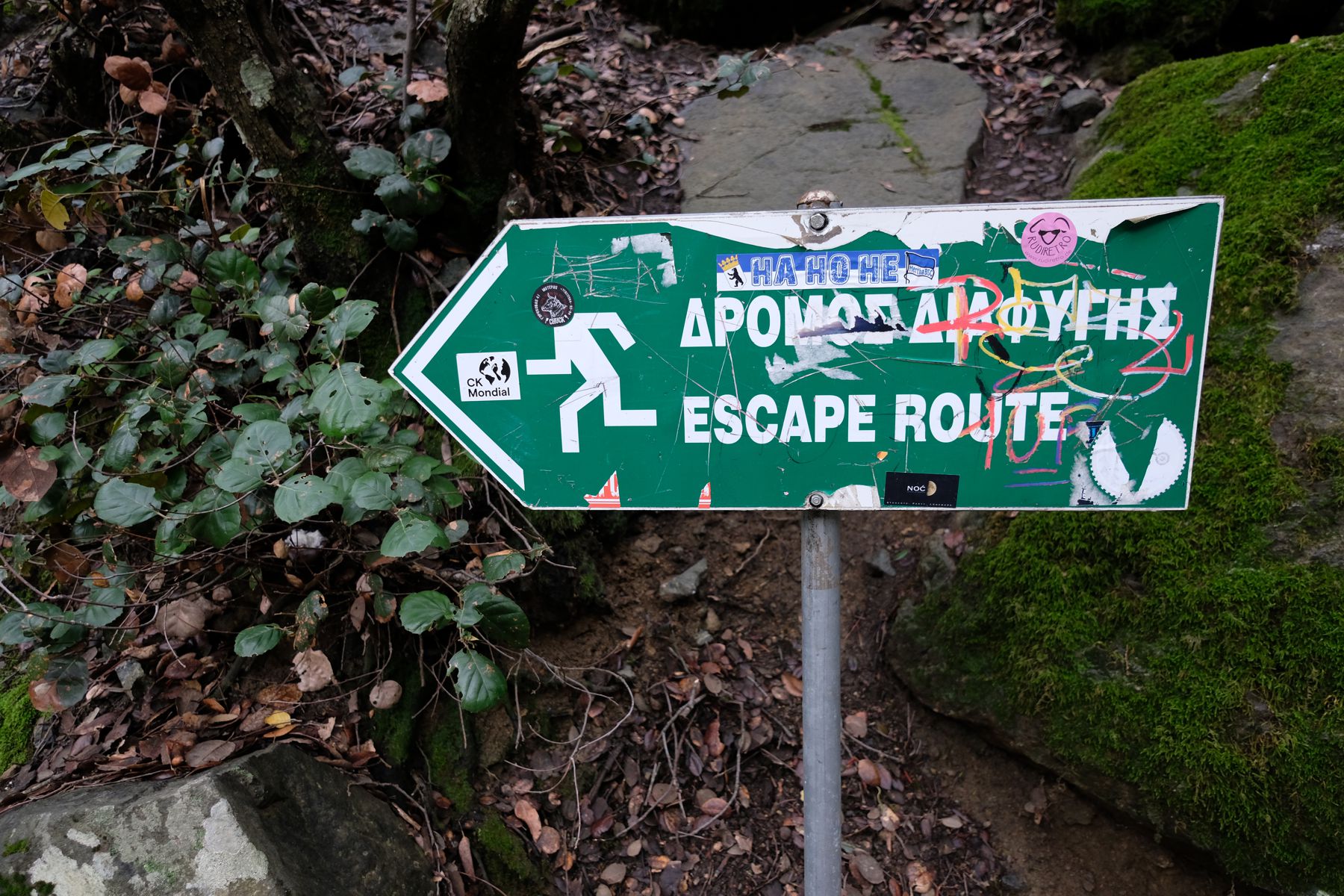 Escape Route
The most curious thing I saw on this walk was this "escape route" sign on the Caledonia Trail. I've never before come across an escape route on a hike. And, I wonder how that would work. Was there a short cut back to the starting point? Was there maybe a tunnel? In any event, judging from the... um... decoration on the sign, I sense that people do not take the escape route seriously.
* * * * *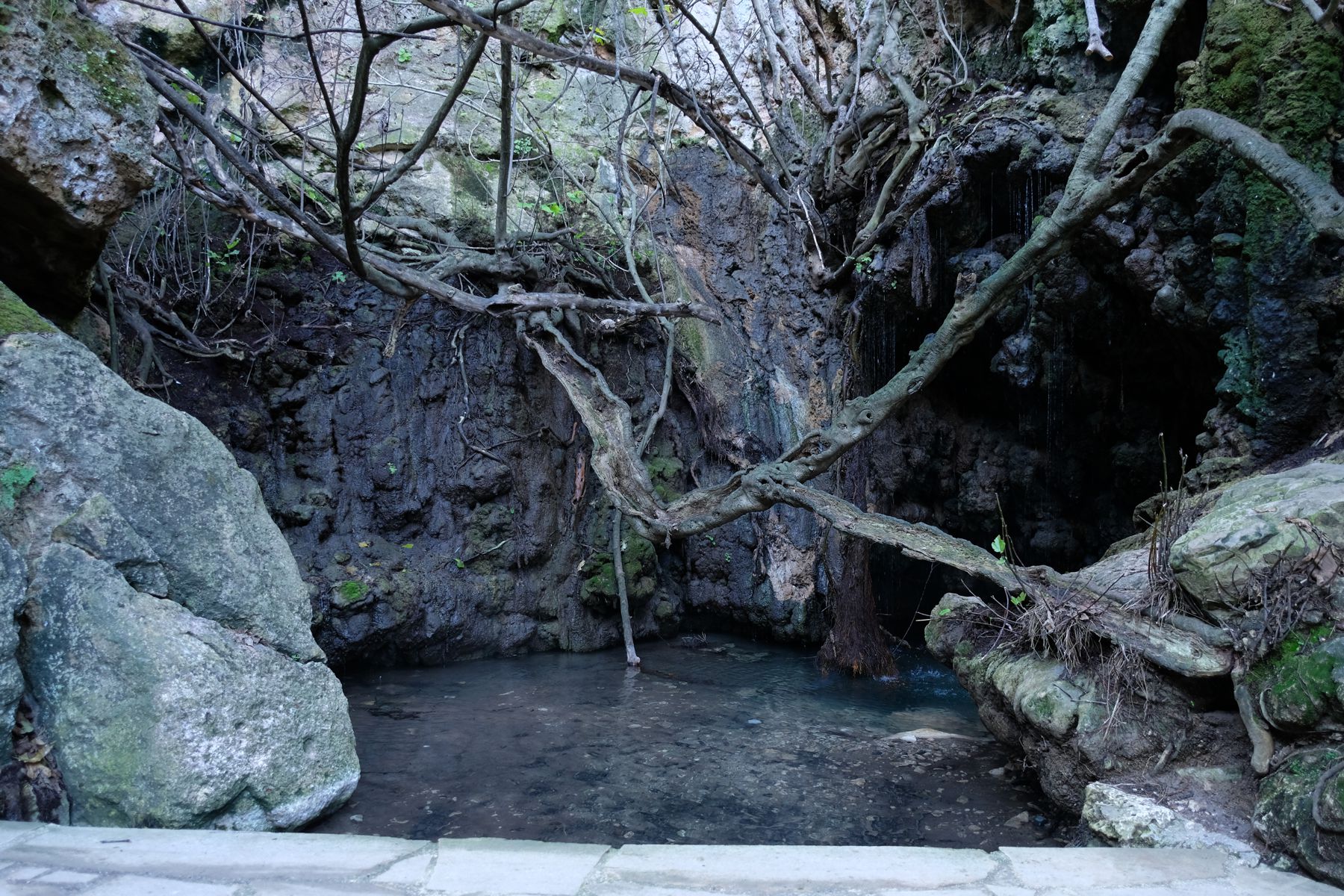 Baths of Aphrodite.
Baths of Aphrodite
On my final full day in Cyprus, I drove to the Baths of Aphrodite which was a rather pretty but -- if we are going to be totally honest -- less than remarkable natural grotto. I guess it was special because the goddess herself used to bathe here. Note, however, that (picture below) you and I cannot do the same.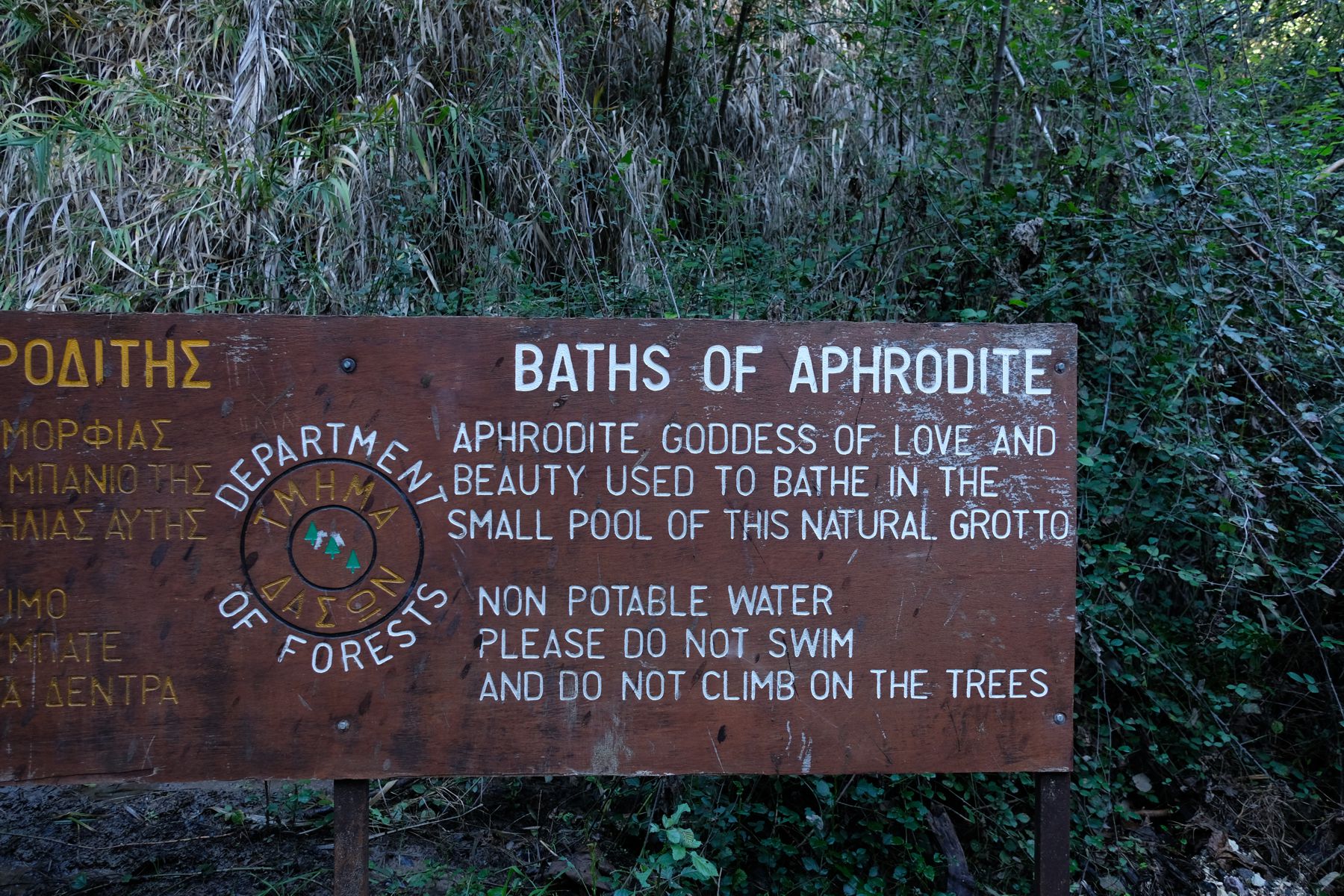 Things you cannot do in the baths of Aphrodite.
* * * * *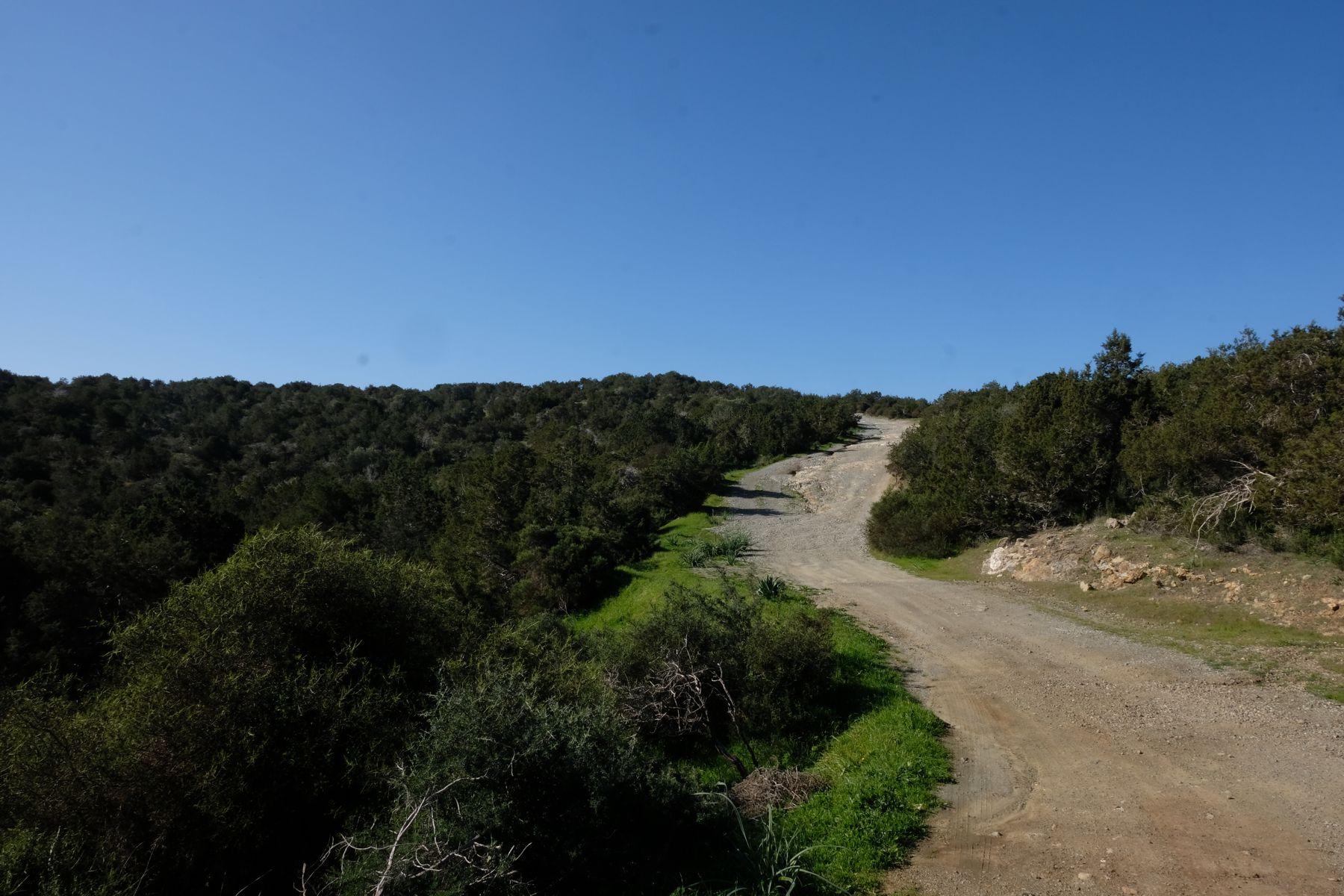 Trail of Aphrodite.
Trail of Aphrodite
If the bath of Aphrodite was unremarkable, the trail that starts at the bath is stunningly beautiful and was the best walk of my trip -- indeed, probably the best walk of 2023 so far (yeah, I know it's only February). The walk was varied, warm, past lush vegetation, rocky paths and stone ruins. And, for a part of the walk, there was a fantastic view of the sea below. Eventually, the walk returned to the bath and the nearby car park.
Fortunately, it was a mild winter (by Cyrpus standards) day. I can imagine that after doing this walk in the summer would leave one feeling awfully tempted to dive into Aphrodites's bath. No wonder the sign expressly prohibits such behaviour.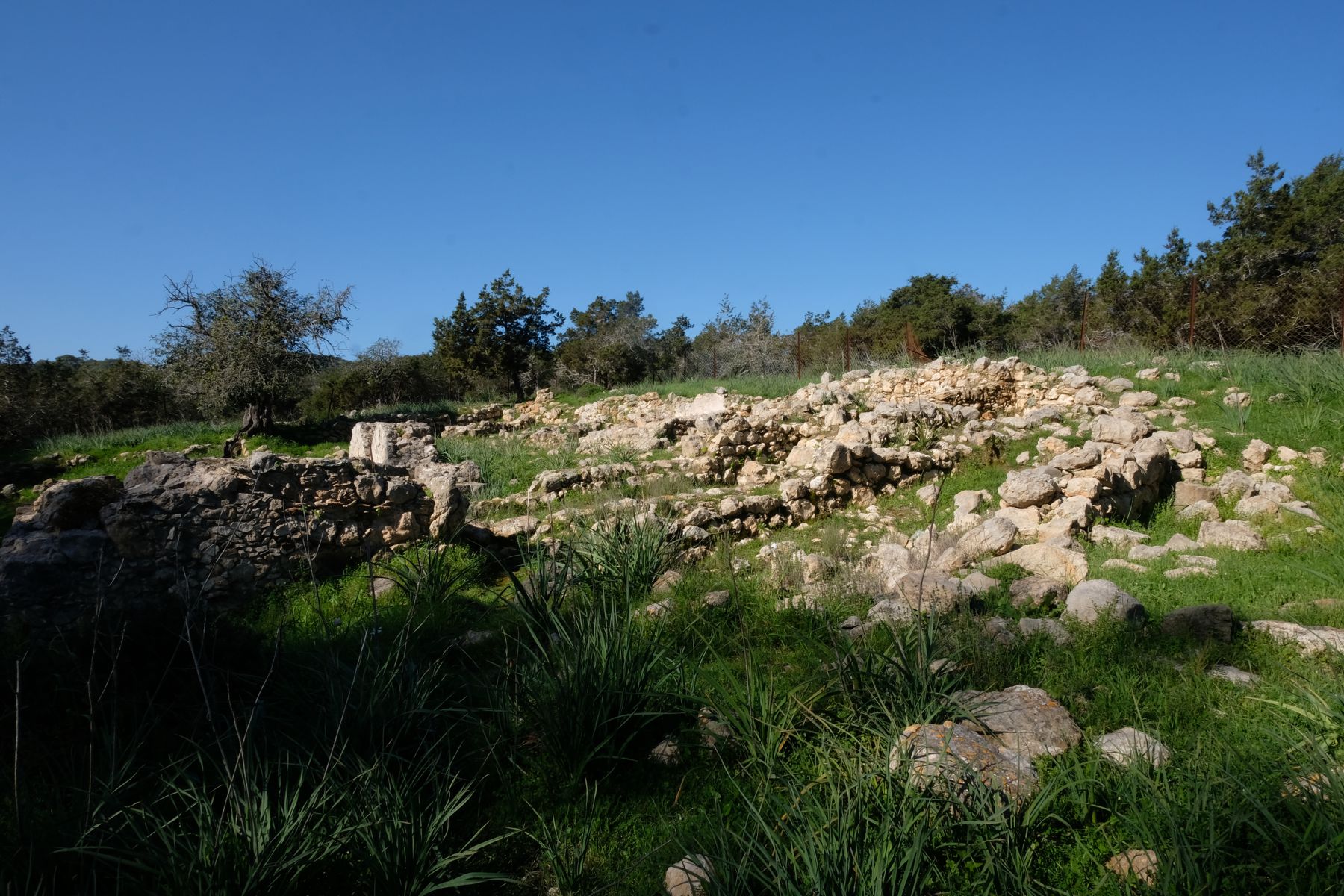 Ruins on the trail of Aphrodite.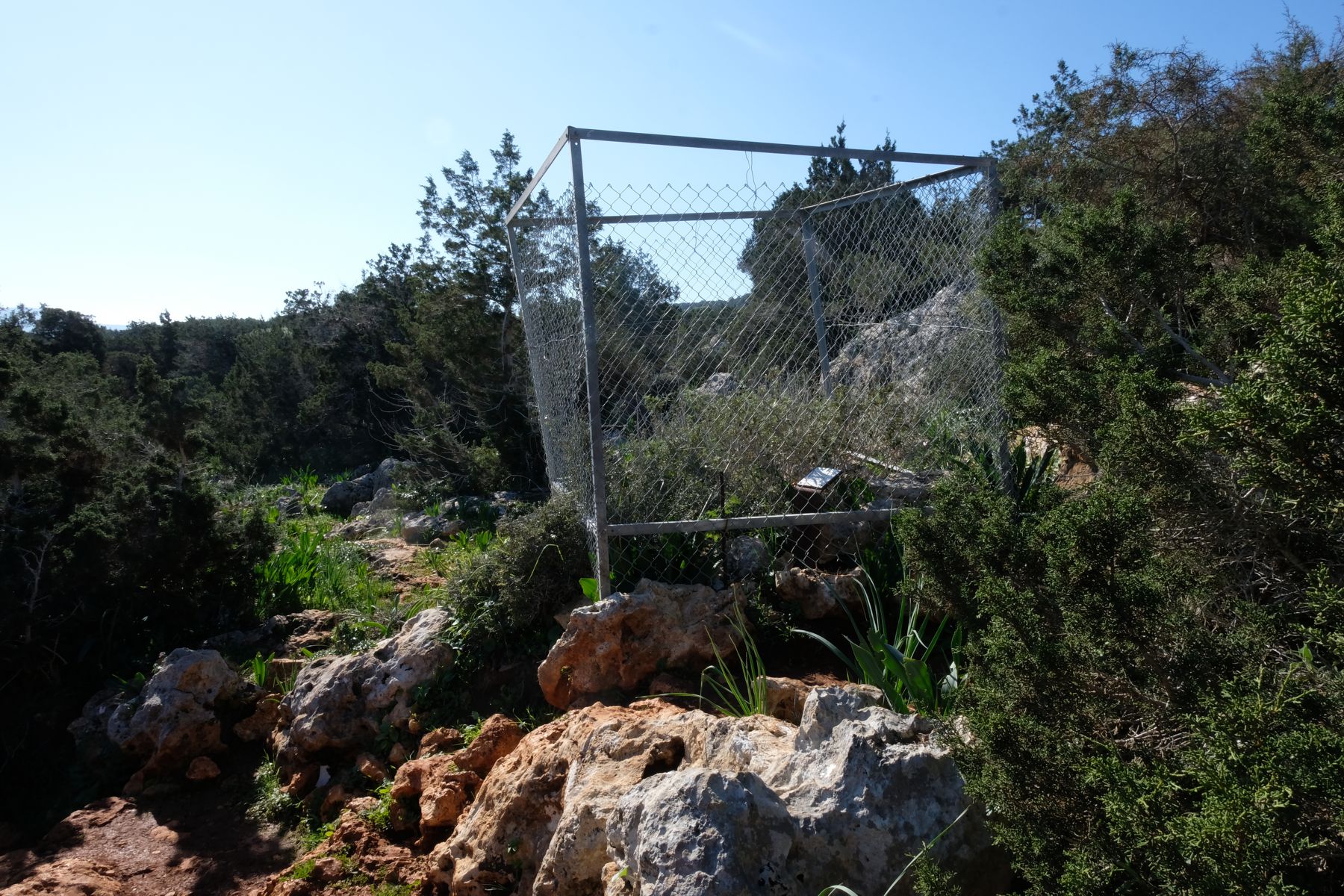 Wild flowers on the trail need to be kept in cages so they do not get up to mischief.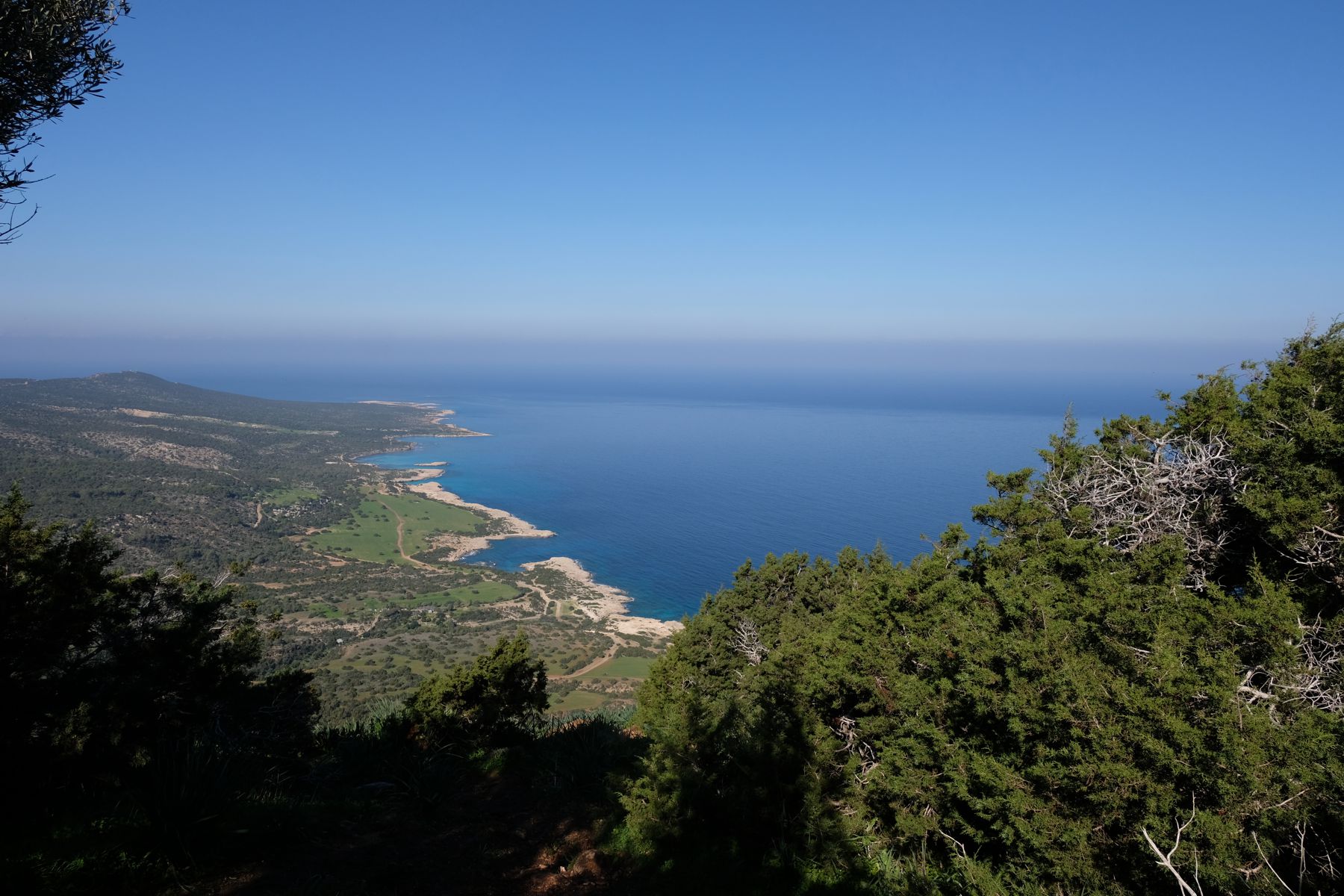 View from the trail.
* * * * *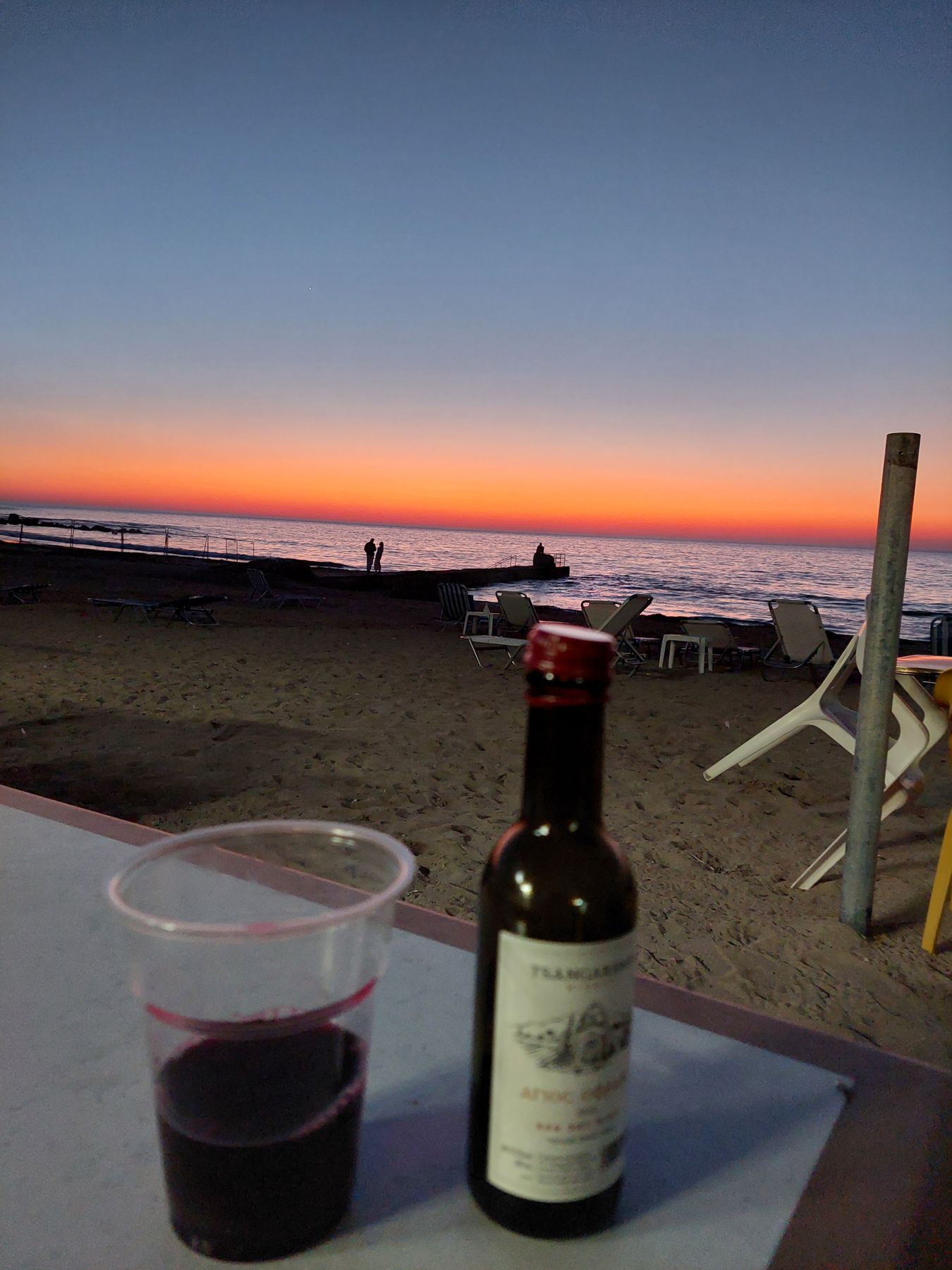 Cheap wine and a priceless sunset - on my last evening in Cyprus.
Cheap Wine and a Priceless Sunset
On my last evening in Cyprus, I took a walk along the beach, came across a seaside café and ordered a small bottle of wine (they didn't sell wine by the glass). I found myself a chair, poured myself a glass and took a sip. As I was doing so, I heard the notification meow of my telephone and found a text message from a good friend in the States. I took a quick picture (the one above) with my phone to show him what I was up to.
It was only then that I noticed the sunset in the background - both in the picture and in front of me.
And, I thought to myself: "Cheap wine and a priceless sunset" what a lovely thought to conclude a delightful trip.
* * *
Share your feedback, thoughts and/or questions
* * *
If you enjoyed this story, please share it. I would love for more people to discover our blog.
* * *
* * *
Our latest Stories
The Queues of Paris (April 2023)
A recent visit to Paris involved standing in long queues and battling crowds. Fortunately, I have an idea about reducing crowds at tourist sites. Read it here.
Revisiting Portugal (March 2023)
Ira and I take a road trip to my one time home: Portugal.
Portuguese Memories (September 1985)
On a road trip through Portugal with Ira, I am reminded of my life in Lisbon in the mid 1980s
Fleeing to Cyprus (January 2023)
I decided to visit Cyprus off-season to do some hiking and wandering in ruins. It was a delightful trip.
The Answer Lies Just Around the corner (November 2022)
All my life, I've felt that the answer, some profound purpose in life, has laid just round the corner. Although I have experienced a lot in life, I am still looking for that corner.
All stories
Index of all the stories on this blog.