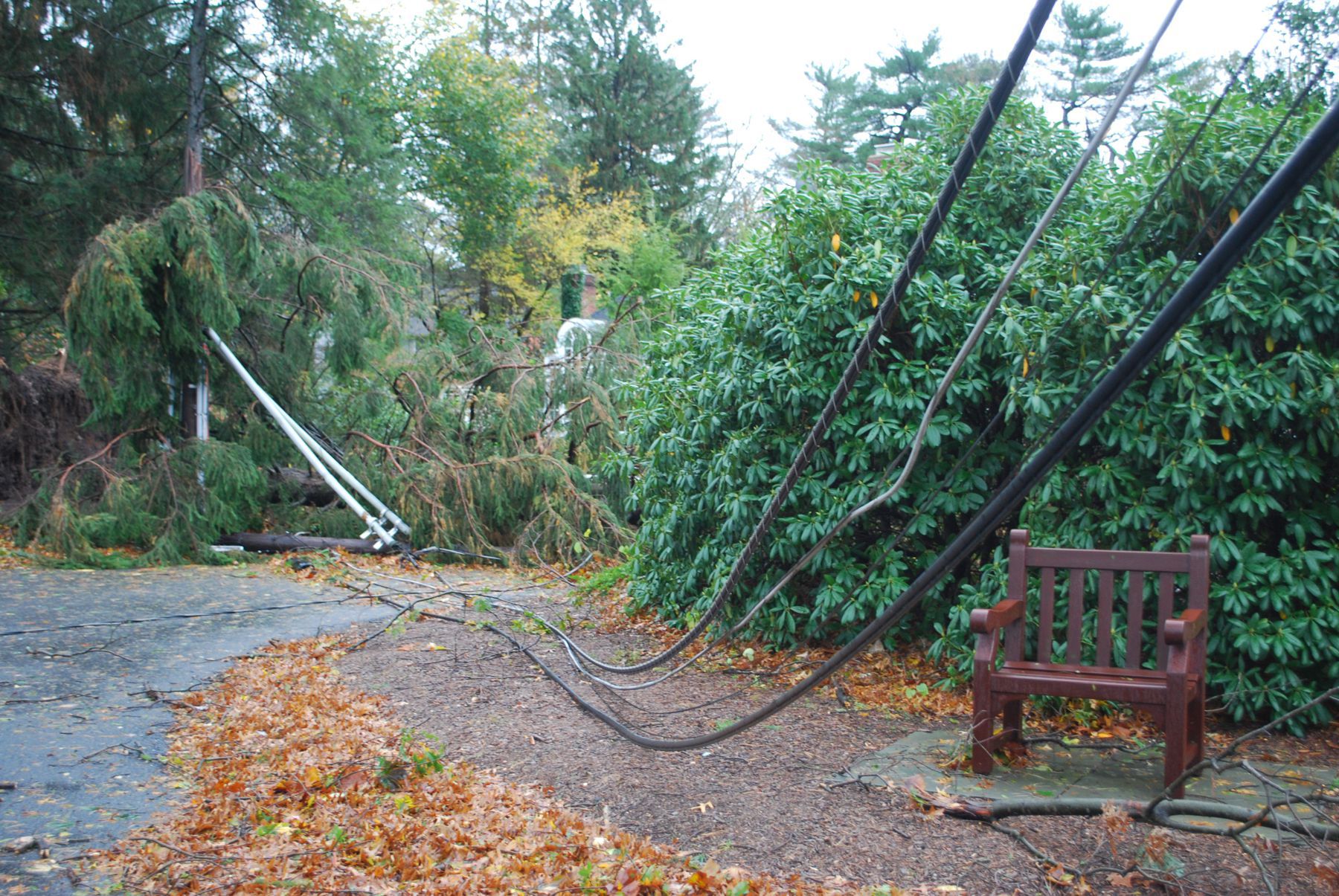 Hurricane Sandy Debris, near my parents' house
A Tale of Two Storms: 2011 and 2012
October 2011 and October 2012 - recalled in January 2022 by Jeffrey
I used to take my sons to visit their grandparents in New Jersey every year, usually in late August, just before school started. In 2011, I thought it would be fun to take the boys to America during their mid-term. We'd be in New Jersey for Halloween and trick-or-treating (something that isn't really done in Europe). I expected the lads, who were 10 and 14 at the time, would enjoy the American Halloween experience.
On our arrival in late October, an early snow storm was just getting started and, as my brother drove us from the airport to our parents' home, the world rapidly turned white.
Now, this was an early snow and many trees had not shed their leaves. As a result, rather a lot of snow collected on the leafy tree branches. Too much snow. And, as the evening progressed into night, more and more tree branches became overweighted with snow and came crashing down to the ground.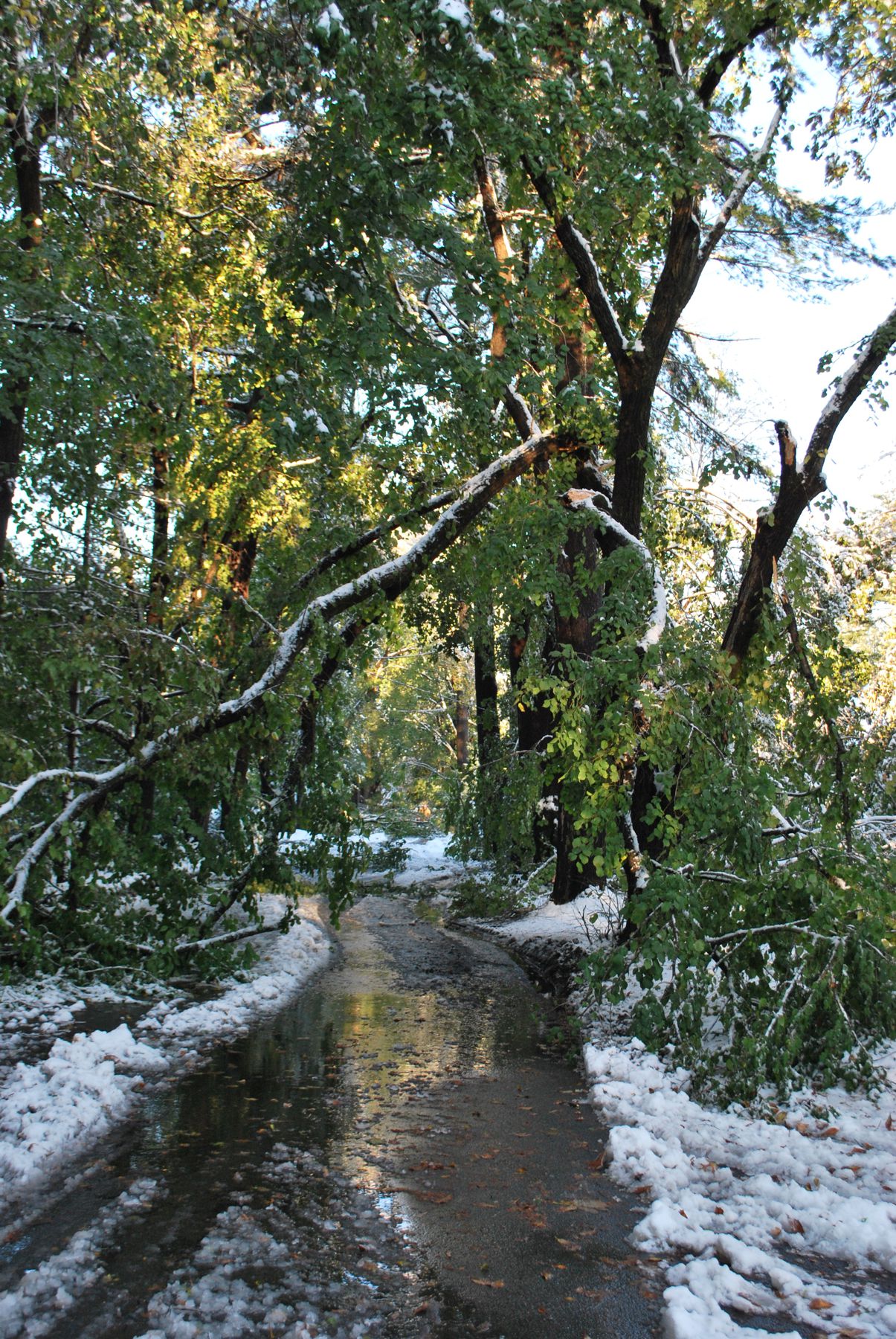 Snow storm damage
One of the strange things about America is that nearly all of the power lines are suspended from poles on the street sides - rather like telephone lines are in Europe. However, in Europe, we burry our electrical lines. This would have consequences on that fateful night. For, you see, those falling branches, weighted down by snow, periodically fell on power lines, bringing them down. Eventually, the power went out throughout the state of New Jersey -- including at my parents' house where it stayed out for several days.
We Survived Reasonably Well
We survived reasonably well. My parents had a gas fireplace which provided some warmth in the family room (sort of a second living room, for relaxing and watching TV, that many houses in America have). I worked out a system for boiling food over the gas fire and my brother could cook stuff on the outdoor grill. So, we had some warmth and could do warm meals, even though the house cooled down to around 10°C (50°F). Amusingly, without electricity and wifi, our main source of news, in the firs couple of days after the storm, was SMS messages from a friend in Belgium.
Fortunately, in about five days or so, power came back.
Because of the disaster, trick-or-treating was delayed by a few days, but eventually went ahead the last evening we were in New Jersey. So, my sons were able to bring sacks of candy back to Belgium.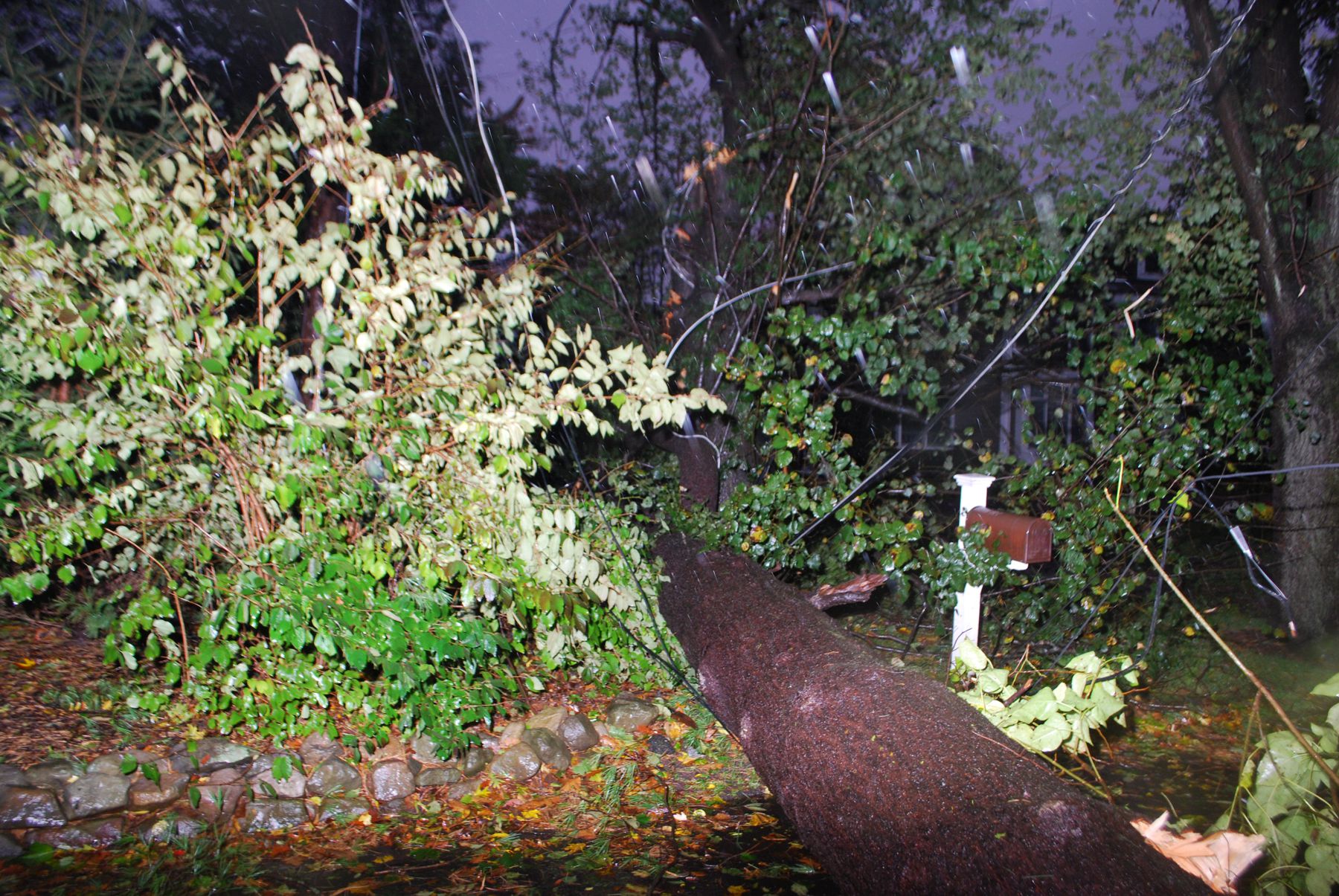 Hurricane Sandy: Fallen tree
A Once in a Lifetime Storm
A year later, I still liked the idea of visiting my parents during the midterm break, in part so that the boys could do the trick-or-treating thing and, in part, because it's a lot cheaper to fly from Brussels to New York in late October than it is during the summer.
I asked the boys if they wanted to visit their grandma and grandpa during the mid-term break. I assured them that what had we experienced the year before was a freak, once in a lifetime event and would certainly not happen again. They understood and were enthusiastic to visit their grandparents whom they loved dearly (as kids so often do) and like me they enjoy travelling. So, I booked tickets and we flew out.
A couple days after our arrival, Hurricane Sandy swept through the US's East coast, bringing down tree branches and entire trees. We sat in the house, listening to the wind roar and tree branches falling. From time to time we heard really loud cracks. I later learned this was the sound of transformers exploding. A couple times the power went out for a moment or two. But, it always came back, received with a cheer from all of us in my parents' house. Until the last time it went out and stayed out - until after my sons and I flew back to Belgium.
We never, ever visited America for Halloween again.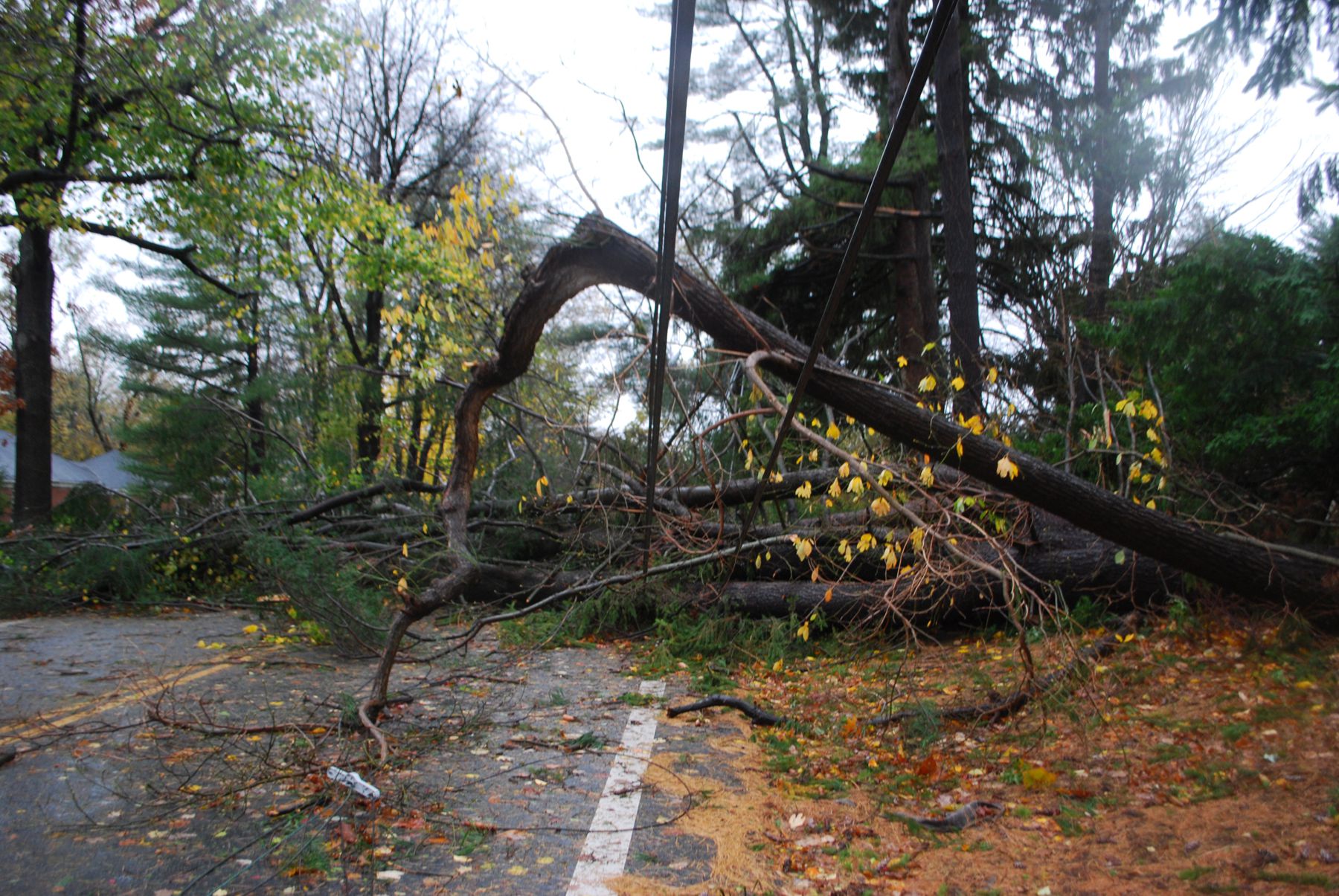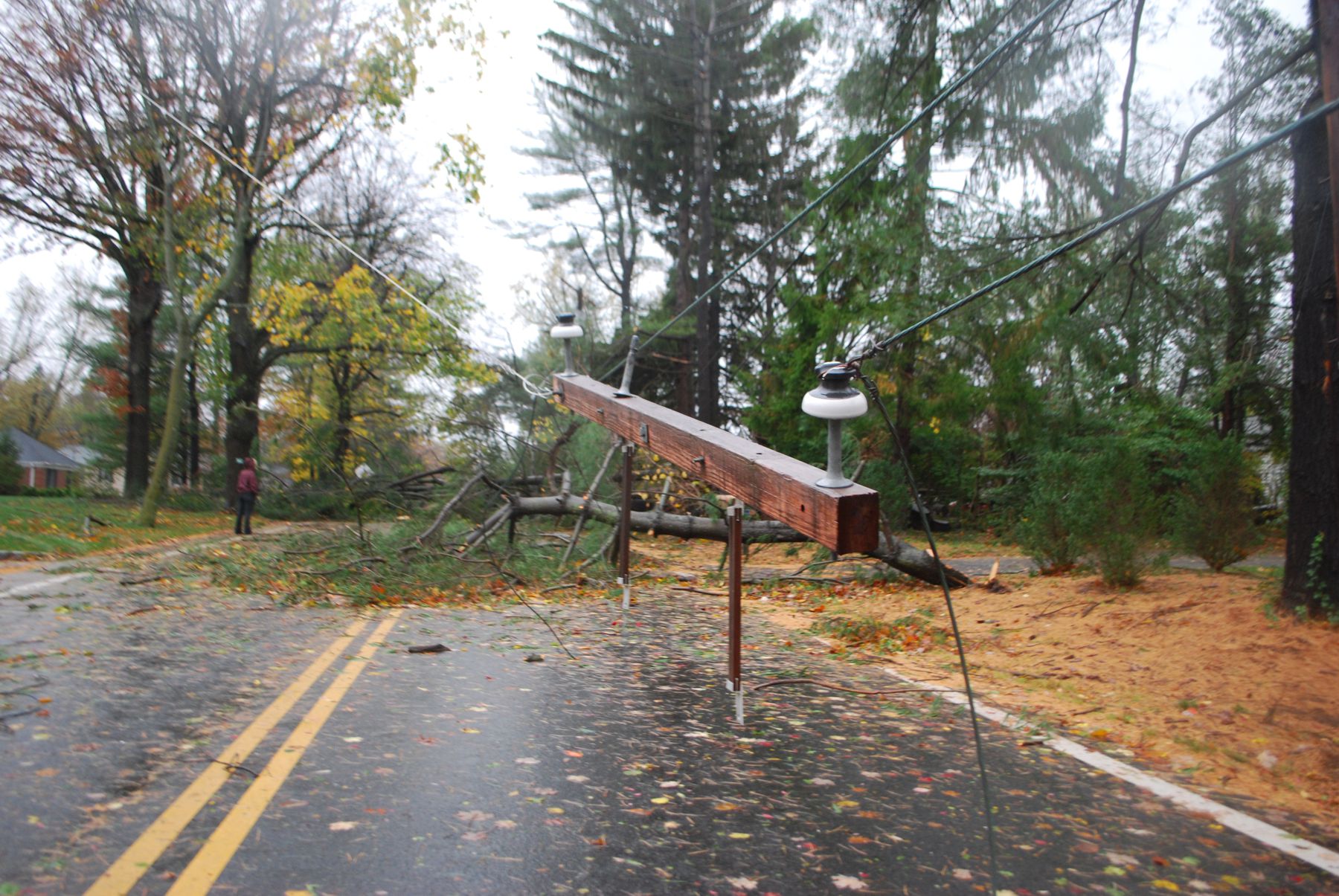 This is part of a power pole that fell during the hurricane.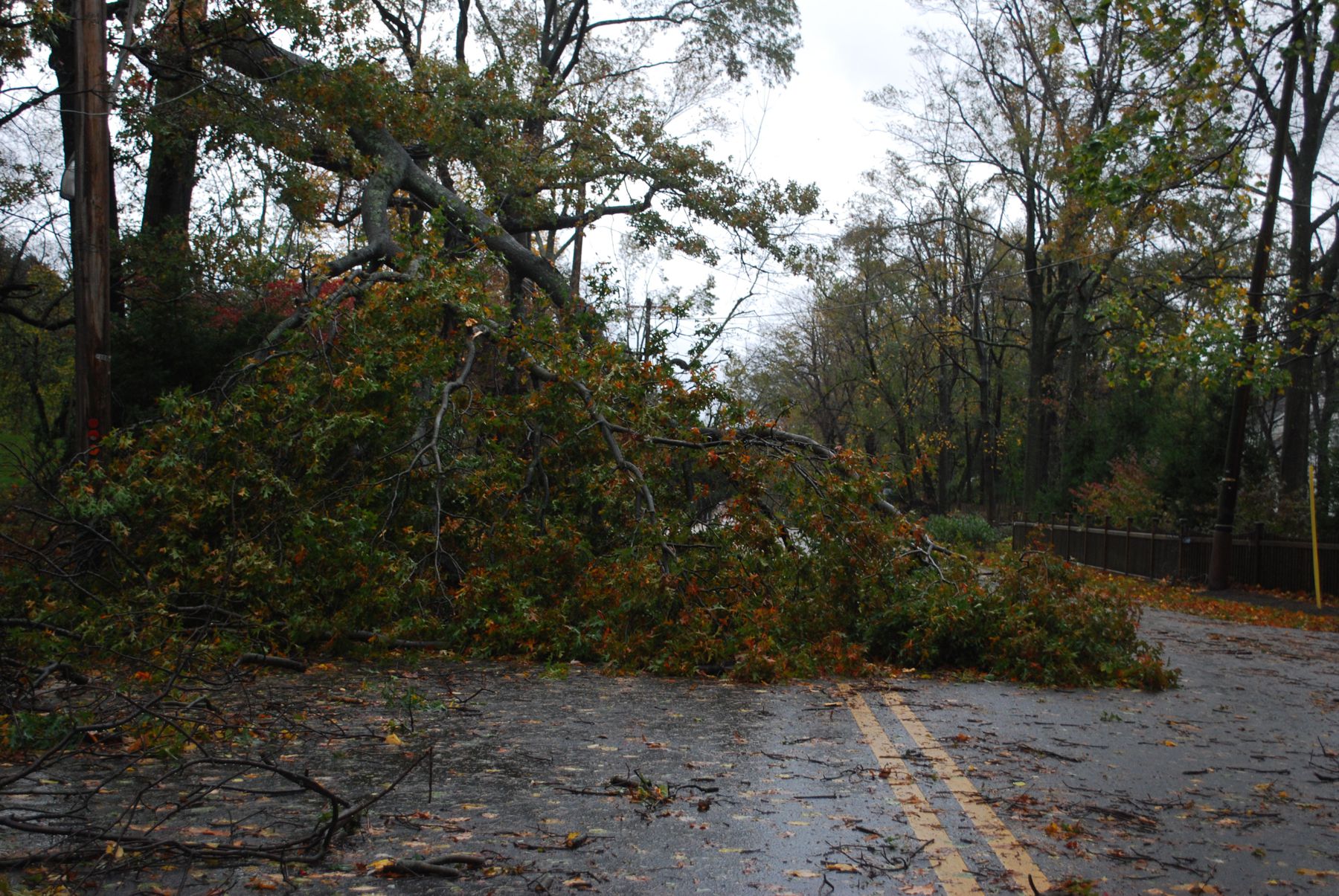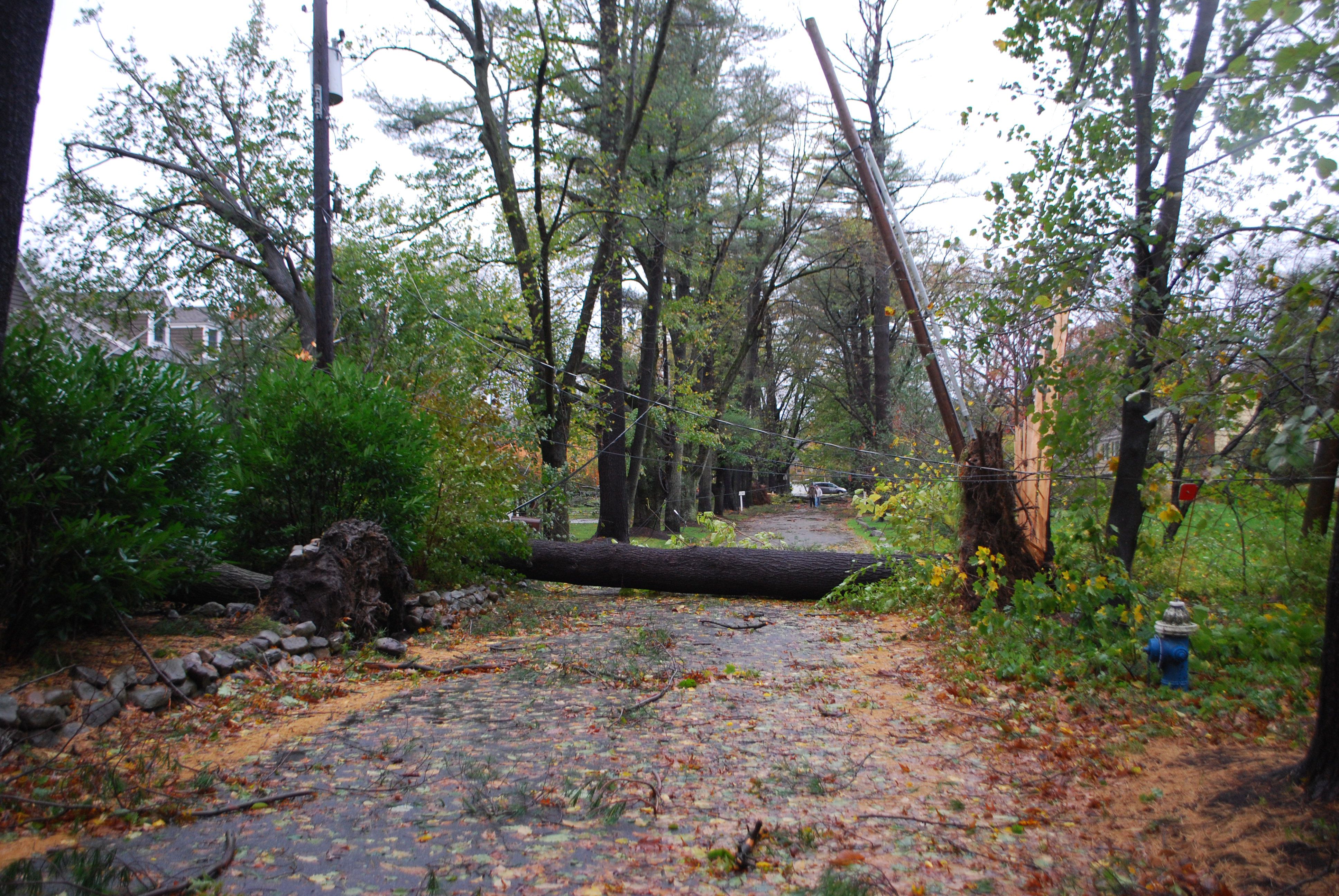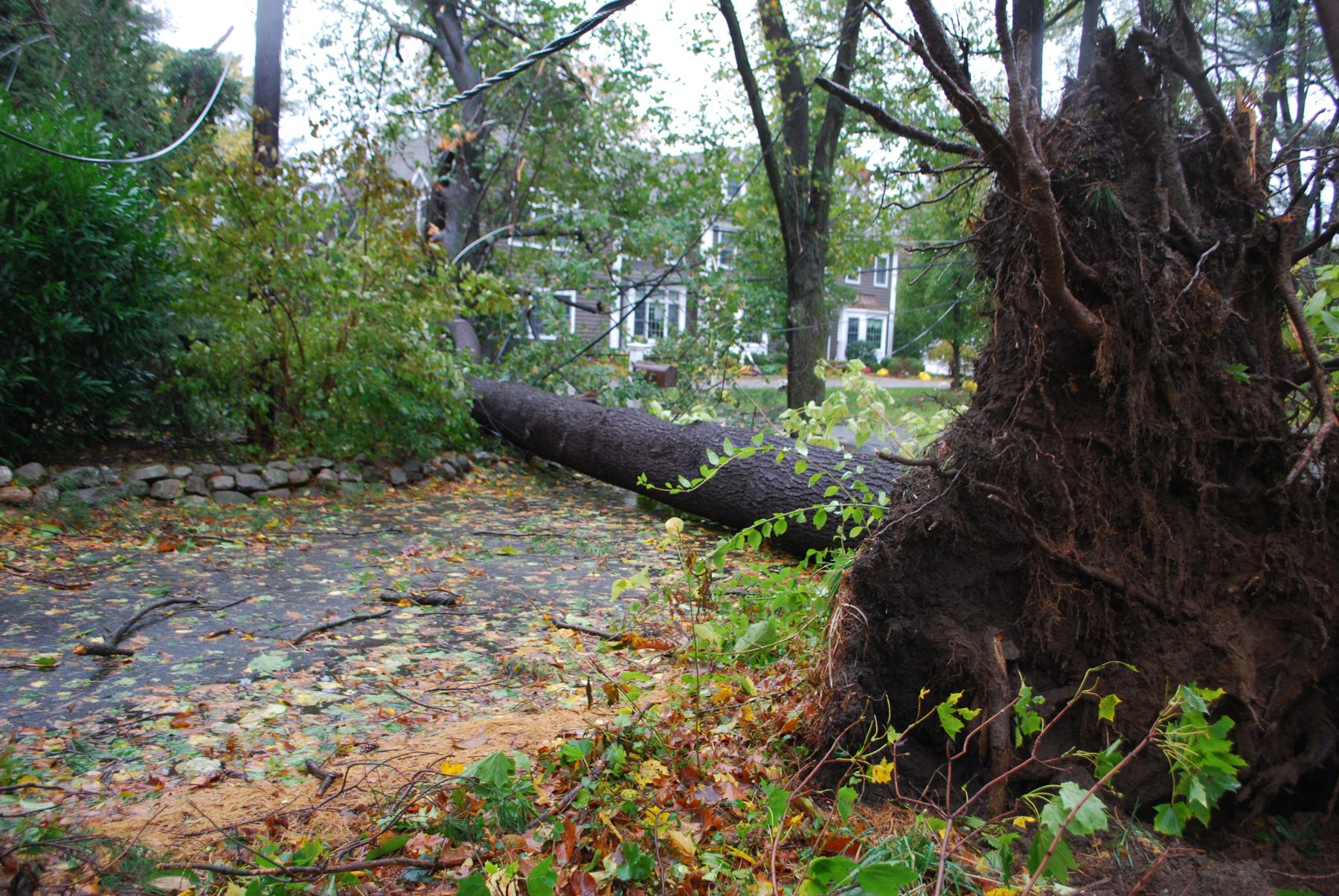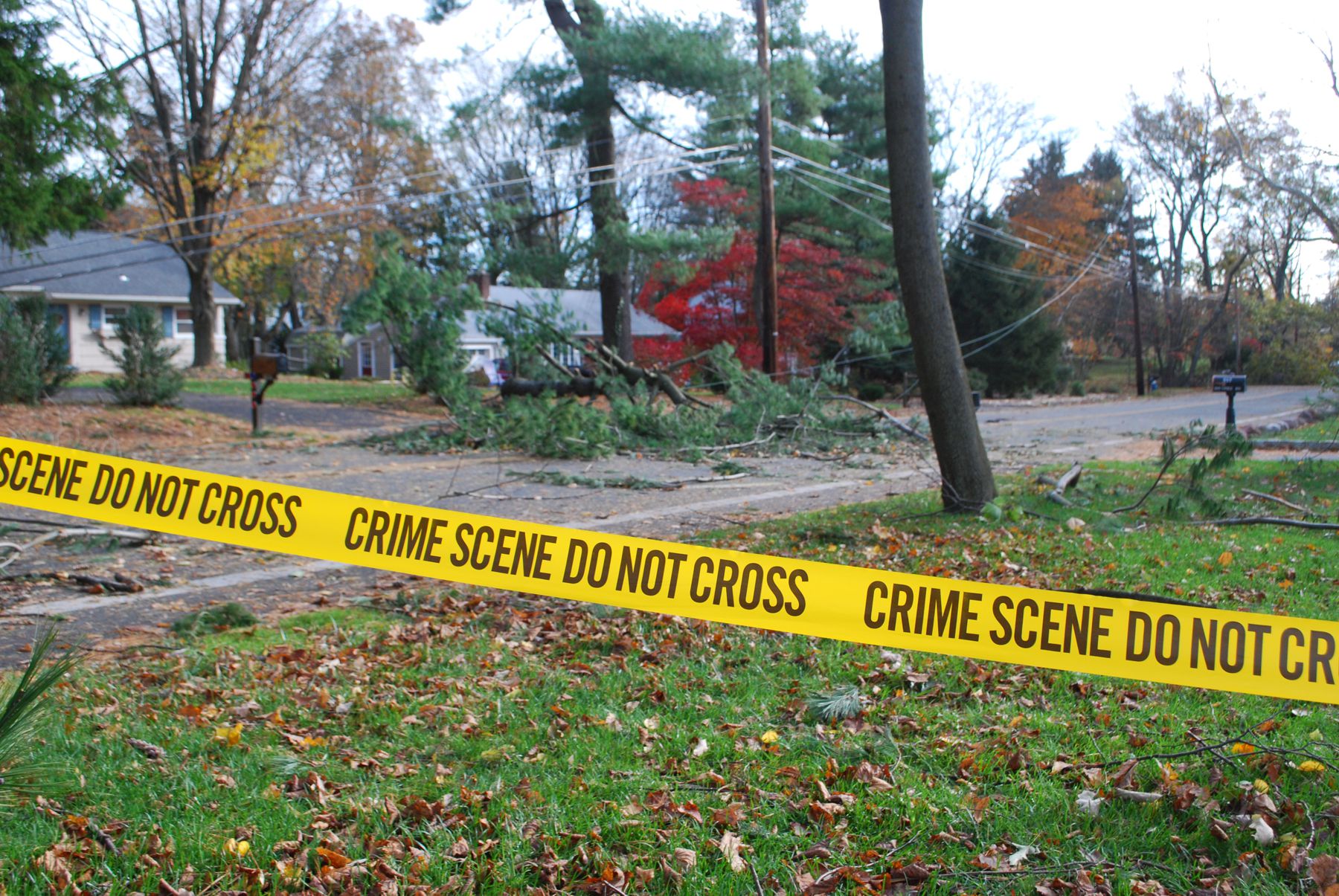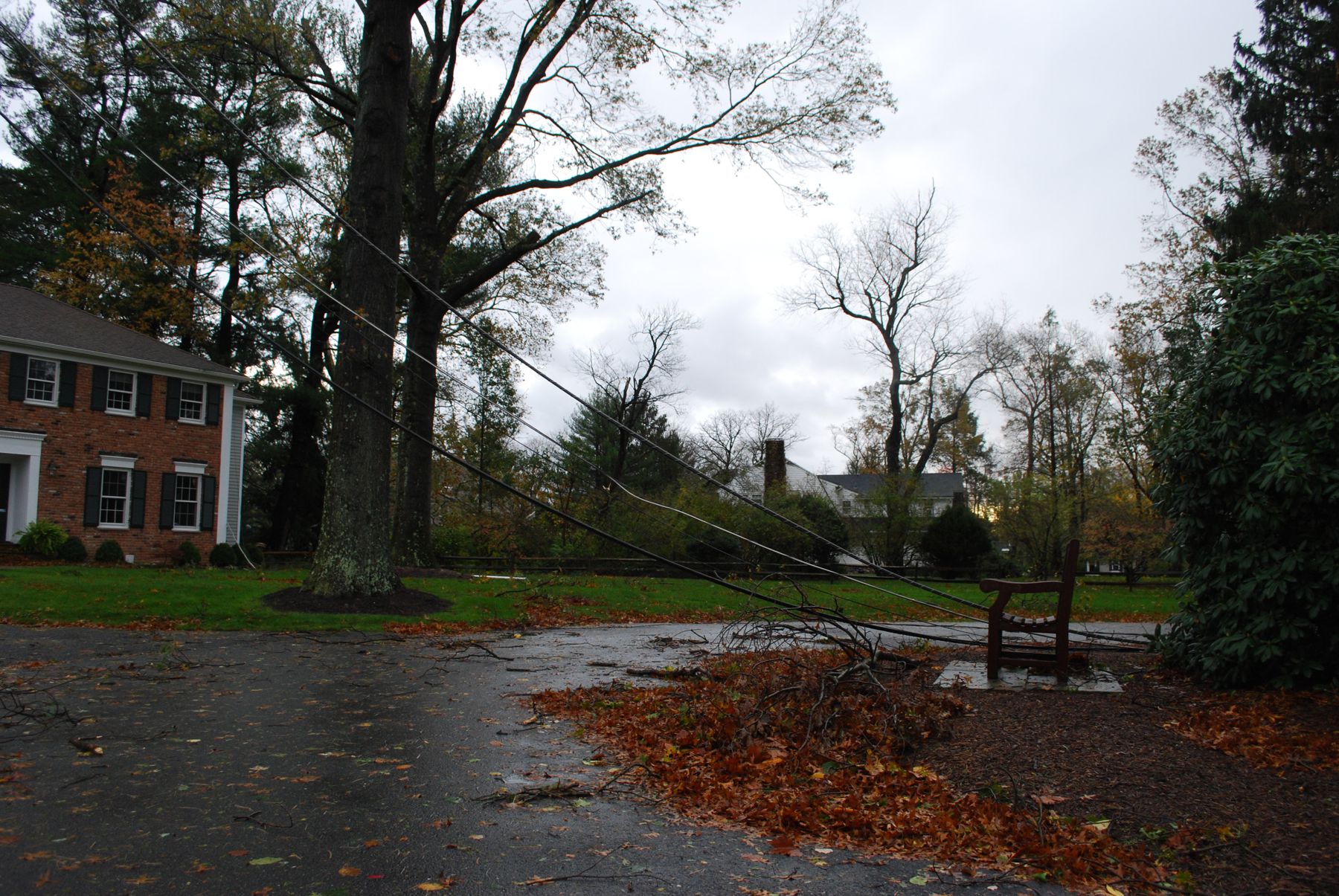 * * *
Share your feedback, thoughts and/or questions
* * *
If you enjoyed this story, please share it. I would love for more people to discover our blog.
* * *
* * *
Our latest Stories
Reflections on Berlin (April 2022)
"I lived in West Berlin in the 80s, visited in the 2000s and may live there again in the future. Here are some of my observations.
Becoming Belgian (March 2009)
Some years ago, I decided to become a Belgian. It was remarkably easy at the time.
The Holiday of 10,000 Stairs (April 2009)
Jeffrey and his sons visit the Amalfi Coast, get lost going to Revello, curse a GPS, climb on the ruins of ancient Roman cities and more.
Medieval Monschau Inspires an Idea (July 2021)
Wouldn't it be cool if you had to dress in medieval costume in order to visit medieval cities like Monschau, Bruges and the like?
Delightfully boring Vlieland (October 2021)
There is a lot to be said for going someplace pleasant but dull in order clear out your head and relax. So, that's what we did.
All stories
Index of all the stories on this blog.