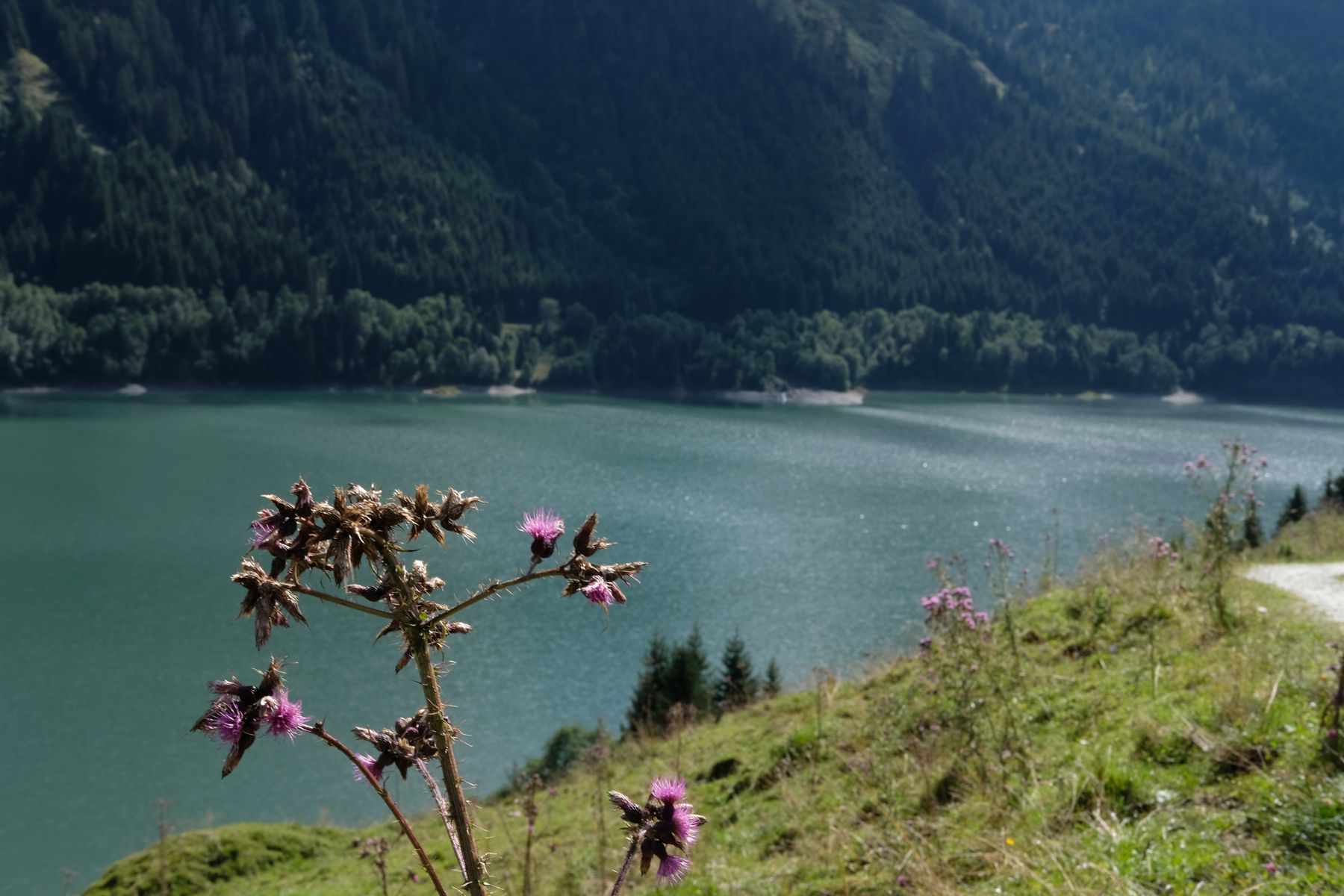 Falling in Love in the Austrian Alps
Austrian Alps, August 2021 - By Jeffrey and Ira; narrated by Jeffrey
I had known Ira for around a dozen years by the summer of 2021. We originally connected on social media. But, as she then lived in Wroclaw, Poland and I was a single father raising a couple of sons in Erps-Kwerps, Belgium, meeting up was not practical. Nevertheless, an on-line friendship of sorts blossomed and we chatted from time to time over the years.
Something brought us closer, as friends, in the summer of 2021. Perhaps it was coming out of lockdown. That seems to have made people rethink personal relationships. When I visited her in the Netherlands (where she was now living) in early August, there was a closeness that had not existed before.
At the time, I told Ira that I wanted to do a road trip in September. She was also keen to travel and I reckoned she would be a good travel companion. She laughed (and still does) at my jokes. What more does one need in a travel companion? Of course it helps, that she's intelligent, thoughtful and I enjoyed spending time with her.
So, I said, "Let me propose something." A day or two later, I suggested a road trip to Austria to hike in the Alps as well as visit Innsbruck and Salzburg. She was keen. I said, "Shall I book things?" As a rather frequent traveller for business and pleasure, I am used to organising trips and I knew Ira was busy at work.
She said, "Please do."
The Delicate Question
I got to work plotting out some mountain walks, some city visits and hotels near the visits and walks. There remained one rather delicate question. I messaged Ira: "What do you want to do about sleeping arrangements? Separate rooms? Shared room and separate beds? Or - shall we throw caution to the wind - and share a bed too?"
Lord love a duck! Did I really ask that? With most women friends, I would not have proposed the third option. But, Ira was becoming special to me. I hoped the feeling was mutual.
"That's a tricky one," Ira replied via Whatsapp. And then, "For a couple of nights, I can manage sharing a space, I guess."
Oh my! I thought. The dynamics of this trip suddenly became more interesting. A lot more interesting.
Ira followed up, "Cheaper." with an upside down smile emoji. Well, there was that too. Frugality can be a good thing in a travel partner. But, I'll be honest here, my thoughts were not on holiday economics at this moment.
"Indeed," I replied. And, to be sure I understood correctly and there would be no embarrassing misunderstandings upon checking in at our first hotel, I double checked: "So, a shared bed?" I messaged.
"A big one," Ira messaged.
"Yes, of course," I replied. I was both excited and a bit anxious. The nature of the trip had changed dramatically and in an exciting way. At the same time, I was cautious. Best not to make any assumptions about what might happen - aside from sleep anyway - in the big, shared bed.
Before writing this piece, I asked Ira about the delicate question. She said, "I remember that moment when you asked and I realised what it might mean if I agreed to one room and one bed." Pausing to think about it, she added, "It was like asking me to marry you and I said 'yes' but in our weird way." She also said that my asking her this question, before booking anything, made her feel safe with me.
The marriage analogy would become relevant in the village of Mayrhofen.
The Drive
Ira took the train to Erps-Kwerps on a Saturday afternoon and early Sunday morning we loaded up the car and hit the road. It was about a ten hour drive from my village, through Germany and into Austria. Recalling the journey, Ira said, "I was in my busy mode: talking (a lot), trying to read, sleeping, listening to my weird spotify favourite list and enjoying your company. Then we crossed the Austrian border and the beauty of the mountains fell on me and I shut my mouth. Everything I thought before felt so small in comparison with the huge beauty of the mountains."
We arrived in Innsbruck in the evening, checked in to our hotel and went for a walk to stretch our legs and find some dinner calories. We stumbled upon a cosy Sicilian pizzeria where the proprietor was sure he knew me even though I clearly could not speak anything beyond elementary German. Eventually, he accepted that I was not his friend, but he gave me curious looks from time to time. He also provided excellent service and the food was nice. I have no complaints. Indeed, I sort of wish I was his friend.
The First Mountain Hike
Monday morning, we drove to the nearby Ötztal mountains where we took the Ochsengarten - Wetterkreuz peak hike. It was a cold, wet, windy morning and we loved every minute of it as we climbed stone littered trails that passed along and through fir tree forests. On the horizon was a vista of seemingly endless mountains. Though they must have ended somewhere. There certainly aren't any in Belgium.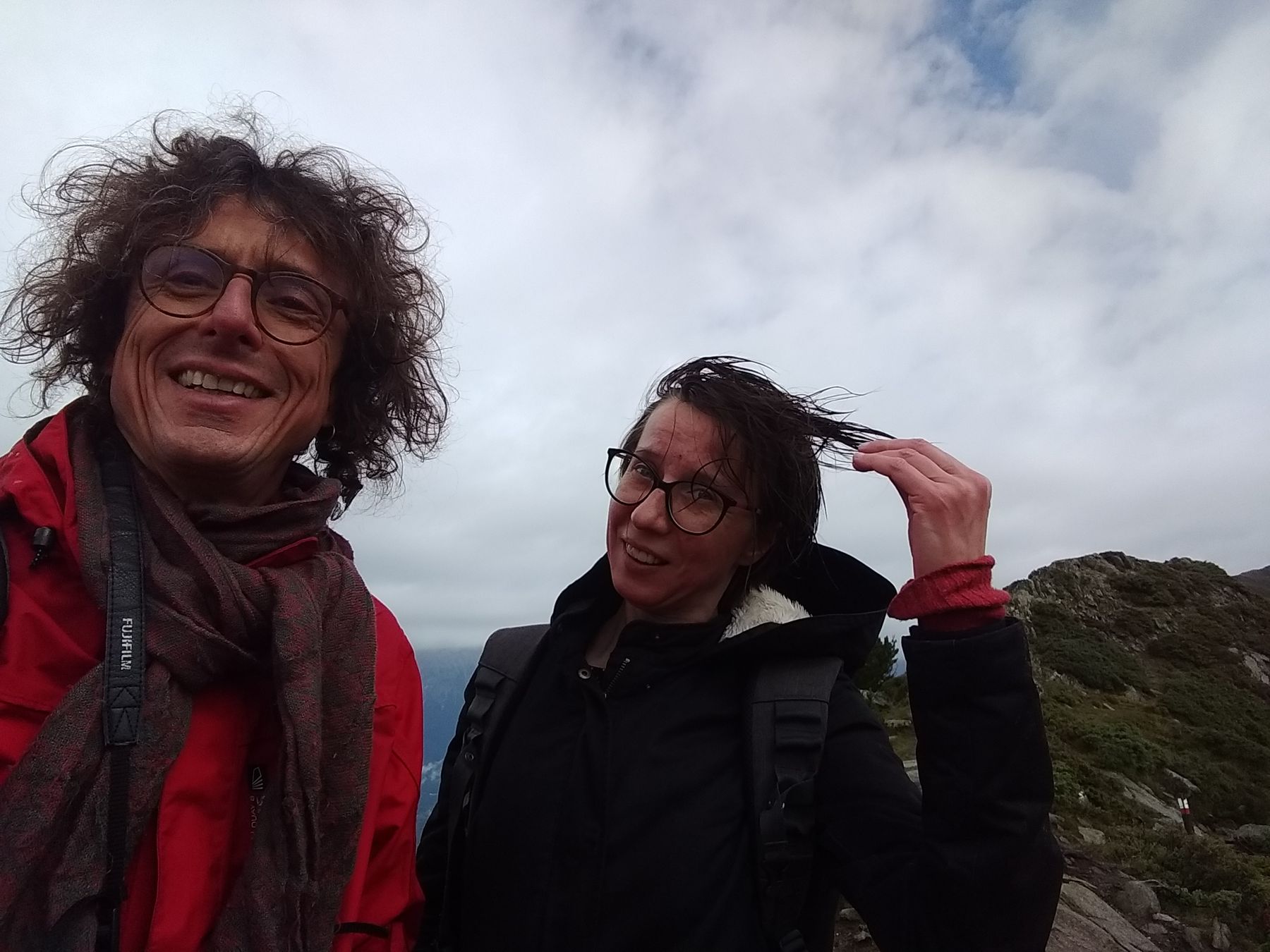 It was cold, wet morning and we loved every minute of it
As we marched on, the vegetation grew progressively shorter and denser. At one point, a pack of horses sauntered over to us in a friendly way that eventually become too friendly. I don't know if they were looking for food or affection or just liked us. In the end, it proved a challenge to get past them, but we did. A far bigger challenge arose when we came to a long, narrow path leading to a small peak. Both sides of the path were steep and offered what could be considered stunning views down into the valley below or which could be considered terrifying - particularly if you suffer from vertigo.
Ira suffers from vertigo.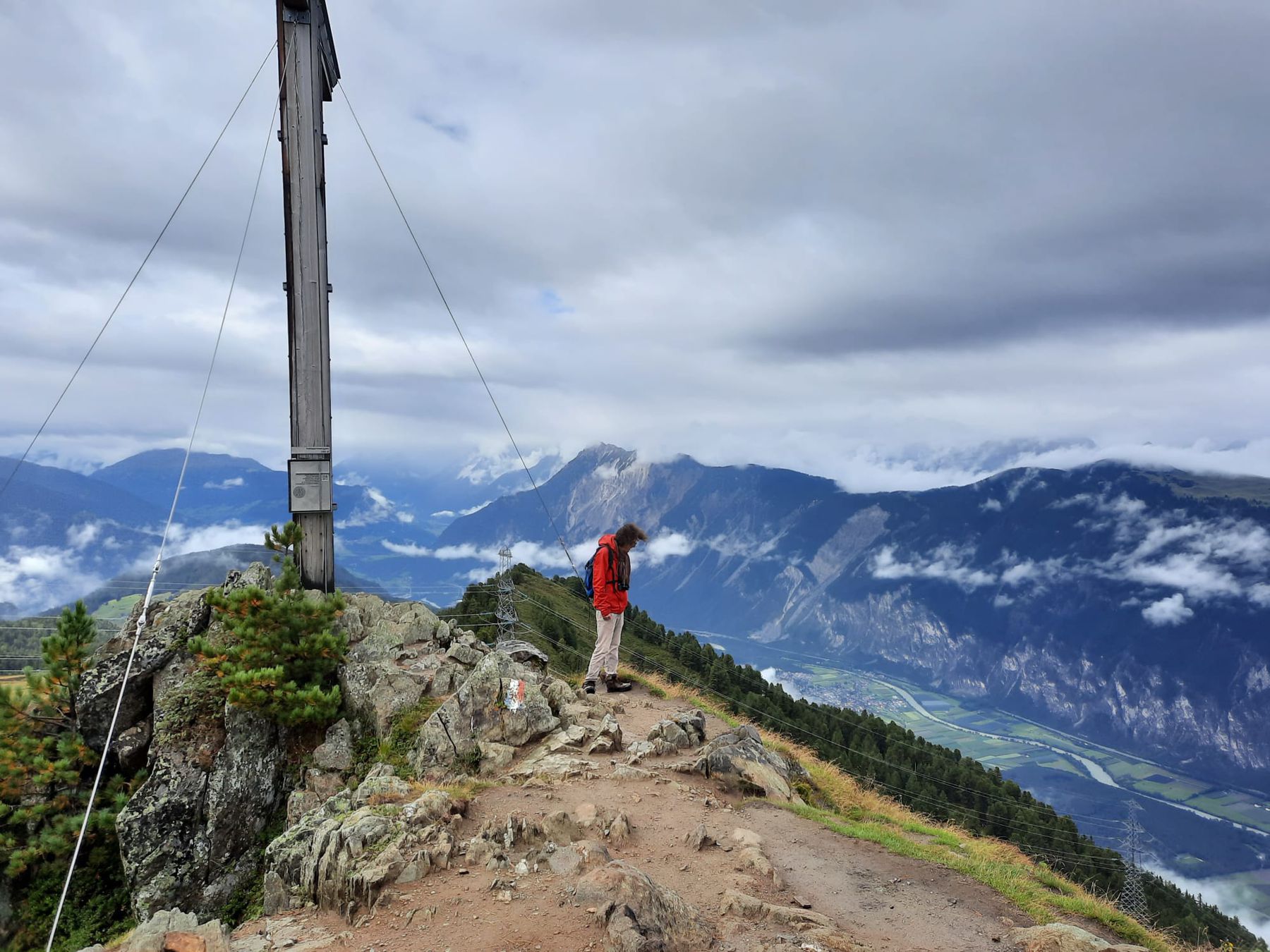 Jeffrey checks the narrow path - photo by Ira
I walked along the path a hundred meters or so to see if it got better. It did, but to get to the better bit required walking along a narrow path with long falls on either side. It wasn't really dangerous and while a fall would hurt, it was unlikely to be fatal. I asked Ira if she could manage it if I held her hand. But, it was too steep and vertigo seldom responds to logic.
So, we turned around, walked back down the mountain a bit and then walked around the peak. Soon we came to a waypoint sign which fortunately included an arrow for the next waypoint on our walk. However, it followed a different path than we would have followed had we not deviated from the original walk and, as we later reckoned, it added a good five km to the 13.5km walk. We didn't mind. It was an awesome mountain and we were happy to explore it all day.
Altogether, the near 20 kilometer walk was endlessly variable, stunningly beautiful and peaceful. We passed the occasional hiker, but for the most part, it was just Ira and me alone on a grand old mountain. In retrospect, how could we not have fallen in love in such beautiful surroundings?
Speaking of falling in love...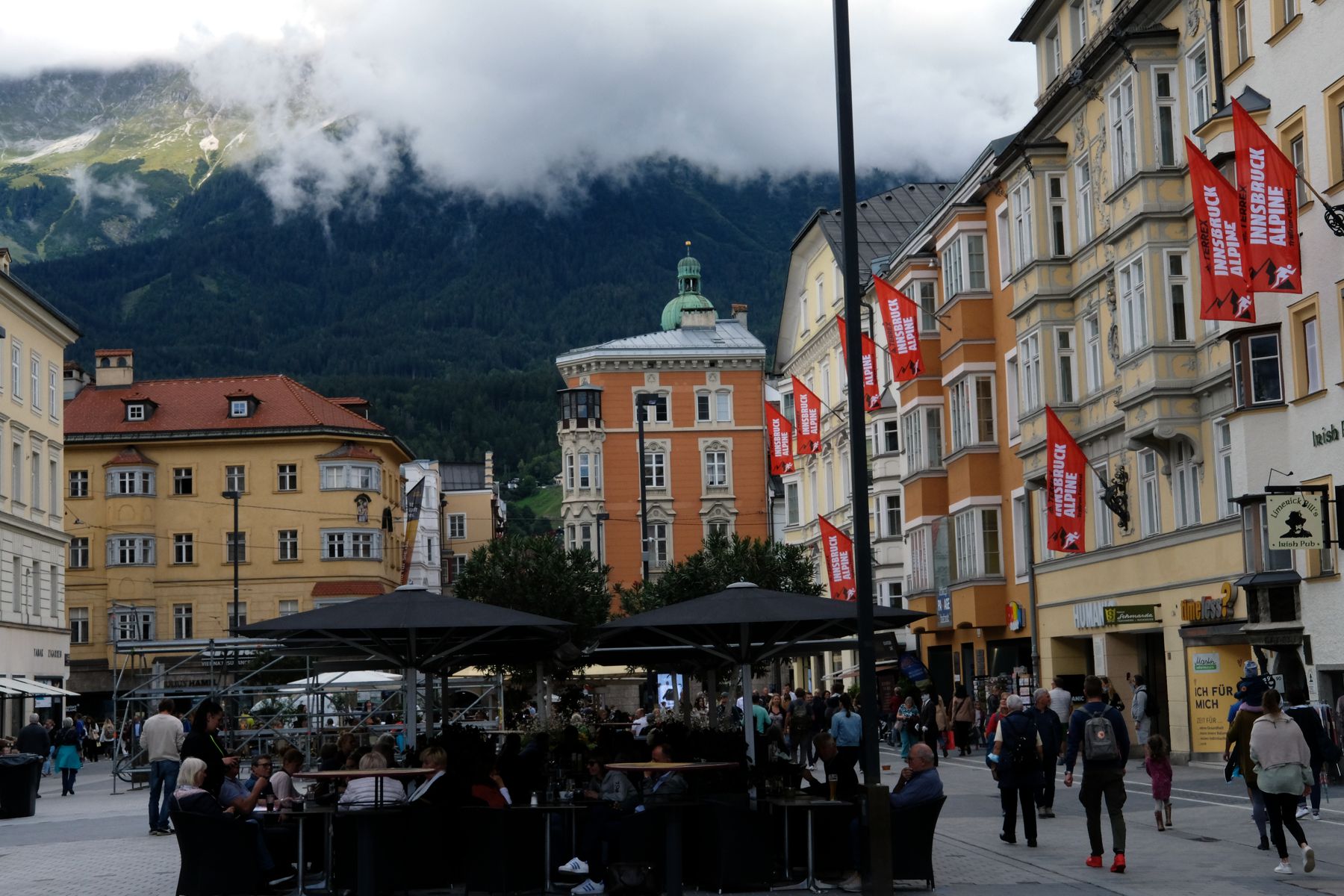 Innsbruck
Innsbruck
We spent Tuesday exploring Innsbruck, a picturesque small city full of traditional Austrian architecture and surrounded by mountains. Look at street level and you see streets of quaint shops, delightful squares where you can take a drink and grand old buildings. You see people milling about. Look up and you see stunning, white capped mountains reaching up into the sky. Stunning.
Ira took charge of the city visit and managed a wonderful day of semi-structured meandering. Sometimes we just followed our whims. Sometimes she directed us to a museum or church or other places of interest. It was while exploring Innsbruck that Ira surprised me by saying with a gorgeous smile, "I think I am falling in love with you."
"We'd best get you to a pharmacy," I suggested. "I'm sure they can give you something for that." She punched me in the nose.
Well, no. I didn't actually say that (and she didn't punch me), though the thought crossed my mind (I have a terrible sense of humour). The truth is, I was - and still am - touched by her words, I forget how I responded. I hope it was suitable. I recognised that I was growing awfully fond of Ira too.
The rest of the day is a bit of a blur. We continued walking and talking. We occasionally held hands. Somewhere, it might have been the Taxispalais Art Hall, we saw a sign for a performance of Philip Glass's work performed on a harp. As we are both fond of Mr Glass, we decided to attend the performance. It was an intimate space and delightful performance.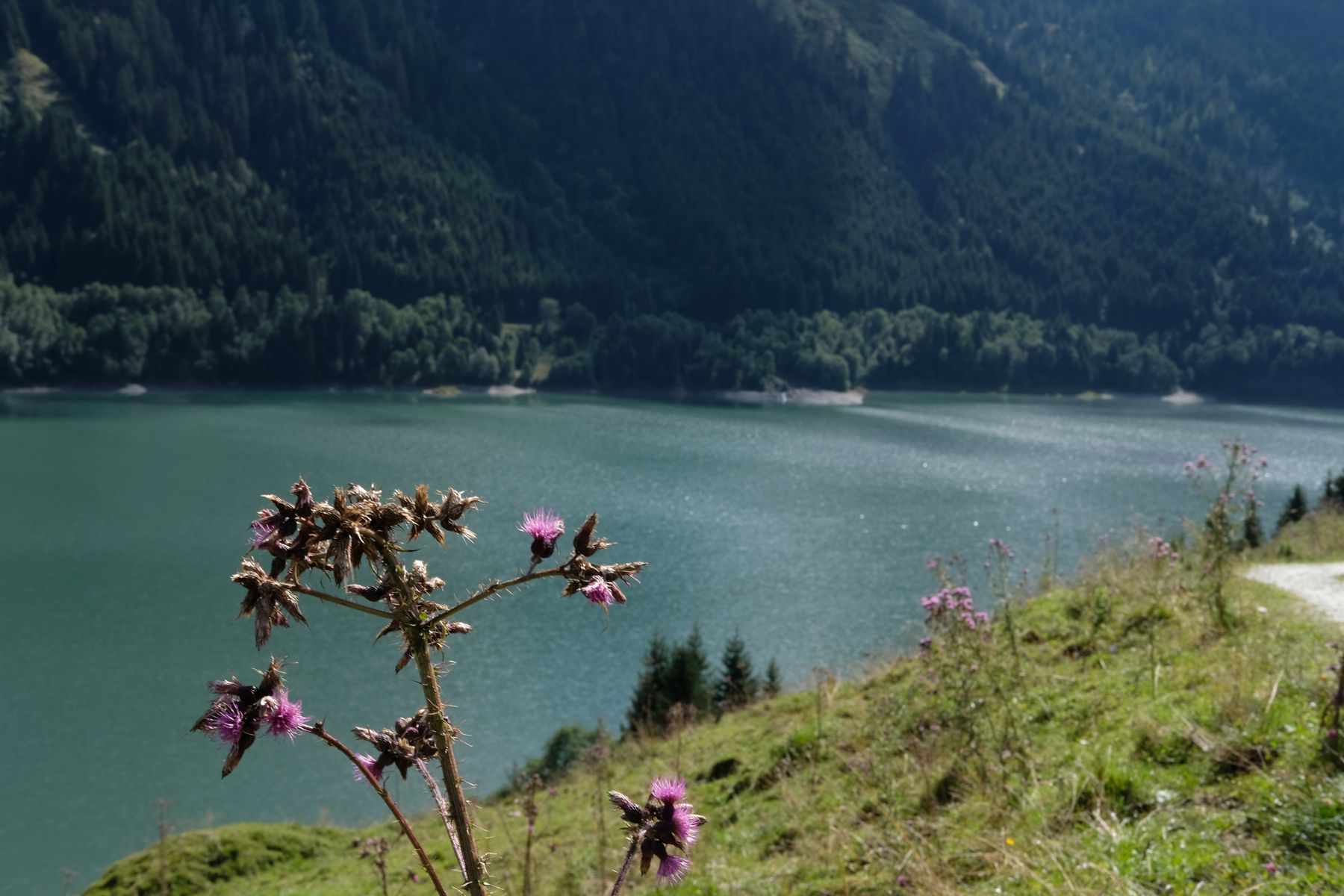 Durlassboden reservoir
Reservoir Walk
Wednesday morning, we checked out of the hotel and drove to Gerlos for a walk around the Durlassboden reservoir, a lovely artificial lake nestled into the mountains. The 11km hike didn't involve much climbing, was mostly paved and provided a nice restaurant, around halfway through the walk, for lunch. Frankly, I was worried the walk would be a bit dull compared to hiking up and down mountains.
I underestimated the beauty of the Alps. (Advice: never underestimate the Alps). The walk was stunning. The reservoir reflected the surrounding mountains and trees. The clean, crisp mild air and the varied vegetation at the side of the footpath made the walk an absolute delight. It was 11 kilometres of pleasant walking, chatting interspersed with a traditional Austrian lunch complemented by a pleasant Austrian white wine reminiscent of the better Rieslings. Incidentally, Austrian wines are much nicer than you probably expect, unless you are an Austrian. Then you probably know this already.
What's more, it seemed we were holding hands for much of the walk. Holding hands! I never expected our itinerary to include that. But, her hand fit nicely in mine and following months of limited human touch, her hand felt very nice and surprisingly natural.

Another mountain hike
Another Mountain Hike
After our reservoir walk, we drove to the tiny resort village of Mayrhofen and checked into the splendidly named: "Der Seigeler - this lifestylehotel rocks." The hyper-friendly receptionist greeted us with a smile. I said we had booked a room in the name of Baumgartner. He found the booking and as he explained the amenities, he referred to us as, "You and your wife." I couldn't help but smile at that, but didn't correct him.
However, when he gave me a registration form to complete, I soon ran into a problem. The form wanted basic information about both of us, including information that any decent husband would know about his wife, but which I didn't know about Ira. And while I might be forgiven for not knowing her phone number (do you know your sweetheart's phone number or do you just click on her name on your phone?), there was other information I really ought have known about my "wife". "Darling wife," I said to Ira in as husbandly a way as possible. "Remind me. When was your birthdate?"
Ira rolled her eyes, laughed and took the form from me to complete her information herself.
The hyper-friendly receptionist's smile never faltered during this conversation. He'd either worked out that we were not actually married or reckoned I was a lousy husband. Probably the latter. Apparently a lot of husbands are lousy. Indeed, if you did a survey of my ex-wives, they'd both probably describe me along those lines. Meanwhile, I made sure to burn Ira's birthdate into my memory so as to avoid such embarrassment in the future. I didn't want to be a lousy husband, even if we were not actually married.
Mayrhofen is a sleepy village that comes alive during the ski season. In late summer it was a pleasant place to spend an evening. We comprehensively explored the village in about fifteen minutes and then rewarded ourselves with a glass of wine. Not just any wine, mind you, but a "Baumgartner" white wine. With a name like that, how could it be bad.
It wasn't bad. It was delightful. The name helped.
Thursday morning, we set out to tackle another mountain. I chose a route from Rosenalm to Karspitz to Schmankerlhütte to Kreuzwiesenalm and back to Rosenalm. The walk began with a cable car ride halfway up the mountain. A surprisingly crowded cable car in fact. I have no idea why so many people wanted to go halfway up this particular mountain. Fortunately, upon arrival, nearly all of them went in a different direction from ours. Thank goodness. We certainly didn't come to the Alps for the crowds.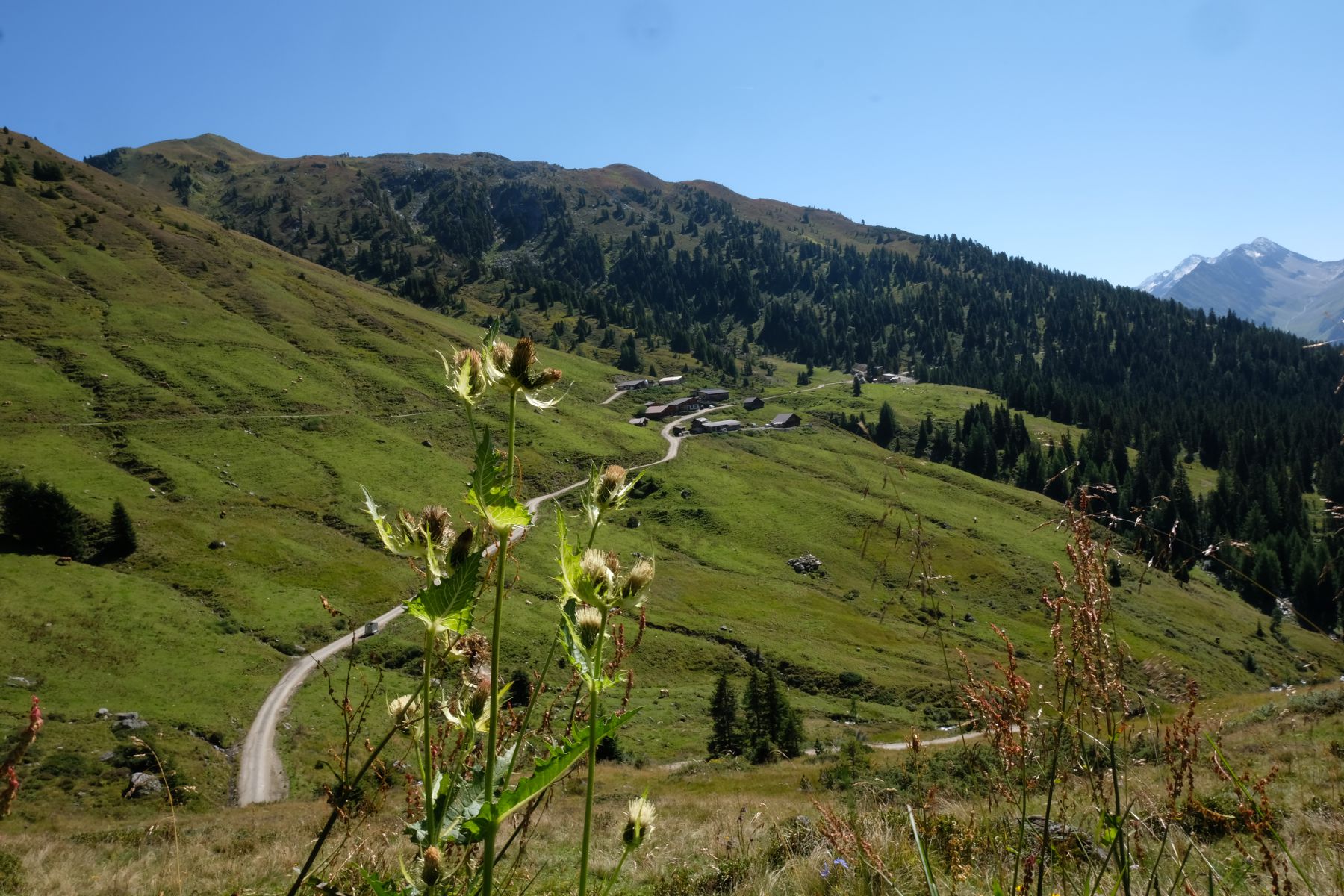 Mountain view
We may have been a bit overly ambitious tacking a mountain hike the day after a lake hike. We both felt a bit less energetic than we had for the first two hikes. Fortunately, the beauty and tranquillity of the Alps sucked us in as the trail led us from grassy plains into a forest of fir trees and tall grass. Early on, we came across some rather thuggish cows that didn't want to let us pass. I reckoned they were looking for a bribe. But, how the hell does one bribe a cow? Eventually we climbed around the bovine creatures, making every effort not to annoy them. They were big and awfully steady on the inclined footpath. They could hurt us. Fortunately, they didn't. They lost interest in us.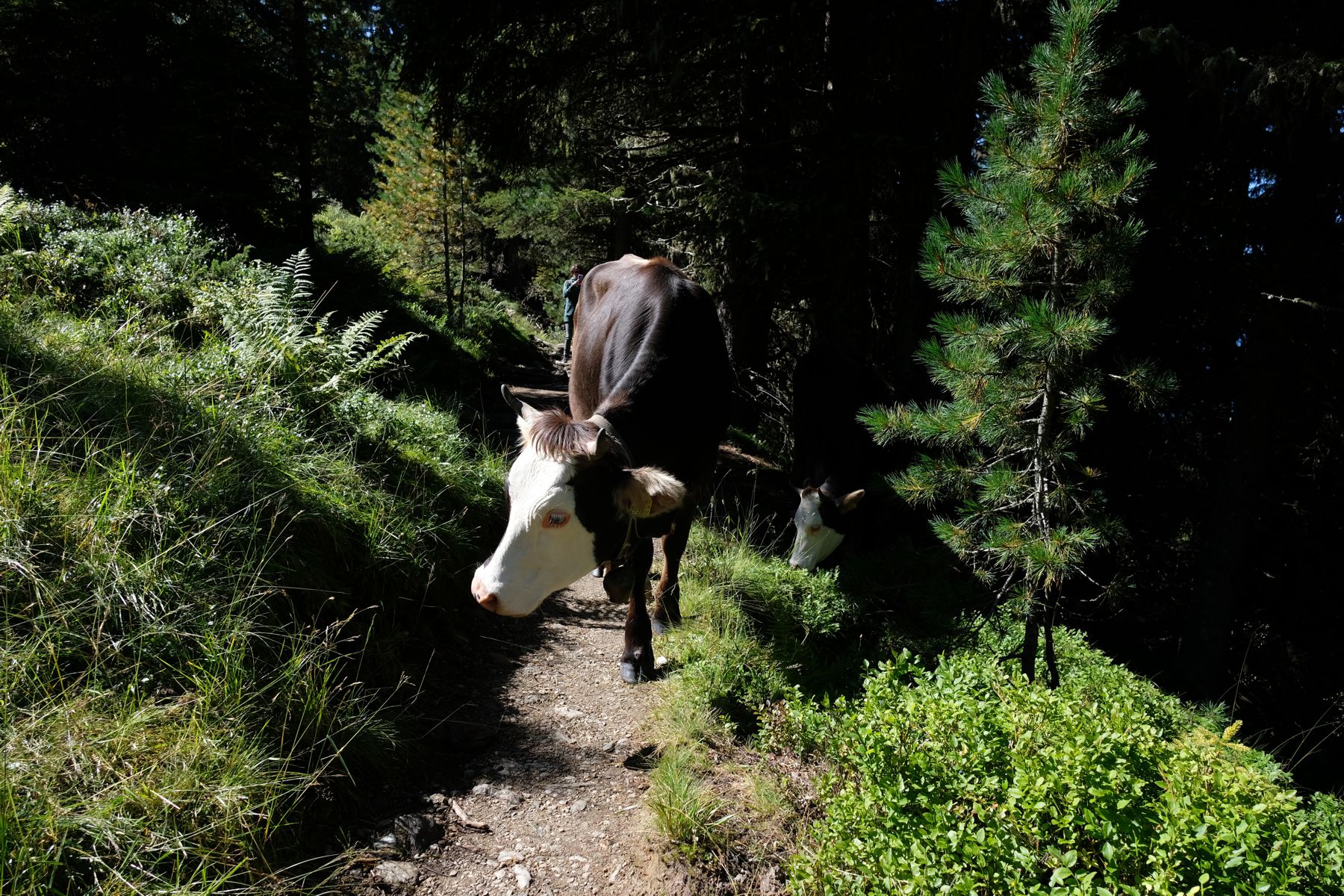 Bovine thugs on the mountain trail
As we climbed higher, the trees thinned out and eventually were replaced by lower, dense plants and shrubs. Paths looked out onto green mountains scattered in the distance. We also came across more cows. Fortunately, the higher altitude cows seemed a lot more laid back than those we had encountered a few hundred meters below.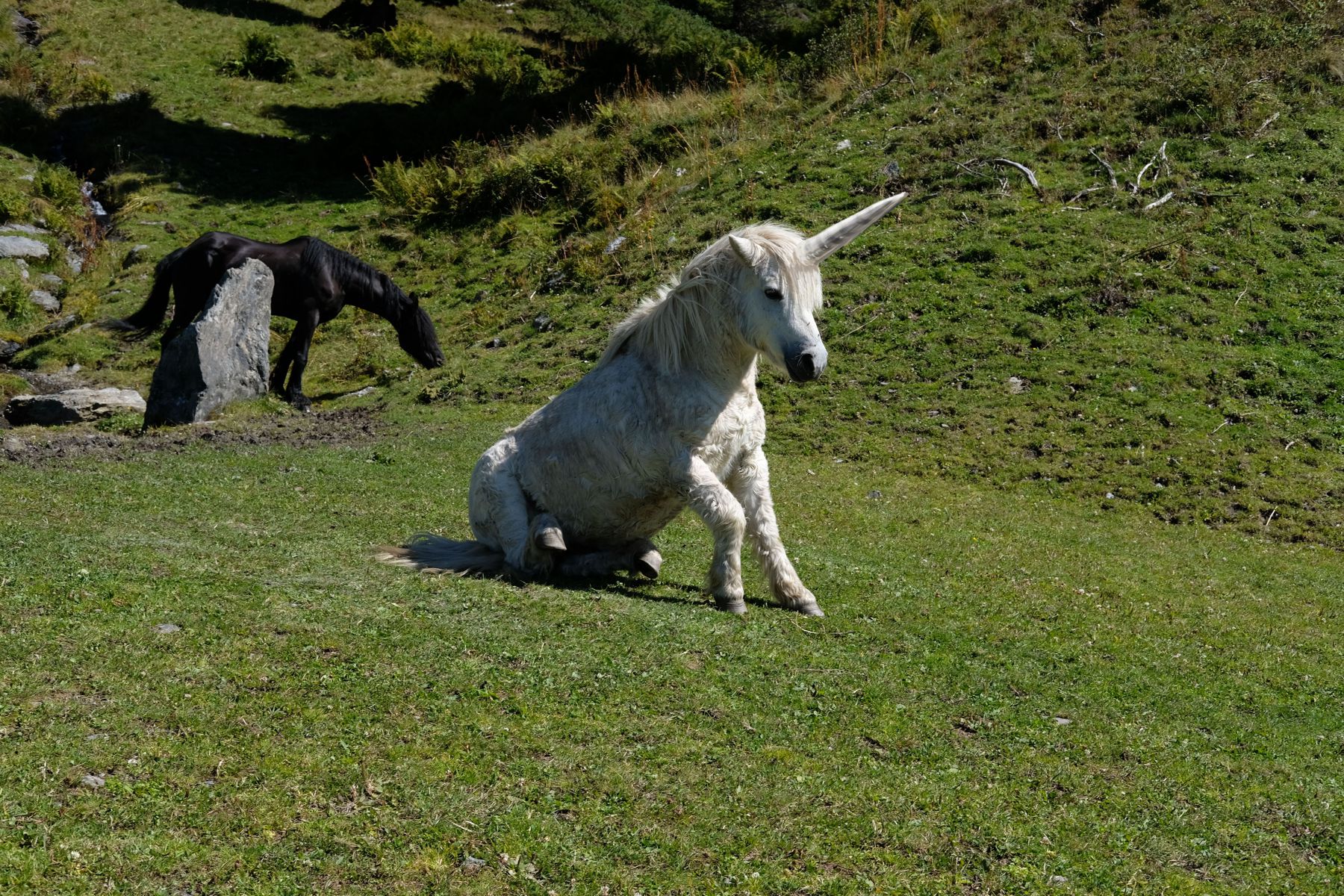 Unicorn or bad Photoshop?
As we approached the summit,which was a few hundred meters higher than Monday's mountain, the climb became steeper, the plants sparser and the stones more plentiful than below. The mountain took on a look of beautiful desolation vaguely reminiscent of Adagio by Albinoni. We passed a couple of small bodies of water that might also be called big puddles and then found ourselves walking along stone paths down the mountain. Near the end of the hike, we came across a plateau populated with friendly unicorns or ponies. I cannot recall which, although I recall a particularly friendly white one. After photographing the unicorns - or ponies - we walked to the cable car station for a ride down the mountain to our patiently waiting Subaru.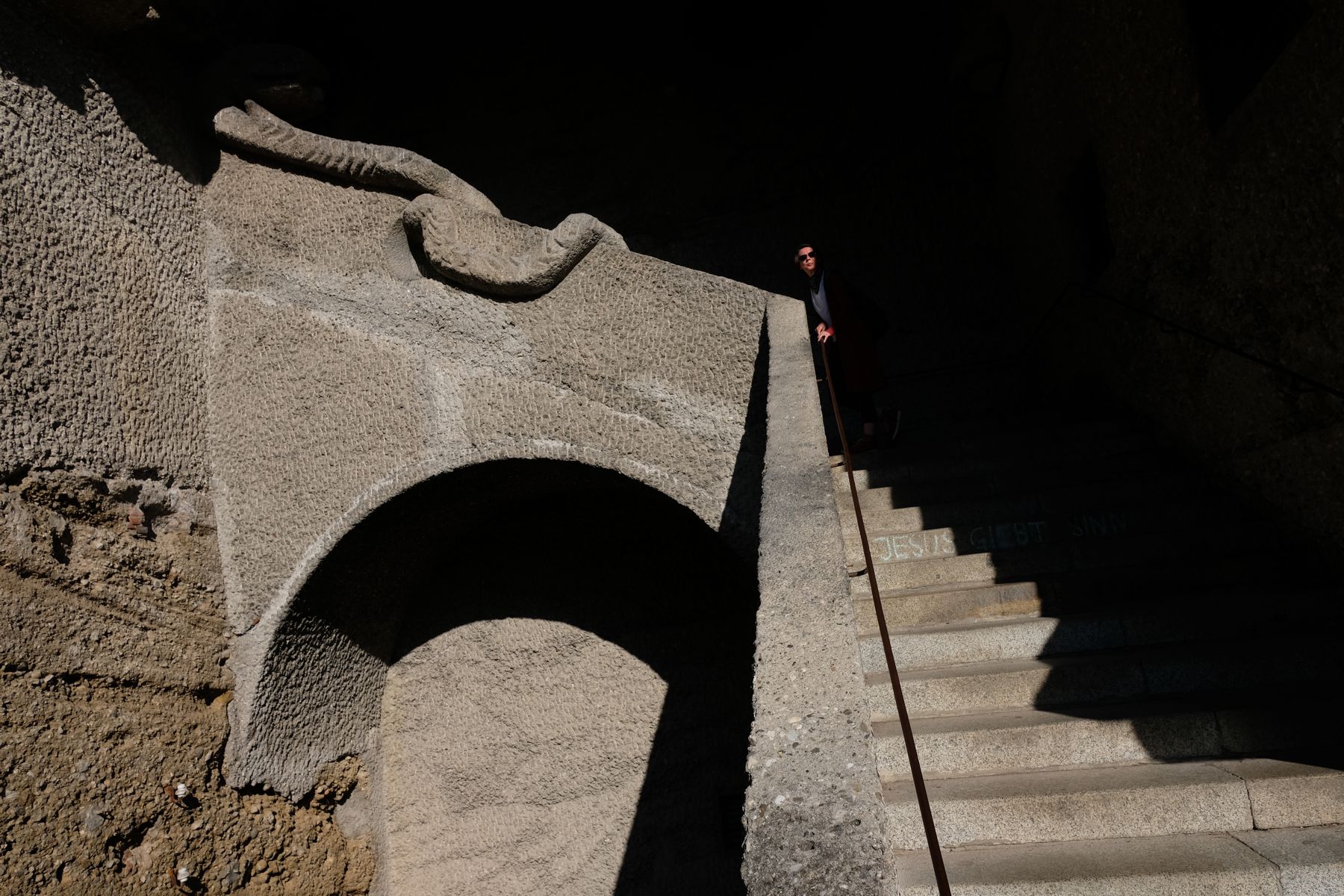 Ira hiding from too much sun - or maybe Jeffrey's jokes
Salzburg
Friday, we took it easy and explored Salzburg, another picturesque city at the edge of the mountains, but rather bigger than Innsbruck. We spent much of the time wandering the streets and climbing up to the fortress. The city is a bit of a blur to me, although I do remember the Museum der Moderne (modern art) in Salzburg. Rather small, it nevertheless boasted a couple of excellent exhibitions and was well worth a visit.
On Saturday, we explored the Open Air Museum outside Salzburg. It was a pleasant if easily forgettable outing.
Rothenburg ob der Tauber
Afterwards, we drove to Rothenburg ob der Tauber (Germany) an almost overly picturesque medieval town just bursting with traditional, German wood frame buildings, an ancient wall surrounding the town and other picturesque delights. However, there was a small problem. Upon checking in at the Hotel Rappen, the businesslike receptionist checked the reservation and said, "And that's a room for one."
"No, two actually," I said.
She double-checked the booking. "No, sir. It says here that it's a room for one."
I turned to Ira. "Darling, do you mind sleeping in the car tonight?" She flung her suitcase at me.
No, of course I didn't say that. I explained to the receptionist that there were two of us and asked if there was a double available.
"No," she said checking the computer. "I'm afraid not."
"Is there anything you can do? There are two of us," I said gesturing towards Ira.
"There is a big bed in the room, if that's okay."
Whew, I thought, recalling that one of Ira's criteria for sharing a bed was that the beds had to be big.
"That would be great," I said. And she made it happen. So, kudos to Hotel Rappen, what could have been a difficult situation was quickly resolved and we had a very pleasant stay there.
Back Home
Then home. It was one of the best trips I've ever had. The mountains were much needed, as was the Alpine air and scenery. That a lasting romance blossomed out of the trip and that I could share the beauty of the mountains with someone who rapidly became special to me made the journey even more awesome. Better still, it turns out we have a great deal in common - not least similar travel interests - and made for a great team. Last, but not least, I am lucky that such a marvellous woman has become a part of my life.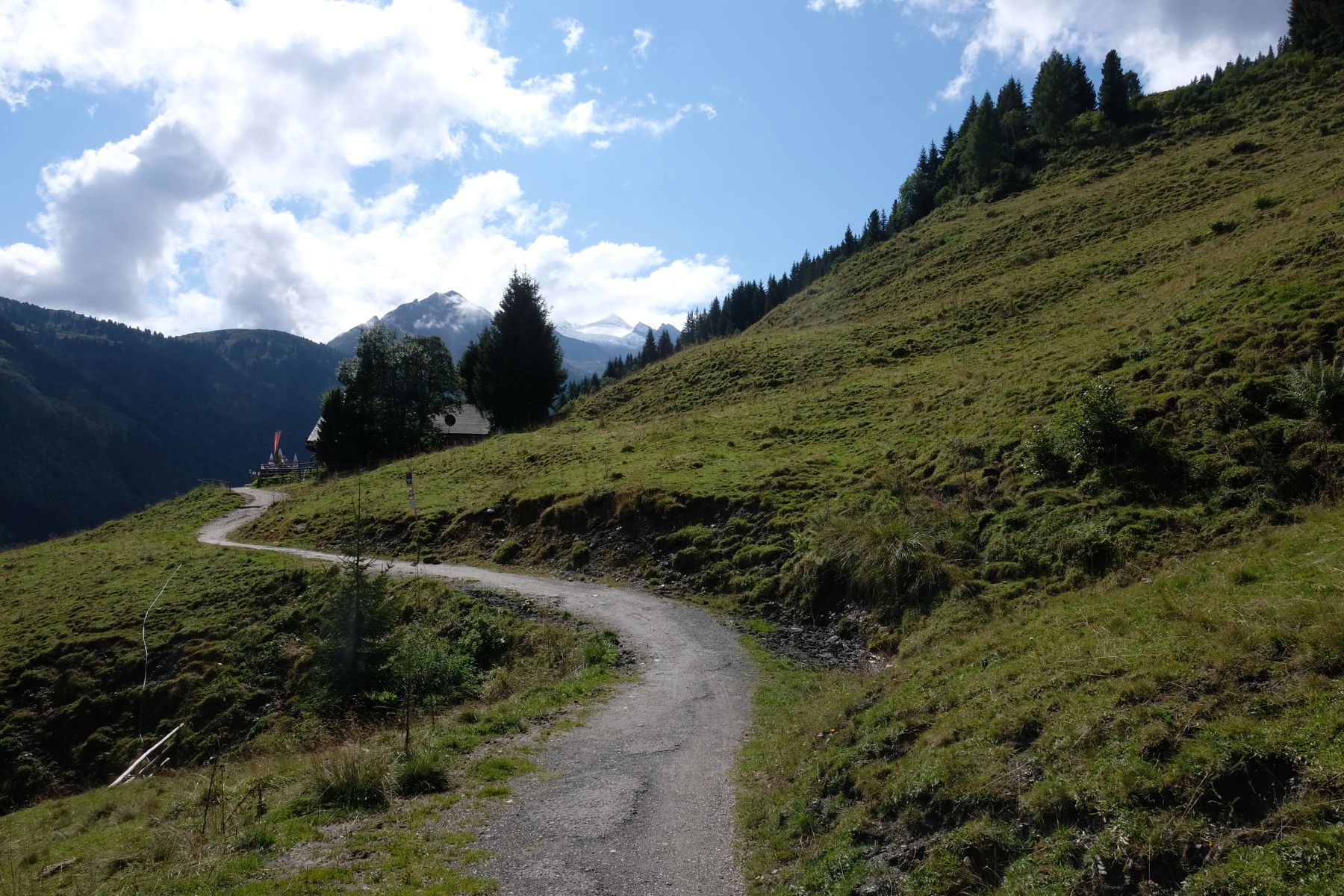 Mountain path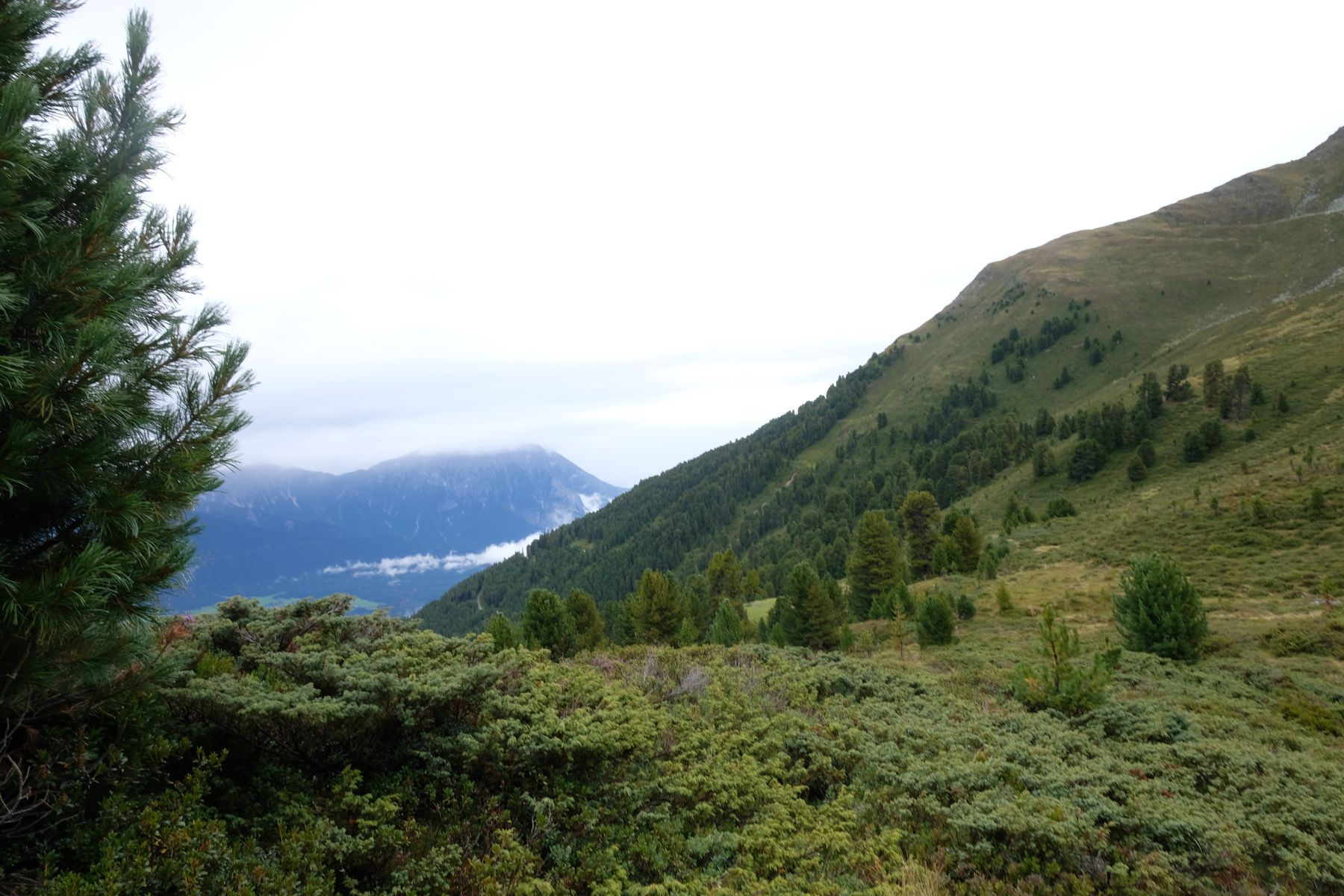 Mountain scene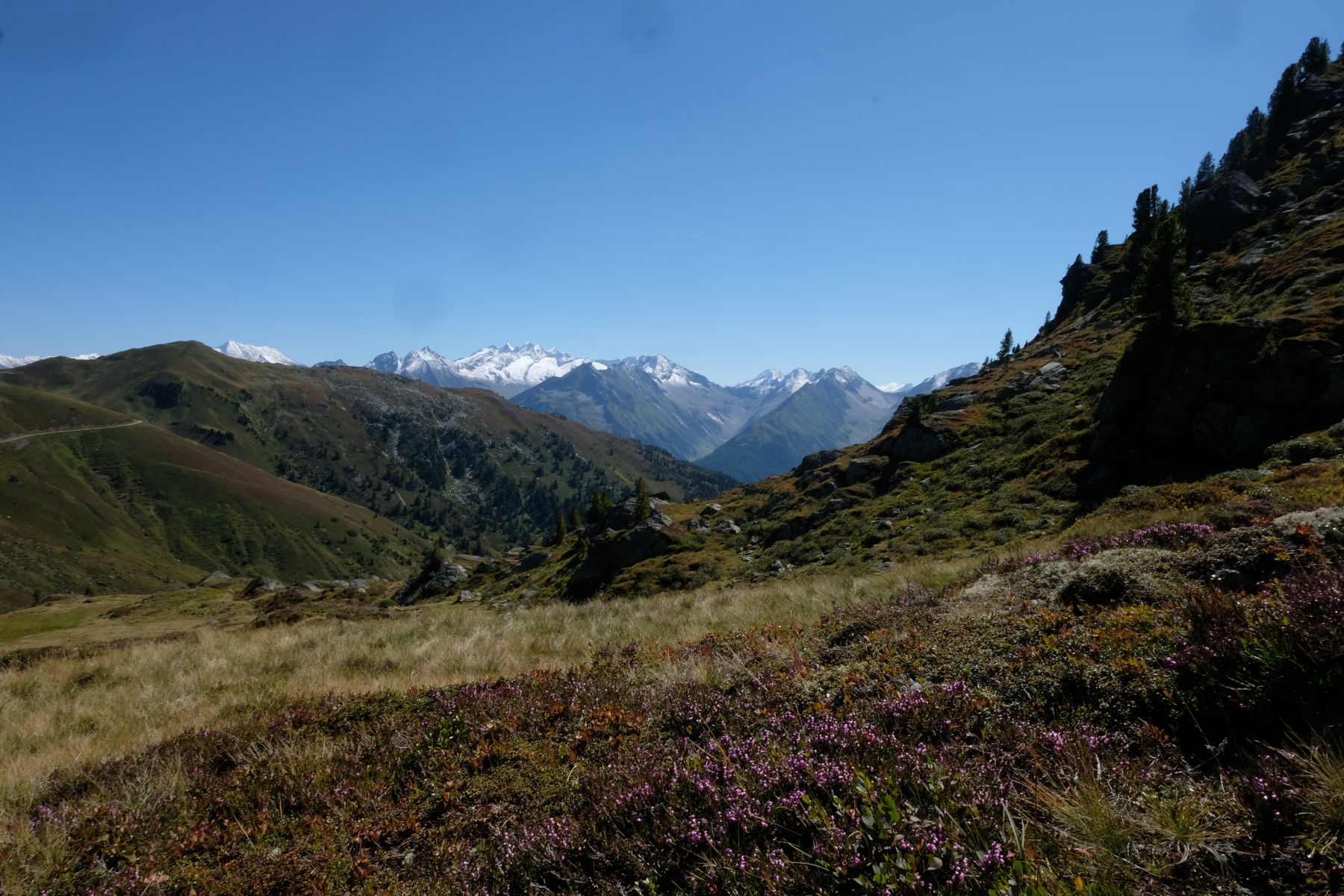 Another mountain scene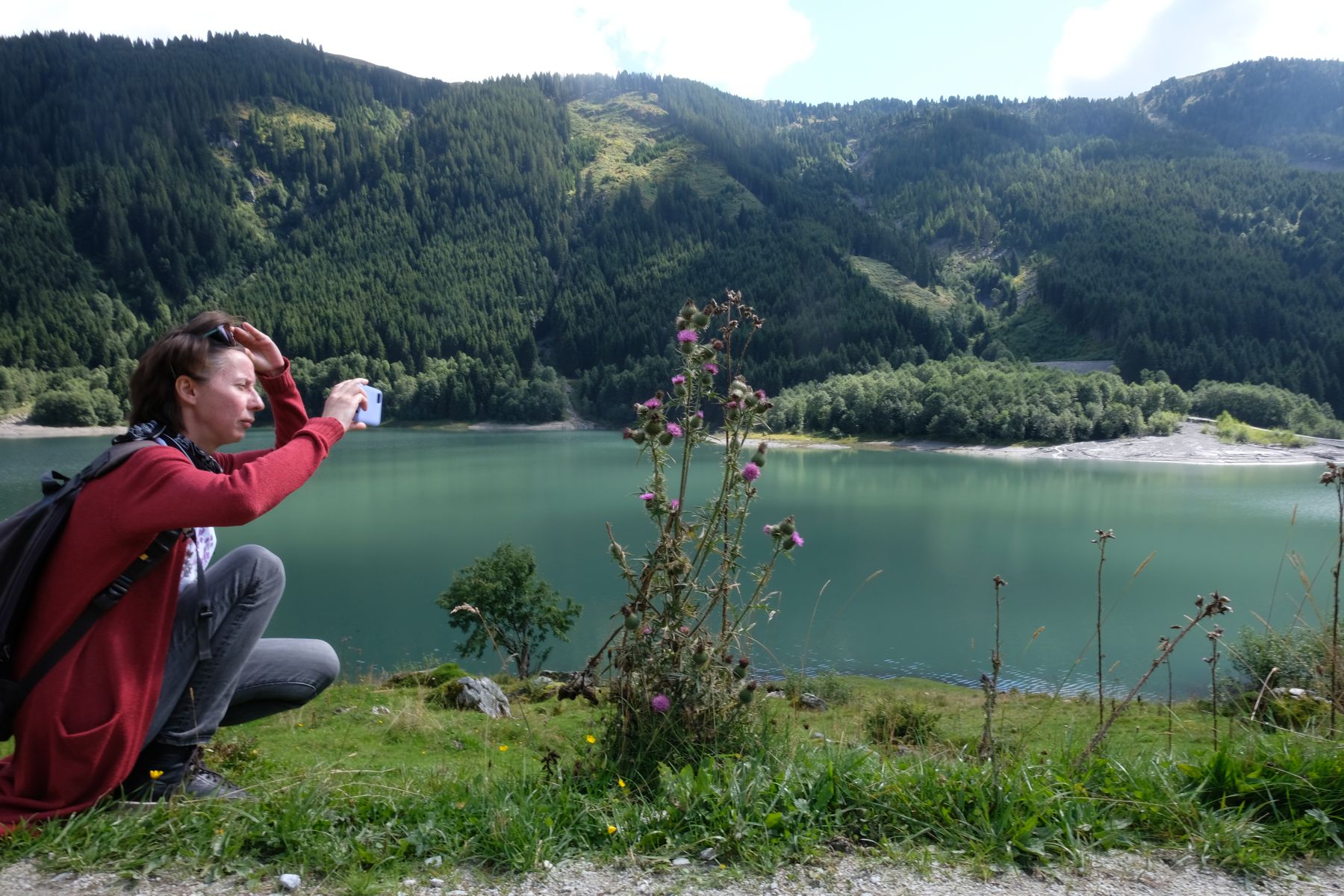 Photographer
* * *
Share your feedback, thoughts and/or questions
* * *
If you enjoyed this story, please share it. I would love for more people to discover our blog.
* * *
* * *
Our latest Stories
The Queues of Paris (April 2023)
A recent visit to Paris involved standing in long queues and battling crowds. Fortunately, I have an idea about reducing crowds at tourist sites. Read it here.
Revisiting Portugal (March 2023)
Ira and I take a road trip to my one time home: Portugal.
Portuguese Memories (September 1985)
On a road trip through Portugal with Ira, I am reminded of my life in Lisbon in the mid 1980s
Fleeing to Cyprus (January 2023)
I decided to visit Cyprus off-season to do some hiking and wandering in ruins. It was a delightful trip.
The Answer Lies Just Around the corner (November 2022)
All my life, I've felt that the answer, some profound purpose in life, has laid just round the corner. Although I have experienced a lot in life, I am still looking for that corner.
All stories
Index of all the stories on this blog.