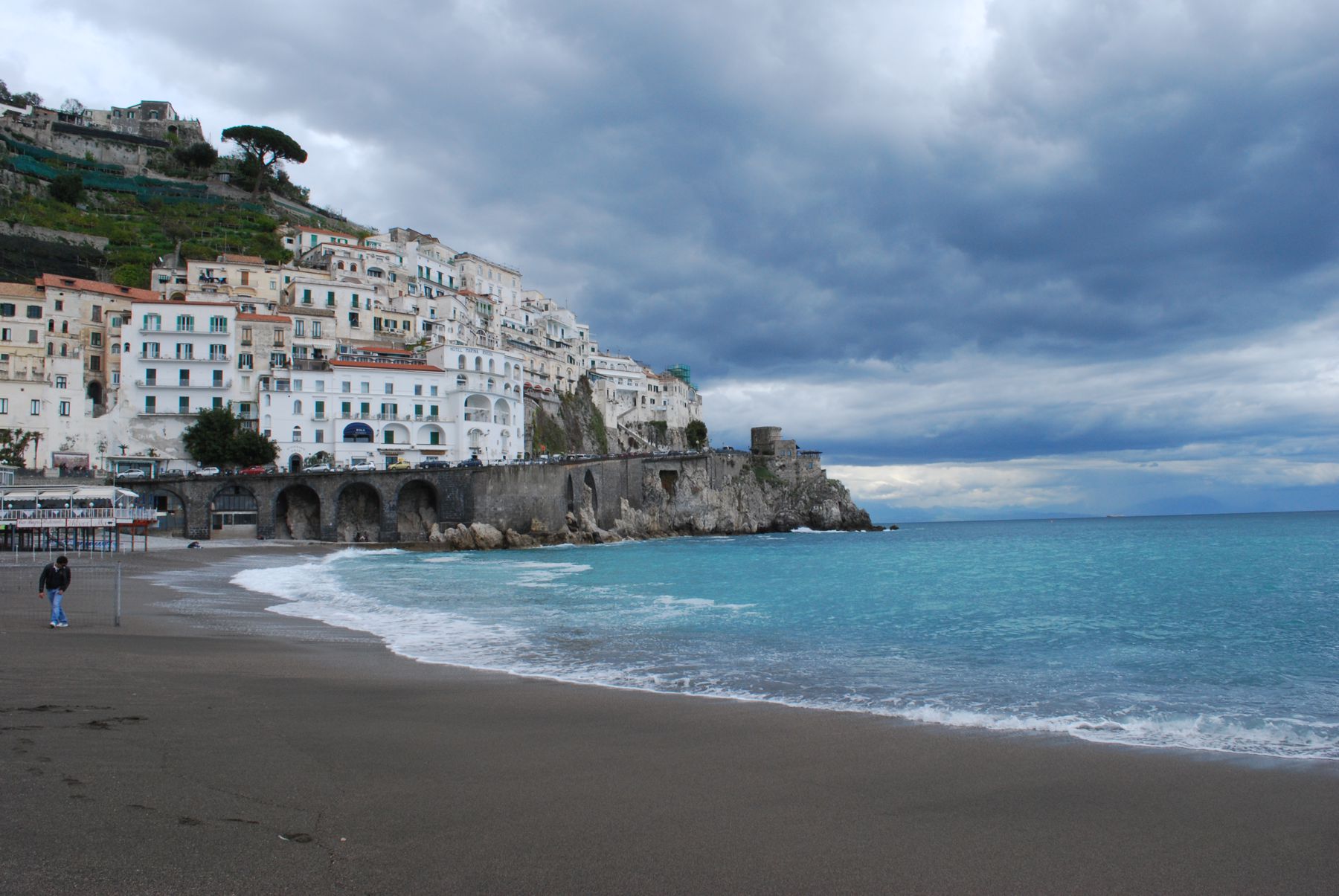 The Holiday of 10,000 Stairs
Amalfi Coast and Naples - April 2009 - Remembered February 2022 - by Jeffrey
We -- my sons who were seven and eleven at the time (2009); a scientist; Mrs Miller our satnav; and I -- arrived at Naples airport in the evening. I collected the keys to a sporty rental Alfa-Romeo with a boring engine, stuck Mrs Miller to the windscreen and, following her directional advice, sported off towards Ravello, on the Amalfi coast, where we had a holiday cottage awaiting us. Also awaiting us would be the rental agent who would give us the keys and explain the cottage. All seemed fine and dandy.
Up and Down a Damned Mountain
Fine and dandy until we got closer to Ravello, that is. Poor Mrs Miller appeared to have gone bonkers. She sent us up a mountain road and then back down again, several times. She periodically seemed to change her mind about which road she was on. Somehow, she just couldn't cope. Neither could I. It was late. We were hungry. We were tired. And I did not fancy driving up and down the damned mountain another time. I began to curse the satnav colourfully, creatively and with a varied collection of foul words - just the sort of thing a father should absolutely never say with two impressionable kids in the back seat. Sadly, I said these terrible things and for years after, my eldest son delighted in sharing this story and quoting me with embarrassing accuracy. I could hardly scold him for that, though is mother (not the scientist; the boys' mother and I were well divorced at this time) doubtless would have done. She'd have scolded me even more. Fortunately, the eldest was wise enough not to share that story with his mother.
In fact, this is one of my quirky characteristics. I seldom if ever get truly angry with people. I get mildly angry from time to time, but it fades quickly. But, I can become outraged by inanimate objects like satnavs, computers, printers (especially printers) and any other object that fails to behave when interacting with me. But I digress.
A Radical Plan - But Would It Work?
Once it was clear Mrs Miller's intention was to take us up and down the bloody mountain for all of eternity, we realised we needed an alternative plan. The scientist soon came up with one. She suggested we ask directions. Really. I was doubtful at first. It seemed a crazy plan, but as I thought about it, I began to feel that it might just work. They boys were also in favour. So I had no choice but to follow the majority decision.
By this time, we were late for our appointment with the rental agent, so the scientist gave him a ring and explained our lostness. He gave her some tips about which signs to follow and which to ignore. Soon, we found ourselves in Ravello and asked directions of members of the local community. Eventually, a kind chap on a motor-scooter guided us to our bungalow. The agent was understanding about our delay and quickly showed us round the cottage, which was perched on the mountainside and offered delightful views to the bay down below.
One last problem: we were hungry. But, it was approaching midnight, long past the time most restaurants shut. Fortunately, the kindly agent directed us to a nearby hamburger joint that provided the most mediocre, but most appreciated meal, I have ever had in Italy. Being a vegetarian, hamburgers were out of the question for me, but the cook made me a sandwich out of a slab of mozzarella and a hamburger bun. Everyone else in our group was a carnivore and happily ate hamburgers.
What Happened to Mrs Miller?
Filled up and relaxed, we went back to the cottage and put our minds to working out what had happened to Mrs Miller that led her to send us up and down the mountain repeatedly. Fortunately, we had the mind-power to do this. My sons were and still are very bright (brighter than me, I am proud to say) and the Scientist was (and probably still is, I lost touch with her years ago) a highly respected scientist in her field -- an accomplishment which requires a better than average brain. And there was me. I saw myself as a cognitive conductor, leading the fine minds as if they were an orchestra.
This is what we reckoned happened. Viewed from a satellite's perspective, the roads in and around Ravello look like a handful of spaghetti flung onto the ground. Some strands appeared to overlap, when in fact they were separated by a height. Mrs Miller, an older, less accurate Satnav sometimes could not distinguish which road we were on, got confused and changed her directional advice accordingly. At times, that advice was wrong because we were on a different bit of road than Mrs Miller thought. I suspect pride was also an issue. Mrs Miller just did not want to admit that she was lost. Fortunately, today's satnavs are more sophisticated than old Mrs Miller, who quietly passed away on a road trip in the south of France several years later. I've never had such a problem since, in spite of a lot of driving up and down mountains in Europe.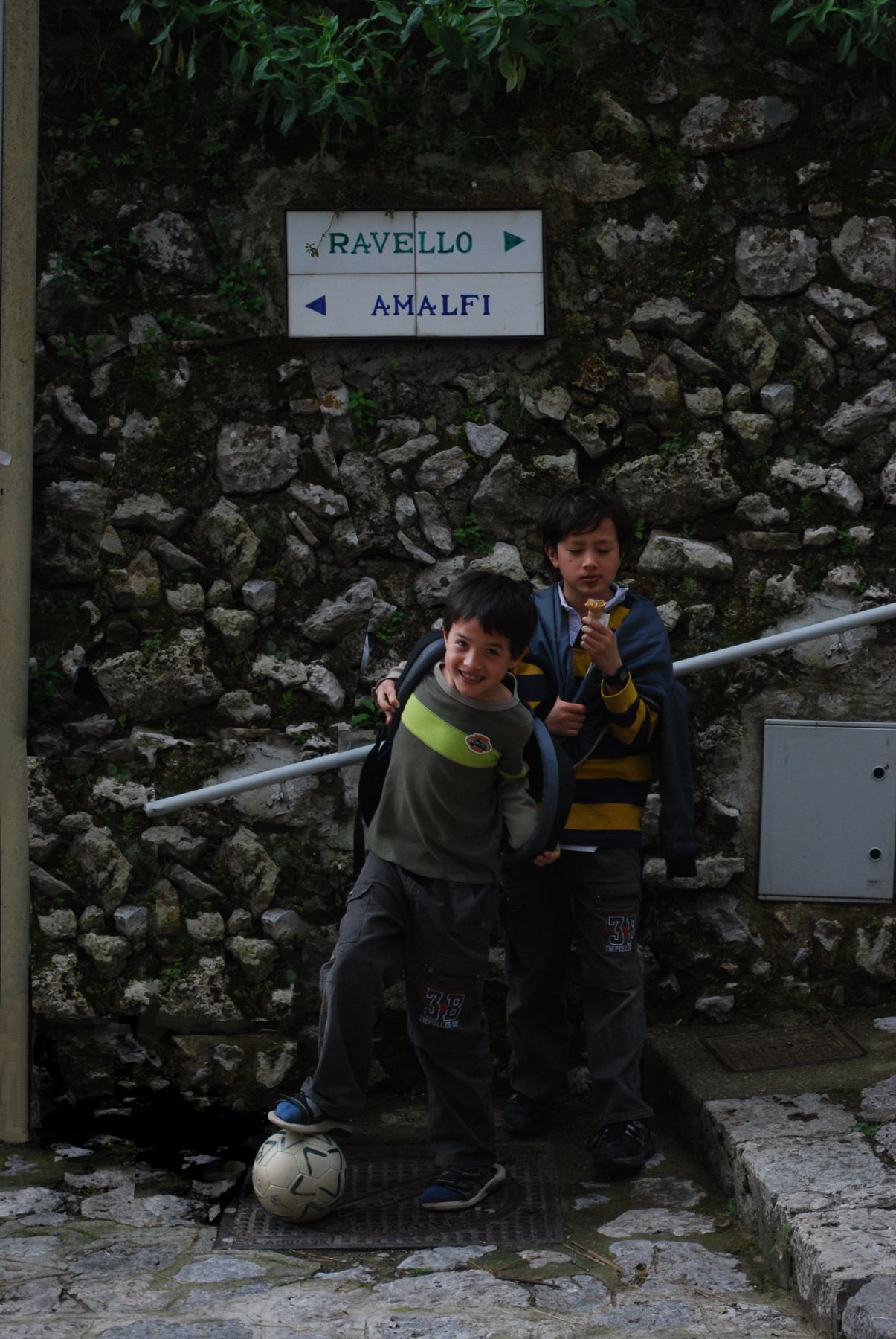 Boys on stairs between Ravello and Amalfi
A Holiday of 10,000 Stairs
Ravello is perched on a mountain side and to walk anywhere requires going up and down a lot of public staircases. We discovered this when we decided to walk to Amalfi, a super-picturesque town on the coast. To get there, we walked along narrow paths, down stairways and up other stairways, though it was mostly downwards. We descended stairs that went past houses and cottages, gardens and hidden spaces. From time to time, we caught a stunning view of the sea, growing closer and closer as we made our way to Amalfi. Rather impressively, my youngest son brought his football (soccer ball to Americans) along - kicking it around regularly as we walked down seemingly endless staircases - and retained it for the entire walk. How he managed not to kick the ball down the mountainside and into oblivion is beyond me. Well, not entirely beyond me. At the time, he was a member of the local football team and a rather good one at that.
At dinner that evening, we decided to name our trip, "Holiday of 10,000 Stairs" as it felt like we had walked up and down at least that many during the day. And we knew we would walk many more in the upcoming days.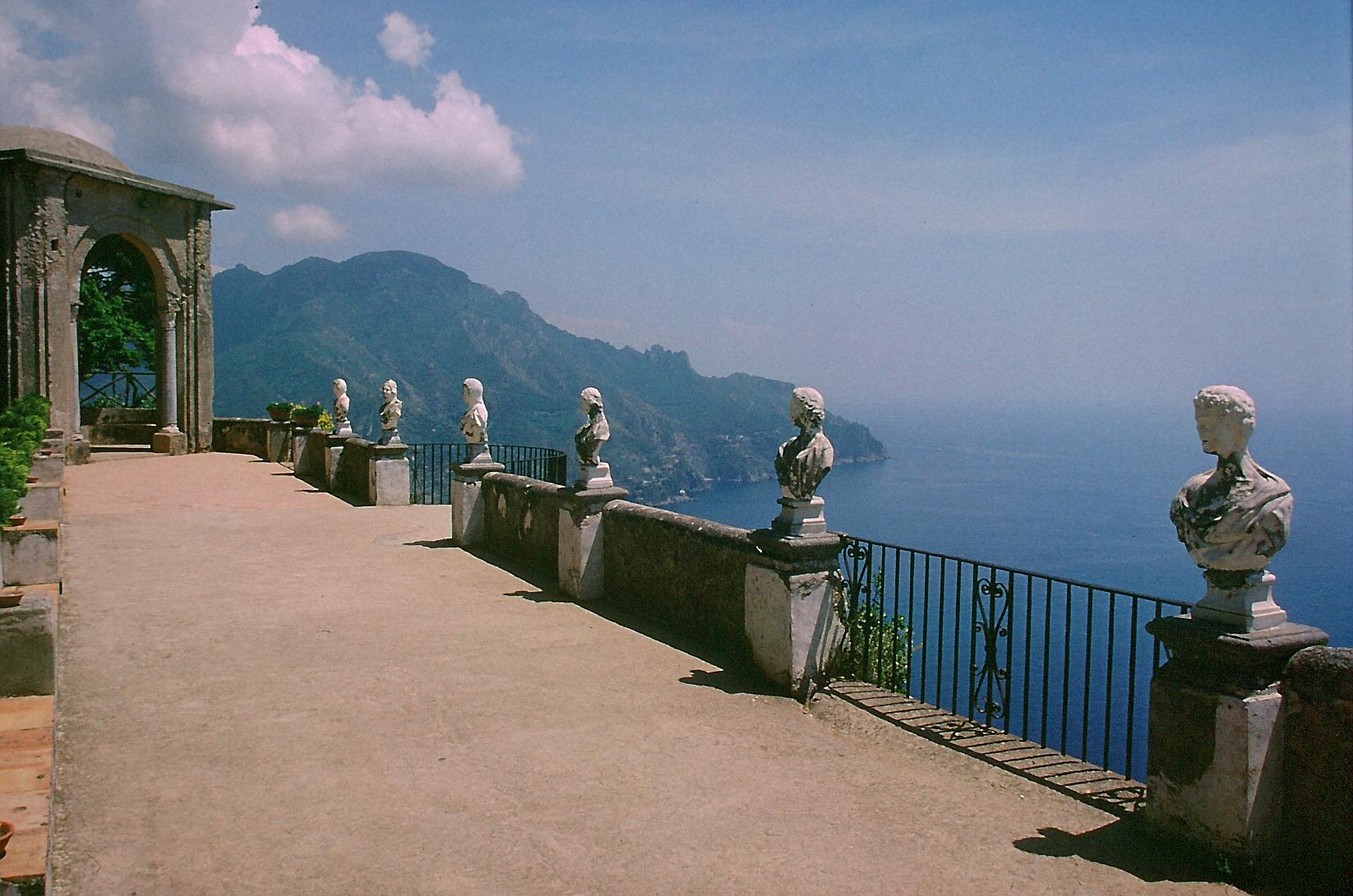 Photo by Andreas Wahra. Originally from de.wikipedia
Stunning Cliffside Gardens of Villa Cimbrone
Probably the most beautiful place we visited was the cliffside gardens of Villa Cimbrone. Here, walkways pass through gardens and wooded spaces lined with statues, temples, fountains and all sorts of aging delights. The villa's Terrazza dell'Infinito (picture above), is a divine mountainside walkway lined by fading marble busts with their backs to the blue Mediterranean below. It was like the most fantastical dream, a vision of beauty, a classical painting. If I were to imagine heaven, it would look almost as beautiful as Villa Cimbrone.
While exploring the gardens, the boys found two frogs, seemingly attached to one another like mismatched Siamese twins, in a small, stone-lined pond. They (the boys, not the frogs) asked me what the frogs were doing and I had to confess ignorance. My realm of frog knowledge, I am sorry to say, is limited. The scientist overheard our exchange, pulled me aside and informed me that the frogs were mating. I asked her to go ahead and explain it to the boys. They'd need to learn about this sort of thing eventually and they already had some basic knowledge of the subject. I also reckoned she could explain with greater accuracy than I could. I did not want my sons to be misinformed about frog sex.
Forgotten Camera
For some reason, I neglected to bring my camera along when we trekked off to Villa Cimbrone. Initially, I was disappointed. There was so much beauty there. Even today, I am sorry I haven't any pictures to share of this stunning place. On the other hand, not having my camera allowed me to admire the beauty of the place without being distracted by photographic thoughts, trying to capture everything or getting everyone to smile simultaneously when the self-timer goes off. So, maybe it wasn't such a bad thing that I forgot my camera.
Now, you may be wondering why I didn't use my telephone. Mainly, it's because in those ancient times telephones were, well, mostly telephones. The iPhone was a new and expensive toy well out of my budget. Telephones were small and, if they had cameras, those cameras were relatively primitive. Many telephones (and presumably mine at the time, I cannot remember) simply did not have integrated cameras. Fortunately, a quick Google search will overwhelm you with pictures of the villa and gardens.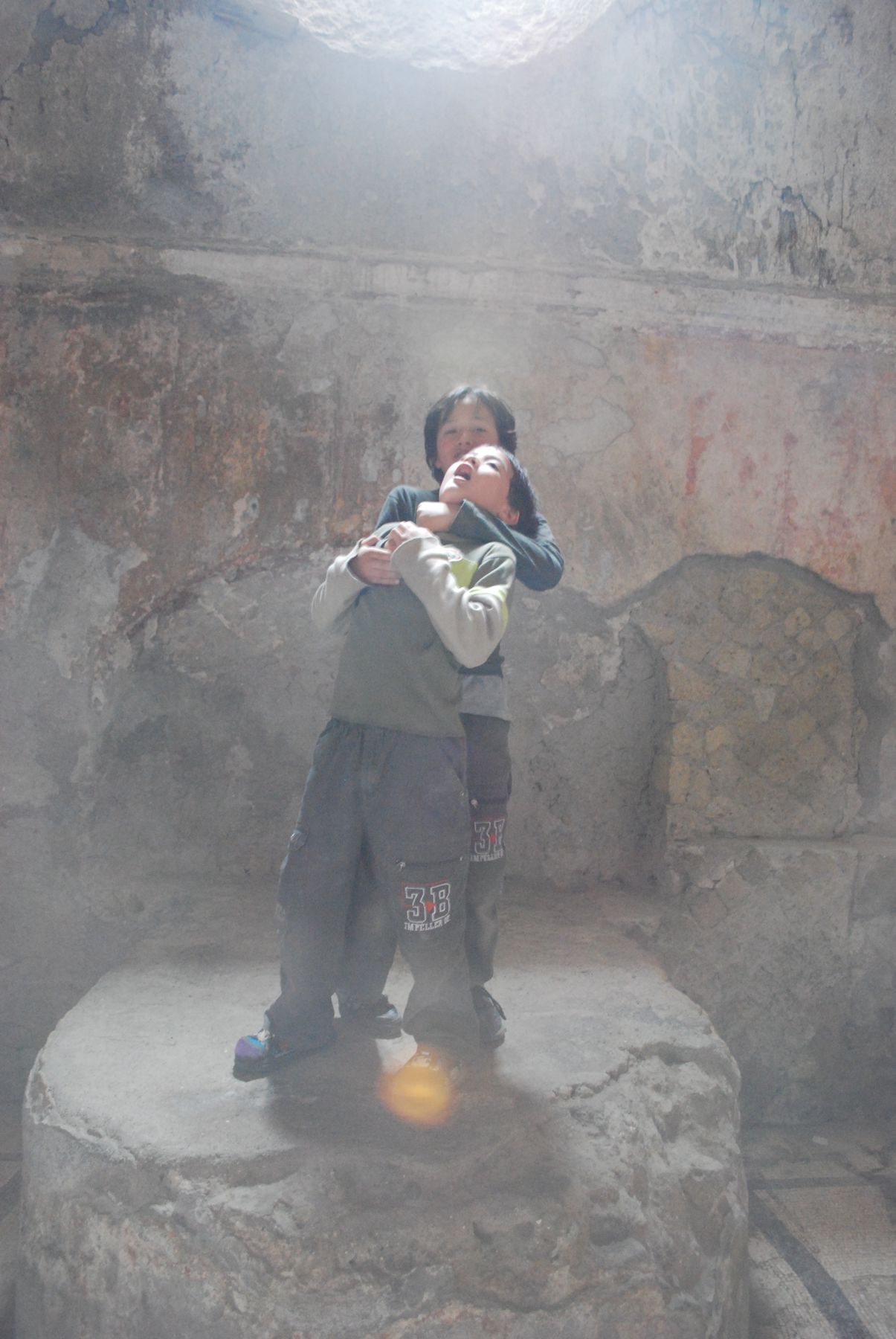 Pompeii and Herculaneum
Pompeii and Herculaneum are old Roman Cities that were suddenly buried in lava when nearby Mount Vesuvius erupted in the year 79AD. The result was a morbid snapshot of Roman life at the time. People fleeing the erupting volcano were overwhelmed by smoke and then covered by lava and ash which essentially created life casts of the populace. In the 1800s and later, plaster models were made of these victims, giving us an amazing insight into what people looked like at the time.
Of the two sites, Pompeii is better known and take-your-breath-away impressive. It comprises street after street of ruined homes, shops and other buildings of a city of nearly 2000 years ago. Sadly, it also tends to be swarming with tourists. Nevertheless, it was a big place with lots to see. And it is well worth seeing at that.
When we visited, we opted to join up with a guide who showed us the highlights of the city and enlightened us about the history of the place. Normally, I am a do-it-yourself sort of tourist, but I am glad we went with the guided tour. My elder son and the scientist, especially appreciated the explanations and stories of life in Pompeii.
Herculaneum, tucked away in the town of Ercolano, is much smaller and less popular that Pompeii. However, that makes it more approachable and peaceful. The boys, in particular, delighted in exploring it.
A few days later, we visited the Naples National Archaeological Museum which, among other things, displays art work, casts of bodies preserved in lava and other artifacts from Pompeii and Herculaneum.
Note, the trip was almost 13 years ago as I write this and I can no longer remember which pictures are of Pompeii and which are of Herculaneum.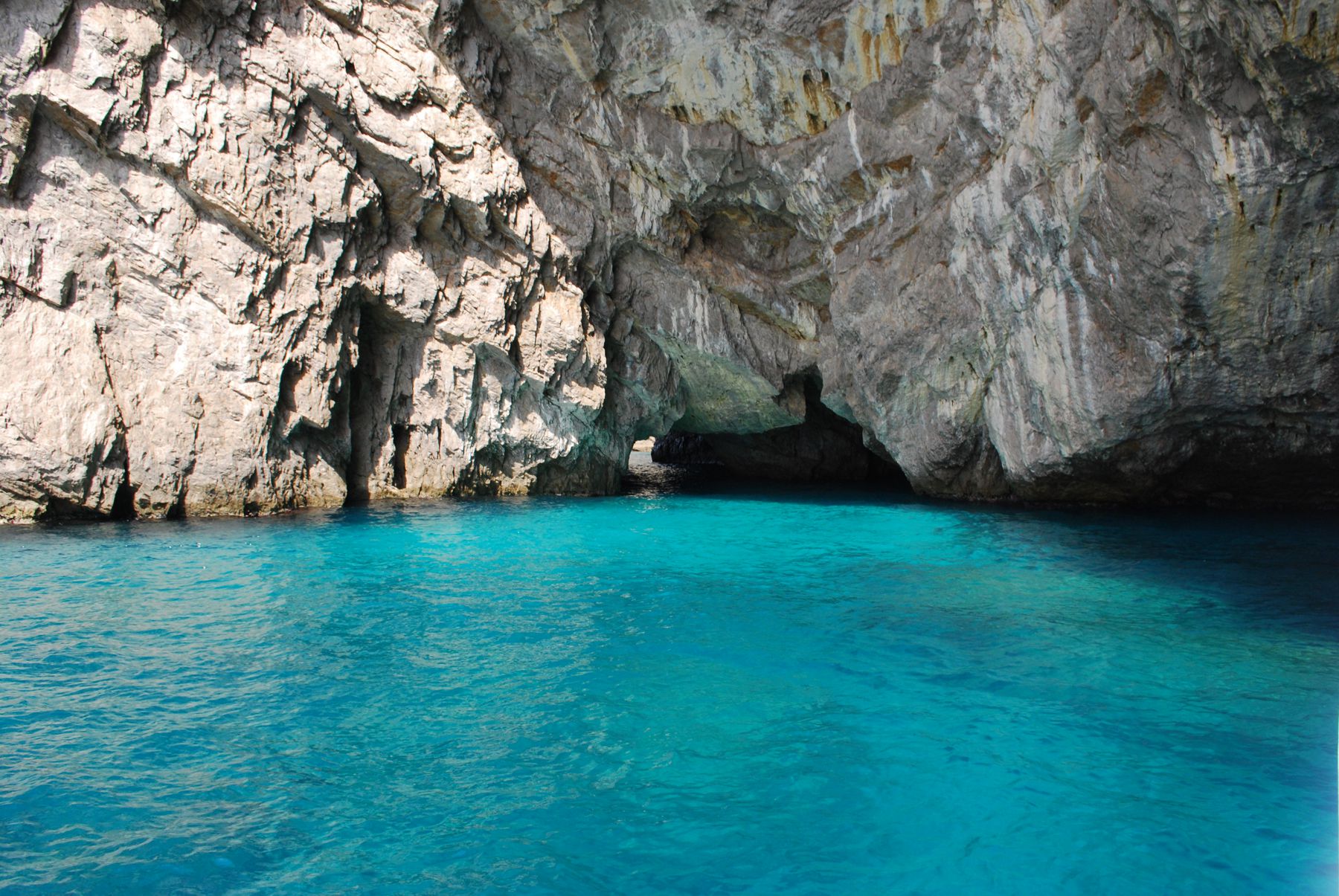 Blue Grotto, Capri.
Capri Blues
One day, we took a boat to Capri, a pretty resort island that is popular for rugged landscapes, the Blue Grotto and shopping for upmarket fashion. Why people need to take a boat to an island in the Bay of Naples in order to go shopping is beyond me. But, I never really saw shopping as a fun thing. Rather, it is something of a necessity as one's clothes disintegrate. However, apparently there are people who enjoy shopping. I guess some of them prefer to do it on an Italian island.
The scientist liked shopping. So, I decided to take the boys for an ice cream -- a plan they were very much in favour of -- and we'd meet up later. She bought things. The boys had ice cream. I didn't go shopping. Everyone was happy.
The Blue Grotto is, as advertised, stunningly blue. Really, really blue. We took a short boat trip to the grotto to confirm this.
But, perhaps the most pleasant thing to do in Capri is to find a table with a nice view at a café, order a drink and watch the world go by - often carrying designer branded shopping bags.
Conclusion
The region of Naples and the Amalfi coast is a great place to visit. It is an area flooded with the beauty of Italy and rich in history. There are also beautiful beaches, where my sons enjoyed playing about, although as we visited in April, the water was a bit chilly for swimming.
Better still, satnav technology has advanced considerably over the years - so you are unlikely to get as lost as we did, driving from Naples airport to Ravello (or elsewhere in the Amalfi coast).
In short, it is a place well worth a week or so of your time.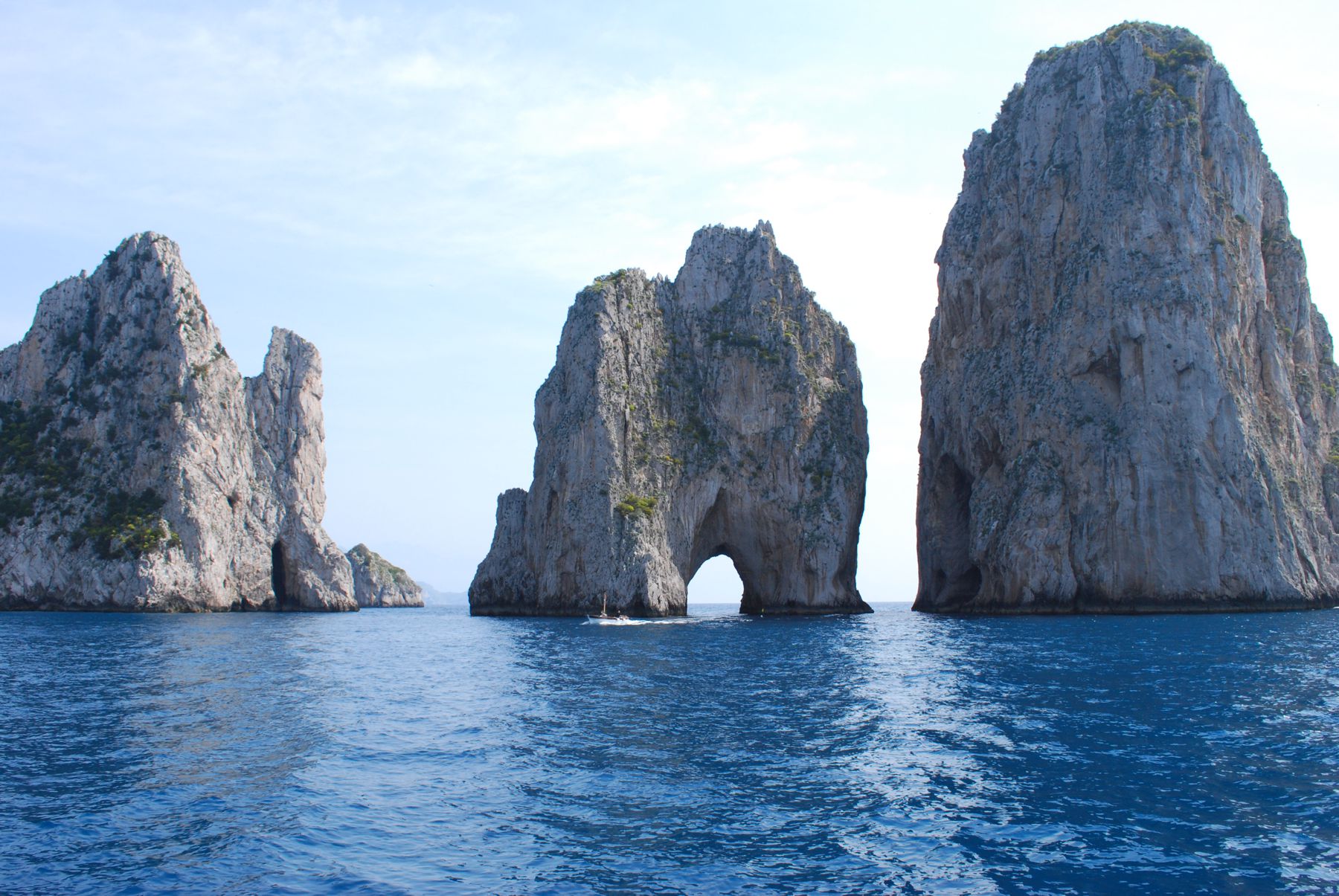 Bay of Naples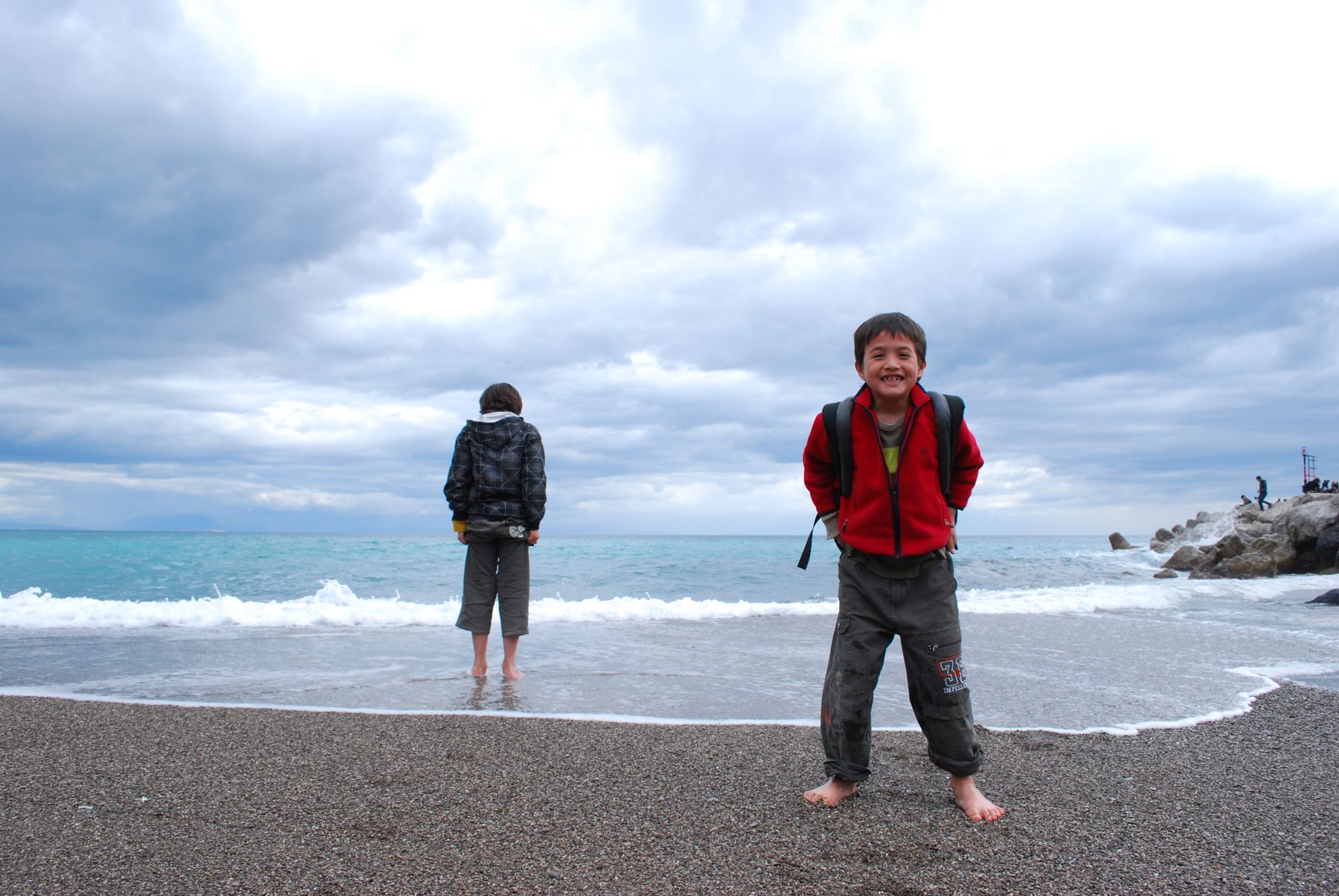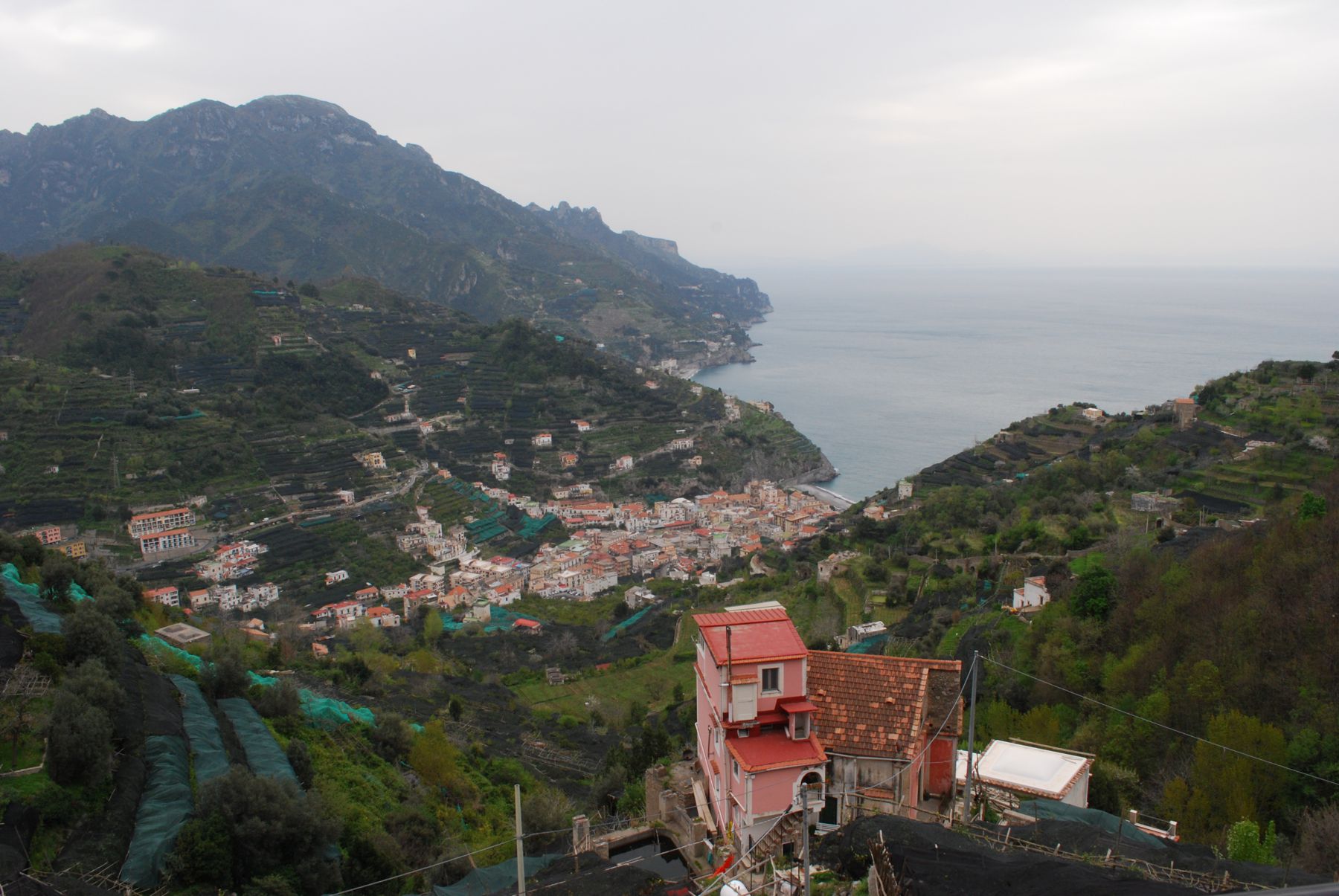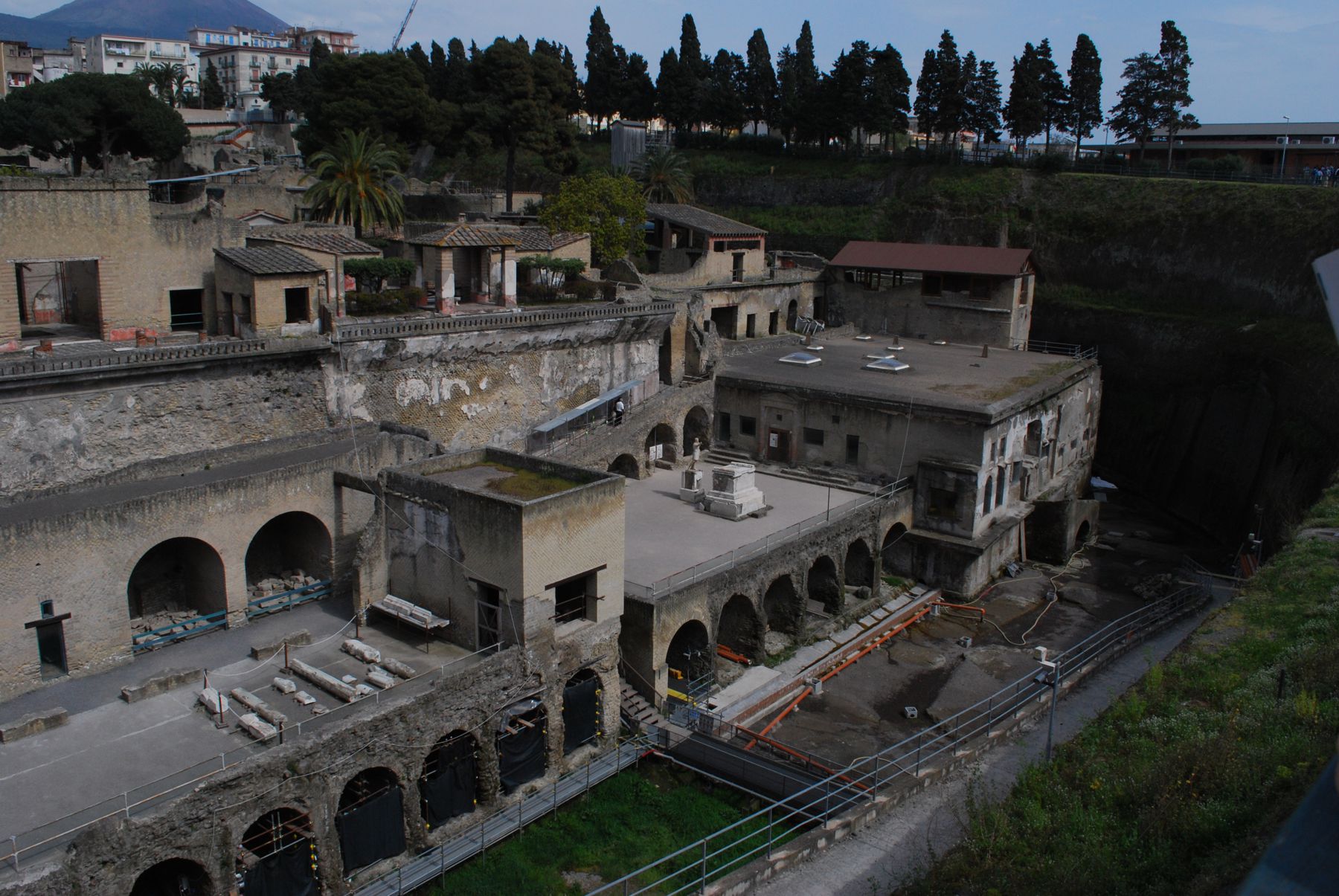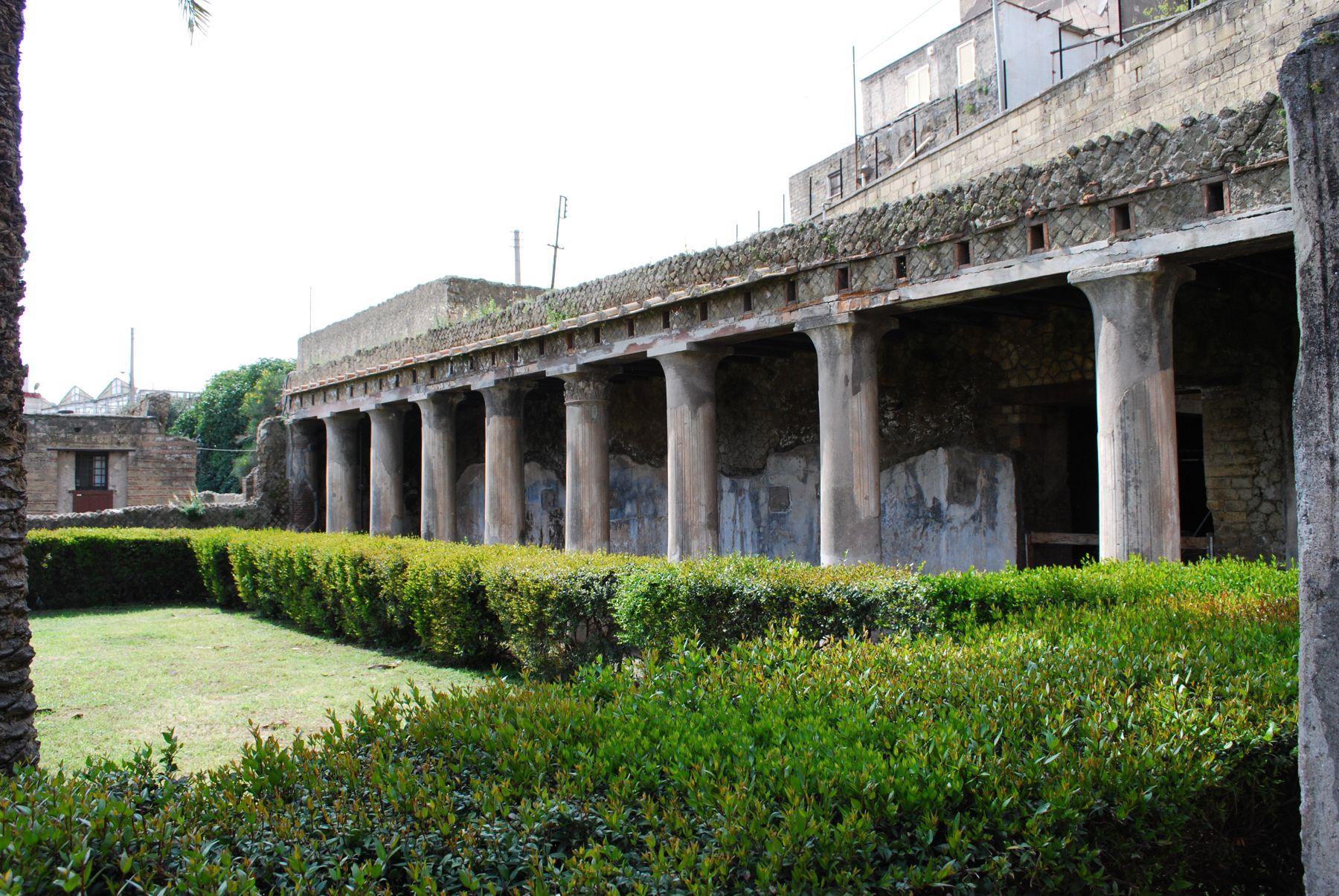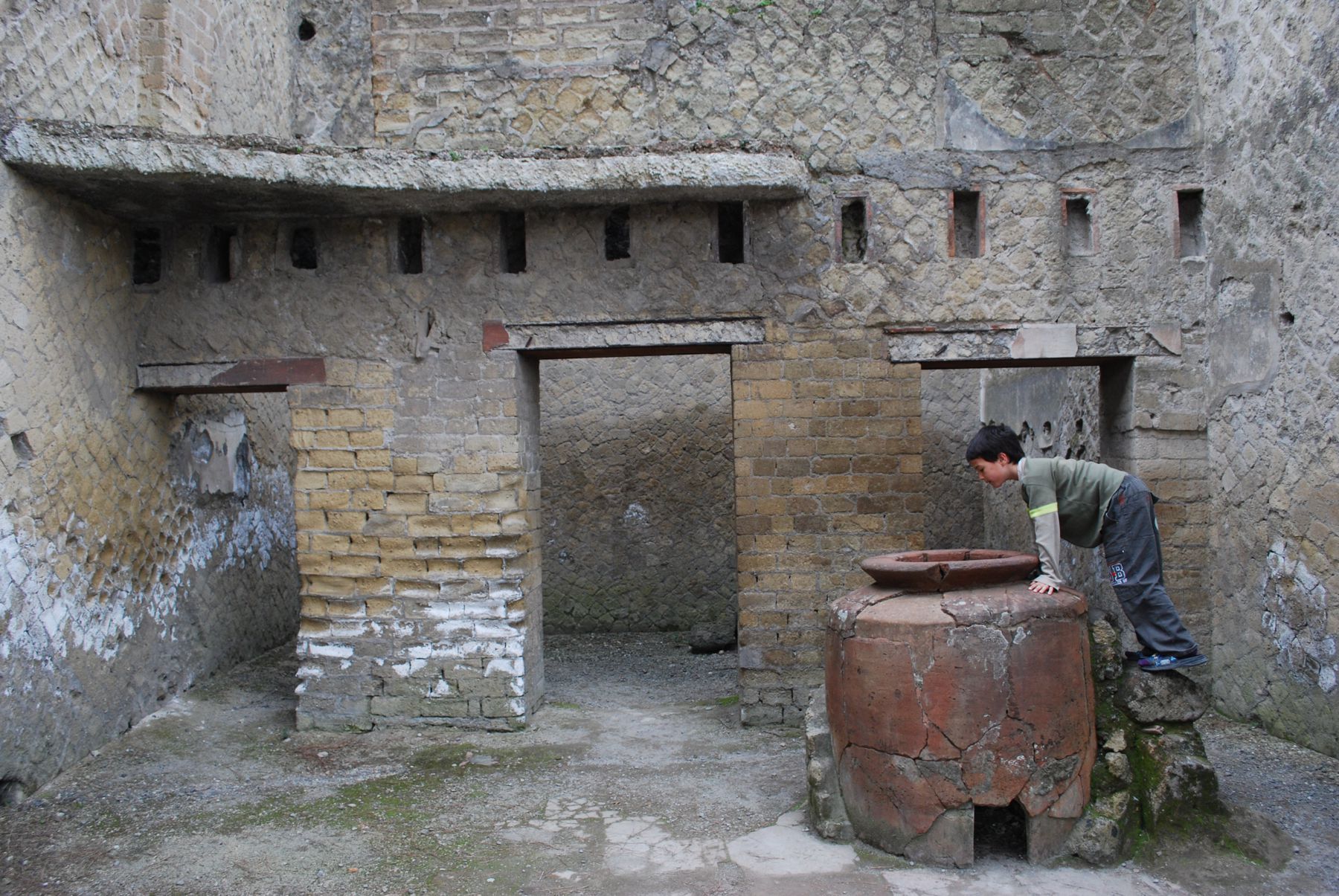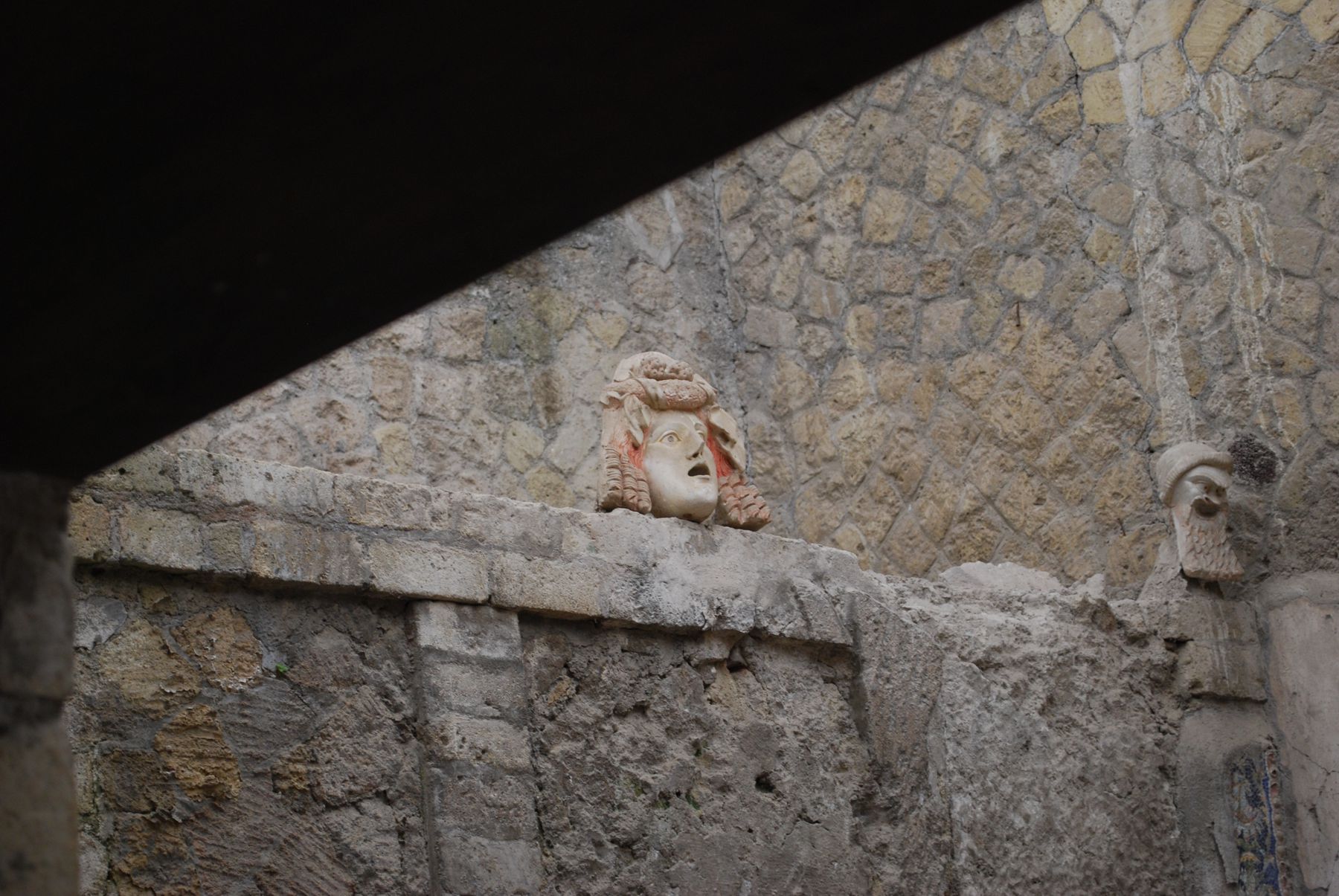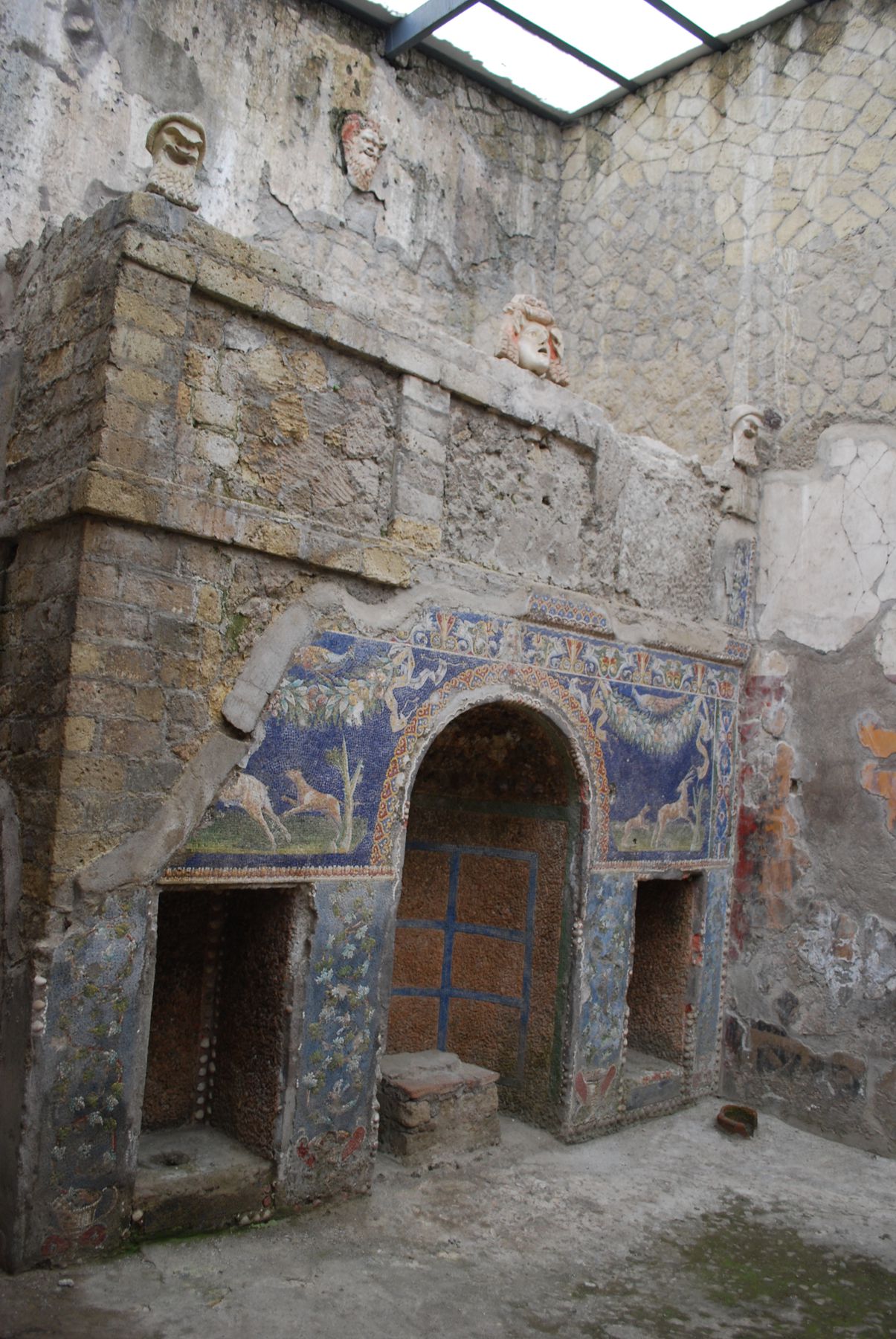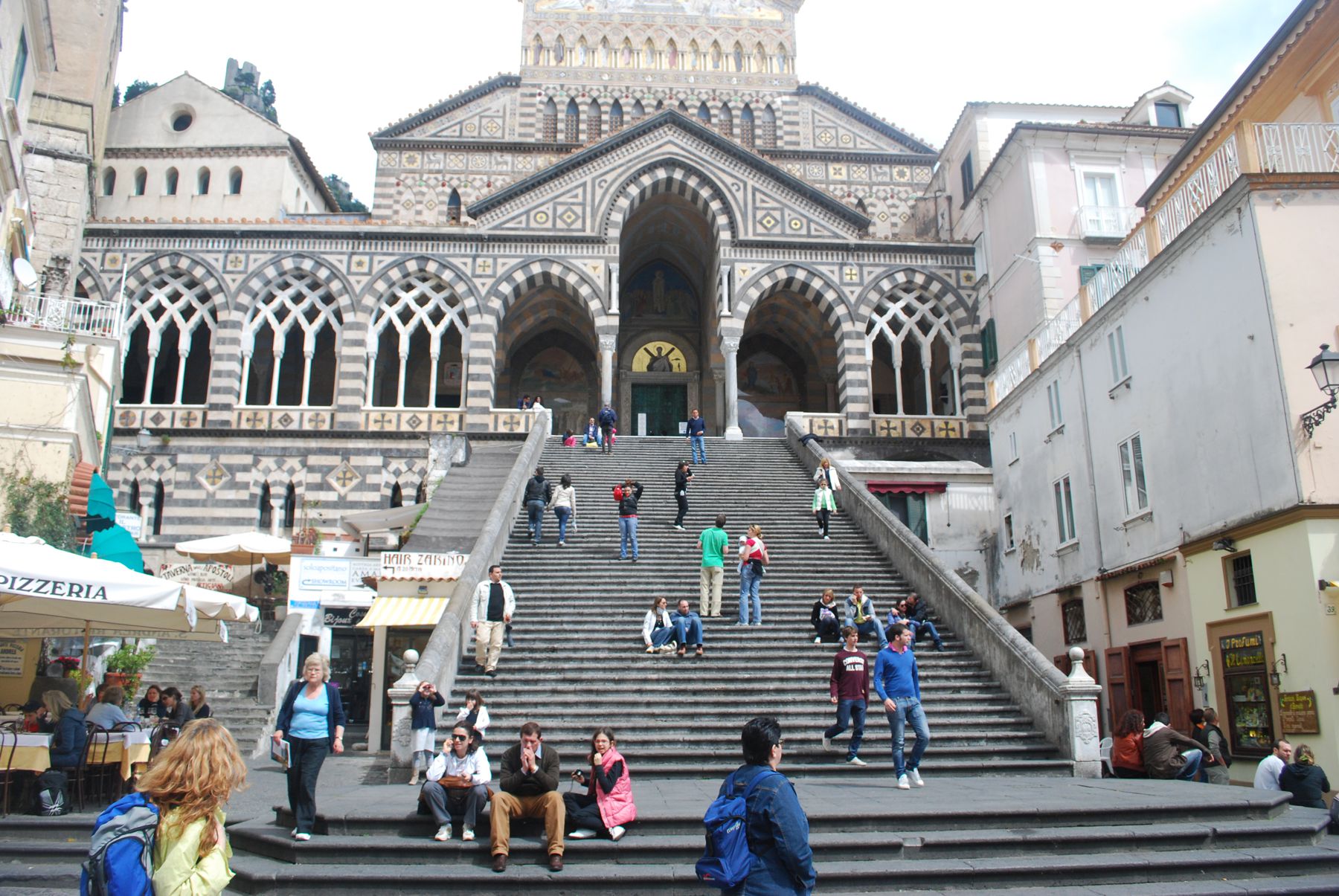 Duomo di Amalfi (Amalfi Cathedral)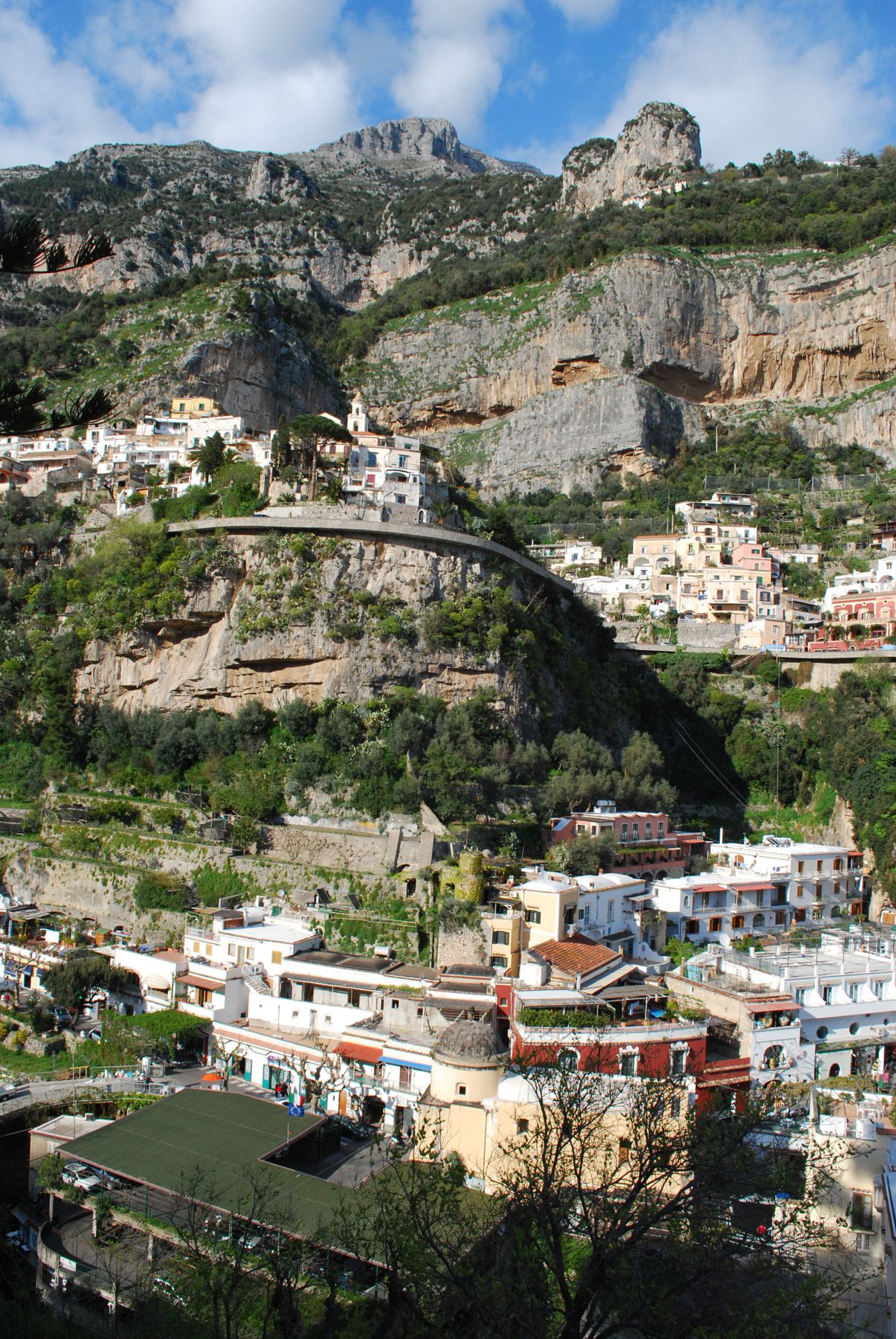 * * *
Share your feedback, thoughts and/or questions
* * *
If you enjoyed this story, please share it. I would love for more people to discover our blog.
* * *
* * *
Our latest Stories
The Queues of Paris (April 2023)
A recent visit to Paris involved standing in long queues and battling crowds. Fortunately, I have an idea about reducing crowds at tourist sites. Read it here.
Revisiting Portugal (March 2023)
Ira and I take a road trip to my one time home: Portugal.
Portuguese Memories (September 1985)
On a road trip through Portugal with Ira, I am reminded of my life in Lisbon in the mid 1980s
Fleeing to Cyprus (January 2023)
I decided to visit Cyprus off-season to do some hiking and wandering in ruins. It was a delightful trip.
The Answer Lies Just Around the corner (November 2022)
All my life, I've felt that the answer, some profound purpose in life, has laid just round the corner. Although I have experienced a lot in life, I am still looking for that corner.
All stories
Index of all the stories on this blog.